Your Pre-Run Warmup Routine Might Be Wrong. 
Here are three common myths about how to warm up before you run (and how you can address them to avoid injuries).
Heading out the door? Read this article on the new Outside+ app available now on iOS devices for members! Download the app.
Warming up before exercise is known to be an important part of enhancing your sport performance. We all want to improve our running performance, but is your warmup doing what it should? 
Until recently, warmup research focused mainly on physiological responses of the body, such as increased muscle metabolism, rather than measuring improvements in performance (like increased muscle power). 
This lack of a research-backed framework led to mostly trial-and-error with coaches and their athletes, using personal, anecdotal experience rather than scientific evidence. As a result, myths about the best practices for warmup and injury reduction have become widespread. Here are three of the most common warmup myths, and how you can bust them in your own training. 
RELATED: 5 Things You Should Do Every Day To Run Injury Free
Myth 1: Stretching is the best warmup for your muscles.
Stretching is one of the most common ways for athletes to warm up, and it is what many of us think when we hear "warmup." But is stretching the most effective way to prepare our body for a run?  
Research shows an effective warmup should start exactly how it sounds: by warming up your body. It appears that raising your core temperature is the most effective first step to any warmup. In a systematic review of the effects of a good warmup, three out of five studies showed a reduced risk of injury directly related to warming up properly. The two that did not show benefit when focusing their warmups heavily on stretching instead of raising the body's core temperature. While the research on stretching shows it does not improve post-workout recovery or decrease delayed onset muscle soreness, the best time to stretch if you choose is during your cool down so it does not impair sport performance. 
Research also shows that this rise in core temperature is correlated with improvements in athletic performance, as well as reduced risk of injury. When muscle temperature increased by 1.8 degrees Fahrenheit in a warmup, there was a strong link between increased muscle power and enhanced performance by 2-5%. It appears most performance improvements from a warmup are due to temperature-related mechanisms, not the stretching sequence. 
Takeaway Fix: Instead of focusing on stretching during warmup, focus on raising your actual body core temperature with walking, jogging, or a mobility flow.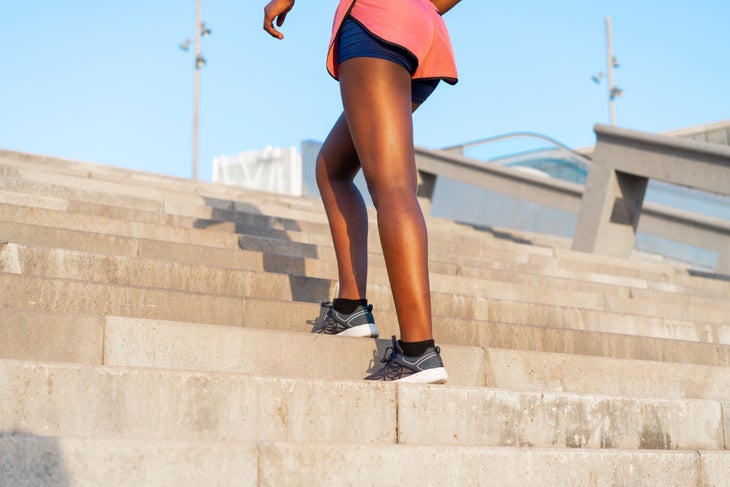 Myth 2: Any warmup is fine, just pick one!
Often, our warmups are helping us transition from an inactive state to an active one. The literature recommends that warming up the body from an inactive state should take 5-10 minutes, and whether that means walking, cycling, jogging, bounding etc., your heart rate should stay in the range of 55-65% of maximum. 
Here's the key: While the main purpose of a warmup should be to raise your core temperature, adding movements specific to the exercise you are about to undertake is essential. For runners, the focus should be on taking your joints through a full range of motion they use when you're running. 
During this phase, dynamic mobility is preferable to static stretching and has been seen to improve performance, while static stretching has been associated with impairments to performance and power output. This part of the warmup is individual to you – having extreme flexibility is not required, but having a functional range of motion in your major joints is important for efficient running. 
Mobility considers your motor control, not just how far you can go passively. Ensuring your training is specific to your exercise event, course, body, and mind on that day will continue to enhance your performance and reduce the likelihood of injury. 
Takeaway Fix: During your warmup, take your body through the types of movements and ranges you are likely to do during your training such as hip mobility exercises, ankle/ knee range of motion and pre-activation hip flexion. 
RELATED: Why I'll Never Use A Run Sharing App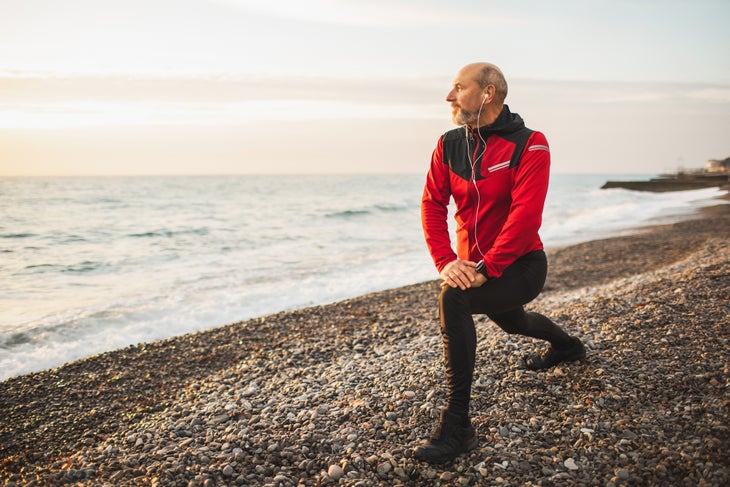 Myth 3: Foam rolling is an effective warmup.
Foam rolling has developed a cult following across the running community. It is usually used in an attempt to increase training effectiveness, prepare for a race, or improve recovery. Foam rolling is thought to improve muscular performance and flexibility as well as alleviate muscle fatigue and soreness. 
A 2019 systematic review of 21 different studies looked at foam rolling effectiveness on the claims above when it was done prior to exercise (during the warmup) and after exercise (during the cooldown). Jumping, sprinting, and strength performance were used as improvement indicators along with flexibility and muscle pain. 
"Pre-rolling" was found to result in a minor improvement in sprint performance and flexibility, whereas the effect on jump and strength performance was insignificant. However, this improvement is relative, and if the "whole population" used pre-rolling prior to sprinting, it is likely that slightly over half would experience increased sprint performance (Coe, 2022). Additionally, the improvements were between 0.3-0.8%, and it is likely that recreational athletes would not notice an improvement that small, especially considering other factors of daily life. Therefore, these smaller changes may be more relevant for higher level athletes, where a small improvement in sprint performance is more noticeable.
What does this mean for those of us in the middle? The authors of a 2019 study reviewing the effects of dynamic stretching combined with adjuncts, such as foam rolling and vibration therapy, on athletic performance found the combination of dynamic stretching with foam rolling in a warmup significantly improved flexibility, power, and agility. The key is to use it with other aspects of your warmup, such as raising your core temperature and functional dynamic mobility. 
Takeaway Fix: Combining foam rolling with dynamic stretching will have a better effect on performance than just foam rolling itself. 
RELATED: A Beginner's Guide To Foam Rolling
Conclusion
Research shows that while some people get positive outcomes from training additives like foam rolling, many, do not. Ensuring your warmup increases your core temperature is essential, and focusing on functional mobility, as well as allowing for proper rest and recovery, is critical. This way, everyone can get a better, more productive pre-run warmup and remain injury-free. 
Kristen Kennedy holds a BSc in kinesiology from Dalhousie University and a Doctor of Physical Therapy degree from the University of Montana. She currently practices in the UK, specialising in sport physical therapy with a focus on running. Kristen has been a yoga teacher to athletes for six years and is co-founder of "Made By Movement," an online yoga, Pilates, and mobility studio.