Tired of Your Strength Program? Here Are Four Ways to Level Up.
In The Performance Corner, if you've been doing the same strength work for months (or years!), it might be time to start bumping things up to maximize benefit. Our expert strength running coach Jason Fitzgerald explains.
Heading out the door? Read this article on the new Outside+ app available now on iOS devices for members! Download the app.
Most runners – especially runners who train for races – understand that training progresses over time. Mileage increases, long runs get longer, and workouts become faster with more volume. This increase in training difficulty allows us to increase our fitness, making us more capable runners who can run faster races.
And just like our mileage and workout intensities progress over time, so should other aspects of our training, like:
Complexity of form drills

Frequency of running (i.e., the number of runs we do per week)

Difficulty of strength training
Let's focus on that last bullet point. Many runners perform the same gym workout or strength routine week after week in their training. But why don't we progress our strength training just like our running?
For us to realize our goals and ensure our fitness is always moving forward, we should progress our strength training. Just like we want more and more endurance, we'll be better runners if we have more and more functional strength, too!
Here's how to do it right. 
RELATED: A Beginner's Guide To Weightlifting For Trail Runners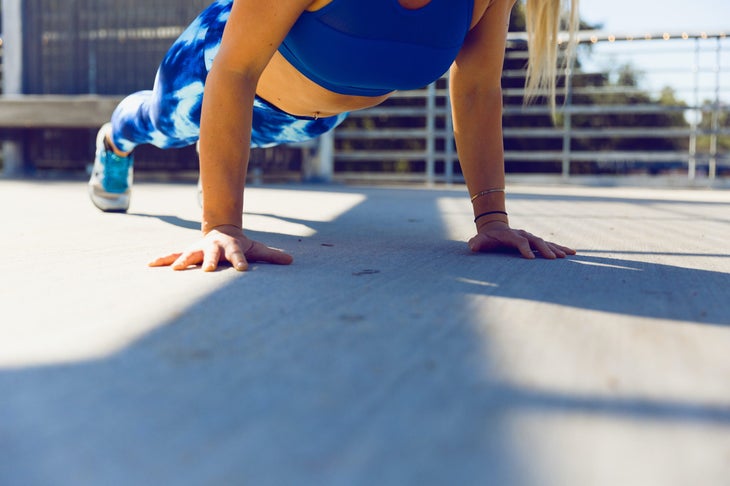 Step 1: Get Started with Bodyweight Exercises
If you're new to strength training, start with basic bodyweight exercises in the comfort of your own home. Focus on 10-20 minutes of fundamental exercises after each run, with an emphasis on basic exercises like:
Glute bridges / hip lifts

Squats

Planks

(front and side)

Push ups

Deadlifts

Pull ups / Chin ups
You can do up to 10-20 repetitions with one minute of recovery between each set. If you're brand new to strength training, start with just one set to see how your body responds. Then, you can build to three sets once you're more comfortable with the movements.
These exercises are compound, multi-joint exercises, or running-specific movements that will help you build strength, general athleticism, and coordination to become a better runner. 
One key benefit of bodyweight exercises is that they're relatively safe. The injury risk for these unweighted exercises is very low, so they're a great place to get started. Just use a towel or yoga mat so you don't sweat all over the carpet!
RELATED: The Case For Sustainable Training Levels To Support Long-Term Growth
Step 2: Add Complexity
Once you've become comfortable with basic exercises, it's time to make them harder. There are a lot of strategies to increase the difficulty of bodyweight exercises, and strength coach Angelo Gingerelli, author and adjunct professor at Seton Hall University, has a few suggestions. 
"The first strategy is to simply do more reps. The second is decreasing time between sets. The last option is to superset exercises in a way that minimizes the amount of recovery between sets. These are great ways to increase the overall intensity of the session without the need for additional equipment," he says.
Key point here: You can do more of the same exercise, with less rest, to make the same exercises more challenging.
Once you're comfortable with the basics and have mastered proper technique, we can also add more complicated exercises. For example, a bodyweight squat can progress to a one-legged pistol squat, or a plank can progress into a Spiderman plank where you alternate bringing a knee up to the elbow.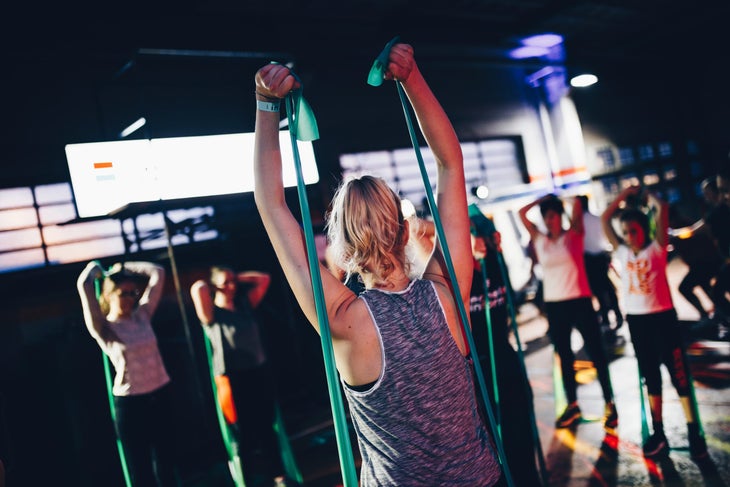 Step 3: Use Resistance
Now that you've mastered some more complex variations of bodyweight exercises, the next step is to add light resistance with at-home implements. You don't need a fully stocked home gym, but a few helpful tools will get you far.
Gingerelli agrees, saying, "Once a runner is comfortable with the basic bodyweight exercises, the next progression is to add some resistance. Things like light dumbbells or kettlebells, resistance bands or even household items like cans or bottles will add some resistance."
Simply holding a kettlebell during a squat, or placing resistance bands around your ankles during a leg raise, are effective ways to keep progressing your strength training. 
RELATED: 10 Theories On Building Fatigue Resistance
Step 4: Lift Weights
As we continue to look for ways to gradually increase the difficulty of our strength workouts – and ensure we keep varying the stimuli that enable our desired adaptations – we must start lifting weights. This is the final step in progressing your strength training. Ultimately, we have to lift heavier to keep getting stronger.
Heavier versions of the fundamental movement exercises have additional benefits for endurance runners:
They allow you to gain even more strength (after all, you've exhausted other opportunities!)

Improvements in running economy (efficiency) are more pronounced

Positive stress on bones is higher, meaning your bones get stronger (reducing the likelihood of bone stress injuries)

The ability to recruit more muscle fibers, particularly important at the end of long races, is elevated when lifting heavier weights
While heavy lifting in a gym (or home gym) is enormously beneficial for all runners, we don't have to turn into bodybuilders. After all, any strength training that we do must be in service of our running.
That means we don't have to spend hours in the gym (30-60 minutes is plenty), nor do we have to lift a majority of days per week. Focus on two days per week in the gym and you'll gain all the benefits of lifting without sacrificing your run training.
Gingerelli adds, "Resistance training is hard and will cause some level of fatigue and soreness. Get comfortable being uncomfortable and realize that normal amounts of muscle soreness is a sign that your body is making progress!"
Whether you're new to strength training or you've been attending classes at the gym for years, there's always room for improvement.
Bottom Line? Focus on adding complexity, resistance, and heavier weights, and you can rest assured that your strength training is progressing and bringing you closer to your running goals.