Trail Racing 101
Jumping into your first trail race can be daunting. Here's everything beginners need to know for a fun and successful maiden voyage.
Heading out the door? Read this article on the new Outside+ app available now on iOS devices for members! Download the app.
This story originally appeared in our Winter 2021 issue. It is excerpted from Trail Running Illustrated: The Art of Running Free by Doug Mayer and Brian Metzler. Reprinted with permission from the publisher, Mountaineers Books. All rights reserved.
Trail running is a great activity all by itself—for your body, your mind and your soul. A lot of trail runners, though, like to take it to the next level by entering a race and getting competitive with themselves and others. 
Are you one of those people? There are a lot of reasons to take part in a trail race: 
You want to improve your trail running, and having a challenge like a race helps make that happen. 

You're looking for an excuse to travel to a new place. 

You're competitive with yourself and against others. 

Having an objective to strive toward helps get you out the door when your motivation is flagging. You can't kick the ball down the road when there's a date fixed on the calendar!
Want to give it a try? Great! At the very least, you'll finish the day tired, happy and with a fresh "finisher" shirt and a medal around your neck. By taking on a robust challenge complete with big ups and downs, topographically and emotionally, you'll probably have an epic experience. And spending several hours running in a beautiful locale may inspire you to get more immersed in trail running.
This chapter lays out our tips for "toeing the line" and running your first trail race.
Setting Expectations
Whatever expectations you are bringing to your first trail race, our advice is this: take a deep breath and let them go. Just focus on the fun factor and the joy of running on trails.
Here's why: There's nothing quite like trail racing. During your first trail race, you'll experience moments of exhilaration, fatigue, self-doubt and many more feelings. That's normal. After all, your first trail race is an entirely new adventure!
FEELING PHONY
Most new trail racers—and many veteran ones—experience "imposter syndrome." That's when you wonder what the hell you're doing standing at the starting line of a race with so many runners who seem to be faster, better equipped or more seasoned than you. Don't worry—that feeling is not uncommon. You have a right to be there!
If you've run road races, it's important to know that road racing doesn't have much in common with trail racing. First, expect your time for any given race distance to be much slower—no matter if it's a 5km, a 10km, a marathon or any other distance. Our advice is to ignore your pace and run at a comfortable speed. But also understand that you might have to run up and down a big hill (or several hills!) early in the race, and that could spike your heart rate considerably, make you feel out of breath, and change how you feel during the rest of the race. For your first race, make finishing your primary goal. Once you cross the line, you'll gain confidence and inspiration and your foray into trail racing will be—literally—off and running.
If you let go of your expectations before you start your first trail race, you're going to have a happier experience. That means more fun, and more fun means more trail races in your future. Don't believe us? Consider the case of Stevie Kremer from Crested Butte, Colorado. She finished DFL in her first trail race—that's "dead f—ing last." But she had fun and so she kept running—and she went on to become one of the world's best trail runners.
LET GO OF YOUR EXPECTATIONS!

HAPPINESS = REALITY − EXPECTATIONS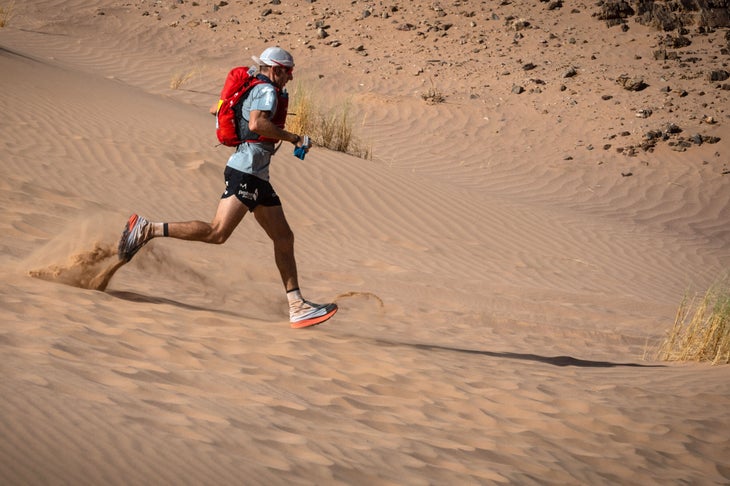 Picking a Race
EASY ON THE DISTANCE
For your first race, the only win you need to worry about notching on your belt is ensuring that you have a good experience. Pick a distance that you have run before. You'll have plenty of new experiences during your first trail race—the challenge of a new distance shouldn't be one of them. Go easy on yourself. If your favorite distance is 10km, run a 10km trail race, not a 20km one. Here's a tip about picking your distance: You're likely to run faster and harder than usual. It's just human nature when you're surrounded by a pack of eager trail runners. That means the second half of the race is going to be harder than you expect—another reason to err on the shorter side.
CHECK THE VERT 
When you're looking at options for your first trail race, check online to find out how hilly the course is—the amount of vertical gain and loss, or "vert" in trail running jargon, over the course.
The amount of vert in a trail race makes a huge difference. Consider this: There's a 10km trail race in Susa, Italy, that climbs 10,000 feet! The winning time to cover those 6 miles that go up, up, up? 1:58:53. By comparison, a middle-of-the-pack trail runner might take about an hour to complete a typical, much flatter 10 km course.
TERRAIN
Two trail races can have exactly the same distance and vert, but be very different! The reason is that the terrain for each one is unique. Is the trail smooth and runnable, or is it filled with boulders, roots and other technical challenges? Our advice? As best as possible, mimic the conditions of the trails you train on. That will also help you estimate your finishing time in the race and prepare you for what you'll encounter on race day. How can you figure out what the terrain is like? The race's website should help. And if the finishing times for the distance seem slow and the amount of vert doesn't seem to explain it, the answer probably has something to do with the terrain!
As race day approaches, take some specific steps to prepare, including deciding what gear you will wear and bring, planning to arrive early, and studying the race course ahead of time.
Pre-Race Tips
GET THE GEAR
Like road races, trail races typically have aid stations where you can rehydrate and refuel with a variety of snacks and drinks. But often, depending on the race distance and course, you'll likely want to carry some kind of pack or vest, hydration device and energy food or gels. There might even be a required gear list—check the race's website for details. You should consider carrying a lightweight wind- and water-resistant jacket or lightweight gloves, even if they're not mandatory. And whatever pack or vest you choose, practice running with it so you can get used to it before race day.
RELATED: Gear For Beginners: Must-Haves vs. Nice-To-Haves
A sample gear list could include:
Energy food, electrolyte tabs, 500 ml or more of water

Map of race course and aid stations

First-aid items and personal medications

Sunscreen and anti-chafing lubricant

If it's a longer race: rain shell, extra socks, synthetic layers, hat and gloves for potential cold, headlamp and batteries
GET A HELPER
Race day can be complicated and confusing. Between figuring out how to get to the race, where to pick up your bib, finding the starting line, and getting to the course briefing, stress can add up. Bring along someone to whom you can delegate a few tasks, so you can stay calm and be ready to run when the big moment finally comes.
ARRIVE EARLY
Allow yourself extra time, removing that pressure from the list of items that might stress you out as you work your way through your pre-race to-do list. If all goes smoothly, this tactic can also help you find good parking and a more desirable spot in the porta-potty queue.
GET TO KNOW THE COURSE
Study the course profile on the race website so you're not surprised by gnarly climbs or long downhills. Do your best to commit it to memory. Knowing where the big challenges lie will keep your morale up when they do come. If you're worried about being forgetful, take an indelible marker and draw the race profile on your arm!
REVIEW THE FINISH
Take some time to walk the final few hundred yards or even the last half mile or so of the race. You'll be running this part when you're most tired. Are there confusing turns? Does the race merge with other race distances? Take a look around when your brain is calm and fresh!
SEED YOURSELF TO SUIT YOURSELF
As you take your place amid the other racers on the starting line, consider where you want to be in the pack. From looking at the past results for the race, and perhaps having a general idea of your finish time, you might have a sense of where in the pack you are likely to finish. That's a good place to be if you don't want to be passed by faster runners. Or you might be a trail runner who gets energized by starting slower and zipping past others over the course of the race … in that case, start farther back than you expect to finish.
DON'T FORGET TO WARM UP
A trail race is still a trail run, and warming up is just as important—and perhaps more important, since you're likely to start fast. It's easy to get injured in a race if you start out hard on tight, cold muscles!
CONGRATULATE YOURSELF
Here's the most important fact about your race: You. Are. There. Being at the start line of a trail race means you've made a commitment to challenge yourself and push your boundaries. Plus, you've already overcome a lot: avoiding or healing from injuries, finding time to train, and balancing work, family life, and recreation. Well done!
Tips for Race Time
GOING THE DISTANCE
The announced race distances are not always exact—a 5km trail race could be a half kilometer longer, and an ultra-distance race might be several miles shorter or longer. Sometimes this is the result of an error, but often it's the result of measurement differences between your GPS device and the one used by the race organization. Give the race director a break, and don't complain about small discrepancies between an advertised race distance and what your watch is insisting is correct.
SOMETHING WE LOVE ABOUT TRAIL RACING
Hillary Gerardi is one of the world's top runners on tough, technical terrain. She's won races and set course records in challenging races around the world. But she still remembers what it's like to be the newbie at a trail race. Here's one of the aspects of trail racing she loves most:
"One of the really cool things about trail racing is that you get so many people of different levels all in the same place and on the same start line. Think about it. If you're a skier, cyclist, basketball, tennis, or soccer player, you never get near the pros. If you sign up for a road marathon, you're never on the start line with the elites. Trail racing is incredible because the pros and the newbies are all out there doing it together on the same trails at the same time … and in my opinion, that's pretty awesome."
We couldn't have said it better!
COURSE MARKINGS
Trail races are usually marked with bright flags or flagging tape. The number of course markings will vary from race to race. While most race directors take care to clearly mark turns and give you the occasional "confidence" marking on a straight section, trail race navigation is far from automatic, and you'll need to pay attention, even if you're behind other racers—so don't be a sheep and blindly follow them. More than once, an entire group of trail runners has gone off course. Sooner or later, it happens to everyone—even elite trail runners! If you do miss a turn, be a good sport. It's all part of trail racing and chances are you won't be the only one to make a mistake. Sometimes, it will be the race director's fault; but sometimes, it will be yours.
PACING AND UPHILLS
If the race is 10km or less, you don't need to worry too much about going out too fast—the race will be over before you know it! If the race is longer—10 miles to marathon distance, for example—hold back and stay relaxed. Consider power-hiking up any steep hills to conserve energy. Managing your effort and recovering when the terrain gives you a chance to do so on flat and downhill sections is the key to achieving your best possible result.
RELATED: The Art Of Pacing
HYDRATION
Be sure to start the race well hydrated and, once the race begins, hydrate every chance you get. You don't want water sloshing around in your stomach, but staving off dehydration is important for a good result. Stick to drinks that include electrolytes, since you're also losing those when you sweat.
AID STATIONS
No matter the distance you're racing, there's likely to be at least one aid station along the way. Aid stations provide a cornucopia of calories, ranging from simple sugars and gels and soda to more substantial food like chips, pretzels, cookies, or even sandwiches, soups, pasta and burritos. Aid stations also work to break up the race into manageable chunks, and they provide a place for your crew, family, and supporters to meet you. Check on the rules, though, as some races may not allow spectator or crew access to all aid stations.
WHAT YOU GOT?
Check your race's website ahead of time to see what food and drink they'll have at the aid stations. If you can't stomach Gatorade or Coca-Cola, for instance, then plan ahead and have your crew meet you with your drink of choice at an aid station.
ENERGY
If you need calories, keep it simple—gels if you don't mind them or just the liquid calories available through many soft drinks. Generally, you only need to replenish calories if you're running 90 minutes or longer. That's going to be fairly rare for shorter races, but quite normal for distances of 10 miles or more. For your first trail race, you're unlikely to be out all day, so you don't have to eat early, or eat a lot. Besides, the harder effort of a relatively short race means your stomach is more likely to get upset.
RELATED: Choosing The Best Fuel For Long Runs And Races
VOLUNTEERS
Aid stations are usually staffed by volunteers. Be sure to smile and thank them for being there to serve you—and make a plan to volunteer at a race. You'll be doing your part to support trail running, and you'll have a lot of fun, too! And if a volunteer gives you a cup of Sprite instead of water? Well, be a good sport!
100-PROOF AID STATION

One of the most famous aid stations is Kroger's Canteen, which is at 13,000-foot-high (3962 m) Virginius Pass along the course of Colorado's Hardrock 100. In addition to the usual aid station fare, this one offers tequila and mescal to passing runners!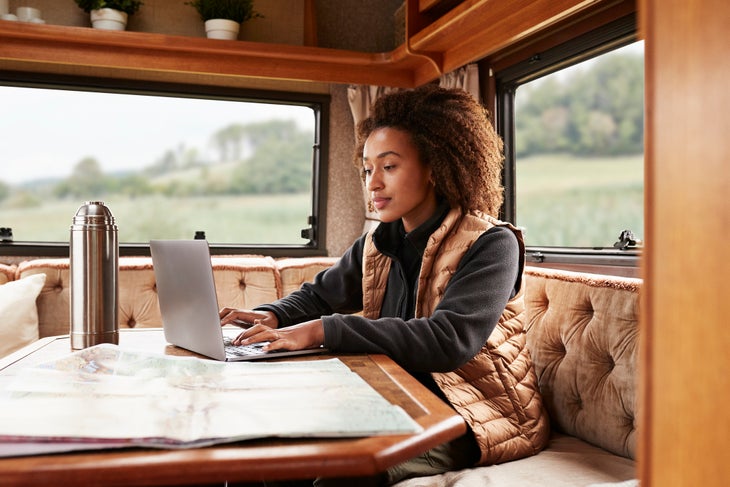 After the Race
CONGRATULATE YOURSELF AGAIN
Whatever the outcome, take a moment to remind yourself that you just tackled your first trail race. Congratulations! That's a huge accomplishment! And if it didn't go as you had hoped? Remember Stevie Kremer's story. There's always another race, when you're ready.
POST-RACE BASH
A lot of trail races have great post-race parties. Take advantage of your post-race high, courtesy of the endorphins flowing through your brain. Grab a beer and share your race war stories with friends new and old.
TAKE CARE OF YOUR BODY
You just finished a physically and mentally challenging event. Take a few minutes to refuel with a recovery drink or snack that includes protein to heal muscles and carbohydrates to replace lost reserves. Drink plenty, which will help eliminate waste and lactic acid. Scan yourself for anything that needs attention, from blisters to Instagram-worthy cuts and bruises. Stretch anything that feels like it needs it—hamstrings, glutes, calves, hips—and if it's available, grab a free massage, too.
RECOVER
In the days after your race, give your body time to recover. The time you need will be dictated by how hard the race was for your body—and that's a function of the course and how well trained you were when you started. You're bound to feel sore, fatigued, and maybe even in pain. Stretching, such as gentle yoga, will help the recovery process. Keep hydrating, eat healthy foods, and pay attention to cravings—that's your body's way of telling you what it needs.
GET BACK TO IT!
Recovery can take anywhere from a few days to several weeks. When your body feels ready for another run, start gently, and when in doubt, err on the side of rest. Lay off getting back to running right away by prioritizing other activities like hiking, swimming, or bicycling. 
TAKE IT TO THE NEXT LEVEL
Tempted by another trail race? Great! Most runners are inspired to explore trail racing after their first experience. Having a race on the calendar is a good way to maintain fitness and help you get out the door. Explore new race challenges, like races with more vertical, different terrain, or that introduce you to a new area. Build up distance and vertical slowly in your training to minimize your risk of injury. And always remember to have fun: that'll keep you coming back for more, and will help make trail running a lifetime activity. Just be careful—before you know it, you'll need room at home for race memorabilia like finisher medals, shirts, and race bibs!