Ask The Coach – How Should You Approach Aid Stations?
Aid stations are a challenge that new ultrarunners have to adapt to. Here's how to maximize efficiency and also aid station benefit.
Heading out the door? Read this article on the new Outside+ app available now on iOS devices for members! Download the app.
How should ultrarunners manage aid stations?
—Robyn, Minneapolis, MN
Depending on how you use them, aid stations can be an oasis or a mirage. They can provide much-needed fuel and human support after lonely hours on the trail, but, if you linger, your momentum may flag.
Approach aid stations with a purpose. Here's a good three-step system.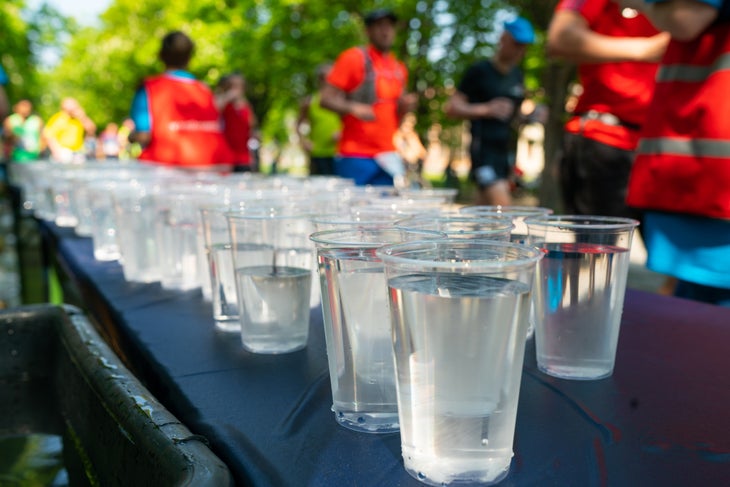 First: fill up your hydration system at every single aid station if the race is more than three hours long. Inadequate hydration is how people end up in med tents instead of finishing chutes. Even if you don't think you need it, fill it up.
RELATED: The Science And Mystery Of Ultra Fueling
Second: grab gels or other food you'll need for the next section of the course. (Again, even if you think you won't need it or don't feel hungry.)
Third: if you supplement gels and chews with "real" food, save it for this final step. Your respiratory rate should be closer to normal, allowing you to eat or drink without the risk of it coming back up. Then, you can enjoy the pickle juice, chicken broth, or whatever other vile-yet-life-sustaining concoction the aid station may have on tap.
RELATED: Trail Racing 101 – Everything You Need To Know
Sit down only if you have a reason to. Changing shoes or socks counts, as does a one- or two-minute timed break. What doesn't count is sitting down for an indeterminate amount of time, hoping to feel better when you get up; you'll only tighten up. The exception is if you're in real trouble, or plan on sleeping.
David Roche partners with runners of all abilities through his coaching service, Some Work, All Play. With Megan Roche, M.D., he hosts the Some Work, All Play podcast on running (and other things), and they wrote a book called The Happy Runner.
Have a question to ask the coach? Email it to zrom@outsideinc.com!