This 8-Week Strength Program Is Designed To Help You Run Injury-Free
Integrating strength work into your training can be confusing. Here's an 8-week, full-body program that removes all the guesswork.
Heading out the door? Read this article on the new Outside+ app available now on iOS devices for members! Download the app.
Photo Credit: Steven Mortinson
Strength training can be a confusing, nebulous concept. Doing it incorrectly can lead to injuries, and your body has a lot of muscles. How can runners make sure they're doing it right?
This 8-week strength training plan will take the guesswork out of integrating strength work into your training. Created by Megan Flanagan, a certified professional trainer; running, strength and wellness coach; and former college runner, it's a full-body plan designed to keep you injury-free and help you get faster.
RELATED: Keep Up Your Mountain Fitness With This Strength Circuit
Plan Segments
Similar to most running programs, this strength program is designed in phases to fit in with your training blocks. Each phase has a different focus, and any phase can be extended by a week or so to fit in with your race schedule. The first two weeks focus on adaption, weeks three and four on hypertrophy (muscle growth), weeks five and six on strength and power, and the last two weeks on a return to muscle adaptation and endurance.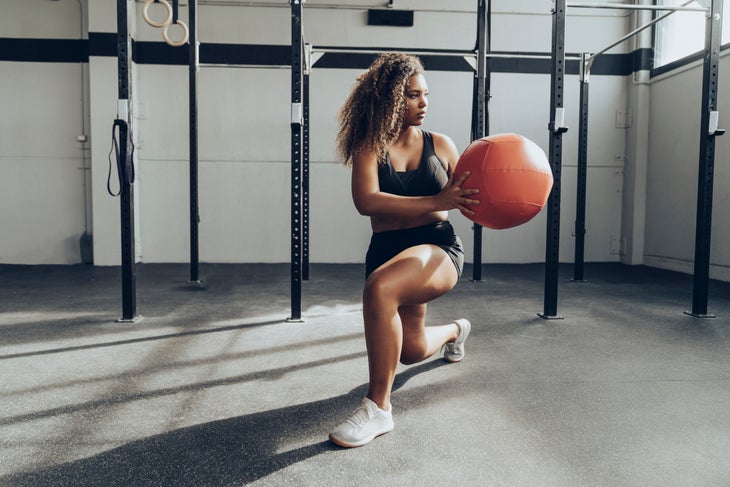 RELATED: Coaching Concierge
Each session involves all your major muscle groups and five essential movements.
Upper Anterior (aka Push): chest presses, shoulder presses, push-ups, tricep dips
Upper Posterior (aka Pull): Pull-ups, rows, lat pulldowns
Lower Posterior (aka Hinge): Deadlifts, kettlebell swings, hip raises
Lower Anterior (aka Squat): squats, step ups, lunges
Core/Rotational: Planks, leg raises, pall-of-press, mountain climbers, wood-choppers
Equipment
Flanagan's plan relies on minimal equipment, but if you're able to get your hands on some, here's what she recommends:
Dumbbells (abbreviated DB in the plan): one set each for upper and lower body exercises
Mini bands and/or pull-up bands
TRX system or suspension trainer
Stability ball (SB) or towels you can use to slide on a hard floor
Kettlebell (KB)
Medicine ball (MB)
Barbell (BB): if you don't have one accessible, Flanagan recommends a couple trips to the gym during weeks 5-6.
Before You Lift
It's critical to be fully warmed up before lifting to prevent injury, Flanagan says. Strength training directly after a run can help with this, but she also recommends a few mobility exercises to make sure all your muscles are warm.
Flow from downward dog to a plank position, then directly into a pushup or cobra pose (5 reps)
Band pull-aparts or plank shoulder shrugs (15 reps)
Glute bridges (single leg or double leg, 15 reps)
Side plank with leg lifts or bent-leg clamshells (15 reps each leg)
Lunge with twist (3 reps each side)
Kneeling bird dogs (5 reps each side)
Kneeling T-spine rotations (5 reps each side)
Ready to get started? Download Flanagan's 8-Week Strength Training Plan here!