What Elite Athletes Are Eating in Winter
Top athletes—from Nordic skier Jessie Diggins to mountain runner Joseph Gray—share a meal-by-meal plan of what they eat on typical winter days.
Heading out the door? Read this article on the new Outside+ app available now on iOS devices for members! Download the app.
With a change in season comes a change in eating. In the winter, most of us crave heartier, warmer meals, like soups and stews, oatmeal, or roasted potatoes. "If you live somewhere cold, you naturally want to eat a little heavier in the winter," says Jessica LaRoche, a sports nutritionist who works with elite athletes at U.S. Ski and Snowboard. "But if you're doing winter sports, you still want to fuel your body well for that."
Top athletes who train throughout the winter months need to refresh their diets this time of year to accommodate for higher intensity training, colder temperatures, and what's available when traveling to far-off locations.
LaRoche encourages her athletes to try to eat seasonally, even when they're on the road. "You're probably not going to eat a ton of tomatoes in the middle of December," she says. "Frozen produce is great because they pick it at its prime and freeze it right away." She recommends making smoothies with frozen fruit and stir-fries with frozen vegetables.
Warm drinks, like broth, tea, or cider, can help you stay hydrated if you're not eager to guzzle chilled water in colder temperatures. Baked goods might be more appealing than ever during the winter, but LaRoche encourages her athletes to look for ones packed with healthy ingredients, like carrots or butternut squash for vitamins and fiber, or ground flax for added protein.
We called up some of LaRoche's charges, plus a few other elite outdoor athletes, to ask them exactly how they fuel for success during the wintertime.
Elyse Saugstad
Big-Mountain Skier, Former Freeride World Tour Champion
For much of the winter, this pro skier is on the road to film and tour in the backcountry. That means lunch is a protein bar in her backpack and dinner is whatever she can find in the remote outpost she's in. But when she's home, Saugstad and her husband, pro skier Cody Townsend, love to cook elaborate meals with seasonal vegetables. "I try to follow what's in season, leaning into the local produce that's available," Saugstad says. "I'm sure I eat more in the winter, too, since I'm out in the mountains and needing fuel. Winter is slightly different in the sense that we eat more red meat in the winter. I find that my body craves that extra iron in the cold."
Here's what Saugstad feeds herself.
Breakfast: "Breakfast is an important meal for me. Even if it's a 4 or 5 A.M. wakeup, I'll still make toast with avocado and egg and arugula or oatmeal, topped with almond butter and fresh fruit and nuts for extra protein. On Sunday mornings if we have more time, Cody and I like to make a big breakfast with pancakes with apple compote, along with eggs and bacon."
Lunch: "If I'm out in the field, I don't eat big lunches. I'm constantly snacking on protein like trail mixes or jerky or bars. I always carry a Snickers bar, just in case I need it."
Snack: "My favorite snack is slices of apple with peanut or almond butter."
Dinner: "We make bowls a lot. We'll do wild salmon from Alaska, with rice, pickled cucumbers, shitake mushrooms, green beans, carrots, and a ginger-soy dressing. Or we'll have a piece of skirt steak and then a roasted vegetable medley, with sweet potatoes, beets, and delicata squash." 
Jessie Diggins
Three-Time Olympic Medalist in Cross-Country Skiing
Being on the road all winter, Diggins has to be flexible with what she eats, and she also increases her caloric intake to accommodate for the training and racing. "I like to eat a wide variety of fresh vegetables, proteins, and carbohydrates, like sweet potatoes, bread, quinoa, rice, farro, pasta," Diggins says. "I always make sure to have a source of calcium and fats on my plate, like olive oil in my salad dressing and goat cheese on the salad. The amount of food I eat does change in the winter, because when we're racing two to three times each weekend in the cold, I need to be sure I'm giving my body enough energy from food to sustain that amount of skiing."
Here's how Diggins fuels up on a typical winter day.
Breakfast: "Oatmeal with berries, yogurt, almonds, and honey. And coffee!"
Morning snack: "An energy bar or a homemade muffin to make sure I'm staying on top of my carbohydrate needs."
Lunch: "Two pieces of toast with Dijon mustard, cheese, and fried eggs on top, and a side salad."
Snack: "Yogurt, granola, and a banana or, if I'm in Norway, then brown cheese and jam on toast."
Dinner: "Salmon, roasted sweet potatoes, and a kale salad with feta cheese, pumpkin seeds, and lemon dressing. For dessert, dark chocolate."
RELATED: Why Carbs Are So Important for Recovery
Mikaela Shiffrin
Two-Time Olympic Gold Medalist in Alpine Ski Racing, Four-Time Overall World Cup Champion
When she's traveling for ski racing all winter, Shiffrin says she tries to find foods that she's used to and she knows her body will respond well to. Sometimes that means ordering a pizza the night before a race. "I tend to crave carbs in the form of pasta or pizza a lot more during the winter," she says. "It's important that I don't go overboard because a certain amount of pasta can be a perfect meal, but I don't want to feel sluggish from a huge bowl of Bolognese. So, everything in moderation. Carbs and protein are musts for my training and racing in the winter, coupled with a good amount of vegetables, then I'm pretty much set."
Here's what Shiffrin eats.
Breakfast: "Two to three eggs—scrambled or fried, two pieces of toast, and maybe some avocado if there's a good one available. If I can't get eggs, I'll have oatmeal or muesli and add some fruit or nuts and even a little bit of chocolate cereal on top for my sweet tooth."
Lunch: "My favorite lunch is pasta with a really flavorful tomato and basil sauce, and some chicken on the side. Or Carbonara—I learned how to make that a few years back on an Instagram live with Barilla and oh my gosh, that is life-altering." (Shiffrin has been sponsored by Barilla since 2012.)
Snack: "Barilla also makes these cookies—I bet you never knew that—called Mulino Bianco Macine. They are just the perfect amount of buttery, crunchy, doughy, filling, sweet but not too sweet. Goes well with coffee or tea or just simply eating an entire bag on your own for no good reason. Kind of like Goldfish, another topper on my snack list."
Dinner: "Some salad or veggies like broccoli and peppers, and some kind of meat—usually chicken, sometimes steak, and sometimes Beyond burgers or chicken sausages."
Daron Rahlves
Four-Time Olympian in Alpine Ski Racing and Ski Cross, 12 World Cup Wins
 "I eat a lot and I need a lot of fuel," says Rahlves, who competed on the U.S. Ski Team for 13 years before transitioning to ski cross and then big-mountain and backcountry skiing. "Nutrition and hydration don't just matter the day of but the days leading up to that day, too. If I know I'm going to have a bigger day, I'll make sure I hydrate plenty and get some good carbs and fat the night before."
Here's what Rahlves reaches for in the kitchen.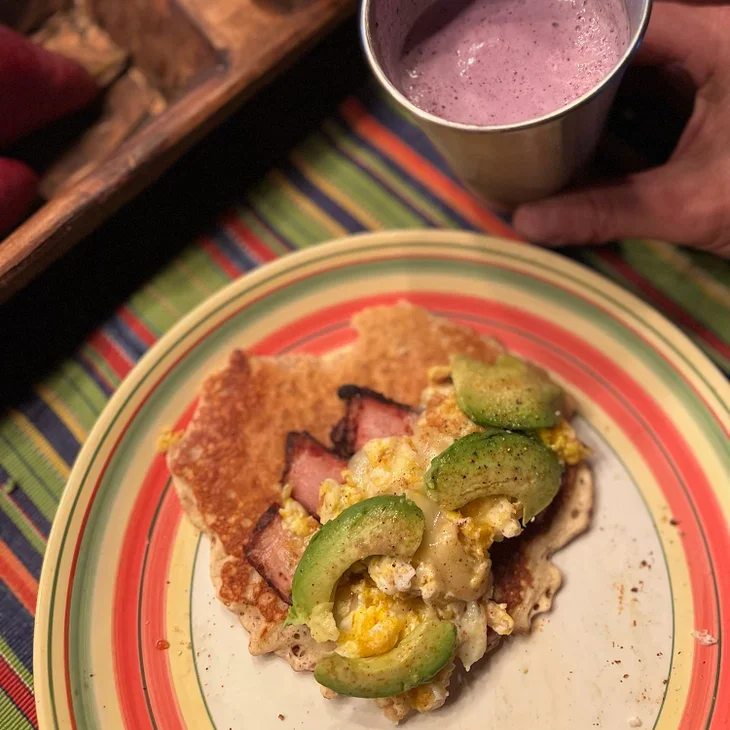 Breakfast: "I'll have a smoothie in the morning, with frozen banana, peanut butter, oat milk, and whatever other frozen fruit we have. If I'm going out for a big day, I'll eat a burrito with eggs, bacon, and avocado to try to get some protein and good fats before I head out."
Lunch: "I'll pack a PB&J if I'm heading out for a full ski day, to get some carbs and fat. Or I'll go Euro style with some sharp cheese and dried meats. I like that because it's savory and salty."
Snack: "Medjool dates are a good natural energy source, and they're easy to toss in your pocket."
Dinner: "I'll make a pasta with a bunch of veggies, like fettuccini with pesto. Or I'll make salmon and white rice, with broccoli and carrots steamed up. In the winter, if I have dessert, it's dark chocolate with sea salt."
Steph Davis
Rock Climber, BASE Jumper, Wingsuit Flyer, First Woman to Free Climb the Salathe Wall on El Capitan
The vegan rock climber says she eats more hot foods in the wintertime—soups versus salads—and drinks a lot of ginger tea through the day. "I like more root vegetables and dark greens in the winter, and I do tend to bake more," she says. "I eat a lot more squash and yams and roasted brussels sprouts, which are some of my favorite foods."
Here's what Davis brews, blends, and bakes.
Breakfast: "I'm never hungry first thing, so I drink a glass of water and follow it up with instant decaf coffee (don't shame me, Mount Hagen is actually pretty good!) and plant-based creamer, or else I'll have Earl Grey tea, depending on my mood. I will also make a protein shake to go, with homemade soymilk and a 50-50 mix of Gnarly vegan vanilla protein powder and unflavored pea protein powder. After I get some exercise, it's usually mid-late morning, and I'll be hungry for official breakfast, which is fruit or sourdough bread (I make my own) with natural peanut butter, or sourdough pancakes with cashew yogurt and jam. If I'm extra hungry that day, I'll make a tofu potato scramble."
Lunch: "I find it makes me tired if I eat a full meal mid-day, so I eat various snacks at different times. But I often make a quinoa veggie wrap or hummus wrap that I can take wherever I'm going."
Snack: "I like dried bananas and dates, sourdough bread with hummus, baked or pan fried tofu, pickles (I make my own), or apples. Whenever I have leftover rice at dinnertime, I wrap it up in sheets of nori with a sushi roller and keep it in the fridge for snacking the next day (if I have any bits of vegetables like roasted sweet potato or tofu, I'll sprinkle some bits in with the rice before rolling it up)."
Dinner: "My staple is rice and stir fry or curry, with tofu and vegetables. But in winter, I make more soups, like lentil curry soup with quinoa, bean chili with wild rice, black bean soup. I also like to make pans of giant shells stuffed with spinach and tofu, which usually makes enough for a few days of meals."
Joseph Gray
9-time USA Mountain Running National Champion, Winner of the 2020 U.S. National Showshoe Championships
Gray has more time in the winter for cooking since he has fewer races and less travel. "That means I will put more time and energy into making up recipes and cooking things that interest me," Gray says. "It sounds weird, but in the winter, I tend to crave more ice cream and cheeses. I figure you're getting less vitamin D from the sun, so eating dairy can help."
Here's what Gray eats on an average winter day.
Breakfast: "I'm a big fan of waffles or French toast with scrambled eggs and either bacon, shrimp, or turkey bacon, and at times I'll add oatmeal or grits."
Lunch: "I usually have some sort of fruit, nuts or cheese, and sandwiches. On my sandwich, I will add a few of my spicy peppers from the previous season from my garden."
Snack: "More often than not I'll grab a protein bar or some yogurt and granola before I head out for a run in the afternoon."
Dinner: "My red meat intake goes up quite a bit in the winter. So, steak is a regular staple at dinner time. We also love a good salmon or marinated chicken breasts. Typical pasta might be gnocchi ai formaggi (gnocchi with cheese) or Japanese-style stir fry with udon noodles."
RELATED: Men, Are You Eating Enough to Fuel Your Exercise?
Zahan Billimoria
IFMGA-Certified Mountain Guide in the Tetons, Founder of The Samsara Experience
For mountain guide Zahan Billimoria, food is about culture, sustenance, and the joy of eating. That said, he sometimes goes a very long time without eating. "If I'm going to bring some purpose to my diet, I'm going to encourage my body to be a fat burning machine," Billimoria says. "That can mean prolonged periods without food—maybe I don't eat until the early afternoon, or I stop eating earlier before bed, or I go for a long run without any food. I'm enjoying the process of eating when I need to, and being curious about when that is, understanding how far I can comfortably go without food. For me it's about being in tune with my body, being a good interpreter of my physiology. Being in a fasted state heightens that for me."
When he does eat, here's what's on the menu.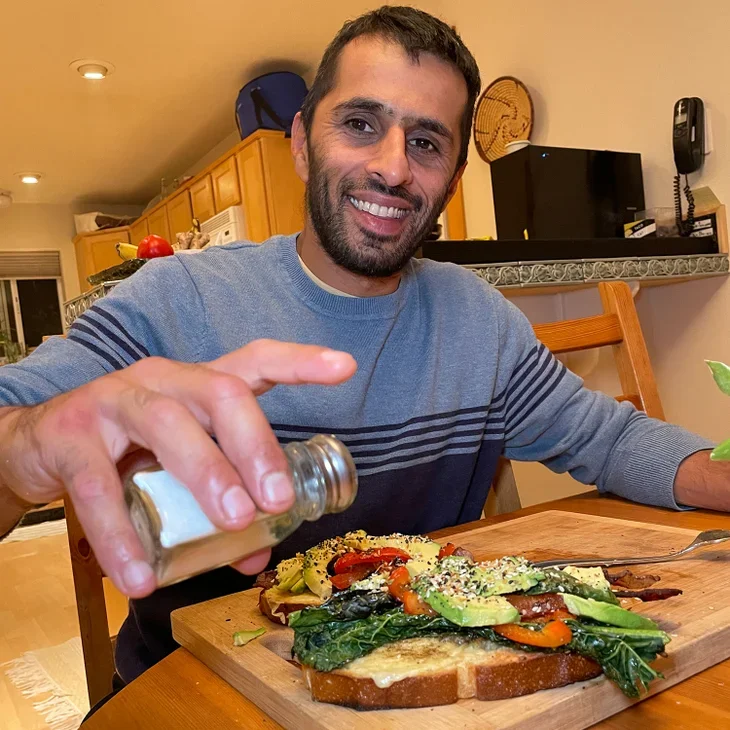 Breakfast: "If I'm going into the mountains all day, I'll have toast and avocado, or maybe cream cheese. I tend to like fatty foods in the morning, that's what I naturally gravitate toward. If I'm going to be working at my desk for the day, I'll wake up, drink hot water and go swimming. When I come home, I'll have coffee with ghee and coconut powder."
Lunch: "When I'm out in the mountains, I often don't eat, but only if I feel good. If I just had coffee in the morning, then I'll have a late breakfast midday with a few eggs cooked with butter or coconut oil, a huge pile of vegetables, some avocado, some bread."
Dinner: "In my family, we all trade off who does the cooking. My kids are in high school, so sometimes it's their turn. We'll make udon noodles with a lot of vegetables and some kind of protein. We eat a lot of tacos, with spicy red peppers, onions, and sweet potatoes, avocados, beans, maybe some ground elk. For dessert, I love ice cream and anything with chocolate in it. I'm not afraid to indulge."