Recipes to Rock Your Recovery This Winter
Use these hearty meals to recover after chilly runs and workouts this winter.
Heading out the door? Read this article on the new Outside+ app available now on iOS devices for members! Download the app.
As soon as the leaves turn and the temperature drops a lot of us begin to panic about our fitness.  How do we keep the conditioning and fitness that took all the warm months to build, not to mention the countless dark early mornings and hours spent over the previous year's winter?
Most of us hydrate less, consume fewer calories and of course, treat recovery a bit less seriously in the winter months than we do when we are in peak summer form. All this while often keeping up intensity in workouts and any winter competitions. 
Let's re-think this for a second. What if, with just a bit of planning, you could enjoy delicious, easy and satisfying food that would help you recover, feel rejuvenated and look forward to your next workout or day of playing in the snow, while actually recovering this winter?
RELATED: Science Says: Take Hot Baths
Depending on your personal training and goals, the 30-60 minute post-workout window is the magical time to grab a quick bite, which will begin the process of repairing muscles and replenish your glycogen stores so that you are ready for tomorrow.  
Target Nutrition Guidelines For Recovery:
Carbohydrates: 1-1.2g/kg/hr, (Example: for a 150-pound athlete, that's 68g)
Protein: 15-25g, focusing on more complex proteins if possible (yogurt, eggs, meat, beans, tofu)
For many athletes, short, cold winter days are the hardest time to get motivated to cook. Luckily, we have come up with some quick recovery meals and snacks to help you rock your post-workout recovery!
Apple Sweet Potato Mash, a Delicious Autumn Pre- or Post-Workout Power Snack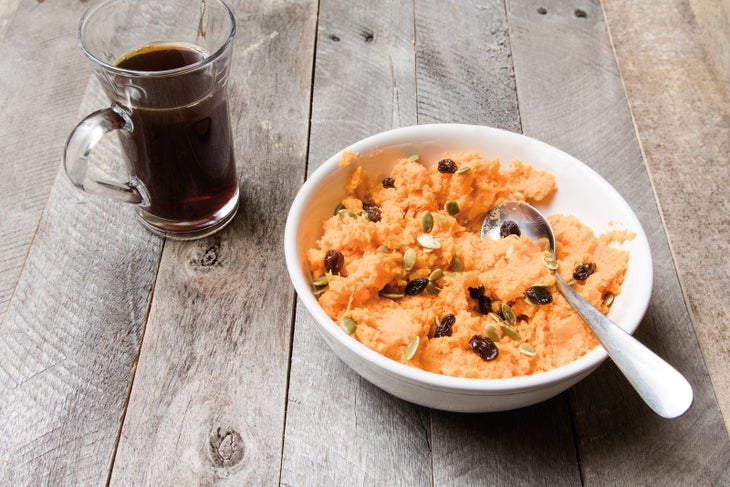 High in complex carbohydrates, the sweet spud can provide long-lasting energy for your impending exercise pursuit. But there's no need to put your workout on hold while you roast or boil one up when this nifty microwave mash gets the job done quickly. Add-ins, such as maple syrup, applesauce, and crunchy pumpkin seeds make for endless possibilities to spice things up.
Dairy-free, Gluten-free, Paleo-friendly, Vegan or Vegetarian
Servings: 1 | Active Time: 10 min.
Although digestion rates vary, you'll likely perform better if you give yourself 30 minutes or more for digestion.
1 medium-sized sweet potato, peeled and cubed
1/3 cup plain applesauce
2 teaspoons pure maple syrup
¼ teaspoon ground allspice
¼ teaspoon ground ginger (optional)
1 tablespoon raisins
1 tablespoon raw shelled pumpkin seeds (pepitas)
Place sweet potato cubes and 1 tablespoon water in a microwave-safe bowl. Cover with plastic wrap and poke a few holes in plastic to allow for venting. Microwave on high for 6 minutes, or until potato is fork-tender. The bowl will be very hot, so use oven mitts or a dish towel to remove from microwave.
Add applesauce, maple syrup, allspice, and ground ginger (if using) to bowl and mash together. Top with raisins and pumpkin seeds.
Game Changers: Replace applesauce with pear sauce + Mash in cinnamon instead of allspice + Use dried cranberries instead of raisins + Swap out pumpkin seeds for sunflower seeds.
RELATED: Meal Planning for Athletes
Chopped Chicken Salad with Pickled Onions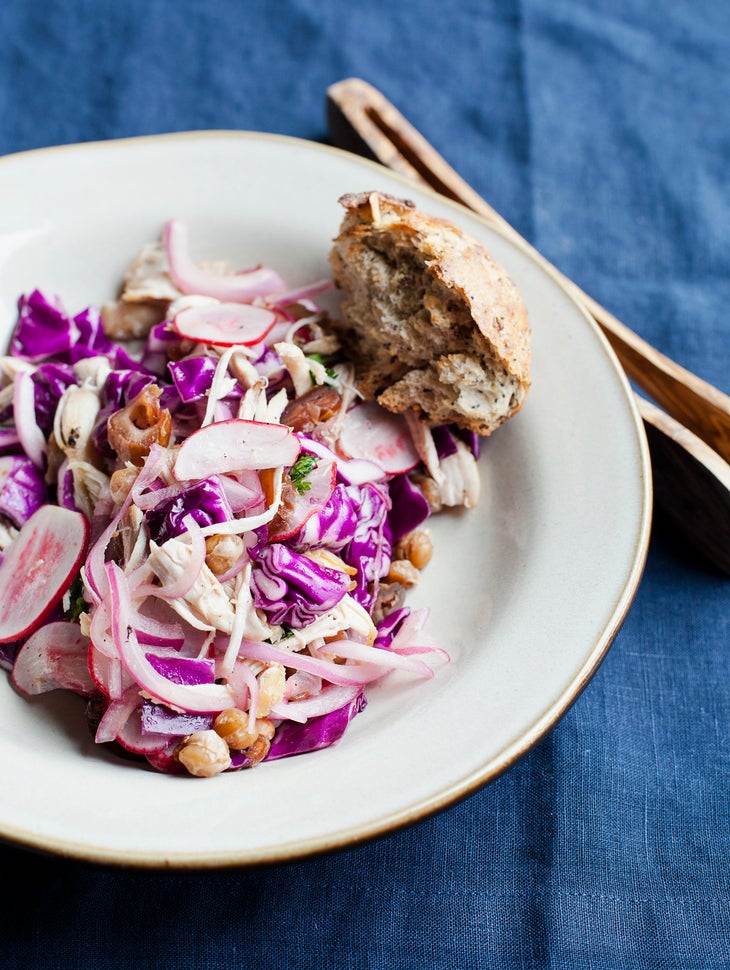 This is a great, quick salad to make use of leftover chicken. You can change it up throughout the year to include the most colorful vegetables you can find (in the winter months, things like squash, beets, cabbage, carrot and fruits like apples and pears). The star of the dish is the flash-pickled onions and radishes. The combination of the vinegar, sugar, and salt balances out the strong flavors beautifully.
Serves 4–6
2 cups roasted chicken, shredded or chopped
1 cup canned garbanzo beans, drained and rinsed
half of a head of purple cabbage, thinly sliced
¼ cup chopped dates, figs, or your favorite dried fruit
2 tablespoons fresh cilantro or parsley, coarsely chopped
Pickled Onions
½ cup red onion, sliced
4 radishes, sliced thin
¼ cup red wine vinegar
½ teaspoon coarse sugar
½ teaspoon coarse salt
¼ teaspoon pepper
To finish:
juice from 1 lemon
drizzle of maple syrup
sprinkle of coarse salt
Shred half of a whole roasted chicken, sprinkle in some fresh ground black pepper and a sprinkle of salt, then set aside.
In a small pan, sauté the garbanzo beans in a splash of olive oil at medium heat until slightly crisp.
To make the pickled onions, combine the red onion and radishes with the red wine vinegar, coarse sugar and salt, and pepper. Toss together and let sit for 5 minutes.
In a large bowl, mix together the chicken, cabbage, garbanzo beans, dates, and herbs. Add the pickled onion mixture and toss to combine.
Transfer to a large platter and finish with fresh-squeezed lemon juice, a hint of maple syrup, and salt.
Winter Sport Smoothies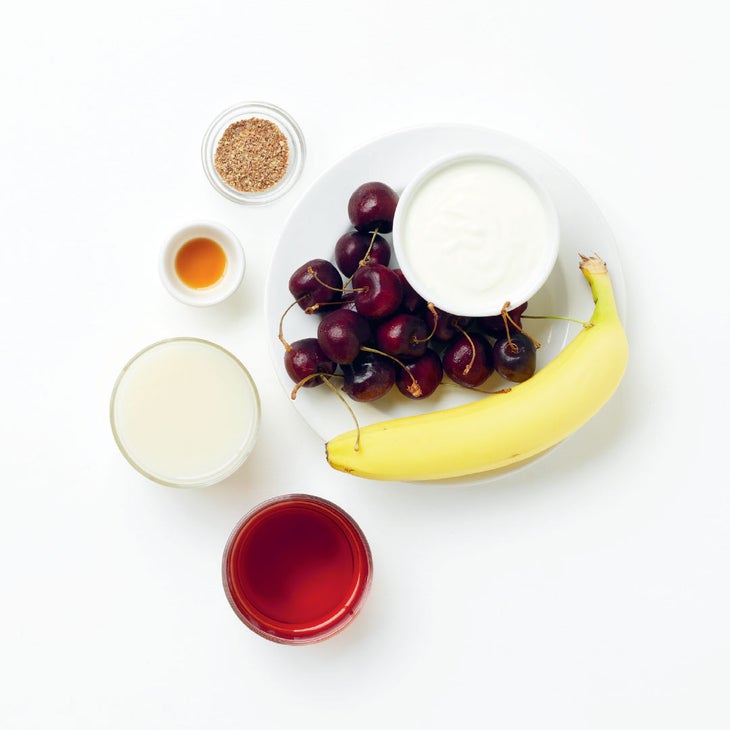 Athletes love smoothies because they offer a simple, delicious way to get the nutrients they need. Ingredients like cherries, oats and peanut butter offer limitless variations while providing recovery-boosting nutrients.
Peanut Spice
Serves: 1 | Preparation: 5 minutes
Ingredients:
1 cup almond milk
1/3 cup rolled oats
1 tablespoon smooth natural peanut butter
2 Medjool dates, pitted
a pinch of ground cinnamon
½ teaspoon pure vanilla extract
Place all ingredients in a blender and blend until smooth.
Cherry Bomb
Serves: 1 | Preparation: 5 minutes
Ingredients:
¼ cup cherry juice
1 cup oat milk
1/3 cup plain yogurt
2/3 cup pitted cherries (fresh or frozen)
1 banana, peeled and chopped
1 teaspoon pure vanilla extract
1 tablespoon ground flaxseed
Place all the ingredients in a blender and blend until smooth.
Oaty Apple
Serves: 1 | Preparation: 5 minutes
Ingredients:
½ cup unsweetened coconut milk
1 apple, cored
¼ cup rolled oats
½ teaspoon ground cinnamon
½ teaspoon ground nutmeg
1 tablespoon natural smooth almond butter
Place all the ingredients in a blender with ½ cup water and blend until smooth.