The Ketogenic Quandary
Should athletes go against the grain?
Heading out the door? Read this article on the new Outside+ app available now on iOS devices for members! Download the app.
Despite the high-carbohydrate tradition in running, some endurance athletes are going against the grain and choosing low-carbohydrate, high-fat (LCHF) diets in an attempt to change the way their bodies use energy—using fat stores first and reserving glycogen stores for later. LCHF is a general term, while the name Ketogenic is reserved for a diet high in fat, moderate in protein and very low in carbohydrates (less than 50 grams per day on average). As a result, the body utilizes ketones that are produced from fatty acids rather than glucose for energy.
RELATED: Should Women Fuel Differently Than Men?
How Does The Ketogenic Diet Work for Athletes?
While exercising at lower intensities (because the activity is sustained, ultrarunners are typically in the middle range of VO2max), fat is utilized more readily by the body and actually produces more energy per gram than carbohydrates. However, as intensity increases (greater than 70-percent VO2max), the body needs more carbohydrates.
When carbohydrates are reduced, metabolic changes occur in the body that typically lead to a faster fat-processing rate and slower carbohydrate-processing rate.
Some endurance athletes like Jeff Browning, 47, a coach and the winner of the 2018 Hardrock 100, and Zach Bitter, 33, the American 100-mile record holder, have displayed promising results with this diet as a strategy for maintaining long-term energy over ultra distances; however, the scientific jury is still out.
In a 2016 Metabolism journal study, endurance athletes followed a LCHF diet for an average of 20 months and reached a maximum fat oxidation rate of 1.5 grams/min at 70-percent VO2max, 50 percent higher than what carbohydrate-adapted endurance athletes have ever reported. The LCHF group also maintained their ability to replace stored carbohydrates—a feared downside of the diet. This supports the idea that long-term adaptation to a LCHF diet could help endurance athletes maintain high relative exercise intensity while reserving muscle glycogen.
Unfortunately, this study, like many others, does not evaluate performance using race-like design, leaving questions about race-specific applications.
RELATED: Up Your Carb Game With These 10 Foods
Low-Carb to No-Carb For Runners?
In addition to regulating energy, reducing carbohydrates during races may lead to less gastrointestinal (GI) distress because the body can only process a certain amount and type at one time. Additionally, inflammatory markers could be reduced, allowing for faster recovery.
Browning has been on a LCHF diet for nearly four years and prescribes it to many of his athletes as well.
He admits that initially, the switch can be tough, as there are variations in how long it takes to adapt. In the end, the gains have been worth it for him.
"I have experienced less GI distress during races," he says. "I also recover faster after hard efforts because I tend to experience less inflammation."
Browning adds, "There seems to be a lot of confusion around this style of eating because many people think you must eat ketogenic all the time and that you don't use carbohydrates during races. But that's not true. They play an important role in metabolism and are essential for performance."
RELATED: The Science And Mystery of Ultra Fueling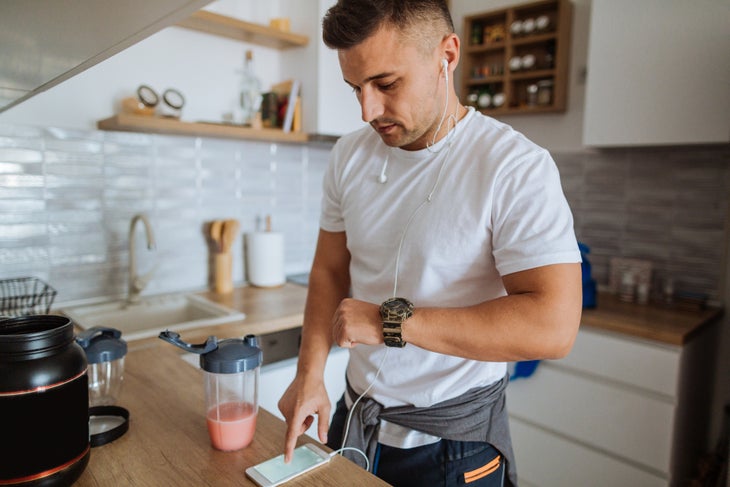 Of Course, It's Complicated
At higher intensities (above 70-percent VO2max), the body relies on aerobic metabolism, which requires use of carbohydrates, meaning a LCHF diet might not be appropriate for athletes focusing on shorter events. Only a few studies address this issue, and many fail to account for changes in body weight and composition, which can affect performance.
For example, one 2014 Nutrients journal study reported that maximum power output in well-trained off-road cyclists was significantly decreased after four weeks on a LCHF diet. However, the study reported lower body mass and body fat for the athletes, which was not normalized in the results of the study.
Dr. Trevor Bennion, a metabolic research specialist and owner of Fitness and Physiology in Fort Collins, Colorado, is skeptical about using the LCHF diet as a training tool for this reason, saying, "For an endurance event, being able to handle a specific volume [combination of intensity and duration of exercise] relies on being able to utilize carbohydrates effectively. Without that ability being maximized, muscles can fatigue earlier."
Metabolic changes incurred may not only affect muscular fatigue, but the central nervous system as well, impacting motivation. This is due to changes in amino-acid uptake in the brain, potentially causing tiredness.
Without well-rounded planning, the diet could leave you missing out on key nutrients like Vitamins D, E, C, magnesium, calcium and iron—all of which play an important role in bone health, mood and energy production.
RELATED: No, You Don't Need Pricey Gels. Use These Whole Foods Instead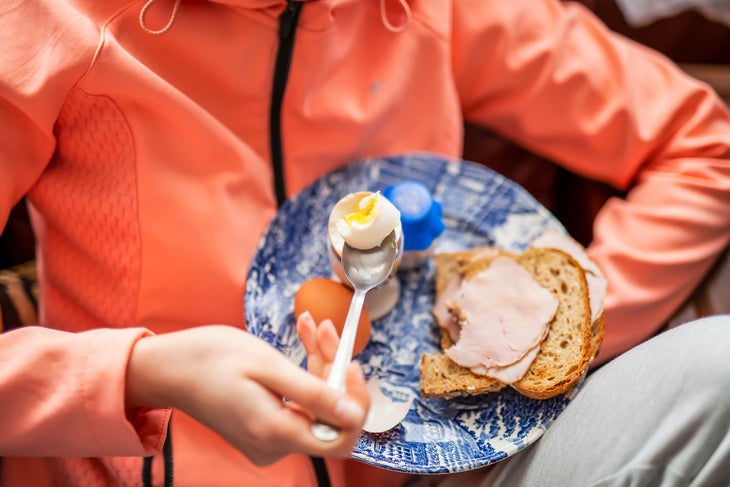 How to Introduce the Diet
Browning's normal diet is what he calls "primal/paleo style:" meat, vegetables, nuts, seeds and fruits and incorporates 80 to 200 grams of carbohydrates, depending on the training day.
Phase I (4 weeks):
Premise: Reach ketosis <50g carbs/day
Expect to have lower energy for 7-14 days. Keep runs below 2.5-3 hours. Some athletes will have symptoms, including: headaches, nausea, irritability, muscle cramps, lack of focus and sleep issues. Adaptation occurs when symptoms subside. Monitoring ketones via a breath monitor or urine strips offers more precision. Add ¼ tsp. sea salt 2 -3 times per day to help with the above.
Phase II (6 weeks):
Premise: Strategic Carbohydrates
Introduce foods like fruits and sweet potatoes around hard efforts and volume (i.e. hard workouts and long runs). Introduce simple carbohydrates for longer runs (100-200 calories per hour) in small amounts every few minutes.
Phase III (Ongoing):
Premise: "Ancestral" Diet Stage
Ongoing eating pattern emphasizing whole foods, limiting grains. Carbohydrate use is timed around training and uses 80 to 200 grams of carbohydrates per day.
Not Ready to Fully Commit?
Coach David Roche has some solutions
1) For every third long run, eliminate carbohydrates the night before.
2) Do double runs on workout days without carbohydrates in between.
3) Simply skip breakfast before some easy morning runs.   
*If you have specific medical conditions, consult with your physician.
Kylee Van Horn is a licensed Sports Registered Dietitian and competitive trail runner.