Heading out the door? Read this article on the new Outside+ app available now on iOS devices for members! Download the app.
Back in my road-racing prime, I once walked the Las Vegas strip during a business trip with my feet jammed in tight pumps. Days later, after months of training, I started the California International Marathon with blisters on my heels the size of silver dollars.
Another time, after I transitioned to ultras on trails, I sabotaged hopes to PR at a 50K near Oakland by maniacally cleaning out a closet to cope with taper-week restlessness. I lifted a box, felt something strain, and couldn't stand up. Nor could I start that race. 
The week before my first self-supported stage race, 170 miles in southern Utah, I volunteered to help in my son's classroom, where I must've sat too close to a crusty-eyed child. I started that ultra with a wicked case of pink eye, blinking through a film of antibiotic ointment.
As runners, we're advised to manage the "taper crazies," the period of anxiousness and self doubt prior to a goal race when we're supposed to rest more. I've learned to handle the crazies by letting myself enjoy the gift of more free time, but I can't seem to avoid taper-time mishaps.
Last June, I vowed to do everything right and exercise extra care in advance of the Bighorn 100-mile race in Wyoming. I pushed my training volume to the limits, acclimated to high altitude, practiced mountainous terrain with trekking poles, and assembled five drop bags of gear. I purchased non-refundable airline tickets, made lodging plans for myself and crew, and temporarily gave up alcohol and coffee. I washed my hands as if obsessive-compulsive to avoid catching a virus.
In every way, I felt good to go tackle this ultra, until my date with sweet roly-poly Freckles. 
Freckles is a stout brown-and-white horse with a spray of brown spots on his white blaze. He belongs to the neighbors, but we board him to provide companionship for our horse, the tall and imperious Cobalt, who chases Freckles away at feeding time. Freckles submits to Cobalt's bullying, and the two seem agreeably accustomed to an equine dominant-submissive relationship.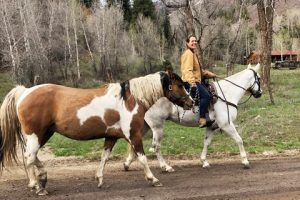 Eleven days before the Bighorn 100, I exercised Cobalt methodically while Freckles watched longingly. Thinking to train Freckles so that he, too, could go on trail rides, I decided to saddle him up.
I overlooked the fact that Freckles had not been under saddle since the start of winter and the way he mouthed the bit distastefully. I mounted him, calmly walked him in circles, and squeezed my legs to ask for a trot.
Who knows what goes through a horse's small brain, what stimuli trigger its flight response? Perhaps Freckles felt frightened by my command to head away from his only friend, or perhaps he harbored pent-up aggression from being bullied. Maybe the heel of my boot tickled, or he simply wanted that dang bit out of his mouth.
Whatever the case, Freckles plunged his head down and reared his back up. I sat deeply and pulled the reins with all my might, but he bucked and crow-hopped as wildly as a rodeo bronc. Doomed, I got my boots out of the stirrups to avoid getting dragged and let physics propel me into the air.
Since age 4, I have fallen off horses often enough to know the drill: Land on butt, dust off, get back on. But this time, pain shot down my backside when I rolled over, and I couldn't
stand unassisted.
The landing fractured the side of a lumbar vertebra and traumatized the attaching muscles.
No 100-miler. I could barely bend to tie my shoes.
That moment of ejecting and hitting the ground did more than hurt my back; it shattered any illusion of being in control. I tell the runners I coach to "expect the unexpected" during ultras, but tend to forget that advice in everyday life. 
Of course, I'm grateful not to have wound up in a wheelchair, but exasperated that one casual impulse torpedoed months of effort. The next time I line up for an ultra, I'll celebrate just making it to the start.
Sarah Lavender Smith is an ultrarunning coach from Telluride, Colorado. You can read more misadventures on her blog TheRunnersTrip.com.