The Busy Runner's Weekly Strength and Mobility Plan
You can get strong and support faster running on just a few minutes a day.
Heading out the door? Read this article on the new Outside+ app available now on iOS devices for members! Download the app.
Forgive me, reader, for I am a lazy runner.
Once when out on a trail, I said: "Let's add on that mountain climb, it looks beautiful up there!"
At home after that run, I said: "Let's use napkins because the toilet paper is upstairs."
So you can imagine that strength work may fall by the wayside sometimes. My body is at risk of becoming like our septic tank–clogged up and in need of expert attention. But even knowing that, it's easy to let other priorities get in the way. For example, of course I can't do my strength work, I really need to call a plumber. Or based on the way the pipes smell, possibly an exorcist. 
Yet I have done strength work almost every day for years. The key for me is making the process so simple that nothing can be an excuse. And that's where the Time-Crunched Runner's Strength and Mobility Plan comes in. (The more comprehensive All-In-One Strength Work Plan is here.)
You can do this plan on a work call. You can do it while watching a baby. Heck, you can even do some of it while carrying a baby for an added strength stimulus. Many of the athletes that Megan and I coach (including pros) do a variation of this plan as their weekly strength work (we talk about the principles on our podcast here). The plan focuses on just two physiological pieces.
RELATED: What Your Weekly Training Plan Should Look Like
One: Mobility and flexibility slightly beyond a running range of motion
Running is a highly specialized movement pattern. One plane of motion and one general biomechanical approach, repeated millions of times. While terrain variation and effort polarization change muscle demand and recruitment slightly, runners are always going to be at high risk of overuse injuries when that repeated movement pattern overlaps with the high impact forces of the sport.
Dynamic mobility like leg swings and band work expand range of motion and strength in multiple directions. While the studies are mixed, that could reduce injury risk and improve performance. Stretching may help some athletes as well, particularly those that are naturally inflexible.
Essential elements in the plan: leg swings, band work, high knees, light post-run stretching
RELATED: Training for Busy Athletes
Two: Muscular strength and endurance
Back in 2017 at the World Trail Championships, I rounded a corner at the hotel a few days before the race and saw an entire national team doing single-leg step-ups. I'm not sure whether they were doing the Mountain Legs routine or if that exercise is common, but either way, they went on to demolish the race for a top team score.  
Strength through the entire range of motion (like step-ups) can support faster climbing through improved muscle fiber recruitment during repeated concentric muscle contractions. And adding the eccentric element of rear lunges can help with downhills. Anecdotally, I have seen many athletes progress long-term using the relatively limited Mountain Legs routine, just repeating it hundreds of times over the years. 
If you are skeptical, do 50 of those step-ups after your next run and note how similar it feels to the end of a tough climb. Now do that post-run 4 days a week for the next 3 years. I just tricked you into becoming a stronger climber! 
Upper body and core strength are also important, but mainly for physical stability and hormonal balance. I love push-ups and chin-ups/pull-ups with an engaged core as a quick stimulus that can add up over time.
RELATED: Coach Roche's 8 Favorite Hill Workouts
Essential elements in the plan: rear lunges, single-leg step ups, push-ups, chin-ups
The goal of the plan is not to spur higher and higher levels of strength with time, but to support the dynamic motion of running so an athlete can get faster with time. We don't want to be good at strength work, we want to be good at running very fast.
The plan focuses on year-round consistency and repetition, with some of the elements being completed every day, including rest days. Everyday elements (with links to descriptions):
Other elements are just done before runs for activation and mobility:
Light stretching is only completed after runs or cross training, and the Mountain Legs routine is ideally completed 3 or 4 times a week (not the day before workouts and long runs).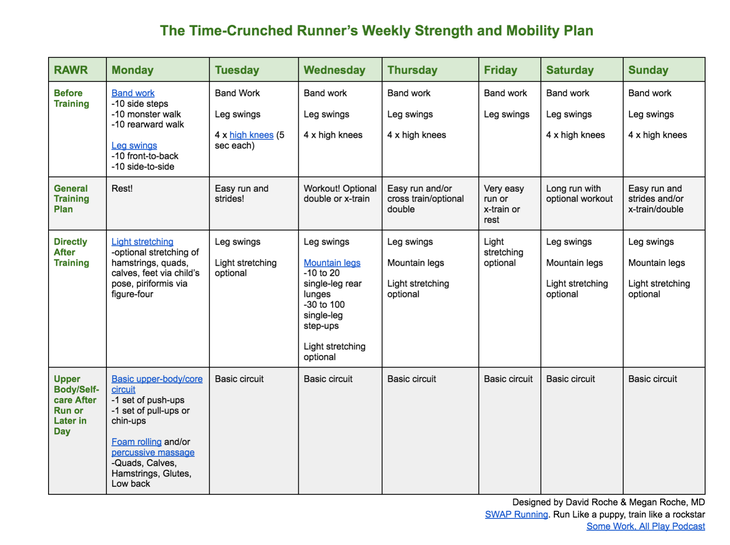 You can access the PDF file with links to the exercises here.
You are AMAZING!
David Roche partners with runners of all abilities through his coaching service, Some Work, All Play. With Megan Roche, M.D., he hosts the Some Work, All Play podcast on running (and other things), and they wrote a book called The Happy Runner.