How To "Send It" Bravely – And Safely – On Downhill Trails
The so-called "easiest part" of the sport can be the scariest for novice trail runners. 
Heading out the door? Read this article on the new Outside+ app available now on iOS devices for members! Download the app.
As a newer trail runner, I faced a lot of intimidating factors that came with moving from the road to the dirt: venturing into the wilderness and away from emergency cell service, the potential of wildlife encounters, the fatigue that comes with inevitable uphills. But what's still scariest to me are the downhills—I just don't love the idea that uncertain terrain (loose rocks, slick dirt, obscured roots, and so on) can give way at any moment, sending me head over heels down a slope. 
Efficient downhill running takes as much training as learning how to power uphill (you can read more on the science of downhill running from coach David Roche)—and that's a big change for anyone (read: me) who loves letting gravity make faster paces seem effortless on a paved decline.
Eyes Up
Instead of being able to blindly trust where you put your feet at any given moment, trails require you to look ahead and "read" the terrain for the smoothest, safest path or "line" down, says Amie Dworecki, an RRCA- and USATF-certified running coach who works with the local parks department in South Bend, IN to hold multi-week beginner trail running clinics. "Rather than looking at your feet, you want to scan about five to 10 feet in front of you as you run down the hill," she explains. "With practice, your brain will adapt to start remembering what's directly in front of you so you can prepare for the next hill segment without having to stare at your feet." 
RELATED: Going Downhill Fast
When I am able to tear my eyes away from my feet, I often find myself laughing at my friends' flailing arms on the downhills—but the loosey-goosey approach is more strategic than silly, especially compared to my stiff upper body motions. "Allowing your arms to flail with your downhill running counterbalances the lower body's lateral movements." explains Jenny Quilty, a UESCA-certified ultrarunning coach who hosts downhill running workshops in Abbotsford, British Columbia. 
Unlike on a road, trails require side to side movements as you navigate roots and rocks underfoot. A relaxed upper body—with a slight forward lean that keeps your feet from sliding out from underneath you—allows you to quickly shift your center of gravity, and "if you remain too rigid on technical terrain, you often can't find that flow with the trails—and turns, dips, or steps can feel more abrasive and jarring," says Quilty. FYI: This requires a strong core (AKA all the postural muscles that help keep you upright); if you're falling a lot, that's a sign your core strength needs some work, says Dworecki.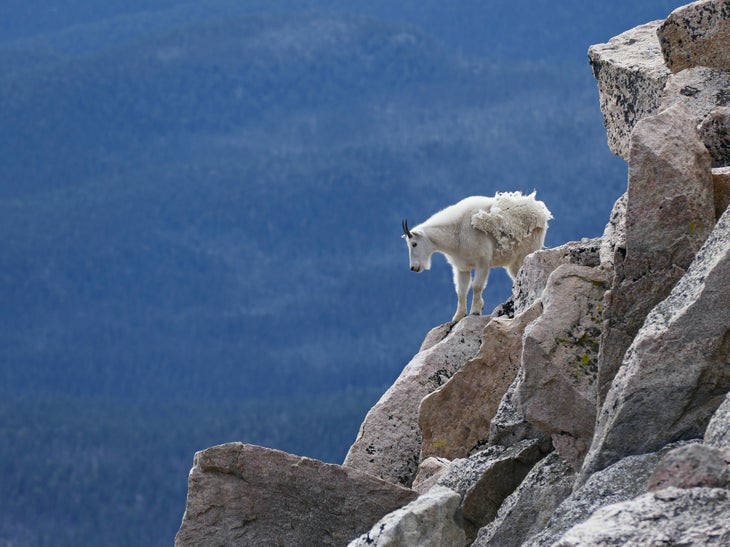 Keep the Speed
You may feel like you need to slow down to focus on these changes, but you should actually try to maintain a consistent pace on downhills (think: quick, light feet). "When you go down slowly, you put all of your weight and stability into the environment below your foot—and if that environment changes, you don't have the ability to rapidly shift your balance and stability," says Stephen Littlewood, a running coach based in Stafford, VA. If you're moving quickly enough, though, "by the time the environment starts to change, your weight and stability should already be transferred to the other leg, helping you bypass the hazard," he adds.
RELATED: Here's How To Make Sure You Always Feel Good During Workouts
All of this takes practice. "I'll take trail running clinics to a nearby park with varying levels of decline and terrain that all take under 30 seconds to reach the bottom," says Dworecki. "Try running down a hill multiple times, taking different lines with each run. Once you've mastered shorter downhill pieces, you can feel confident using what you've learned on steeper, longer terrain." 
Drill It
You can also use drills—like "drunk running"—off the trail to help prep your body, says Littlewood. "I'll have runners on the track or road constantly shifting their weight while stepping over a line painted on the ground," he explains. "This gets them used to being light on their toes and learning how to move and aim their bodies." And practicing "ninja steps," or running up behind someone without them hearing, not only reduces the amount of force on your body, but increases your cadence and teaches you to be light on your feet—all of which will increase your efficiency on trails, he says. 
Every runner—including those who prefer running on dirt—can benefit from strides, or 20 to 30-second pickups in which you run at 80 to 90 percent of your max speed, says Dworecki. "This drill encourages a faster leg turnover, which allows you to be more nimble when encountering obstacles on trails." You can do a few of these at the end of a run two to four times a week as long as you're running on a smooth, flat surface.
RELATED: How To Supercharge Your Mobility With Grayson Murphy's Walking Drills
Don't underestimate the importance of strength training, either. "Running downhill requires eccentric muscle contractions, meaning that the quadricep muscles are lengthening while being loaded—and this is a more taxing type of muscle contraction compared to what happens when you run uphill," says Quilty. If you want to feel stronger on steep downhills, doing eccentric work—like lunges or squats, where you take more time lowering yourself toward the ground than you do to return to start—in the gym can help.
But a lot of confidence in trail running comes down to simply trusting yourself. "When you're fearful, you often tighten your body with anxiety, which can be counterproductive to the free-flowing nature of running downhill," says Dworecki. Belief in yourself can be the secret to getting from top to bottom without mishap.