5 Things I Wish I Knew Before My First Ultra
From fueling to having fun, here are 5 lessons our editor learned the hard way. 
Photo: Greg Rosenke/Unsplahs
Heading out the door? Read this article on the new Outside+ app available now on iOS devices for members! Download the app.
I ran my first ultra in 2015. It was a small 50K in northern Arkansas, a muggy June affair with overgrown singletrack and mid-race tick checks. 
I had no race plan. No fueling plan. I bought a hydration pack the night before when I finally did the math on how long I'd likely be running (it's hard to stuff several hours' worth of Oreos and Goldfish in a sports bra). 
Thirty-two miles and several hours later, I emerged from the Ozark woods a newly-minted ultrarunner (with tick bites and chafing to prove it). I've learned a lot since then and now approach my training and racing much more methodologically. Here are the top five things I wish I'd known before that first ultra, so you don't have to learn them the hard way. 

1. It's Actually An Eating Contest
I thought I'd just munch on goldfish and cookies when I felt hungry or bonky during that first ultra. The only problem with that airtight plan is that it's not a plan. You're pretty much never going to "feel" hungry when you're running through a hot and muggy forest for hours on end. Chances are, you probably won't feel very hungry during any ultra, no matter the weather.
RELATED: How To Fuel For Long Runs And Races
People who tend to do well (or just enjoy) ultras are people who are able to cram a lot of food in. We've written about how extreme approaches like aiming for over 400 calories an hour can be beneficial for some athletes, but a good place to start is simply a concerted effort to force down a few more calories than you strictly think you'll need. 
Try setting a timer on your watch for every 15-30 minutes so that you can fuel consistently and regularly, even when you may not feel like it. Use long training runs as an opportunity to expand your palate and train your gut to accept snacks, even when you don't feel like you need them. It's pretty much impossible to un-bonk once you've bonked, so fuel proactively to avoid fueling-related DNFs. The back half of your race will thank you.
2. Walking Is Fine and Normal 
Most of the long runs leading up to my first ultra had been in the 16-20-mile region, mostly on gently undulating terrain that wasn't excessively steep. It was, in the overconfident ultra-newbie mindset, "runnable." But ultras have a funny way of making molehills feel like mountains when your legs are tired, and things that seem runnable at mile 8 may look and feel very different at mile 30.
I wish someone had told me ahead of time that walking is both fine and normal during ultras. In fact, as races get longer and climbs get steeper, it's actually more efficient to power hike than try to force a run. Put some power into that hike, and embrace climbs as an opportunity to use a different skill set – and offload some work to your glutes! Think of power hiking as an opportunity, not a break. Embrace it, and don't beat yourself up over losing some speed. When I found myself forced to hike during that race, I wondered if I was a failure. I was not, and you are not. It's a great necessity of ultrarunning!
RELATED: Tips For Uphill Running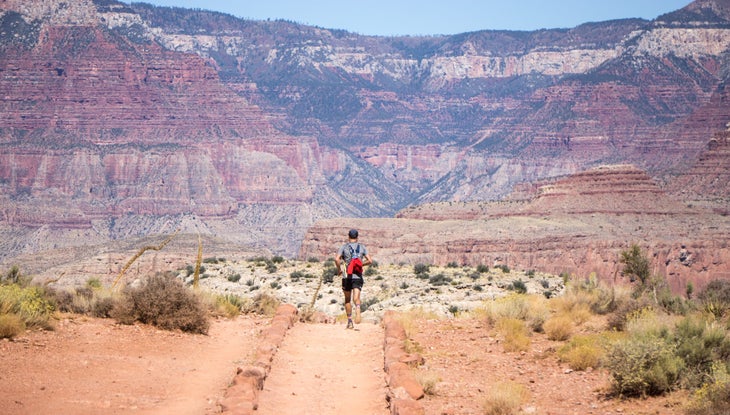 3. Start Slower Than You Think. And Then A Little Slower Than That. 
The start of an ultra is a very poor time to set a 10K PR. No matter what distance you're racing, the first ten miles (at least) should really be the easiest, an opportunity to ease into the day, start eating and hydrating, and practice control over both pacing and adrenaline. 
Figure out what makes the sport fun to you, and lean into that. Lean into that hard. 
Do not try to bank time; that almost never works. Trust that the race will get harder, and you don't need to go seeking the hard stuff right off the bat. It's easy to get caught up in the starting line excitement and want to go full-send as soon as the gun goes off. DON'T! Hold back. 
You'll end up passing many of the people who are rushing off the start line. Races are won and lost in the second half; nobody cares who "won" the first mile. Even if your goals aren't competitive, think about what you can do in the first 10, 20, or even 50 miles to set yourself up for a FUN second half. 
4. Low Moments Are Okay, And Temporary.
The first time I hit a mental rough patch in an ultra, I panicked. I hadn't ever felt that tired, or bonky or just plain low in training. Did that mean my day was over?? 
It wasn't. A few swigs of Coke and several caffeinated gels later, I was back on track. 
Lows are temporary; they're all part of the process. There are very few mental snags that a few hundred calories and some positive self-talk can't fix. To quote the sage words of wisdom murmured to me by a passing stranger during a 100-mile race, "If you start to feel good, don't worry. It will pass." 
No matter how you're feeling in the moment – good or bad or somewhere in the glorious in-between –  know that it will pass. Virtually everything you'll experience in an ultra is temporary, so try and embrace it as it's happening, knowing it will change. In fact, those tough moments are why many of us gravitate towards the challenge of trail and ultra running in the first place. How we respond in low moments, be it with kindness, courage, or just forcing another gel down, defines us as athletes. Think of each low moment as an opportunity to be the kind of person you want to be! 
The only guarantee in longer events is that the tough moments will come. You never know when or where, but you can hedge your bets by continuing to fuel and put one foot in front of the other. 
RELATED: Anytime, Anyplace Trail Running Workouts
5. It Should Be Fun.
To quote coach and columnist David Roche, "We are stardust with delusions of grandeur. None of this stuff matters except the memories we make. So, DECIDE NOW that they will be good memories no matter how the race actually goes."
One of the best signs we've seen at road marathons said, "Don't forget, you PAID to do this." And to a degree, that's a good mindset! There was a time when this sounded fun to you, and it absolutely has the potential to be just that.
You get to eat fruit snacks in the woods with your friends and cover every inch of your body in bug spray and lube for an adventure. You get to accomplish something amazing. To my knowledge, they do not serve Fireball whiskey at most major marathons, but I have seen dixie cups of the stuff at lots of trail races. I've seen chocolate fountains at aid stations, figured out how to remove blood stains from a Hawaiian shirt (I'll save that intel for another article) and been dropped on a climb by someone dressed as a banana. Figure out what makes the sport fun to you, and lean into that. Lean into that hard. 
Wear a costume. High-five everyone you pass. Take a shot. Or do none of that and just do your own fun thing. Whatever it is, be sure you're having fun. That's what this is all about, after all.