Why Run on Trails When You Can Collapse in Snowshoes?
Many runners snowshoe in the off-season, but not many focus on it year round. At the U.S. national championship, everyone is welcome.
Heading out the door? Read this article on the new Outside+ app available now on iOS devices for members! Download the app.
Have you ever realized you were in over your head in a race, moments after the starting gun went off?
That's what happened to me last month, in a 10K snowshoe race at the Winter Mountain Games in Vail, Colorado. Feeling semi-fit and eager to compete in my first snowshoe race in a few years, I toed the line with a few dozen or so other enthusiastic competitors in what might be best considered the equivalent of a trail running race over a snow-covered golf course.
Fifteen seconds after the start, though, the course transitioned from groomed, hard-packed snow to the first of many sections with deep, light, fluffy powder. I watched as other competitors gracefully bounded through the snow in what seemed like a postcard-perfect scene of a bluebird Colorado day.
But amid all the wintry exuberance, it was as if I had been tossed out of a boat and was treading water wearing a heavy pair of hiking boots. As I sunk deeper with every stride, I felt something grab my back leg and was suddenly airborne, momentarily Superman-ing above the pristine layer of snow that the others were methodically dashing through.
And then, Whommppfff! I face-planted into the snow.
To me, snowshoe racing has always been a special kind of Type-2 fun, a unique wintertime activity to whet your appetite for just about any type of endurance racing later in the year. For the uninitiated, it's an easy sport to enjoy. If you can run on trails, you can run on snowshoes. It's kind of like what cyclocross is for the cycling world. As such, there aren't really any true snowshoe racing specialists, but more a collection of adventurous trail runners, marathoners, triathletes, mountain bikers, and hikers converging in a winter wonderland for some adrenaline-fueled fun.
RELATED: A Beginner's Guide To Snowshoe Running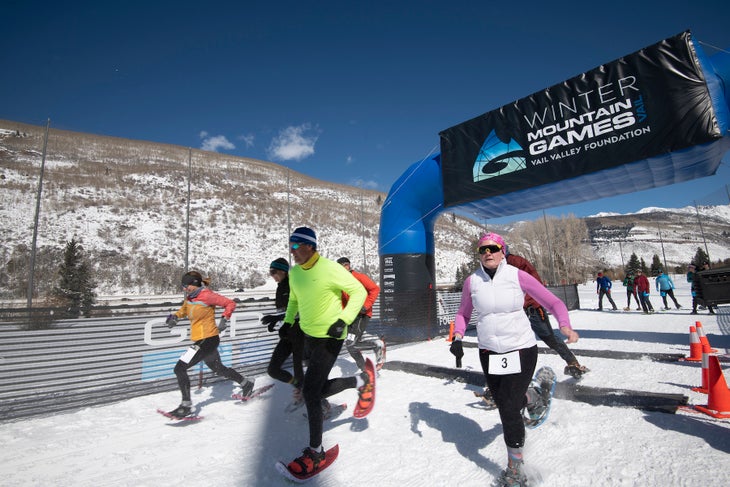 Sure, there are some great snowshoe racers who excel at dashing through the snow. In fact, Josiah Middaugh, Alex Willis, Seth Wealing, and Meredith Cook were among the local Colorado athletes who were off the front in this race as I was torpedoing into the snow. Middaugh, Nichols, and Wealing are all great trail runners, but have primarily made their mark as Xterra off-road triathletes, while Cook is also an accomplished trail runner. 
Middaugh is a six-time U.S. snowshoe champion, and Willis is competing in the 2022 World Snowshoe Championships on Sept. 3 in Argentina. There will be a lot of good trail runners competing in the 2022 U.S. Snowshoe Championships on March 13 in Cable, Wisconsin. And that event made it clear that anyone can enter and everyone is welcome: "There are no Qualifiers or Membership Requirements to compete."
Two years ago, trail runners Michelle Hummel and Joe Gray won the U.S. Snowshoe Championships and then went to Japan, where Hummel won the women's World Snowshoe Championship and Gray was fourth among men. (Gray was the world champion in 2017 and the runner-up in 2018 and 2019.)
Generally speaking, though, most people who show up for a snowshoe race are training for something else. Or, like me, they just want to endure the torturous fun of something new.
I've raced on snowshoes about 30 times, from as short as 1 mile to as long as 20K. I've never been particularly good, but that hasn't stopped me from coming back. When you're fit, it's a fun way to get a winter workout without any stress tied to your summer goal races. 
For this race, though, I wasn't that fit, so after my inadvertent crash near the start, I got back on my feet and realized I'd be in for a long, slow jog with amazing mountain vistas.
RELATED: How In The World Do You Train For A Snowshoe Marathon?
Most of the athletes were wearing running shoes strapped to lightweight, aluminum 8×25-inch snowshoes from Atlas, TSL, Redfeather, or OT Racing. I would have been, too, but one of my bindings broke while I was warming up and the makeshift repairs I made with duct tape and zip ties didn't hold, so I had to rent a heavier pair from the Vail Nordic Center. 
As the race progressed, Middaugh and Willis pushed the pace, but it was Middaugh's 17-year-old son, Sullivan, who stole the show and won the race in 46:41 — an impressive 7:31 per mile pace. Cook, meanwhile, was the top woman in 1:08:19. 
"It's pretty exciting for me to see him pass me in a race and really go for it, and really lay it on the line," the elder Middaugh said. "It's really demoralizing when someone else makes a strong move on me like that, but when it's my own kid, it makes me feel good and bad at the same time. I'll just have to find his weakness the next time we race."
As for me, I definitely found my weakness. I tried to keep pace with Danielle McNair, but she was stronger and more determined than I was, and left me in the snowy dust en route to finishing second among women. She seemed happy and chipper as she passed me, so I did my best to keep a smile on my face and enjoy the views as I slogged to the finish.
"Although it can be an intimidating sport and quite challenging," McNair told me after the race, "I just remind myself that I was brave enough to show up today, and isn't that what most of racing and events are about? I'm never going to be a fasty, but I can show up and challenge myself and rack up smile points." 
Brian Metzler was the founding editor of Trail Runner and now serves as a contributing editor.