Adam Merry Claims the Mount Yale 360 Supported FKT
"If you're going to run at that effort, it's almost like jumping off a dock—as soon as you jump, you're going in the water. You can't turn around," Merry explains.
Adam Merry was out at Western States, crewing for a friend and not thinking too much about his upcoming Mount Yale 360 FKT attempt, when his cellphone pinged. The text was from Chris Harrington, whose 4:39:25 FKT Merry hoped to beat in just five days.
"Dude, you're not gonna believe this. Joseph DeMoor just got the FKT," read the words that flashed across Merry's screen. DeMoor, a former University of Colorado runner with twenty-seven FKTs to his name, had beat Harrington's time by nearly an hour. The new record stood at 3:42:24.
Suddenly, the feat that lay in front of Merry shifted entirely. Up until that moment, whenever Merry spoke of his upcoming FKT attempt, there was an even tone to his voice—a sense of calm, and a self-assuredness. He felt confident that he could beat Harrington's time and enjoy the process—the variety of mountain views, the trail's diverse ecology, and the lightweight comfort of HOKA Zinals on his feet. But now, the time to beat was DeMoor's, and to do so, Merry would have to dig deep into the pain cave.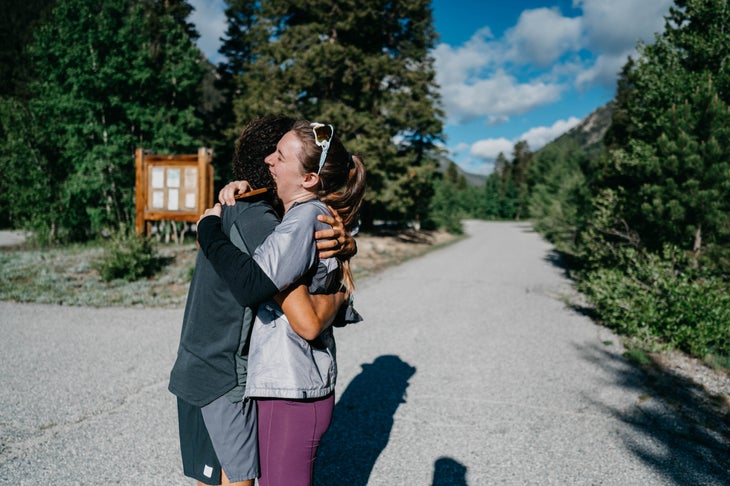 The Attempt
Five days later, on the morning of his FKT attempt, Merry sat in a car with his wife, Julianne, and their friend, Allison Dobbs, the photographer who would document his attempt. The world around Merry was alive—the car jostling with each bump in the road and the Colorado morning awakening with bird chirps and misty air. But Merry sat still, consumed by both nervousness and pure exhaustion—from crewing Western States, from a long day of coaching, and from too little sleep the night before.
"I had the worse sleep I have ever had before a race; I was waking up every hour, probably because I was nervous," he reflects. Perhaps, Merry thought, he would not attempt the FKT that day.
Suddenly, the car began to slow, and the trailhead parking lot appeared. As if on cue, Merry was surrounded by majesty, the collegiate peaks towering all around him—Mount Princeton, Mount Harvard, and Mount Yale. The morning darkness had left, taking Merry's exhaustion and fear along with it. In their place, stood only excitement. At 8:20am, Merry's legs struck the trail, and from that moment on, there would be no turning back.
"If you're going to run at that effort, it's almost like jumping off a dock—as soon as you jump, you're going in the water. You can't turn around," Merry explains.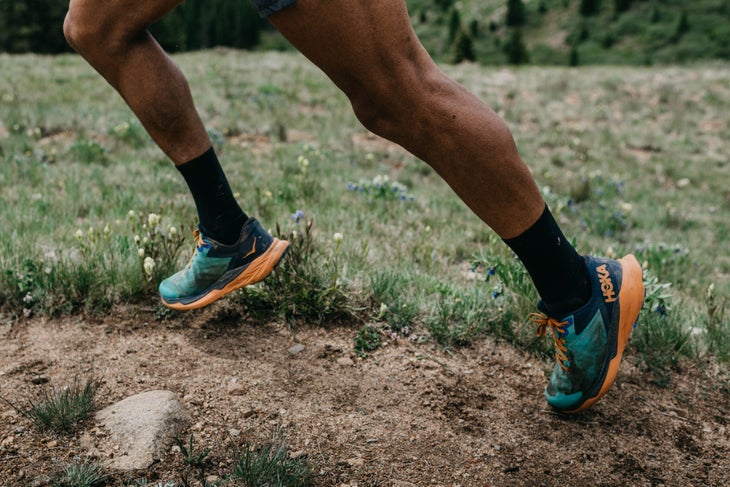 Merry had trained in the HOKA Zinals leading up to his FKT attempt. Still, the elements of the Mount Yale 360 trail—steep climbing, long descents, and creek crossings—allowed him to truly test their versatility. At creek crossings, the Zinals drained with impressive speed and gripped safely to the slick trail below. For Merry, they were a welcome reassurance when so much of the run was characterized by uncertainty.
In fact, Merry knew only one of DeMoor's splits: the first climb and the descent that followed. He finished that segment seven minutes faster than DeMoor had, welcoming the resultant boost of confidence. For the remainder of the run, Merry would need to exercise trust—trust in his legs and the many miles that had strengthened them; trust in his mind and the words of his coach, David Roche, who suggested he run the downhills aggressively.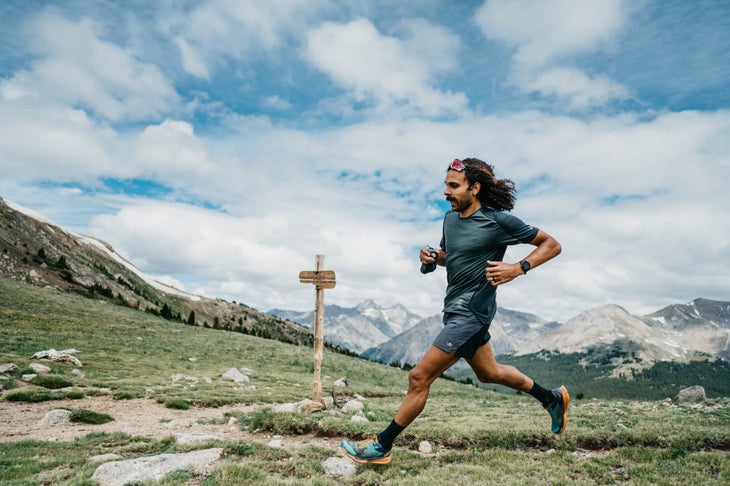 "I ran the downhills quite a bit harder than I would in a race," reflects Merry. "It kind of unlocked in my mind a new level [of intensity] that I can take into racing." Merry also attributes this intensity to the Zinals. Their cushioning allowed him to fully test his downhill skillset, as he wasn't absorbing much of the descent in his legs.
The Zinals, as well as Merry's mental and physical training, would carry him through single-track and paved road, over rocks and creek-crossings, above the tree line, up, down, and up again. At one point, he reached 12,500 feet of elevation and shifted from running to power-hiking. He maintained his energy with one handheld water bottle and three gels, and he maintained his uncertainty too: How close was he to DeMoor's FKT? Finally, Merry reached the road, and he knew—he had just five kilometers left and 40 minutes to complete them. Then, the FKT would be his. Merry picked up his pace, completing the run in 3 hours 33 minutes and 50 seconds.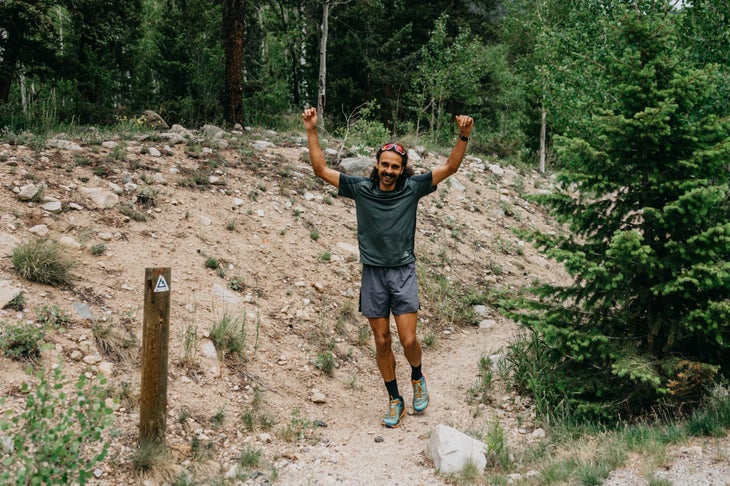 The Aftermath
As Merry lay on the ground, nursing the protein smoothie he had stashed behind a tree and waiting for Julianne and Allison Dobbs to meet him, he picked his brain for lessons and regrets. Maybe he could have used another water bottle during the last 6 miles, and especially now, as he lay parched on the dusty ground. He would have liked to know beforehand that a photographer counted as a support crew—Merry would ultimately claim the supported, not the unsupported, FKT. But, above all else, Merry felt gratitude.
He felt grateful for DeMoor, an athlete he truly respects, for pushing him to test his capabilities. He felt grateful for Julianne and Dobbs, who hiked 8 miles to take pictures of his FKT attempt; for the hikers he met on the trail; and for all that he represents as a multiracial trail runner.
"Everyone else I saw on the trail was white. To me, it feels like an opportunity that has yet to be realized. We have to find ways to engage communities of color more effectively and give them more opportunities to recreate outdoors," says Merry.
Merry is also grateful for what he discovered in himself: an enhanced appreciation for the FKT. "I could see FKTs being a more prominent part of my racing calendar," he reflects, citing the opportunity to explore a new trail and the quiet comradery of competing against another person's time. "You're essentially racing someone else virtually—it's like you're racing the ghost of someone." This unique form of competition pushed Merry to access a new level of effort, one that will benefit him as he heads towards summer races—the Silverton Alpine 50k, the Never Summer 60k, and the OCC in Europe.
When asked if there were any surprises, Merry cites the lack of wildlife on the trail, not his finishing time. Perhaps, Merry always knew he could claim the Mount Yale 360 FKT. Perhaps, the morning nerves were merely bi-products of self-belief.