Kilian Smashes Bob Graham Record
Heading out the door? Read this article on the new Outside+ app available now on iOS devices for members! Download the app.
Crowds flocked to the small town of Keswick in northern England Sunday, July 8, to watch Kilian Jornet break the most famous and arguably the toughest record in British fell (mountain) running. The Catalonian long-distance Skyrunning champion posted 12 hours 52 minutes for the 64-mile route with 26,630 feet of ascent, knocking a massive 1 hour 1 minute off the record.
Up on a Pedestal
The Bob Graham Round record has remained untouchable since 1982 when local lad Billy Bland from Borrowdale stormed this circuit of 42 summits in northwest England's mountainous Lake District in 13 hours 53 minutes, annihilating the previous record of 17 hours 45 minutes by Mike Nicholson five years prior. This historic route starts and finishes at the Moot Hall in Keswick, climbing the Lake District's highest mountains including Skiddaw, Helvellyn, the Langdale Pikes, Scafell Pike (England's highest), Pillar, Great Gable and Robinson.
In the 1980s the builder and stone-waller Bland was running phenomenally, winning the British Fell Championships in 1980 and dominating classic long-distance fell races like the Wasdale and Borrowdale. As Bland ran the Bob Graham Round, paced by fell-running legends like Joss Naylor and Kenny Stuart, he and his crew soon realized he might break 14 hours. But none of them expected the record to stand for so long.
"I wasn't the best that was about," says Bland. "I was fairly good but there were about 20 lads about that time that could run fast fell races. I think they put us on a pedestal they shouldn't have, so none of the better runners really tackled it."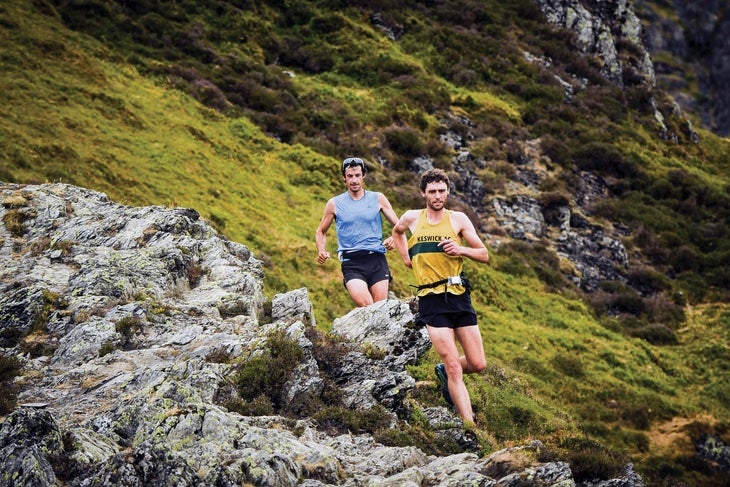 The Competition Ramps Up
Bland is right. Until recently the UK's Mark Hartell was the closest challenger (in 1999) to Bland's record but was still over an hour away with a time of 14 hours 54 minutes. Then suddenly in April 2016, Brit Jasmin Paris broke the ladies record, flying around in 15 hours 24 minutes, only 91 minutes off Bland's incredible time, and prompting some of the guys to give the Bob Graham another go.
"I think all the fast lads are having a crack now!" she said. Multiple fell-running-race winner and 2005 Skyrunning Champion Rob Jebb ran a brilliant 14 hours 30 minutes in July that year. Then, in June 2017, U.S. ultrarunner Ryan Smith from Boulder, Colorado, posted a jaw-dropping time of 14 hours 17 minutes, but unfortunately his time was unofficial because, although you can find his route on Strava, he wasn't accompanied at every summit as per the record rules.
Fast forward to 2018. Kilian Jornet, having been interested in the Bob Graham for a couple of years, finally made it to the Lakes. He was fresh from a shoulder injury and operation, a fast ski-racing season, a broken leg and a win at the Mont Blanc Marathon the week before. Of course, Bland was hoping for a local lad to take his record, but in true fell-running style, he was out on the route to shake Jornet's hand, and there in Keswick to welcome him home with a bottle of champagne.
His wife Ann said, "Billy always said he'd like to shake the hand of the person who broke the record before he pops his clogs!"
Fell Running Primer
Keswick
Pronounced Kezick (Silent W).
Fells
Fells are what people in the north of England (especially in the Lake District ) call mountains and hills. Hence, fell running. Nothing to do with falling, but you may also do this a lot as the terrain is really rough and steep.
Trods
Trods are a northern word for sheep tracks or foot-worn paths that appear gradually with use over time.
Bob Graham
Bob Graham was a Keswick hotelier who ran the 42 peaks to celebrate his birthday in 1932. He is reported by Steve Chiltron in his book The Round as "running in shorts, pyjama jacket and gym shoes and snacked on bread and butter, lightly boiled eggs and sweets." He set a 23-hour-39-minute record which remained unbroken until 1960.
66 Miles
On the official Bob Graham website, the distance is 66 miles with 27,000 feet of ascent. Jornet's Strava track shows 63.6 miles with 26,6380 feet of ascent as he took the best possible line between the 42 summits, created by a decade of increasing footfall as the Bob Graham has become more and mor popular. (If you are planning a visit to the UK, do consider other fantastic National Parks too, and/or some footpath repair fun with Fix the Fells (www.fixthefells.co.uk)
The Wainrights
The Wainrights are the 214 Lake District fells described in Alfred Wainright's hugely popular, illustrated, seven-volume Pictorial Guide to the Lakeland Fells. Joss Naylor ran them all in 7 days 1 hour in 1986, a record which was broken by Steve Birkinshaw (Jornet's Leg 4 pacer) in 2014 with a time of 6 days 13 hours.
Jornet Taps the Local Talent
Jornet simply flew over the Lake District fells in unusually hot, dry and clear conditions for the UK mountains. Dragon's Back Race organizer Shane Ohly reports that in fact, Jebb was due to have a go on the Saturday prior (July 7) but pronounced it, "Too warm for a Yorkshireman," and called his attempt off on Friday, suddenly leaving Britain's top fell runners free to pace Jornet on Sunday.
British fell-running champion Carl Bell from the Keswick Athletic Club, who paced Jornet on Leg 1, says, "I met him [Jornet] just before we set off at 6 a.m. this morning! It was great, we had a chat, he was fast, you could tell he enjoys the mountains. But yes, he was definitely slower when I joined him again on Leg 5 [the final section]."
Bell, a 36-year-old electrician from Cumbria, is amongst the few thought capable of beating Bland's record but he told me, "I won't be having a crack at it now. I might have if Kilian hadn't taken an hour off it, but it seems impossible now; I don't train full time like him."
It seems the record has been lifted off one pedestal only to be placed on a higher one.
Pacer Rhys Findlay-Robinson, from Leg 2, was more sanguine: "Yeah, he's fast, but the pace was alright." The section over the Helvellyn range is renowned for being rolling, featureless and tricky to navigate, especially in the mist but there were certainly no issues with that on such a bright, clear day on the fells. "It went well," said Findlay-Robinson wryly. "He kept up with us …"
However, over halfway around, ending Leg 3, Jornet appeared to drop pacer Jebb, descending steep scree from the high slopes of Sca Fell into Wasdale, but others say "Jebby" might have been giving him a respectful distance with all that shifting rock around.
The legendary 82-year-old fell runner Naylor was down in Wasdale valley, where he was born and raised, watching Jornet start Leg 4. "He headed up Yewbarrow, with one pacer delivering him to the next pacer who was towards the summit," says ultrarunner Kirsty Reade from the UK running website Run247. "Joss Naylor looked on as Kilian dropped the first pacer and it seemed that he couldn't find his way to the second, with Joss speculating about whether he was losing time."
He may have lost a few seconds, but at this point Jornet was 1 hour 5 minutes up on Bland's 1982 splits. Says Wainwrights record holder Steve Birkinshaw, pacing Jornet on Leg 4, "I had to take a few short cuts to keep up … He was really enjoying being out in the fells. He even checked I was OK, when I fell over whilst running behind him."
Birkinshaw and the author had paced Scott Jurek on this leg in April 2014 and it was here, ascending the grey rocks and boulders of Great Gable, that he really started to hurt and even had to sit down to refuel. Afterwards, Jurek posted to Facebook, "We cut it real close in the end with only 16 minutes to spare, but we did it! 23:44 for the Bob Graham Round. Quite possibly one of the most difficult courses I have done in my life!" Obviously, this was before his 2016 Appalachian Trail record.
It seemed Jornet slowed in the heat around this section too, then had a bad patch just like Bland had had on the descent to the final road crossing at Honister Pass, reporting that he felt "a bit dizzy."
"I was pleased that he [Kilian] looked tired at Honister," Bland said, having seen him at the final road crossing before Leg 5. "And to hear that he'd had a bad patch on Leg 4. Otherwise it would have looked like us Brits weren't that good. He and the rest of the world would have wondered what all the fuss was about!"
Fuss was exactly what Jornet didn't want, having kept this Bob Graham record attempt a well-guarded secret pretty much until Sunday morning, by which point social media was awash with photos and updates from excited onlookers thrilled to be witnessing fell-running history in the making.
Ann Bland was pleased that Jornet had come to visit her and Billy the previous Friday, saying "He's very modest and unassuming but a different class from when Billy was running."
Once the word was out, hundreds of people came out to cheer at the finish at the Moot Hall. Some had driven for hours to Keswick because they just couldn't miss this incredible event unfold.
The crowd buzzed in the sun, filling the main street with colorful race T-shirts. People chatted with old friends and ate ice cream, keeping one eye on children and collie dogs and the other down the street, eager to catch a glimpse of the man himself.
Then, at 6:52 p.m., shouts erupted from down the street, the crowd parted in a funnel, a front runner wildly clanging a cowbell dashed through and there he was. A blur of blue T-shirt, dark hair and sunglasses, Jornet was giving it everything in his final sprint up Keswick's main street to the cheer and roar of the spectators. 12 hours 52 minutes. Incredible. Unbelievable. One hour and 1 minute off Bland's 1982 time. The new Bob Graham Round record.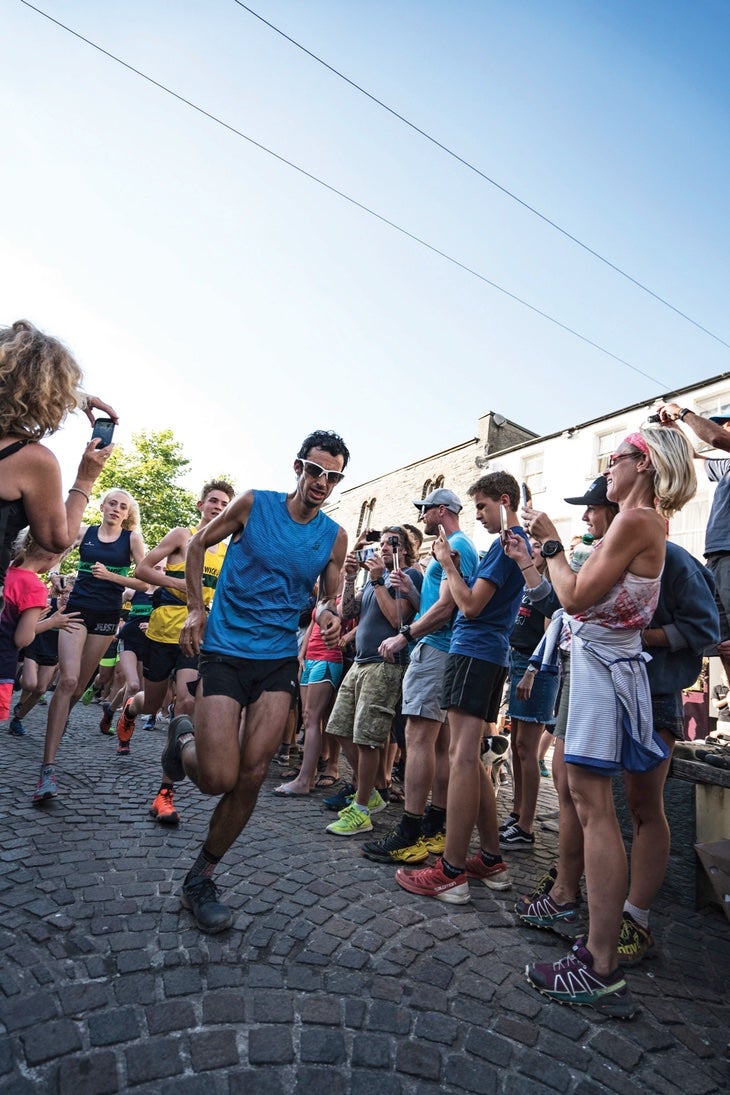 A New Perspective on an Old Trail
Plenty of people have looked far more wrecked after the Bob Graham Round, but Jornet was definitely tired, hurting and sweaty as he sat on the top step of the Moot Hall with Bland. Straight away, Jornet pointed out, "I had completely different conditions to Billy, completely different. So dry, so sunny, all the best pacers, it was easier for me, but still the last 10 miles were really, really hard."
Bland agreed the Bob Graham route is a more easily navigable, much faster "yellow-brick road" now compared to 36 years ago. Jornet also had unprecedented dry, windless, fog-free and less boggy conditions that may not occur again for decades. (Perhaps that's a good thing—path erosion and congestion in the Lake District are serious concerns.)
Even so, Jornet's new time is an incredible achievement. No one is expecting anyone to break it any time soon. Unless Karl Egloff—the Swiss-Ecuadorian runner who took Jornet's speed-ascent records on Kilimanjaro and Aconcagua almost as soon as he had set them—is planning a trip to the Lakes …
Outdoor-adventure fan Claire Maxted is the co-founder and former editor of Trail Running magazine in the UK. She now runs Wild Ginger Films YouTube channel packed full of trail-running advice, gear tests and inspiration, including live coverage of this momentous event.