How Peyton Thomas Makes Running A Platform For Environmental Change
Peyton Thomas spend much of her time bridging liminal spaces between sport, science, and advocacy. And that's just what the world needs.
Heading out the door? Read this article on the new Outside+ app available now on iOS devices for members! Download the app.
This story originally appeared in our Spring 2022 issue.
You don't have to be a scientist to understand that the big Alaskan glaciers didn't form without a great deal of snow falling in the mountains. Yet, one day in 2006, Jeremy Jones – a snowboarder who jumps off cliffs for a living – stood in the rain on one of them and realized something was very wrong. That night he lay in a not-quite-freezing tent and wrote in his journal: "We need to find a way to protect our winters." 
It was the genesis of an idea that turned into an organization that has become a movement. By starting the nonprofit Protect Our Winters (POW), Jones made advocacy as valuable as athletics, and it may be the key to solving climate change. Not because outdoor sports will save the world, and not because mountain sports are the most important things to preserve in a world teetering on climate collapse. It's because, for some reason that's yet to be understood or explained properly, people care a whole lot about going outside and working really hard. And when people care about things, they work together to protect them. In our very quickly-changing world, our mountain sports are very much at risk. So Jones created POW to empower people like you and me on direct climate action.
Twelve years later, and on the other side of the country,  a runner from Roswell, Georgia, joined POW. Her name was Peyton Thomas, and she saw something missing from the organization: mountain sports athletes could never make a real difference for the climate if they didn't learn to look beyond mountain environments. And she had some ideas.
There are places along the edges of the east coast where it's hard to tell where the land ends and the water begins. From a distance, it appears like land, with grasses waving in the wind. But closer inspection reveals those grasses to be rooted in mud three feet below the saltwater surface, waves caused more by water current than wind speed. These are areas where salt- and fresh-water mix, where the tides alternately expose dark mud and inundate it, where pelicans call and crabs multiply and sharpnose sharks breed. And it's in these areas that Peyton Thomas trades out her running shoes for chest-high, rubber waders. Then she goes looking for fish.
Thomas ran in the Olympic trials marathon in 2020. She's a member of the Patagonia trail running team and a volunteer for POW and a nonprofit called the Dogwood Alliance, which protects southeastern forests. She helped make a film to protect the Boundary Waters in Minnesota, and spends time at running camps mentoring youth. While all her activities and interests add up to what sounds like a more-than-full-time job, what Thomas really spends most of her time doing is science. She approaches her diverse interests and many talents from a deep place of humility. 
"Yeah, I spend pretty much all my time in the lab," says Thomas.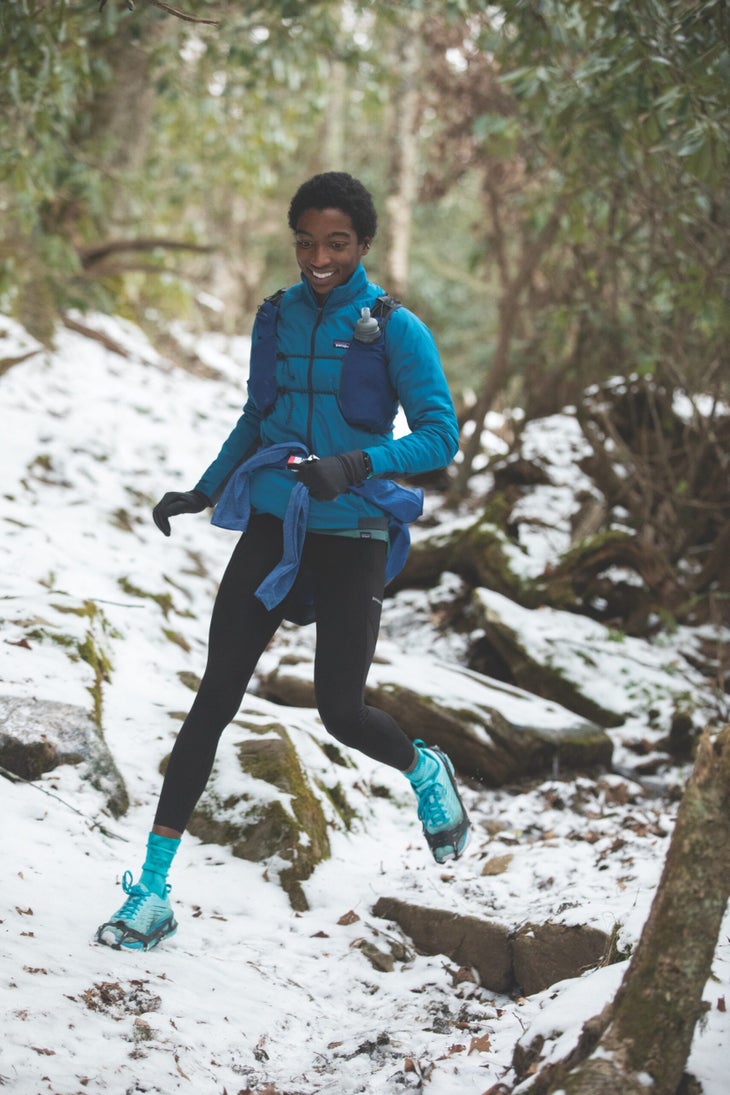 This year, Thomas will become Dr. Peyton Thomas. Her Ph.D. will be in marine biology from the University of North Carolina at Wilmington, studying, among other things, the effects of increased water temperatures on fish. If you follow the branching networks of academic specialization backward a few tributaries, it becomes clear that Thomas' work is in the realm of climate science, because the higher water temperatures are related to increasing global temperatures that result from people burning fossil fuels. Thomas has spent years preparing for this, and she's just a few months away from her new title. What she'll do with that title, though, is still a mystery, even to her.
But it's safe to say Thomas knows a lot about what she's doing, and what she doesn't know she will learn. 
RELATED: Peyton Thomas' Adventures On Land And Sea
Tenacity
"During the summer before her junior year of high school," said her mother, Alesia Booth, "she wanted to run cross country and she started training every day – I mean every day. And by the time the season started, she was top runner at the school. It was her tenacity; she was hell-bent on being good, but she turned out to be great. It happened because she put the work in to develop that natural ability." 
Nowadays, she can explain the nature of fish proteins as easily as she can explain the training required to run fifty kilometers (something she has done successfully multiple times but still claims ignorance of). Thomas may be wrong to say she doesn't know what she's doing. What she might really mean is she doesn't know where she's going.
"There are a number of grad students who have participated in varsity athletics, but I haven't had anyone else who was at the Olympic trials, especially after running one marathon her entire life. To be able to do what she does, to have three huge areas of commitment, in terms of time, is unique. I just really admire her for her dedication and her ability to do all these things that she's committed to." – Dr. Stephen Kinsey
 When she's out looking for fish, Thomas is master of her terrain. Her waders squelch through the dark mud as she climbs into a small boat. The southeastern forests are dominated by pine and cypress trees that shelter the ground from the sun. On the water, though, the sun is direct, glaring off the gently rippling surface. Universal to sun or shade in this humid air is the heat, which pervades every experience and activity, a constant wool blanket draped over the state. Sweat shines on her skin, but Thomas hardly notices as her eyes scan the surface of the water, looking for the glint of a scale, or flicker of a tail. 
She knows what kind of fish she's looking for, and if you asked her why she wants to find these fish, she could tell you about their value to our infinitely-interlocking ecological landscape. If you then asked her how she can be so successful in the dryland pursuit of running and simultaneously so immersed in water ecosystems, she might wonder how to explain that all these environments are part of the same system. Maybe she'd tell you there is no summer without winter, no love without loss, no mountain without valley. Thomas' focus is born of the contradictions that form the connective tissue of our environments, and that focus informs all she does.
Bridging The Gap Between Science And Sport
There is a gulf between the running world and the scientific world. It's especially pronounced for Thomas, who generally prefers trail running (a sport whose culture is dominated by images of high mountains) but whose scientific work exists beneath the ocean's surface. Thomas has succeeded on both sides of this metaphorical gulf, but she has not yet found a reliable way to bridge it. So far, the strongest line she has thrown across has been advocacy.
"Right now these things are separate, but I'm trying to find ways to integrate them with each other," says Thomas. "And I've found a way to do that with trail running and advocacy alone, and also with science and advocacy alone. So, trying to blend all that together is something I've been thinking about for a while."
"I want to do good in the world, and science is my means of doing so," she said. She is not a scientist who would like to do good, but a doer of good who uses science, and she takes the same approach in her running. Last year she spent a week in Minnesota pacing Alex Falconer through heinous swamps on his quest to raise money to protect the Boundary Waters. Many  other runners of her caliber would have focused on their own training and racing, but she saw an opportunity to bridge that gap between science and athletics, and she took it. She's always been a runner, and now she sees how she can do good with it. Thomas is taking advantage of disparate communities with shared interests, and directing them toward causes that matter and the problems that affect them.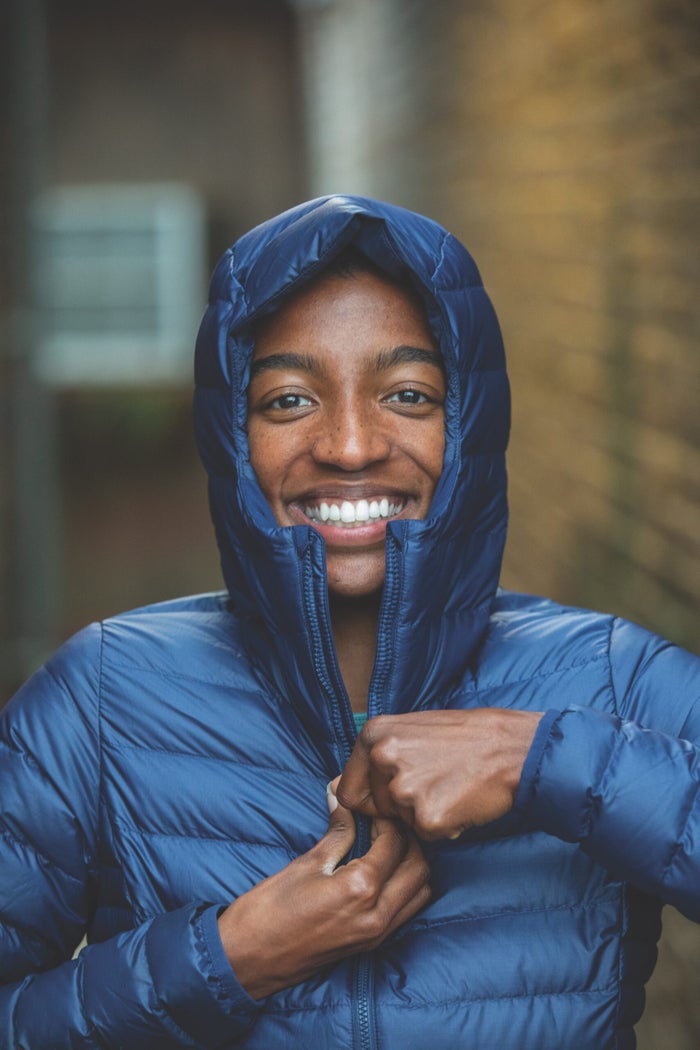 "Peyton is unique, especially to be at the level that she is," says Dr. Stephen Kinsey, her Ph.D. advisor at UNCW. "There are a number of grad students who have participated in varsity athletics, but I haven't had anyone else who was at the Olympic trials, especially after running one marathon her entire life. To be able to do what she does, to have three huge areas of commitment, in terms of time, is unique. I just really admire her for her dedication and her ability to do all these things that she's committed to."
"It's not just something that she puts on her CV," he continued. "It's something she actually spends the time doing."
RELATED: A Run To Save The Boundary Waters
For Thomas, advocacy is the link between the worlds of athletics and science. This relationship can become muddled by the diverse incentives of either arena, because advocacy to one group does not always reflect advocacy to the other. Scientists don't always know how to advocate for the societal benefits of what they learn. Runners, by contrast, are almost always something else professionally – lawyers, accountants, waiters, students. Many of us use running as an escape, as a way to burn off steam or enjoy the company of people we don't work with all day. This mental separation between "life" and "running," like the separation between "science" and "society" represents a barrier to advocates like Thomas, who believe the best way to protect the landscapes we love is to tie them to the things we love doing in them. For Thomas, running isn't a means of escape; it's a way to connect environmental problems to personal passions.
"Peyton is very hard on herself when it comes to races," says her mother, Alesia Booth. "I'm probably more challenged with worrying about her because she's so tough on herself. But she continues to train hard and to move forward." 
In her field work, Thomas focuses on being on the boat, being present with her place and task. The outboard motor purrs as she throws a net off the back of the boat. The North Carolina coast here is fractured by inlets, bays and islands. There is a dredged channel that allows ships to move up and down the coast without being subjected to large waves at sea. Thomas is looking for fish. The net will catch them and then she will put them into buckets and tanks in her laboratory. Later, Thomas will get to know her aquatic subjects, cutting into their muscle tissues and examining the proteins that comprise them. Specifically, she works with sharks, detailing the ways increased water temperatures can cause havoc in the function and lifespan of their muscle cells and proteins.
Sea Change
Thomas's world is changing too. She used to run on school teams but now she runs on a professional team. She used to take classes; now she teaches them. At 27, she will earn her doctorate and, for the first time in over twenty years, won't have school to guide her way. She might become a professor. She might do a postdoc. She might focus on running full time. She'll probably move from Wilmington, but she doesn't know where. She spends her time in the lab looking at how fish adapt to a changing world. Sometimes they cannot adapt, so they die. On the brink of her own forced adaptation to a different life, Thomas wonders how she'll manage it. On the verge of achieving the highest qualification in science, she still suffers from impostor syndrome. How will she find the confidence to do something totally new?
But she is far from being the lone high achiever in her family. "Most of our family has been in either academia or business," says her mother, who has been a business leader for over 20 years. "She has had a really good village around her to encourage her, and to provide her exposure to different areas. She grew up in an environment that said, 'if that's what you're interested in, research it and do it as much as you possibly can to find out if that's really what you want to do.'" 
With this mindset instilled in Thomas from a young age, she pursued biology because she loved learning how the natural world worked ("Why did I study biology? It's just something I always wanted to learn about.") As an athlete and burgeoning academic in undergrad, she found a sense of purpose and passion applied to two areas. This realization was the beginning of a new kind of self-perception, using what she knows (science) to advance and protect what she does. And since what she does is the same as what we all do – run, eat, travel, hope – she is uniquely prepared to help the rest of us become leaders too.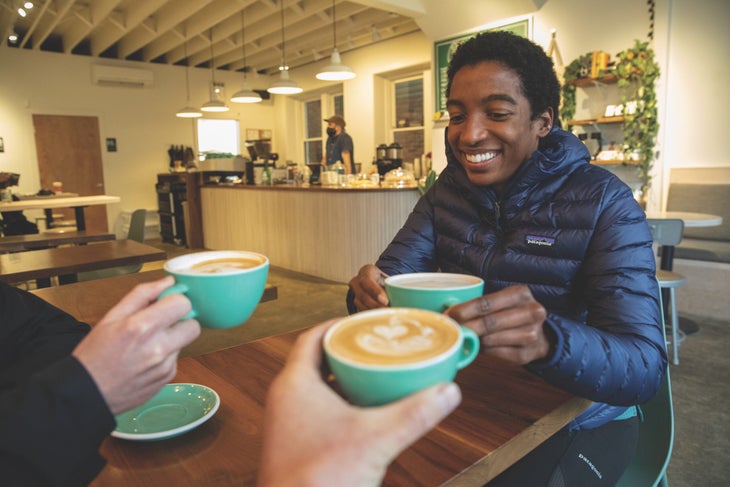 But how can it be done? From the boat, heading upstream in the late afternoon, it's easier to look out to the ocean than into the glare ahead. As Thomas motors along through this place that is neither land nor sea, there are parallels to her own life. In this place, diversity and contradiction thrive. The life in these waters is strongest for the duality of its habitat. Thomas, too, is stronger for the duality of her approaches to advocacy, for the diversity of the ways in which she does good in the world. From a distance, Thomas seems rooted, capable and full of purpose. But from her own eyes she often just sees herself standing in the water, her legs encased by thick mud. It's hard to have the motivation to keep moving when you don't even know which direction to go. But fortunately, liminal spaces are often the most fertile.
"Right now these things are separate, but I'm trying to find ways to integrate them with each other. And I've found a way to do that with trail running and advocacy alone, and also with science and advocacy alone. So, trying to blend all that together is something I've been thinking about for a while." – Peyton Thomas
In terms of climate action, most of us are standing in thick mud too. The key to Thomas' success will be that she knows of new ways to connect all these mud-stuck people to allow them to communicate and help each other. Thomas knows that even at the PhD level, her work alone is not enough to make the necessary difference. The degree is just a powerful tool that she can use to show us a way forward. What's important is that enough people take action collectively, which is where the advocacy comes in. By working with organizations like POW, she can capitalize on their work – which she could not have done alone – and advance it in important ways that POW could not do on their own. The effectiveness of her work comes from her humility, which is allowing her to embrace the biodiversity of our outdoor community and celebrate our differences. 
RELATED: A Trail Runner's Guide To Environmental Justice
Peyton Thomas represents many different worlds, and they seem to exist apart from one another only because she hasn't yet shown us how they all fit together, how they all thrive as a function of the success of the others. 
Thomas herself is different, but not because she is a runner who works in water ecosystems or because she's a trail runner who lives in a city or because she is a woman or because she is black – all of which set her apart in our white, male, mountain-oriented sport. She is different because she can see connections the rest of us can't. She's different because she can communicate effectively with people from massively different backgrounds. She's different because she knows how to make our world better in real, measurable ways. She's different because she's a leader, and she's a good leader because she isn't asking to be one. 
As Dumbledore says right before the final, climactic scene: "It is a curious thing, Harry, but perhaps those who are best suited to power are those who have never sought it. Those who, like you, have leadership thrust upon them, and take up the mantle because they must, and find to their own surprise that they wear it well."
Peyton is different because she knows that we're all different, and therefore we're all the same too, like never-ending mountains or oceans that share the same waters. 
"The most important thing an individual can do," writes Bill McKibben, "is not be an individual." 
The value of POW or Peyton Thomas or anyone else in the fight against climate change is in their ability to engage other people, people like you and I who worry about warming skies and torrential storms but have no idea how to make any difference on such a large and diffuse problem. Individual actions are not enough. We won't win this battle because we recycle and ride our bikes to work (though that's still worth doing.) We'll win it because a truly overwhelming number of people will gather to say, again and again, year after year, that our health and our children and our lives are more important than short-term profits. 
We'll win it because brilliant people like Thomas join with groups like POW to provide the scientific basis for a future that is profitable not in spite of, but because of, sustainable economic practices. We'll win it because all of us who wring our hands and worry will look to leaders like Thomas for guidance; and she will step into the role she has been building for herself for years, knowingly or not, in which she will show us how to be a single entity with a unified message. And her message? If you truly love what you do, then start doing what's needed to protect it for the future. Stopping climate change will save the world, but it'll also save your trails, and so start with what you know best.
Ready to start taking action on climate change? Check out Peyton Thomas' website www.peyton-thomas.com.