Outlandish—Recipes From the Running Bum
Heading out the door? Read this article on the new Outside+ app available now on iOS devices for members! Download the app.
Morgan Sjogren, aka "The Running Bum," spends most of her time running around in wild places. A lover of public lands, literature and trail running, she dedicates her life to increasing awareness about public spaces in the U.S. she feels need protecting, reading, writing, running and living out of her Jeep. To master this nomadic lifestyle, she's had to get creative with her cooking. Here are our favorite excerpts from her new book, Outlandish.
Rainbow Curry Burritos
There is no limit to the types of veggies or color of curry that you can use in this recipe. Choose your own adventure and make this meal an art project. You'll find there is a surprisingly wide variety of vegetables that can live up to the demands of life on the road with minimal fuss.
Tools
Double-burner stove
Cast-iron skillet, with lid
Saucepan
Spatula
Can opener
Knife
Ingredients
3 Tbsp. coconut oil, divided
Sliced, diced, or whole veggies: such as bell peppers, carrots, snap peas, onions, broccoli, cabbage, eggplant
1–3 Tbsp. curry paste
1 15-oz. can coconut milk (full fat)
Optional add-ins: pineapple (especially for red curries), cashews
1 package precooked rice
2 eggs
2 burrito-size tortillas
Sriracha
Lime
Cilantro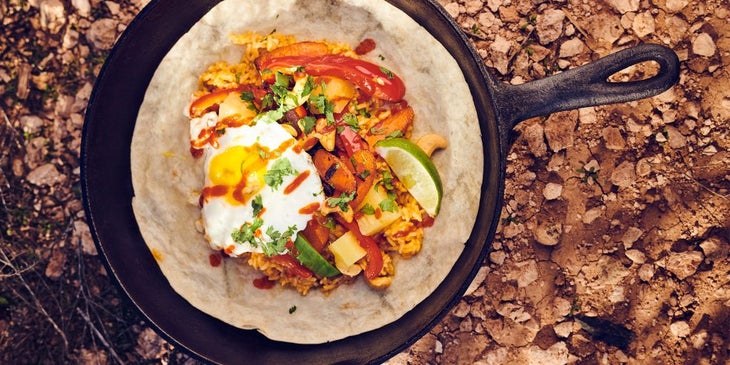 How To
Heat up half the oil in the skillet and add veggies. Sauté until golden brown and caramelized. Put on the lid to speed this process along, but open it every few minutes to toss the veggies.
In a saucepan, warm remaining oil over medium heat and add curry paste. A little goes a long way—how much you use depends on your spice and flavor preferences. To "activate" the curry, heat it in the oil for a few minutes. Use a spatula to move it around in the oil evenly and keep it from burning. Once it has slightly changed color and its fragrance increases, add the coconut milk. When the sauce comes to a low boil, reduce heat to low and simmer as veggies finish cooking.
Once veggies are cooked, add curry sauce to the skillet and simmer for a few more minutes with whatever additional add-ins you have.
Mix in precooked rice.
Fry the egg in the pan you used to cook the sauce.
Heat the tortillas once the eggs are cooked to your preference.
Fill each tortilla with the rainbow curry. Top with a fried egg, a generous drizzle of sriracha, a squeeze of fresh lime, and chopped cilantro.
Note: Curry paste is commonly available in the Asian section of health food stores. If you're as into curry as I am, invest in a few big tubs.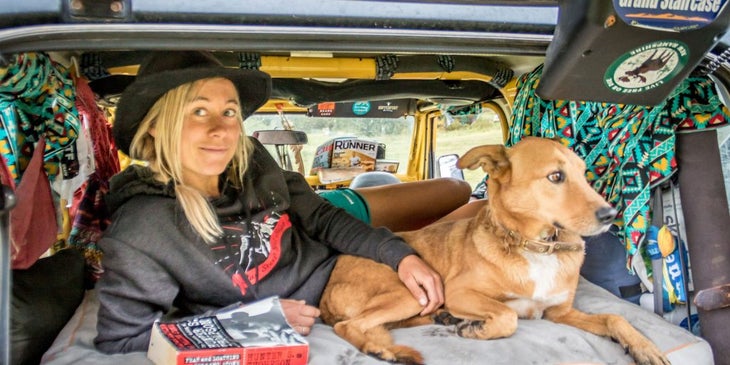 Carrot Cake Oatmeal
Nestled near the high country of Yosemite, we found an alpine resort featuring a full-time gourmet baker. The gray-bearded dude baked pies, cakes, and cookies around the clock, so naturally, Dad and I stocked up on treats for our trip. Most mornings we enjoyed dense carrot cake coated with a thick cream-cheese frosting before setting out for the day. Carrot cake is my favorite dessert, but it's not easy to whip up in the backcountry. This simple play on the classic is healthy and easy to make.
Tools
Propane stove (optional)
Pot or Mason jar
Spatula or large spoon
Grater
Can opener
Ingredients
1 cup quick steel-cut oats
2 cups water or milk (cow, coconut, almond)
1 carrot, shredded
1 handful raisins
1 8-oz. can pineapple chunks
Pinch of cinnamon (optional)
1–2 spoonfuls cream cheese
Coconut, shredded
Walnuts (or any nuts or seeds)
Maple syrup, agave, or honey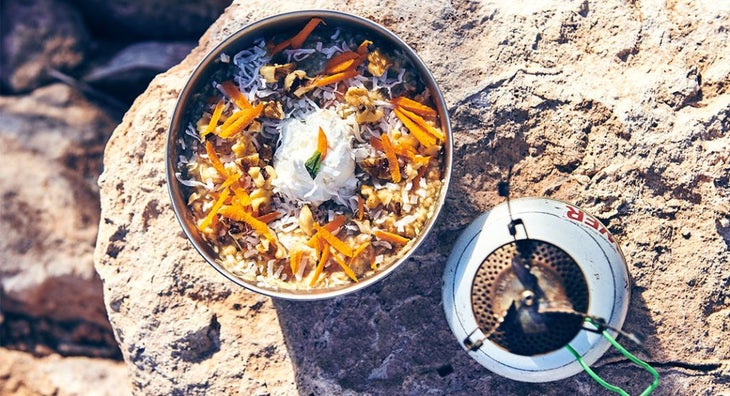 How To
To make on a camp stove
Combine oats with water or milk in a pot and cook on medium heat, stirring frequently. (Follow the directions on the package to be sure your water-to-oats ratio is right.)
Once the oats begin to thicken, stir in shredded carrots, raisins, and pineapple.
When all of the liquid has been absorbed and oats are cooked through, stir in cinnamon if using, top with a scoop or two of cream cheese, sprinkle with coconut and nuts, and drizzle with syrup.
To make the oats overnight
Divide oats and water or milk between two jars (or reduce recipe by half). Keep chilled overnight, then stir in additional ingredients and add cream cheese and toppings. Enjoy straight from the jar.
Fresh Fruit Wraps
With limited supplies and a stash of fruit ripening too quickly under the hot desert sun, I rolled up sliced strawberries and avocado in a tortilla for a quick breakfast before running around the canyon. With a few tweaks, this makes for a delicious and refreshing meal anytime of the day.
Tools
Knife
Ingredients
2 burrito-size tortillas
Handful of strawberries, sliced
Handful of arugula or spinach
1 avocado, sliced
Olive oil
Balsamic vinegar
Walnuts
Salt and pepper, to taste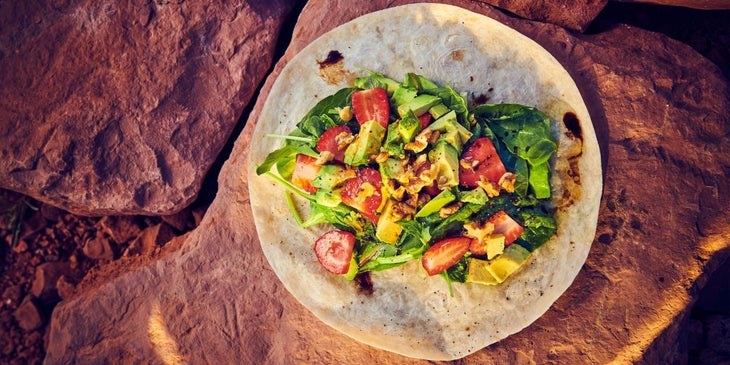 How To
Fill each tortilla with a handful of strawberries and greens.
Top with avocado.
Drizzle with a bit of olive oil and balsamic vinegar. Sprinkle with walnuts, salt, and pepper to taste.
Eat right away while it's still fresh.
Republished with permission of Outlandish by Morgan Sjogren. Learn more at velopress.com/outlandish.