In Search Of The Work-Food Balance
Making healthy and nourishing food choices is hard when you have a busy schedule. Try these five tips to make things easier.
Heading out the door? Read this article on the new Outside+ app available now on iOS devices for members! Download the app.
We've all been there. One minute we are vowing to eat healthier to benefit our training, the next we realize we just polished off a box of Girl Scout Samoas because it was the only food in the car. At least they're carbohydrates, right? And look, one whole gram of protein!
Eating empty fuel can leave us feeling even more hungry, and it can affect our training goals. Long term, improper nutrition can lead to higher rates of injury and illness. If you're not a professional athlete with time to plan out meals, it can be difficult to know how to best eat healthy in moments of stress, when traveling or when strapped for time. The good news is, it is possible to train hard and eat well despite a busy lifestyle.
In general, as a runner, you should be striving to eat every two to three hours to keep your energy high, blood sugar stable and to stay satiated throughout the day so you aren't left grabbing cookies by the handful.
The ultimate goal is to have both protein and carbohydrates at all meals and snacks while in a training cycle or running more than three times per week. Protein provides the fullness and sustained blood sugar, while the carbohydrates provide the energy.
Always ask yourself, "Does this meal or snack contain protein?" If not, try to figure out how you can include it. It may be something as simple as eating a handful of almonds with your apple or adding some beans or chicken to your salad. 
Putting the following concepts into practice is your ticket to finding that work-food balance.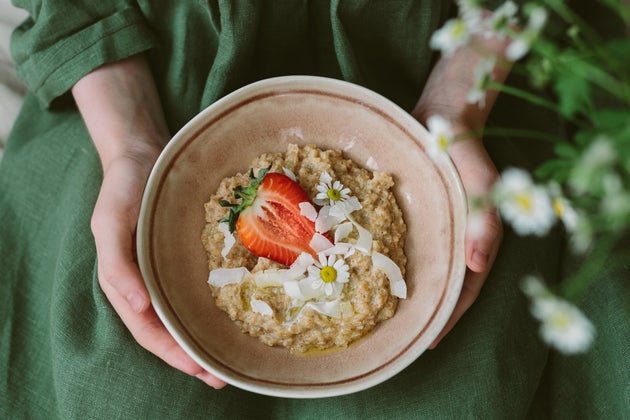 1. Keep Your Stash Full
This one may sound intuitive, but it is crucial for avoiding those energy drops. Placing pre-packaged nut butters or granola bars in your coat pockets, glove compartment or desk drawers can help when a craving strikes. Make a habit of restocking once a week, on grocery day.
Pop open a nut-butter packet and eat it plain or put on crackers, fruit or vegetables. Other convenient and portable options include canned or bagged fish (like tuna or salmon), whole-grain crackers, string cheese, granola bars (look for ones with some protein and a low sugar content), oatmeal packets, hard-boiled eggs, trail mix, Greek yogurt, avocado and whole-grain bread.
Pro Tip: Stash your favorite seasoning at work (like Spike, garlic salt, fiesta seasoning, etc.) to encourage eating foods like avocado, hardboiled eggs or fish rather than packaged snack foods.
RELATED: How Much Should I Hydrate During A Run?
2. Put a Lid on It
This one requires a little bit of prep, but nothing that someone short on time can't do. For breakfast, make simple and protein-packed overnight oats. Place ½ C whole-rolled oats and ½ C of your favorite milk in a jar or container and let it sit overnight. Top with nuts, fruit and spices and grab on the way out the door (can be heated or eaten cold). For lunch, things like a wrap or layered salad in a jar will do the trick.
RELATED: How To Nail Breakfast
3. Think Outside the Box
Thinking outside the box for meals and snacks can mix up the boring peanut-butter-and-jelly sandwich you are used to. Trying new things, like sweet-potato toast topped with nut butter and banana or rice cakes with avocado, hummus and sliced hardboiled egg, can prevent boredom and encourage healthier choices.
Pro Tip: Get saucy. Buy or make a couple of healthy sauces that you love. Transfer them into travel-safe containers and keep them at work or wherever you find yourself snacking. Top your snacks or meals to keep things interesting.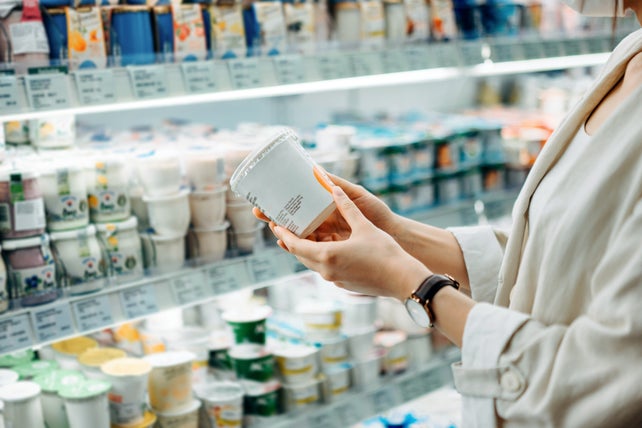 4. Try Meal Prep (just a little bit)
A small amount of meal prep on a weekend day can set you up big for a healthier work week. Buy an extra dozen eggs and hard boiling them, make a large batch of quinoa or chop up vegetables for the week. All of these are quick and help ease the stress of knowing what to pack on a hectic morning.
Pro Tip: Making a large batch of quinoa or brown rice with vegetable or chicken stock and coconut milk instead of water makes a great meal base or emergency snack.
RELATED: Top Recovery Nutrition Mistakes Runners Make
5. Hydrate
One of the biggest challenges when trying to eat well is actually hydrating properly. Exercise increases fluid and electrolyte requirements and when we don't get enough of those things, dehydration makes us feel even hungrier. This can prompt overeating and impulsive choices.
Pro Tip: Carrying a water bottle, downloading a water tracking app on your phone or trying some new water infusions can help.
Try These Two Quick Recipes
Cobb Salad In A Jar
Ingredients
1/4 lemon, juiced
1T olive oil
1T Dijon mustard
1 1/2 T maple syrup
Salt and pepper to taste
1C spinach
1/4C cherry tomatoes (halved)
1/4 avocado (diced)
1 hard-boiled egg (sliced)
1/4C feta cheese crumbles
4 oz grilled chicken breast (diced, optional)
2 mason jars
Mix together the lemon juice, olive oil, Dijon mustard, maple syrup, salt and pepper. Layer dressing equally in the bottoms of the jars.
Layer the spinach, tomatoes, avocado, egg and feta. Seal with a lid. When ready to eat, give the jar a good shake and enjoy!
Banana, Peanut Butter and Sweet Potato Toast
Ingredients
1 medium sweet potato
2T peanut butter
1/2 banana
Trim the pointy ends off the sweet potato and cut the potato into lengthwise slices 1/4-inch thick.
Place slices in the toaster and toast 2-3 times until they're softened. If you don't have a toaster, you can set your oven to broil and bake the potatoes on a cookie sheet for 3-6 minutes per side.
Top with peanut butter and banana and enjoy.
Kylee Van Horn is a licensed Sports Registered Dietitian, 2:49 marathoner and competitive trail runner.