Why Trail Runners Should Consider The Garmin InReach Mini Satellite Communicator
Heading out the door? Read this article on the new Outside+ app available now on iOS devices for members! Download the app.
$350
3.5 oz
The diminutive Garmin InReach Mini packs a punch, well, more like a series of Sugar Ray Leonard combinations. Fitting into the palm of your hand with room to spare, the satellite communicator can not only keep you connected when you're in the back of nowhere, but can also provide optional weather forecasts, track and share your route, summon a rescue and more.
Oftentimes, on trail runs, you're out of cell range … and out of luck if things go bad, for example a broken femur 15 miles in the backcountry. Rather than cell towers, the InReach Mini relies on the reliable global Iridium satellite network for transferring messages, SOS alerts, tracking your route, etc. From anywhere with the InReach Mini, you can send and receive text messages and emails and in case of emergency, by activating a special, protected "Bat" button on the side of the unit, alert GEOS, a for-profit response center that will notify local rescue personnel and communicate with you and your emergency contacts until your issue is resolved.
When you pair the InReach Mini with the Garmin-Explore-website and Earthmate-phone apps, you can do tons more, from editing preset messages to downloading maps to uploading your workouts.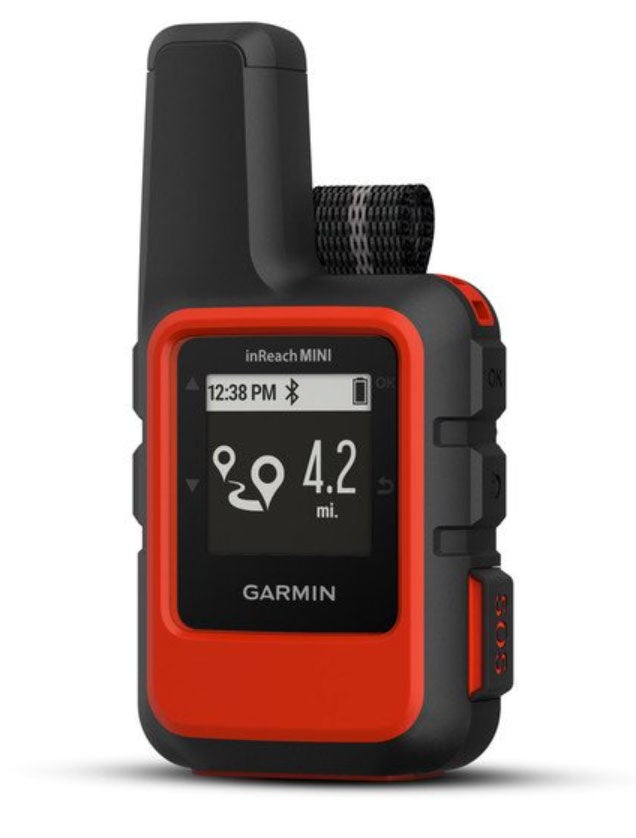 So how does it all work? 
After you purchase the Mini, you will need to register it and activate a satellite service on the explore.garmin.com website app. The services vary widely in cost and commitment. "Freedom Plans" allow for monthly service (from $15 to $65 per month) that you may suspend or cancel when you won't be using the device, while "Annual Plans" are billed monthly (from $12 to $50 per month) and require a one-year commitment. Both plans are further broken into "Safety," "Recreation" and "Expedition" categories, which break out coverage and additional charges for messages, tracking points and weather reports.
When you register, you are required to designate two emergency contacts, and may create a Contacts lists that you can then send text or email messages. You will also want to download the free Earthmate phone app, which syncs to your with your InReach Mini (via Bluetooth) and your Explore app page.
Using the InReach Mini to text and email
To message with the Mini, you must be outside with a clear view of the sky so that it can acquire the satellites. The unit itself features up and down buttons on the left, and "OK," go back and the "SOS" buttons on the right. It takes a bit of finagling to navigate around. Once you sort it out, it's not too bad.
To communicate with the outside world, you may text or email your Contacts in three ways: one of a selection of "Quick Text" messages (there are 10 Garmin presets and you can add your own on the Explore app); one of three quick-send Preset Messages that go to pre-specified contacts that you set up and edit on the Explore app; or "Write Message," a tedious process where you "type" a message by navigating through the alphabet/symbols one letter at a time. Messages typically sent in about half a minute and you get a confirmation beep and log. When you send a message, your GPS coordinates are included, and your contacts can track your progress.
Most backcountry runners will likely buy the unit for the messaging and SOS features. In our testing, the unit worked flawlessly, and we recommend it over more-expensive and less reliable satellite phones. Battery life was not an issue, since we kept it turned off unless sending or checking messages. While some of us prefer to ditch the technology on remote runs, the peace of mind the inReach Mini offers to loved ones and yourself could override the aesthetic considerations.