Run Your First Trail Half Marathon With Our Training Plan
Running your first trail half marathon can be easy and fun with the right preparation.
Heading out the door? Read this article on the new Outside+ app available now on iOS devices for members! Download the app.
Thirteen miles is an achievable and fun goal for almost anyone with a bit of structured training. Here's our 12-week training plan to run your first half marathon on the trails. 
The Basics
Whether you're new to the trails or new to running entirely, the same training principles apply. To improve and stay healthy, happy and injury-free, you need to first build your aerobic base. Then, you'll want to develop your ability to hold a faster pace for longer. After that, you can dive into some higher-intensity training to hone your speed. 
This plan is ideal for healthy individuals who can currently run 15-20 miles per week, and best for a race around 12 weeks in the future. If you're not currently running 15 miles a week, or are running three times a week or less, we suggest starting with our Beginner Bootcamp before diving into race-specific training. 
If you're stoked to get started and ready to download a PDF of our plan, here it is. For more about the "how" and "why" behind your training, read on: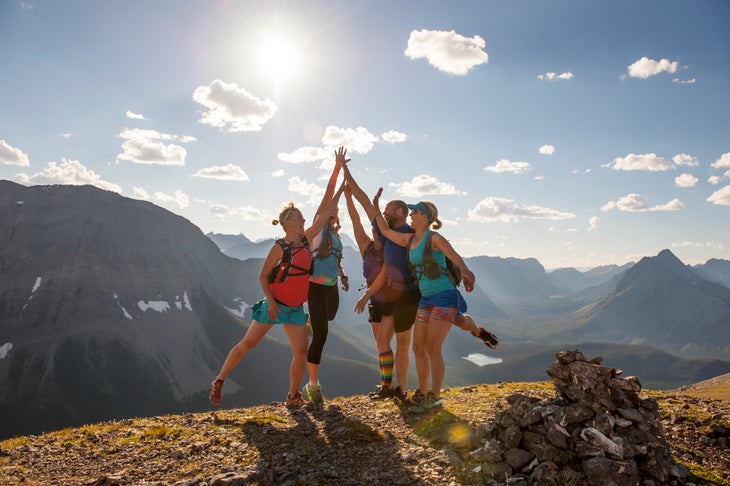 Run Often, Run Easy
The biggest mistake newer runners make is going too fast. The paradox of running is that you get faster by running intentionally easy. Aim to spend the bulk of your training at an easy effort (a fully conversational effort, where you could speak out loud for several sentences) to build your aerobic capacity. Running easy helps strengthen the musculoskeletal system, stimulate circulatory system growth to deliver oxygen to muscles, and increase the ratio of slow-twitch to fast-twitch muscle fibers for better endurance. 
Beginner trail runners or athletes coming back from a hiatus should start with shorter runs, anywhere from 10 to 30 minutes, and aim to build up to four to five runs a week. Newer runners can alternate between running and walking as needed. The most important thing is consistency, and keeping it easy. 
In the plan, you'll see that certain days are listed as "easy" while others are listed as "recovery." Easy runs should be a conversational pace you could keep for hours if you needed to. Recovery runs are even easier, and should be the slowest pace you can go without walking.
RELATED: It's Okay To Slow Down And Embrace Chill-Paced Adventure
Run Fast, Sometimes
Building some speedwork into your training will help improve your running economy and overall speed. As you get faster, your easy runs should feel just as easy, but they'll likely a bit faster over time. Speed work doesn't replace easy runs, but should be incorporated into training one to three times a week, preferably during the second half of a run. 
The best way to build your speed is through short intervals, in hill strides and "flast" (flat and fast) strides. For the fast bits, you want to aim for 80-90 percent of your maximum speed. Not all out, but close. It should feel zippy and floaty, not stiff and forced like a sprint. Here's our video guide to running strides. A good mental cue is to go as fast as you can without straining.
For speedwork newbies, start with hill strides to reduce impact forces. Run uphill, ideally on a continuous 6-8 percent grade. You can see how to do that here. 
Embrace All Surfaces
Aim for a balance of road and trails throughout your training. If you can, try to do your long runs on terrain similar to where you're racing, both in technicality and average vert per mile. If that's not reasonable, don't stress. You can always prep your legs for more vert with this quick mountain legs workout, and practice a bit of power hiking to be ready. 
Trail running involves biomechanical strains that road running doesn't: going up and down hills, navigating roots and rocks and off-camber footing. Every time you adjust your stride for an obstacle or a turn, your power output and pace drops. That's natural and okay! It's also part of why you'll be better prepared for race day by running on terrain that matches what you'll be racing on.
If you're busy, run roads, bike paths, gravel or whatever is convenient. On the weekends, shoot for more adventurous terrain that can help you hone your technical running ability. Focus on running your downhills with intention. While the climbs might feel tougher, the downhills are what make your quads and calves feel like they've been through a woodchipper. Downhills involve eccentric loading (when muscles elongate under a load rather than contract), and you can prepare for this with strength training and a bit of focus on descents.
RELATED: 7 Common Training Mistakes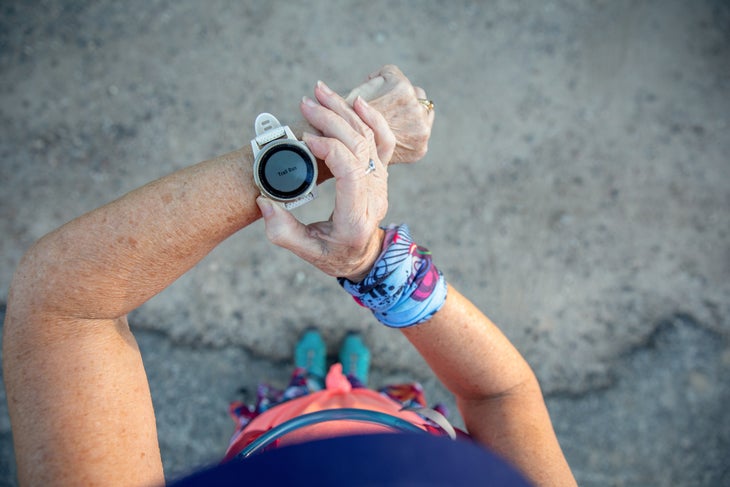 Have Fun
Try your best to stick to the training plan, but don't freak out when life happens. You'll miss a mileage goal. You'll skip a workout. Work, life, kids, pets and weather get in the way of even the best-laid training plans. Do what you can, when you can do it, and don't stress about the rest. If you miss a day, give yourself grace. Don't worry too much about trying to make up for a missed day; just keep moving forward with the plan, picking up where you left off. Just don't let one bonus rest day turn into five. If you miss two or more days in a given week, repeat that week. 
You'll notice many of the days in the plan have ranges. That's so that you can adjust and respond to how you feel on any given day, with no pressure to run the higher-end of the mileage. The best training is the training that feels good – not the training that wears you out and grinds you down day after day. 
Disconnect from the metrics. Data often isn't as helpful as we imagine it to be. Just because you can measure something doesn't always mean it's helpful or productive to do so. Run by feel, not by pace. Take the pressure off yourself and remember – this is supposed to be fun!