Nine Training Takeaways from Adam Peterman, World Champion and Western States 100 Winner
Adam Peterman's last year of racing has been mind-blowing, with wins at the JFK 50 Miler, Chuckanut 50K, Canyons 100K, Western States 100, and the World Championships. What type of training leads to an athlete with such stellar speed and endurance? Here's how Adam Peterman took the trail running world by storm.
Heading out the door? Read this article on the new Outside+ app available now on iOS devices for members! Download the app.
Since November 2021, Adam Peterman has been unstoppable. It started with a win at the JFK 50 Miler, where he ran a blisteringly fast 5:19 for the second fastest time ever. But that was just an appetizer for the entree to come in 2022.
In March, he set a 10-minute course record at the Chuckanut 50K. In April, an even bigger course record at the Canyons 100k. In June, it was a 30+ minute win at the Western States 100. And in November, a 15-minute win at the World Mountain and Trail Running Championships in Thailand. Death, taxes, and Adam Peterman crushing the best trail runners in the world.
And yet still, with all of that indisputable dominance, I feel like some people might be missing it.
He has just 8,623 followers on Instagram, about the same number of people that will enter the Western States lottery this year (for context, Courtney Dauwalter has 394,000 followers and Kilian Jornet has 1.4 million followers). Even within running-specific mediums, he seems to lag behind. Prior to Western States, the iRunFar groupthink predictions guessed he would finish 5th. Heck, he only has 3,550 followers on Strava, where he consistently drops the hottest workout files the world has ever seen!
Most importantly, on top of all of his results, he's known as one of the kindest people in the sport. A pro athlete told me a story of getting absolutely trucked by Adam at one of those races. Adam was waiting at the finish line, already with an outfit change, immediately giving a high five and asking for a full race recap. Adam proceeded to do that for every other racer he could for hours after he finished.
More personal examples: when we asked him to be a guest on our podcast, he rented out a podcast recording studio from the local library to give us the best sound possible. Later, I mentioned an athlete I coach who suffers from long-term achilles issues. Adam sent me an 800-word email detailing his rehab protocol. What a mensch.
Given the race results and the overall mensch-ness, I think it's possible that some people might be missing that there is a legend being born in front of our eyes. On this week's episode of our podcast, we dove deep into what makes Adam Peterman tick. We hoped to give everyone a glimpse into the worldview and approach that has created one of the best seasons ever, from a self-coached athlete who has developed a novel system.
"My training has always been evolving," he said on the podcast, combining what he learned in high school and college with Strava and training logs of professional runners now. Based on that discussion, plus his Strava files and other interviews, there are 9 major training takeaways that are important for everyone to know. Here's how a Peterman became PeterGOD.
One: Adam limits intensity in training, after learning that a heavy workout emphasis does not work for him.
Adam was a phenom in high school, where he ran 8:57 for 3,200 meters and was mentored by trail superstar (and race director of The Rut) Mike Foote. He earned a scholarship at the University of Colorado, one of the premier programs in the country.
The book Running with the Buffaloes sketched a general outline of the program's training, and Adam affirmed that general approach on the podcast, with some evolution over time. He described a normal week, during that time, including four intense days, with speed on Tuesday and Wednesday, longer intervals on Friday, and the infamous Sunday long run often completed on Magnolia Road. That Sunday run in particular can be devilish – 15 to 18 miles at 6-minute pace above 8,000 feet with brutal climbs. Those CU runners are not on Strava, but if they were, they'd be setting weekly records on a dirt road that serves as an international proving ground.
While at the University of Colorado, Adam dealt with persistent injuries, particularly to his achilles, with limited racing across his 5 years in the program. In 2018, he found himself at a crossroads: Continue down the path of serious running, which had caused so much literal and figurative pain? Or hang up the spikes and move onto the next chapter.
Then, he had a realization. Instead of hanging up the spikes, he could put on trail shoes.
Over the next year, Adam discovered his world-class ability to translate his fitness to the mountains. In 2019, he beat a Jim Walmsley record up a 1.5 mile, 2,000 foot climb on Mt. Sentinel in Missoula, Montana, just before winning the US championships at the Moab Trail Marathon. He got signed by HOKA. And then he proceeded to scorch the fastest trail runners on Earth.
On the podcast, Adam described learning what worked for him and what didn't in college. No single workout was excessive, he said, but he kept putting himself in faster groups than he was ready for. Put together, those four hard efforts a week were not sustainable for his personal progress.
RELATED: Science Says Hill Repeats Will Make You A Better Runner
"I would always tell the coach I wanted to be in the faster group…and I was consistently getting smoked in workouts, refusing to give up," Adam said. "Looking back, I should have just chilled a bit more, and I would have had more success. I grinded too hard, and that's why I had my problems."
After college, he kept the quality "medium-distance" long run, à la Magnolia Road, but dialed back his interval intensity a ton, often running them with the high school team in those first years. It was similar to a Norwegian approach with the intensity-controlled intervals, likely around lactate threshold (but with fewer workouts per week than the Norwegians). He compensated for the reduced workout stress by mixing in some of Eliud Kipchoge's approach, with high quality long runs with a substantial amount of time likely spent in Zone 3 and Zone 4. (I say "likely" because Adam does not monitor heart rate or other advanced metrics, so all mentions of training zones in the remainder of the article are approximations.)
However, he said that he made one big mistake early on – he tried to translate some of that moderately hard running to his big trail days, taking Magnolia Road principles and applying them to 15- or 20-mile mountain runs. While that led to a stellar performance at Moab, it also wrecked him, and he shifted to easier "vert days," often completed with friends.
Now, his training within blocks before big races can generally be characterized by a few principles we'll get into later:
95 to 105 vert-heavy miles per week, mostly easy in singles, with the lower intensity allowing higher sustained volume without injuries
A couple longer runs per week, often 15 to 20 miles, sometimes with vert, with one including moderate intensity when he feels good (likely with a substantial chunk of lower-end threshold work), plus some much rarer 30+ mile training runs
A workout that is sometimes focused on threshold intervals or unstructured threshold climbs, with a more recent move into structured hill/flat combination workouts
Strides, cross training, and an overarching emphasis on health and adaptation
Adam's post-collegiate journey moved him to more moderate intensity workouts and low intensity volume, with less pure speedwork. While part of that might be explained by the longer-distance focus of his trail racing and his unique physiology, it also mirrors a general evolution of some training theories away from stacking up high-intensity stress, particularly for very talented athletes after their collegiate years.
Two: His training blocks are anywhere from 6 weeks to a few months.
On the podcast, Adam said "I try to have a block. Whether it's 6 weeks or 8 weeks or 10 weeks, that's what I have done for the last year and a half now." Those blocks come on a background base consisting of mileage, cross training, and sustainable speed. However, he doesn't do high mileage year-round. On Strava, he has run 3,250 miles so far in 2022, with 577,000 feet of vertical gain. That equates to around 70 miles and 12,000 feet of climbing weekly, which is high but not indicative of a year-round volume push for a world-class athlete.
During winter, he takes a 1-2 month off-season. "My total training time still stays relatively high," he said, "But over 50% of it is spent skiing. I find it a lot more enjoyable to spend time on the skis during the winter than pounding out a bunch of road miles or slogging around in microspikes."
A big takeaway from the relatively short, specific training blocks is that you don't need a ton of time to reach peak fitness for trail races off of a consistent base, which can include cross training. Stay fast and aerobically efficient, then design focused training that balances the reward of specific stress with the risk of overtraining, injury, or in the case of ultras, getting slow.
Three: He aims to sustain 95 to 105 miles per week, with increases over the years, and up to 20,000 feet of vert, with 85-90% of training at easy efforts.
Let's do a couple quick-hitters before breaking down a training week to show how it all works together. Over a few years, Adam found a sweet spot in training that is optimal for him right around 100 miles per week in hard training blocks, mixing in cross training throughout the year.
"I've slowly been able to increase that," he said. "In college, that would have injured me. But now, I'm able to do 105 and it's okay."
That equates to similar time volumes as Eliud Kipchoge's 130 miles per week, since many of Adam's miles are full of difficult vert. It's also relatively similar to Courtney and Kilian. How cool is that convergence of volume approaches from the GOATs?
Four: He completes multiple long runs per week, with one of those usually being a moderate effort, and others being easy, often with friends.
A fascinating element of Adam's training is the prevalence of lower-intensity group runs. Most of them are likely firmly in Zone 1 or lower Zone 2 for him, building up his aerobic endurance and musculoskeletal resilience. Easy can be very easy in a well-rounded training plan, which may optimally support aerobic endurance.
"My typical structure was to do two long runs per week," he said on the podcast. "One would be around town in Missoula, with a lot of vert and running, and if I felt good, some pushes on the climbs. The other would be on the weekend with friends, where speed isn't the goal–we're just having fun and exploring."
Five: Prior to Western States, he focused on semi-structured, threshold-focused trail runs as his key workout. Prior to Worlds, he completed one workout a week combining hills and intervals, like those done by Kilian Jornet.
Let's break down a sample training week to get insight into what that might look like in its fully evolved form. This was one of his peak weeks for the World Championships:
Monday: 11 miles easy with 3,000 feet of climbing
Tuesday: 10 miles easy with 1,600 feet of climbing
Wednesday: 24 miles easy/moderate with 7,000 feet of climbing plus a 90-minute ride
Thursday: 13 miles easy with 2,000 feet of climbing
Friday: 18-mile workout with a hard 20 minute climb, followed by a 4-mile flat tempo, followed by another hard 20-minute climb (4,000 feet vert) plus a 2-hour ride
Saturday: 9 miles easy with 1,000 feet vert
Sunday: 20 miles easy with 6,000 feet vert
The first thing that jumps out is a high proportion of easy to steady training below aerobic threshold, likely 85-90%. The overall structure is Pyramidal, with that easy training being supplemented by some Zone 3 climbing on the long runs, and the hard Zone 4 threshold workout on Friday. There is a very minor (usually negligible) amount of intervals in Zone 5. That's another vote in favor of mostly easy training, with extreme intensity reserved for work that builds event-specific mechanical output (like strides, or VO2 intervals for short races).
That workout is downright evil in its difficulty. During the Worlds build, Petergod channeled the Holy Spirit (Kilian), doing a weekly workout involving hills and flats. Another example from this training block is a 20-minute hard hill climb followed by 5 x 1 mile on flats. In our podcast interview with Kilian Jornet, he said these types of efforts improve his ability to run uphill fast and then on flats fast, like in a race.
RELATED: Lightning Round: 31 Rapid-Fire Questions for Adam Peterman
The uphills have a strong mechanical demand, with more muscular fatigue at threshold effort, whereas the flats have a higher neuromuscular and biomechanical demand, which may have an outsized supercompensation benefit when completed with fatigued muscles from the climbing. However, that rationale is uncertain, and the biggest benefit likely comes down to the workout summarized to the simplest version: 40-60 minutes of very high quality threshold work that includes some climbing and faster running. During the Western States build, more of Adam's workouts were semi-structured trail efforts or moderate road runs, with lots of threshold work but fewer incredibly difficult sessions.
Seeing how Adam has researched and experimented to find what works for him, I will be refreshing his Strava a disturbing amount to see how this workout approach evolves in coming seasons.
Six: He rarely uses runs as doubles or takes complete rest days.
Unlike Kilian, Courtney, and Eliud, Adam does not often run twice in a single day. Instead, he focuses on longer single efforts that can exceed 3-4 hours, and does doubles on the bike. Interestingly, those bike doubles are sometimes on the toughest training days, stacking adaptation stress. That's a fascinating wrinkle, indicating that some of the benefits of doubles might be accrued through cross-training like the bike or elliptical. As a coach, I am going to get more confident incorporating cross training throughout the year for elite athletes, not just in the offseason, especially as a supplement to training.
Seeing how Adam has researched and experimented to find what works for him, I will be refreshing his Strava a disturbing amount to see how this workout approach evolves in coming seasons. 
In addition, he rarely takes planned rest days, though on the podcast mentioned doing very slow shuffle days at least once a week, and adding rest when needed. Here's where his intensity control is likely especially important: Adam learned at Colorado that high-intensity training led to injury, and in moving to trails, he realized he could absorb a lot of low-intensity miles and vert. So he adapted the CU approach, taking the quality long runs, dropping some of the very hard speedwork, and adding a bunch of hours via vert in running and cycling as doubles while keeping mileage similar.
The big lesson? Monitor how your body absorbs stress and adapts to it, since everyone has different physiology, even athletes with identical fitness starting points.
Seven: He often does strides two times per week.
We asked about strides late in the podcast. I was scared. If Adam rarely did any speed, relying on such a strongly aerobic approach, I might need to rethink a bit of my training worldview. Adam, being the kind God he is, let me off the hook. "I try to do strides a lot," he said. Angels sang.
Two times per week, he'll do a strides set, like 8 x 20 seconds fast / 40 seconds easy. The short rest controls the effort, so that it's fast enough to work on mechanical adaptations without being so fast that it increases injury risk. For everyone, it's likely important to do strides, but don't view them as sprints.
To summarize: Adam does mostly easy running around 100 miles a week, with high vert totals, including low-level Zone 3 work on climbs and higher-level Zone 4 and Zone 5 work in a weekly workout, plus strides and bike doubles. The open question is whether this approach would work for athletes without Adam's talent, which he started showing at a very young age. My answer is HECK YES IT WOULD WORK. All athletes should build from the aerobic system on up.
However, athletes who are more VO2 max or power-limited, whether due to age or training background, may need to add some higher intensity work periodically, like hill intervals or 5K / 10K-effort intervals. And for advanced ultra athletes, this approach likely wouldn't work as well without those high vert totals, which add an element of mechanical breakdown that likely improves fatigue resistance.
Eight: PT and strength are consistent parts of his plan, to address injury concerns and build power.
After college, Adam had to figure out how to bombproof his body. Twice per week, he does heavy eccentric loading of his calves to prevent a recurrence of achilles issues. And the focuses of his strength work are heavy Romanian Deadlifts and Squats. I asked him what "heavy" meant and he said 135 pounds on squats, and that the total has decreased with time. I imagine our readers with football backgrounds are laughing. Here's a fun video of Eagles quarterback Jalen Hurts squatting 600 pounds in college.
All runners can likely benefit from a sustainable and repeatable strength program, even if they don't aim to play quarterback for the most overrated team in football. Romanian Deadlifts and Squats are a part of the 8-Minute Speed Legs routine.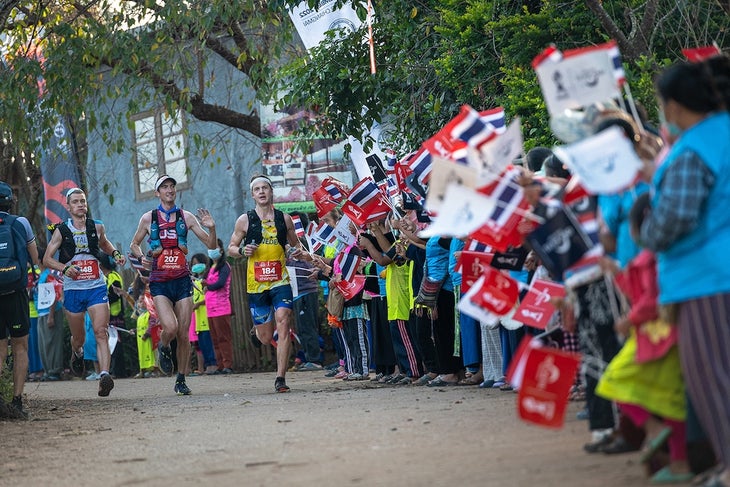 Nine: He takes iron and eats plenty.
For supplements, Adam takes Hema-Plex iron. Lifting iron and taking iron. Iron god?! For nutrition, he takes a relaxed approach. "I try to only eat the meat that I get hunting, so I don't eat a ton of meat. I mainly eat a lot of grains and vegetables but also what people would consider unhealthy too – ice cream, cheese, fast food sometimes too."
Eat food, lots of it, and make it fun!
But all of that training talk was maybe my 10th favorite part of the conversation. The best part was hearing about the genesis of Adam's post-collegiate breakthrough. It came when we asked about the legacy he wants to leave in the sport. He described a recent video shoot, where the creator jokingly asked him about his "edge." Implied: you're a great guy with obscene talent – where is the story there?
"Maybe some people think it has come easy," Adam said. "But I've been running my whole life, working hard for this." He continued. "But it wasn't until the last four or five years where I believed in what I was doing…believing that I could be good."
So the legacy he wanted to leave? "Find what you really enjoy doing."
But be sure to take that next step.
"You have to believe."
At another point, I asked him the ultimate belief test. In 2023, could he beat Jim Walsley's course record at Western States? You'll have to listen to hear his response. But I think it was the answer of a great guy with obscene talent … and a lot of belief.
David Roche partners with runners of all abilities through his coaching service, Some Work, All Play. With Megan Roche, M.D., he hosts the Some Work, All Play podcast on running (and other things), and they answer training questions in a bonus podcast and newsletter on their Patreon page starting at $5 a month.