How to Train Specifically for Mountain Running
Heading out the door? Read this article on the new Outside+ app available now on iOS devices for members! Download the app.
When it comes to training for mountain running, specifically Sky Racing objectives like Nolan's 14ers (connecting the fourteen 14,000 foot mountains in Colorado's Sawatch Range in under 60 hours) and fat-ass races (like John Cappis 50K, which boasts 19,000 feet of vertical gain), hitting the smooth buttery singletrack isn't quite going to cut it.
In the quest to push into the mountains, the technical demands grow considerably. Traversing highly technical class 4 or 5 ridgelines that require helmets is not uncommon in mountain running (for reference, class 2 is regular uphill hiking and class 5 is full-on rock climbing). At this level, the kinds of skills required overlap with other advanced mountain pursuits like skiing, climbing and mountaineering.
Luke Nelson, the Utah 13ers Fastest Known Time (FKT) record holder and former Skimo racer, puts it this way: "The process of training for mountain running requires much more than intervals and long runs. There are additional skills that need to be honed, including moving through technical terrain, understanding mountain weather, route selection and reduction of risk."
How To Train Specifically for Mountain Running
Scott Johnston is the founder of Uphill Athlete (an organization focused on endurance training for mountain pursuits) and co-author of Training for the New Alpinism. He is currently co-writing a book with dominant mountain runner Kilian Jornet.
"Mountain running is a more radical form of trail running in the same way that trail running is like cross-country running on steroids or Skimo is like cross-country skiing extreme," says Johnston.
Johnston, from Mazama, Washington, coaches ultrarunner, mountain runner and world-record holder for achieving the most vertical gain in 24 hours Mike Foote who—no surprise here—also has a background in Skimo.
"I think that the skill sets needed to move efficiently through complex mountain terrain can truly only be honed in that terrain," says Foote. "By practicing moving through steep and technical terrain, when I get to a race that has a technical section, it feels much more manageable and I am able to move through that terrain with more physical and mental ease."
Tracking your vertical gain and loss each week in addition to your mileage and time on your feet is a great way to ensure you are preparing yourself to meet the elevation changes of what you are training for.
Runners looking to move quickly through the mountains need to be prepared to spend time acquainting and educating themselves with non-running skills, like reading weather patterns, identifying routes and assessing rock quality. Additionally, skills like reading topographical maps, route finding, using a compass and checking weather are often necessary.
Getting into the mountains with experienced athletes is an excellent way to observe, learn, analyze and ask questions onsite to improve in this wild arena. In addition, grabbing a copy of "Training for the New Alpinism" or "Mountaineering: The Freedom Of the Hills" are excellent pieces of supplemental information, as is taking a Wilderness First Responder or Wilderness First Aid course.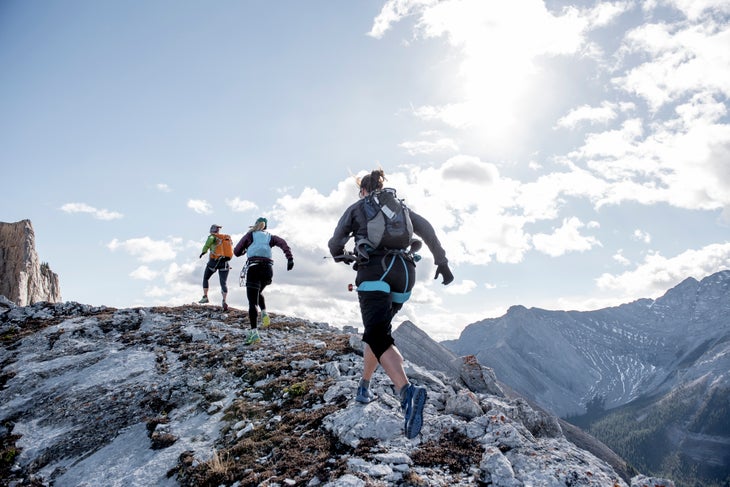 How Much Vert Should You Run?
So what about the actual running? That is, of course, the gateway drug bringing many trail runners to these elevated pursuits. For runners setting their sites on big mountain dreams in the warmer months, specific speed and strength preparations need to be considered.
Johnston emphasizes specificity in the training of athletes he coaches, like Nelson and Foote. "Running on gentle, smooth trails where gradients rarely exceed 20 percent will not prepare you well," he says, "both fitness-wise or technically, for the steep, rough, off-trail terrain encountered with something like Nolan's or the Hardrock 100 Miler." If you want to run well in the mountains, you need to go run in the mountains.
You still need good turnover, but the use is different than for flatter terrain—you must be able to run fast uphill and downhill. This is largely derived from the neuromuscular efficiency developed by ascending and descending steep and uneven terrain.
This type of neuromuscular efficiency can be developed by doing something as simple as running or hiking a steep 10-minute climb and/or by doing short and controlled workouts on this type of terrain. An example workout is 4 to 5 repeats of 30 seconds fast with 45 seconds of rest in between each. As you get more fit and closer to your event, you can increase the reps and time, i.e., 8 to 10 repeats of 1-minute fast or 4 to 5 repeats of 2-minutes fast. The emphasis is on simply teaching your body how to move efficiently, rather than taxing your system.
Tracking your vertical gain and loss each week in addition to your mileage and time on your feet is a great way to ensure you are preparing yourself to meet the elevation changes of what you are training for.
Johnston suggests doing your weekly long run on terrain similar to your target event.
"You should gradually build to doing as much as 50 percent of the event's total distance and vertical in this one workout as a confidence builder," he says." For shorter races, this peak workout should be no closer than 14 days out from the event. For longer races (50 miles and above), extend this time to three plus weeks."
It is also common in the world of mountain running to use block training to break these mileage goals into two back to back days of running, covering two thirds of the distance one day and then one third the next. This teaches your body to go the distance while allowing for recovery, and breaks up the time commitment for runners with busy schedules outside of training.
Incorporating this into your weekly training is a very individual consideration. Be sure to incorporate hills slowly into your program and allow plenty of rest in the days leading up to and following a big vert day.
Ensuring that you are rested and fully recovered will not only help your body repair damaged muscle tissues, it will ensure that you are fresh enough to use proper running technique. This will engrain positive motor habits for efficient hill climbing and also reduce your chance of injury which is often the result of under-resting which transfers to sloppy technique.
Hone Your Power Hike
Moving quickly through the mountain requires yet another technique that many purist runners may scoff at initially—hiking. When slopes reach steeper grades (upwards of 45 degrees, although this will vary for everyone), it becomes more efficient in terms of energy conservation and speed to power hike.
Mountain runner Michael Versteeg used this skill in March to get the FKT on the 18,491-foot Pico De Orizaba (taking the ascent record from 2:10 down to 2:02 on the tallest peak in Mexico and third highest in North America). The key, he says, is utilizing your arms properly, a body part often overlooked in running, and moving them in unison with your legs by placing your hands on your quads with good grip and keeping your upper body directly above your ankles.
"This allows your legs to support your upper body and move in a faster and more fluid movement up the steeps—the way you would utilize ski poles," he says. "If you're doing it properly, your triceps will definitely be sore the next day."
Speaking of poles, these are yet another tool borrowed from other mountain sports that runners should consider in alpine terrain. Elite mountain runner and pro skier Meredith Edwards explains the parallel use for this piece of mountain gear: "When skiing or running uphill you must learn how to use the poles for initiating momentum and pushing your body up. I use mine for bigger races with lots of vertical gain while power hiking," she says. "I find this also helps support my lower back and improves posture." Whether you opt to take poles or not, honing your power hiking technique in training will help you come race day on big terrain.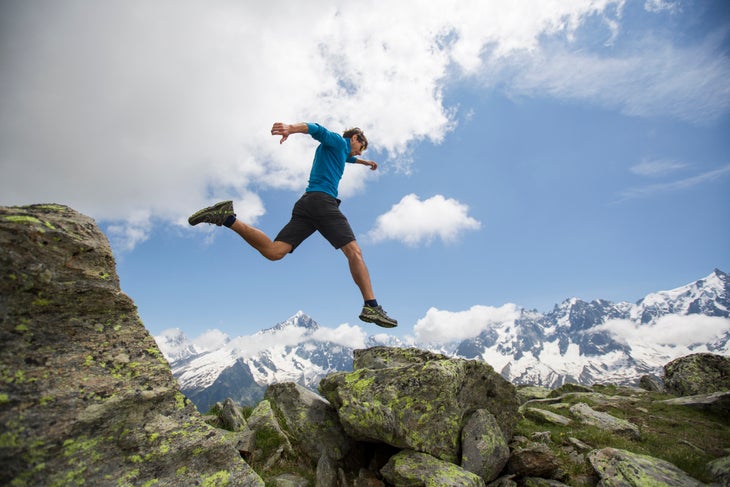 Strength Train for Mountain Running
To up your strength game, it's wise to hit terrain with plenty of vertical gain (up and down) and technical challenges in a backcountry setting (if that is the event or objective). During the off-season, it will benefit you to focus on strength-building exercises.
Johnston recommends a circuit of single-length lower body exercises that focus on the hip stabilizers and posterior chain (the muscles in your back that stabilize your spine) as well as single-leg stability that mimics running form.
Give this sample circuit program a try on easy running days twice a week:
Start with six repetitions of each exercise and progress to 10 by adding a rep or two each week. Rest 30 seconds to one minute between. After each set, rest for two to three minutes and repeat the circuit two to three times. During the off-season (when your legs are not as fatigued from heavy vertical running) take less recovery between exercises and only one minute between circuits for a cardio boost.
Lunges: Take a wide stance with one foot in front of the other. When you bend your front leg into a lunge position be sure to keep your knee directly over your ankle. Place your hands on your hips and engage your glutes on your front leg as you step upright and move your opposite leg forward into the next lunge.
Single leg squats: Stand on one leg, the other behind you to mimic a running position. Engage your glutes and sit back into a squat (like lowering into a chair). Only go as low as you can while maintaining balance and keeping your knee directly over your ankle. The key here is engaging your glutes in a running-specific motion and honing balance on one leg.
Box step ups: You don't need a box to do these. Find a sturdy bench or stairs between one and three feet high. Step up onto your platform until you are standing with your lead leg fully extended. Lower back down on that same leg, engaging your glutes and keeping your knee directly over your ankle, until your back leg is back on the ground.
Push Ups: These are self-explanatory. Be sure to engage your core muscles (hold in your tummy but don't forget to breathe).
Pull-ups: This isn't just about upper body strength. Pull-ups are a core workout. If you are just working up to being able to do a pull up try hanging from the bar while engaging your core and trying to remain as still as possible.
Planks: Do front, side and posterior planks for 30 seconds to one minute. Be sure to engage your core muscles (hold in that tummy) and keep your shoulders aligned over your elbows in each position.
These tweaks to your standard trail-running routine will not only prepare you to get steep this summer when the mountains start calling, they will also improve your abilities as a runner on any terrain.