Love And Loss And Running On
Heading out the door? Read this article on the new Outside+ app available now on iOS devices for members! Download the app.
Two years ago, Sue Eitemiller was diagnosed with bladder cancer. You probably know that feeling, whether personally or through someone you love. The gut punch. The uncertainty. The nervous laughs and scared cries. To paraphrase the American Medical Association, cancer is the worst.
Her husband of 36 years, Dave Eitemiller, recounted that Sue responded with her spirit leading the way. It was like what Jim Valvano said about his own cancer during his famous speech about dealing with the disease. Like Jimmy V, cancer could take away Sue's physical abilities, but it couldn't touch her mind, her heart or her soul. Sue lived with soul, going through multiple treatments to beat this thing.
Like Jimmy V, cancer could take away Sue's physical abilities, but it couldn't touch her mind, her heart or her soul. Sue lived with soul, going through multiple treatments to beat this thing.
But it's not a choice. Our brains really want to overlay order onto outcomes. One thing leads to another. Working hard means you'll succeed. Fighting hard means you'll be cured. That's not cancer. On a cellular level and in our lives, cancer is the process of making chaos out of order.
RELATED:Rage On! Tommy Rivers Puzey Is Improving, But Still Battling Cancer
The News
In November 2018, Sue and David received the news. "It was invasive," Dave says. "The cancer went into the muscle. We knew it was a big deal."
Immunotherapy was next, then other treatments, playing the medical game of whack-a-mole that is metastatic cancer. They were hopeful. That's Sue. That's Dave. That's their partnership, hope through the ups and downs that are a part of all lives and all relationships. They had been through crap together before, and they'd get through this too.
So they lived. Sue continued seeing friends, pursuing her hobbies with an extra dose of vigor. Dave found his calling in retirement with backcountry guiding, which supported his trail-running goals, including his big goal of sub-30 hours at the Run Rabbit Run 100 in September. Working with Andrew Skurka, he would go on weeklong expeditions where he could share his love of the outdoors. Every night, he'd check in with Sue on his satellite text device.
Most of the time, it was mundane. That's the funny reality of relationships, right? What makes it into an article or a movie is a highlight reel. The proposal, the laughing until you pee, the big fights, the sex. Usually though, it's the little conversations, the logistics, the background "I love yous" that blend into the surroundings. But one call in August was nothing like that.
In the middle of the Sierra Nevada mountains, Sue texted Dave the news. "The cancer has spread—a lot. We need to make decisions ASAP. Is it possible for you to come back?"
Dave used all of his backcountry skills to get back in just a couple days, traversing off trail miles and mountain passes with a select group of clients. He saw Sue, they embraced and they saw the oncologist. It wouldn't be long now.
They thought they had more time.
If only there was more time.
Her family gathered, her friends came from all around, and the light dimmed. Shortly after, lying together in the middle of the night, Sue stopped breathing. The hospice doctor explained that sometimes, when all the boxes are checked and a person is ready to go, they can go quickly. Dave laid there, feeling his own staggered breaths, using them to tell her that she was loved.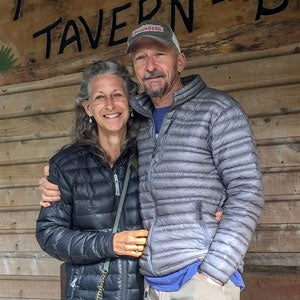 Moving Forward
That's heavy for a trail-running article. So let's quickly take a step back. As Dave was telling me this story, in between my muffled sobs, we'd laugh about life, the Denver Broncos, death and the latest running news. It was a serious topic, but not a serious conversation. In the six weeks since Sue passed away, Dave had grieved a lot, and he has talked to a lot of people with more expertise than I can provide. So we talked as friends. Beer may have been involved, at least on my end.
I officially lost it when he started the next part of the story. "We are going to be married 37 years in January," Dave said. His use of the present tense was my last emotional straw. "She's my soulmate. My soul friend … was my soulmate, I guess." He comforted me, rather than the other way around.
Dave wasn't sure if he'd be able to get up in the morning. But he got up. He wasn't sure if he'd be able to run. But he ran. And he wasn't sure if he could go to a race start line. But on September 13 at the Run Rabbit Run 100-Miler, he did that too.
And then Dave opened up about grief. He described how he didn't cry in that moment in bed. Tears have come, but in fits and starts. Grief is weird. It's non-linear and individual and impossible to predict.
Dave wasn't sure if he'd be able to get up in the morning. But he got up. He wasn't sure if he'd be able to run. But he ran. And he wasn't sure if he could go to a race start line. But on September 13 at the Run Rabbit Run 100-Miler, he did that too.
You see, this wasn't just any old race. This was Dave's white whale, the thing he had been chasing for five years. His goal was the be the first athlete to get a golden buckle for a sub-30-hour finish at 60-plus years old. 100-plus miles, 20,000-plus feet of climbing, with some of the course two miles above sea level, all under 30 hours. It was an arbitrary goal, but as Dave said, "Aren't they all?"
RELATED:How Tommy Rivs Inspired The Trail Running World From His Deathbed
It was an adventure that he and Sue shared from day one. He was the stubborn runner. She was the loving crew. Together, they could find meaning in the meaningless. That's what lifelong partnership is about, when you really think about it.
"She would have wanted me to run," Dave says. "She would have been there at every aid station."
Chasing a Big, Meaningless Dream
He had lost his supercrew. Immediately, two people stepped up. Now, imagine the lights going dark like we're in an NBA arena and they're announcing the starting line ups. Pump-up music fills the room and strobe lights come on. "Starting as Ace crew member," the loudspeakers boom, "Sue and Dave's daughter Joelle Eitemiller." "Starting as Beast crew member, their daughter Jessica Kuddes." THE CROWD GOES CRAZY.
The crew was assembled, and now there was perhaps a bigger question to answer. Would he even be able to run? As Dave said, "What's the story now? Is the best gone? Is life no longer possible?" He felt like that at times. But he heard Sue's voice. "There's so much more story to come."
Dave got to that start line with an empty space in his heart. He described that the empty space was full of sadness and fear and other emotions you'd expect. But alongside them was another feeling … lightness. The hole in his heart took off some weight. How could he fear a 100-miler after what Sue had faced so courageously?
Dave printed out pace charts for his impossible, meaningless goal. He was running with the lightness of an empty heart, which made him fly up the hills at altitude in Colorado, getting to mile 52 under the age-group course record. As the race went into the long Rocky Mountain night, he ventured into a headlamp tunnel, with nothing to think about but rocks and life and loss. Oh, and bears. You can always think about bears.
His pacers Justin Lukasavige and John Stanley fought alongside him, chasing the arbitrary impossible with him step-for-step. His daughters cheered him on. And after the trials and tribulations that make 100-milers so incomprehensible, he got to the final aid station with six miles to go. He'd need to run down the mountain, and fast. Dave wasn't sure if he could do it. He bargained. It was still a really good time. It was still going to be an age-group win.
And then, suddenly, he started flying. Dave ran his fastest miles of the race to the finish. Going through his head was a simple thought. "Life is rich."
He felt sadness, fear, joy, pain, grief, optimism, hopelessness and every other thing you could imagine. It was all mixed together and simmered in a crock pot over the last two years, turned to high a month before. As he came to the finish line, the richness of it all became so clear.
It was just like running. He loved running because it sucked. It gave him his worst moments, full of pain and self-loathing. He also loved running because it was beautiful, so awe-inspiring and transcendent. It gave him some amazing moments, full of lightness and love.
It was just like grief. A broken heart mixed with lightness, tears mixed with laughs.
He carried that richness full speed into his daughters' arms. They did it! 29:46, 14 minutes under the meaningless goal, a golden buckle that meant nothing and everything all at once.
Recounting the story, he was transported back to that moment on the trail, laughing and crying at the same time. How does it feel?
"My arms are out, and I am flying. Sue, I wish you could be here. I am so happy. And I know you'd be so happy too …
"I guess … I know that somewhere, you are so happy, too."
David Roche partners with runners of all abilities through his coaching service, Some Work, All Play. His book, The Happy Runner, is about moving toward unconditional self-acceptance in a running life, and it's available now on Amazon.