All-In-One Strength Work Cheat Sheet
Strength training is a huge and intimidating concept, especially if you're new to it. This all-in-one cheat sheet will help you get started.
Heading out the door? Read this article on the new Outside+ app available now on iOS devices for members! Download the app.
You are an athlete. Scratch that. You are an UNSTOPPABLE ATHLETIC SUPERBOSS.
That's better. Runners often have a tendency of viewing themselves in confining terms. It's sometimes hard to get a person to say "I am a runner" without cutting themselves down first. If you move your body over roads or trails, or have dreams of maybe one day doing that, you are a runner.
But "runner" is just the start of it. You aren't "just a runner" in the same way you aren't just a "lawyer" or "nurse" or "volunteer pizza taster." In addition to moving your body over roads or trails, you also rock the top-shelf cereal press and the dirty-laundry deadlift. As humans, we are all badass athletes with badass potential and some baaaaad asses, but said in the 1980s way where bad means good.
This weekly schedule is about embracing that full-athlete nature within all of us, providing a one-stop-shop for the exercises we ask our athletes to complete to support their athletic life.
This weekly schedule is about embracing that full-athlete nature within all of us, providing a one-stop-shop for the exercises we ask our athletes to complete to support their athletic life. Disclaimers: it's always best to work with a dedicated strength coach if you have that option. Don't do anything that hurts beyond normal muscle soreness. For example, if you have knee issues, you may want to avoid front lunges and squats in some cases. You may get sore at first, so start extra easy. This schedule is meant as a template to get started, rather than as a commandment set in stone by Jane Fonda and Jack LaLanne. We talked about the principles in more detail on last week's Some Work, All Play podcast episode.
The days are based on a sample running week, so change the distribution if your running week varies. If your training follows a pattern other than the normal weekly structure (like 10-day cycles), you are already playing four-dimensional chess while we are playing checkers with half the pieces missing, so you can make it work.
Our goal is to provide a resource that combines all we have learned from coaching and research, but we have our own biases, so it's also OK to do something totally different. The schedule has three main goals.
One: Improve strength through a full range of motion.
A 2018 review article in the journal Sports Medicine found that strength work often improves running economy, reducing the amount of energy it takes to go a given pace. By focusing on strength through a range of motion that goes slightly beyond what we do in running, there may be injury prevention benefits as well.
Application: The Cheat Sheet emphasizes simple movements like lunges and squats that generally overlap with running posture (with some variance).
Two: Make strength work repeatable and fun.
While most controlled studies show that strength work improves running performance, we are not living in a controlled study. If we were, you'd often only see men, and they'd vanish after six weeks. In our uncontrolled lives, strength work can be the first thing that falls away. Plus it can increase injury risk due to excess stress if the strain on the body is not balanced across training and life. Week-after-week soreness beyond the initial adaptation phase may be a sign that the body is breaking down, rather than adapting.
Application: The Cheat Sheet avoids very heavy lifts, focusing mostly on bodyweight exercises and weighted exercises that are easy to learn and apply. Each day shouldn't take more than 10 to 20 minutes total after you get the hang of it.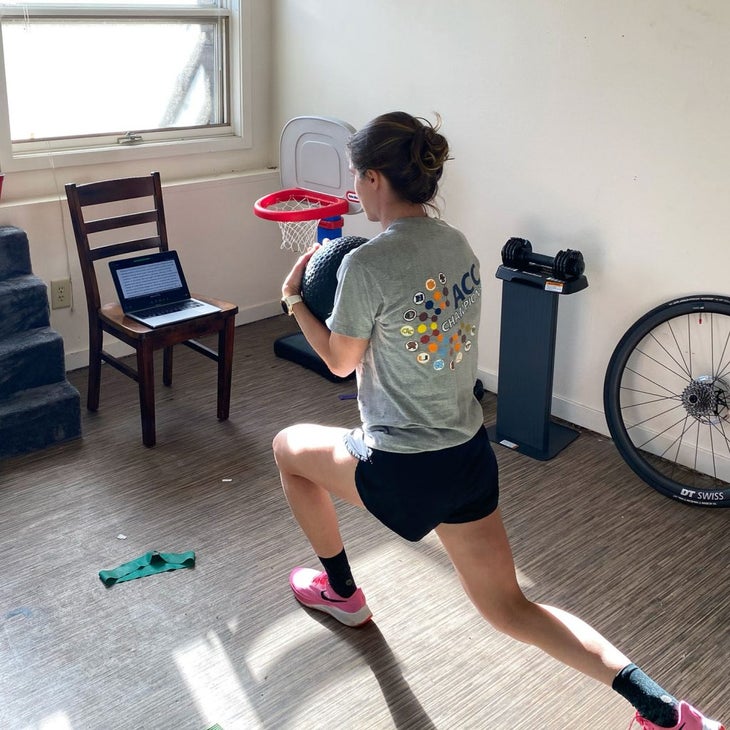 Three: Work multiple muscle groups with each exercise.
Compound movements that involve multiple muscle groups have more real-world applicability to running performance. In addition, a 2005 review study in Sports Medicine found hormonal responses after strength and resistance training that involved compound movements, though the exact type of stimulus and response varies. These movements may also increase bone-mineral density due to acute loading and how the muscles apply tension to bones, particularly in women, as outlined in this 1990 study in the Journal of Bone and Mineral Research.
Application: The Cheat Sheet focuses on full-body, multi-direction movement as much as possible.
Finally, there are three principles to consider in adapting the Cheat Sheet for your own use.
One: Stack the biggest strength-based stresses on days when endurance training is harder or when strength work can be followed by a rest/easy day
All training comes with a stress cost, and we generally want athletes to avoid spreading out that stress evenly across an entire week. Chronic stress loads can impact the endocrine system, increasing cortisol and causing perturbations in estrogen and/or testosterone. While that may not be a concern for these simple exercises, athletes on our team have had the most success when they do the Speed Legs routine on their hardest training days or preceding rest/very easy days. That would also be a good time to add more complex exercises, or to have a standing appointment with a strength coach.
Note: As the Speed Legs routine has been used by more athletes, we have seen single-leg deadlifts sometimes aggravate hamstring or low back issues. Two substitute options are a dumbbell deadlift to overhead press or another set of rear lunges, but with more weight.
Two: The endurance and mobility-based stresses can be more consistent background stimuli 
Like with running, consistency reinforces adaptations for endurance. Pre- and post- run activation exercises can improve neuromuscular performance and range of motion, and near-daily upper-body work can keep full-body strength at the forefront.
Three: Keep a constant focus on recovery and adaptation
Foam roll or use percussive massage daily if possible. Consider light stretching if you are inflexible and/or it makes you feel good. Make sure you always have adequate protein intake, especially if you do not consume meat (see this 2021 study in Sports Medicine for the importance of protein intake in a plant-based diet).
Most of all, treat yo'self. We have one shot at this life, and our top memories are probably not going to involve strength work with weights. But the memories may involve strength work with kids (the toddler clean) or friends (abdominal intervals from laugh-cries or cry-laughs) or partners (bedroom planks) (that's gross). So it's OK for your structured strength work to be imperfect if that means a more full (but still imperfect) life.
Let's do this!
If your PDF viewer does not allow you to access the links to demonstrations of the exercises, you can access the Google Document here.
David Roche partners with runners of all abilities through his coaching service, Some Work, All Play. With Megan Roche, M.D., he hosts the Some Work, All Play podcast on running (and other things), and they wrote a book called The Happy Runner.