3 Ways To Crush Your First 100-Miler
Here are three of the biggest factors to keep in mind when it comes to succeeding at your first 100-mile race.
Photo: David Marcu/Unsplash
Heading out the door? Read this article on the new Outside+ app available now on iOS devices for members! Download the app.
At the 2016 Way Too Cool 50K, Chris Mocko finished eighth. After the race, I was blunt with him. "You are an amazing runner. You should be winning these races."
The day after the race, I started coaching him, providing a new approach designed with one goal in mind: the Western States 100 on June 25.
The goal of this article is to give you a glimpse into the inner workings and rationales of elite training to find out lessons that might work for you, no matter what your background or goals.
First, Mocko would have to qualify for the big dance. There are a few ways to get into the most storied race in ultrarunning: (1) by finishing top-10 in the year prior; (2) by finishing top-two at one of the prestigious "Golden Ticket" races; and (3) through the lottery, which has chances as low as 2 percent.
Mocko was entered in the Gorge Waterfalls 100K in April, which was the last available Golden Ticket race. So he had his shot. He was a man on a mission: run his best race of the year at Gorge, then run the race of his life at Western States, which would be his first 100-miler.
To understand his training, you first need to understand Mocko. He works a demanding job. He ran competitively at Stanford, and has a 2:22 marathon PR. In other words, he is busy, but still wants to perform his best, like most of us.
Here are three major takeaways from his training for Gorge and Western States that busy trail runners can apply when training for an ultra.
1. Run Vert
In February, Mocko ran 428 miles and 37,500 feet of elevation gain, equating to 87 feet of gain per mile. The first change in his training was to turn up the vert.
Leading up to Gorge, Mocko did weekly long runs with 4,000-plus feet of climbing and mid-week runs with around 2,000 feet. On race day in April, he had his breakthrough performance: running the fastest final 10 miles in race history and dipping under the previous course record to finish second overall. Mocko had his ticket.
RELATED: The Best Way To Build Uphill Speed
But the vert-chasing fun was just beginning. In May, he ran 417 miles with 47,000 feet of elevation gain, or 113 feet per mile. In June, his running was even more vertacular: 350 miles and 46,500 feet of gain, or 133 feet per mile. Compared to the beginning of 2016, his average mile had 50 percent more elevation gain by the time Western States rolled around.
"There is only one real hill in San Francisco, Twin Peaks," Mocko says. "At first, I hated that hill. By the end, I had summited it dozens of times. I ate Twin Peaks for breakfast almost every morning, and learned to love it."
Takeaway: No matter the elevation profile of your race, to be successful at racing ultras, it is essential to be strong and resilient. The best way to stave off breakdown in the later stages of a race is to run up and down hills a lot.
Mocko put in the work on the climbs (both in weekly long runs and weekday pre-work jaunts), so when mile 85 came around at Western States, he had enough gas left in the tank to accelerate while others were running on empty. In your training, seek out vert to ultra-proof your legs.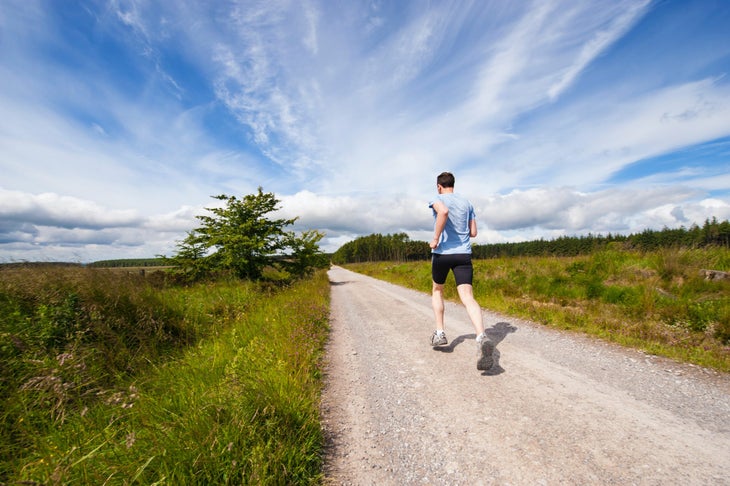 2. Use Hill Intervals
During previous cycles, Mocko's training had revolved around hard speed workouts. While that is an important element of a training plan, we decided that we needed to de-emphasize those workouts, which can cause muscular breakdown that compromises weekend long runs.
Instead, Mocko did just one focused hill workout each week, which limited pounding and maximized aerobic bang for the buck.
With such a short time until the big dance, we prioritized one energy system for these workouts—VO2 max. A VO2 max focus allowed Mocko to improve his maximum aerobic capacity, enabling him to run faster at every effort level.
Mocko saw a lot of three-minute hills (five to eight intervals), usually on Wednesdays, to give him maximum recovery time before and after weekend adventures. Then, on the weekends, he'd run hills moderately during his long run, to work his lactate threshold in an unstructured way.
Takeaway: If you are focusing on ultras, workouts matter, but not at the expense of consistent, quality aerobic running.
Use quicker, focused hill efforts if you are short on time or energy (either because you have a race coming up or you are a life superstar with a busy schedule). Then, run your long runs with focused intensity, rather than at an all-day pace.
RELATED: 4 Factors That Determine Ultramarathon Performance
3. Modulate Volume
Mocko had been a high-volume runner for years, but that volume hadn't translated into major ultra success. Likely, that discrepancy has a simple explanation—at mile 50, everyone is entering uncharted territory, since even runners who do 100 miles per week almost never run that far in a single day.
Mocko's total average weekly volume decreased by 28 percent over the course of his Western States training block. However, his biggest weeks were his most massive ever, all without doing the "two-a-day" runs that are common among pros, while the weeks in between were comparatively low mileage.
In the second week of May, Mocko ran 100 miles with 13,000 feet of elevation gain. Two weeks later (following a 70-mile down week with just 5,800 feet of gain), Mocko ran 113 miles with 18,000 feet of gain. Two weeks after that, Mocko had his peak training week, topping out at a whopping 126 miles with 16,000 feet of gain. Each week included back-to-back weekend adventures, which peaked at 50 miles (with lots of vert) over two days.
Then, he did a sharp taper to 76 miles, then 48 miles, then just 23 miles in the five days leading up to Western States.
Mocko describes this shift in training thusly: "I used to live or die by my weekly mileage count. For Western States, I realized that it's not the number that matters as much as what makes up that number. We threw away the junk miles I'd collect in slow afternoon shakeouts. When a day was marked as "easy" or "recovery," I would run slowly—very slowly!—and I even dedicated a day a week to rest and recovery, with no running. All of this led me to be better prepared and recovered for the quality sessions and long efforts that really make the difference."
Takeaway: Training big and then recovering is something any runner can do, no matter what their background. However, the week on, week off cycle is unique to Mocko and other athletes with massive aerobic engines.
If that doesn't describe you, pay attention to doing quality runs and then recovering (either with slower, easier running or total rest). That breakdown/buildup cycle is how you break down your own barriers for race day. If you are very experienced, you can work hard and build residual fatigue for a full week, like Mocko did. For most of us, though, a one- to three-day block of hard work followed by an equal or greater number of easy days works optimally.
RELATED: A Training Plan to Run 100 Miles
Race Day
With 15 miles to go in the Western States 100, Mocko was running in 12th in his debut 100-miler after fighting through 100-plus-degree temperatures all day. I was thrilled for him when I went to sleep, thinking he would finish just outside the top 10.
Then, just after I fell asleep, Mocko showed what he had shown consistently in the months preceding the race. He went to work with unrelenting focus and drive, applying his talent to the task at hand.
When I woke up at midnight to check the results, I found that he had accelerated to finish seventh in the biggest race in U.S. ultrarunning. He used his strength, talent and dedication to place in the top 10 and earn the right to return next year, this time with a prestigious M7 bib.
David Roche partners with runners of all abilities through his coaching service, Some Work, All Play. With Megan Roche, M.D., he hosts the Some Work, All Play podcast on running (and other things), and they wrote a book called The Happy Runner.