5 Workouts to Build Trail-Racing Strength
You signed up! You're excited! Now it's time to get strong so you can crush your trail racing goals.
Heading out the door? Read this article on the new Outside+ app available now on iOS devices for members! Download the app.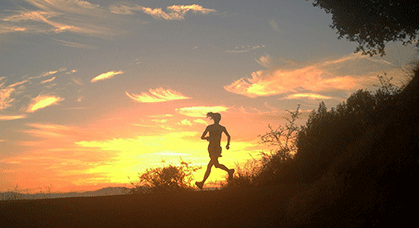 "Do you want to do this [insert adjective: long/technical/godforsaken] race a few months from now?"
If you're anything like me, you've answered "I do" to that question more than once, causing a level of doubt you usually want to avoid after saying that phrase. I had some serious "I do" blues after I was selected to travel to the World Long Distance Mountain Running Championships in Zermatt, Switzerland, with Team USA.
I got the call, danced a jig and immediately accepted. Then I looked at the details of the race—26.2 miles, straight up the Matterhorn—and at a picture of that iconic peak piercing the clouds, which reminded me that the race is at altitude. I turned to my wife Megan, also selected for Team USA, as the same realization dawned on us both: "WHAT HAVE WE DONE?!"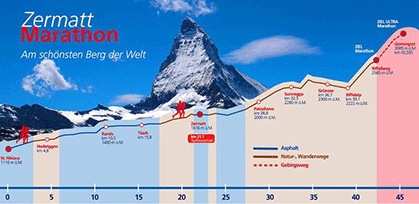 I imagine you've felt this sort of pre-race anxiety, whether it was motivated by your first 5K, a local trail half or the Hardrock 100. No matter the self-inflicted goal distance, though, I've found that the key to preparing—physically and mentally—is to focus on building the sort of strength you'll need on race day. Here are five workouts that do that.
RELATED: Celebrating Yourself Exactly As You Are
1. Short hill repeats
When I think back to all of the places I've lived over the years, I remember them mostly by two things: my favorite places to spend time with my wife, and the hill I used for 60-second repeats. My wife won the 50K Trail National Championships with this as her only structured workout!
How it works: Warm up with twenty minutes easy. Then, on the hill of your choice, run moderately hard for 60 seconds, ending at a landmark that approximates how far you got during the minute. Jog down slowly, and do it again, this time without looking at your watch, ending at the landmark. Six to 10 intervals once a week is all you need to develop the strength to tackle almost any race. Finish with 20 minutes of easy running.
Take it up a notch: Immediately after the last hill interval, do a 10-minute tempo at your 10K pace. There is no better way to simulate the end of a race!
2. Long run with a twist
There is nothing quite like a good long run to remember why we run on trails. While road runners are slogging it out on concrete, we get to play like kids in the woods.
While a long trail run is fun, it should also be a good workout. To get the most out of it, add in short sections where you get into the race mindset.
How it works: On a 90-minute run, warm up for 20 minutes, then continue at normal long-run pace but mix in 30 seconds of moderate effort every five minutes. These small accelerations will raise the overall pace of the run, increase aerobic development and teach you to be comfortable accelerating on trails. Get strong while playing in the woods? Count me in!
Take it up a notch: Every other week, increase the moderate-effort intervals from 30 seconds to one minute. On race day, you'll find yourself channeling these workouts.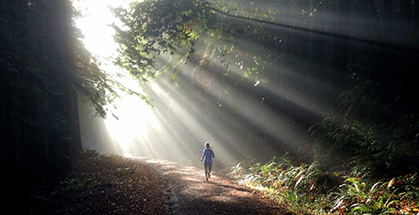 3. Lunges
Last year, at the Short Distance World Champs, I was running my heart out up a steep climb. My arms were pumping, my legs were numb and I'm pretty sure I was burping battery acid. Then I got passed by an entire group of Europeans. They were walking, as if on a Sunday stroll.
It was then I realized what sets mountain goats apart: strong hill-climbing legs. Simply running, even fast, on flat pavement or dirt won't sufficiently work all the muscles you need, but an epic lunge set almost exactly mimics the strain of going up a steep hill. Best of all, you can do lunges anywhere, and don't need to spend hours in the mountains or the gym.
How it works: Twice a week, after an easy to moderate weekday run, do a set of 40 walking lunges, 40 side lunges and 40 rear lunges, focusing on controlled but powerful form. Next time, you'll be the one strolling casually uphill!
Take it up a notch: After the full lunge set, add 40 jumping lunges. These aren't for the faint of heart (or knees), but there is no better way to build strength for steep climbs and stairs.
RELATED: A 5-Minute Circuit For Mountain Strength
4. Downhill Strides
Most training plans are adaptations of what works for elites who have been running since they were in high school, and have talent oozing out of the pores of their freshly shaved legs. But what if you don't have a track or cross-country background? Trail speed, contrary to what you may have heard, can be learned, and downhill strides are a great way to start.
How it works: After a good 30-minute warm-up, do some stretches and leg swings, then run eight 150-meter strides on a slight decline—ideally about a two-percent grade. Start relaxed and pick up speed gradually, moving smoothly and effortlessly. Jog back to the start slowly, and do a few more. The first time out, you may feel like an uncoordinated rhinoceros, but eventually you'll find yourself getting faster and smoother, until you feel like a gazelle (or, if you're like me, a slightly more coordinated rhinoceros). Close with 20 minutes easy.
Take it up a notch: On the same slight downhill, lengthen the intervals to two minutes each. Over time, you'll find talent you never thought you had!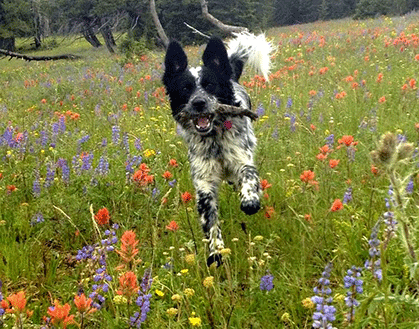 5. Shuffle: 40 to 60 minutes slow.
Many of the athletes I start coaching don't realize it's okay to slow down to the point of being passed by actual live turtles. But going slow—slower than you think when you hear that word—allows you to truly recover from hard workouts, while building all of the small connective tissues needed to stay injury-free. So every Friday before a weekend of adventures, my athletes have a "shuffle" day.
RELATED: The Art Of The Easy Shuffle
How it works: During shuffles, keep your running cadence the same as normal, with short, soft strides. And, most importantly, there is no such thing as too slow. I shuffle at 9- or 10-minute-mile pace, and race twice as fast. The key is to leave your ego at the door, and breathe in the scent of those proverbial trailside roses.
Take it up a notch: Don't. This one is about keeping it pegged at zero notches.
Put all of these workouts together, and what do you get? You get a strong, healthy athlete ready for whatever a trail race throws at them—no "I do" blues necessary.
David Roche partners with runners of all abilities through his coaching service, Some Work, All Play. With Megan Roche, M.D., he hosts the Some Work, All Play podcast on running (and other things), and they wrote a book called The Happy Runner.