Trail Running Might Be the Secret to Happiness – Here's How You Can Maximize It.
Trail running has tons of mood-boosting benefits. Here are three ways you can harness them to the betterment of your mental health.
Heading out the door? Read this article on the new Outside+ app available now on iOS devices for members! Download the app.
If you're reading this article, you're likely an avid trail goer. However, we all need a little convincing to get out there sometimes. Perhaps you have friends or family who are hesitant to run with you, so here's your response: more time in nature boosts everything from mood to energy levels and sleep, as emerging evidence shows that trails benefit us in more ways than just our fitness.
A 2020 study published by the International Journal of Environmental Research in Public Health compared 1299 trail users and 228 non-users across spectrums of health and wellbeing. It not only found that trail users were significantly more physically active compared to the non-users, but that they also had better sleep quality and self-reported mood scores across a weekly basis. In addition, the longer their trail time, the higher the subjects' self-reported wellness and health index scores. These included instances of sadness, anger, physical pain, low energy levels and worry experienced in a given week, all of which were more commonly experienced by non-trail users. While I wouldn't recommend opting for a 24/7 life of trails (unless you have a fully-equipped treehouse and Mother Nature starts providing an endless supply of PB&J), there is clearly value in taking your runs to the trails, when possible.
A recent review of over 100 research studies suggests that running bouts of variable lengths, intensities, and conditions can improve mental health. Those who participated in a Parkrun event as part of a 2019 Australian research study also experienced higher levels of self-efficacy (confidence in one's own ability) and social connection. Outdoor activities offer a lot for our mental wellbeing, but we also have to remember that they aren't the only assets in our mental health toolbox, and there is such a thing as too much.
While runners reported stress relief, better mood, and reductions in depression, there was a tendency for negative emotions to arise when unable to run due to injury or in cases of exercise dependency/addiction. Understandably, not being able to do what we love (or, perhaps, doing it too much) can result in an overdose effect. 
RELATED: 3 Ways To Make Your Runs More Joyful
Nature's benefits peak around 120 minutes per week and begin to diminish beyond 300 minutes per week, according to a 2019 Scientific Reports study. It could also be that individuals who exhibit addictive personalities turn to running, perhaps as a coping mechanism. This is beyond the scope of this article, but it does leave us with some considerations to ponder while we're out in the woods.
The good news is, we don't need to live right by a trail system or drive hours to experience the mood-boosting benefits of a trail run. Although we might prefer remote singletrack along a scenic backdrop, those who trot in urban parks experience similar physiological and psychological benefits to those who opt for more secluded or rural settings (namely, lowered blood pressure and reductions in negative emotions such as sadness, fear, and anger), according to a 2010 study in Environmental Health Prevention Medicine and findings from Braubach et. al, published in 2017. That's a good enough reason to lace your shoes up and head out the door, no matter where you are.
RELATED: The Nutrition Secret Of The Pros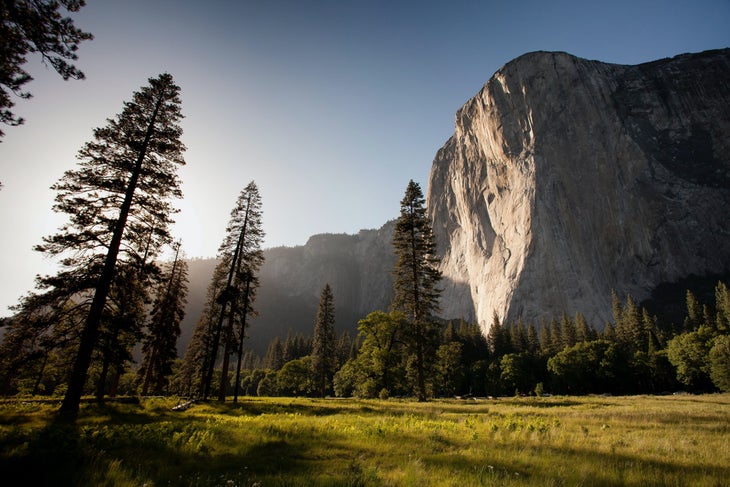 All this research on running and mental health might convince a newbie to start running, but you're already out there, how can you better connect with the environment around you? Here are a few ways to tune in:
Learn about the land.

Next time you're ready to get out on a trail, whether for a run or for a race, figure out whose traditional lands you are on, or better yet, whose land you're running "with." You can do this on the

Native Land App

, where you can learn not only which groups have historically stewarded the land, but also find ways to support those communities and get involved.

In Golden, Colorado, where I live, you will often find yourself on Ute, Arapahoe, and Cheyenne territory. Learning about the history of the land around us helps us to better understand their origins, as well as feel a stronger sense of connection and vested interest in what we can do to protect them. Research cultural destinations and landmarks along your route, or pause to read the map next time you park at a new trailhead. Take this a step further and make a commitment to help others understand their trail's origins, too. Organizations like Rising Hearts Foundation are leading the way, as another opportunity to support the lands we run with.
Pause for a moment. This means stop your run – yes, literally – to bask in its beauty. We all know the power of mindfulness, but how many of us practice it while running,  particularly for the place we are in? Whether it's to snap a photo, gaze at the wildlife, or simply take in the scene, make sure to fully appreciate the air, earth, wind, sun, and nature that envelopes you. Often, when we're running, we get into a state of flow and forget to soak up the atmosphere around us. While running can lend itself to a meditative state, the conscious practice of mindfulness involves becoming deeply aware of the present moment. If you need a little inspiration for this one, note that Des Linden admitted to regularly stopping for five minutes in the middle of her long runs to take stock of the moment. We can all channel a little Des on our next run.
Put in the work. Namely, trail work. Many of us run paths without minding how they got there. A majority of these are human-created and require work to be kept up. Next time you see a downed tree, step in to assist if you have the equipment. See trash along the path you frequent? Get it to the nearest trash can. Many towns and race organizations have trail work days, where you can come together with your community to clean up. Make an effort to attend them. Contributing to our communities not only benefits the trails, but also benefits us – and helps make the world go 'round. Chances are, your area has a land trust, so check out the Land Trust Alliances "Find A Land Trust" tool to see which organization near you might be hosting trail days.
RELATED: What Is A Land Trust?
Remember, trails don't just benefit you: they impact the people you enjoy them with. We may have mastered the secret to happiness through our (almost) daily habit, but others in our lives may have only scratched the surface. Just like trails require human power to be maintained, they help to maintain us too. Make the effort to welcome others into your circle and experience our landscape's gifts together. As the poet Ralph Waldo Emerson once said, "Many eyes go through the meadow, but few see the flowers in it."