What's That Thorn in My Shin?
Shin splints are a common running injury, but the jury is out on just how to treat and prevent them.
Heading out the door? Read this article on the new Outside+ app available now on iOS devices for members! Download the app.
Have you ever had that annoying pain down the medial (most common) or lateral/anterior side of your tibia, especially in the soft-tissue region, that you can't quite pinpoint with one touch? The one that, if you let it persist long enough, precludes you from running a single step without pain. You may have experienced it when you've increased your running mileage disproportionately to your fitness level, or worn improper footwear, among other possibilities.
While that pain in your shin—known as shin splints—is a common running injury, the jury is out on just how to treat it and prevent its occurrence or recurrence.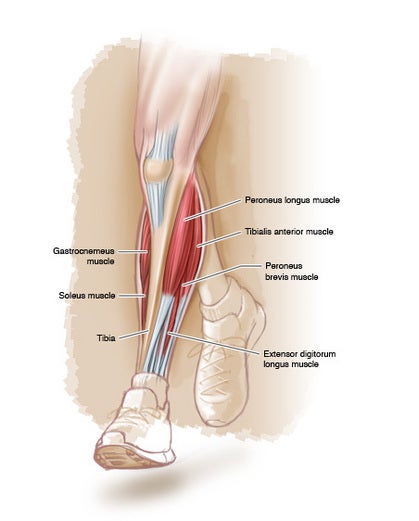 Defining Shin Splints
According to a case study by Dr. Bernard J. Krenner, DC, a chiropractor in Woodbury, Minnesota, "shin splints" is any lower leg pain as a result of activity. Probably the most widespread cause of shin splints is medial tibial stress syndrome (MTSS), a hard-to-define condition with many possible causes, such as repetitive motion involving impact forces. Hmm … sounds like running. MTSS is often associated with early season downhill running or progressing too fast in training (e.g. upping weekly running mileage too quickly on rugged terrain).
Dr. Debbie Craig, PhD, ATC, of Northern Arizona University in Flagstaff, describes MTSS as "one of the most common leg injuries in sports," accounting for up to 50 percent of lower-leg running injuries. Dr. Craig emphasizes that "experts do not agree upon the cause of MTSS," as studies thus far have been limited and inconclusive.
Shin splints can arise acutely, become sub-acute and trend toward becoming chronic if not properly treated. In extreme cases, surgery, such as a posterior fasciotomy (incision through fascia surrounding a muscle), may be warranted but is never a guaranteed cure. If you begin to feel shin pain on either side of your tibia, including posterior discomfort, from running, get the problem diagnosed right away.
"I'll see a sudden increase in shin splints at two major times in Western State College of Colorado distance runners," says Tim Poppe, MPT, Clinical Director of Physiotherapy Associates in Gunnison-Crested Butte, Colorado, "once at the start of cross-country season after summer training and again at the start of track season after winter break." Poppe, of course, is blaming a sudden increase in mileage at both times as a possible cause of shin splints.
RELATED: The Importance Of Injury Prevention In Winter
Diagnosis
According to Drs. Robert Galbraith and Mark Lavallee, sports-medicine physicians from South Bend, Indiana, "a thorough history and physical exam are usually sufficient to make the diagnosis of MTSS." An athlete will most likely feel pain on the medial-posterior region around the shin, especially when palpated by a clinician and, according to Janine Pleau, ATC, at Western State College of Colorado, "high-impact-sport athletes may also feel pain around the lateral or anterior area of the shin, but by far the most common symptom of `shin splints' is in the medial tibial region."
The pain may persist during training along with noticeable swelling afterward. If a shin-splint sufferer does not improve with conservative treatment, imaging tests, such as X-ray, bone scan or magnetic resonance imaging (MRI) tests may be warranted in order to rule out stress fractures or other issues.
Treatment
Conservative shin-splint treatment consists of rest, ice and analgesics (e.g. ibuprofen) during the acute phase, normally lasting a few weeks to a year, according to Poppe. "If I diagnose a runner with early onset shin splints, I may shut them down completely if the tibial region is really inflamed," says Poppe. "Then it's time for iontophoresis (a way to electrically propel a drug across the skin barrier), ice, possibly soft-tissue mobilization or massage and NSAIDS."
If inflammation is absent, says Poppe, then some running may be OK if performed with minimal pain. Avoid running on hills, uneven terrain and overly firm surfaces, and refrain from high mileage and speed workouts until all discomfort dissipates. Also, consider adding cross training to your agenda, such as swimming, pool running and utilizing an elliptical machine or stationary cycle. Normally, after a few weeks of lying low you can ramp up the frequency, duration and intensity of your training.
If your shin pain becomes more severe or chronic, especially with sustained swelling, despite conservative treatment, curtail your mileage further or stop running completely.
RELATED: Learn To Rest, Before It's Too Late
Prevention
Visit a specialty running retailer for a gait analysis. Also, purchase well-fitting running shoes, and replace them every 300 to 350 miles to ensure optimal cushioning. Orthotics that correct diagnosed biomechanical foot issues may also be warranted.
Additionally, maintain strong core muscles to promote or improve running mechanics and add strength training to your exercise routine, especially movements that target stabilizing muscles of the lower extremities.
"Overpronation is a common, possible cause of shin splints," says Poppe. "Therefore wearing the appropriate shoe with a footbed that helps reduce overpronation may help. However, core and balance/proprioceptive exercises are still key to preventing repetitive trauma injuries of the lower limbs."
According to Dr. Craig, no single method has been proven to consistently deter the onset of MTSS, but the most effective seem to be shock-absorbent insoles, pronation-control insoles and graduated running programs. "Stretching of the lower-leg musculature, however, has been consistently proven to not prevent MTSS," says Dr. Craig. Therefore, attempt to choose strength training exercises over excessive stretching to optimize prevention and/or recovery from shin splints.