What is Endurance? A New Study Shows the Importance of Mind-Body Connection In Endurance Running
Whether it's pushing through discomfort or fatigue, endurance is central to our sport. A new study shows the significance of the practice of mind-body linkage.
Heading out the door? Read this article on the new Outside+ app available now on iOS devices for members! Download the app.
Do you ever have this type of internal dialogue? 
"Today, my legs were 'heavy' in the first couple of miles, but this was to be expected after a quicker run yesterday and training through last weekend's race. I know this is the last 'long' run before tapering into next week's race and freshening up – these heavy, fatigued runs are just part of the course. While I may have felt a little 'leggy,' especially in the early stages, the run was mainly on trails from thereon, thus much more forgiving on my slightly weary legs." 
This is an example of lived body fatigue and heaviness.
A recent book chapter analyzes endurance and 'endurance work' in women's cross country and trail running. What is termed 'endurance work' (in sociology) conceptualizes endurance in a specific way as cognitively, physically, and interactionally lived. The research focuses on the lived experience and social production of endurance in trail and cross-country running. 
The chapter "Endurance and the Production of 'Endurance Work' in Women's Cross-Country and Trail Running," by Prof. Jacquelyn Allen-Collinson and Dr. Patricia C. Jackman, was published in the new book, Contemporary Meanings of Endurance: An Interdisciplinary Approach. The book investigates the concepts of endurance from various schools of thought. This includes the lived experiences of mundane daily activities to physical performances.
The research utilizes a theoretical approach and analyzes data from three autoethnographic and autophenomenographic research projects on distance running. "Autoethnography is where the researcher analyzes their own experiences of the culture," explained Dr. Patricia Jackman. "Autophenomenography is where the researcher analyzes their own experience of a particular phenomenon, such as their lived experience in an activity like running." 
Autoethnography is a research approach, grounded in anthropology, and has grown considerably in the social sciences in recent decades. Autophenomenography, in contrast, is a relatively novel approach that focuses on the researcher's direct, lived experiences of a phenomenon, such as trail running, to generate rich, detailed data from the perspective of an 'insider.'
The thinkpiece explores various experiences of endurance that may differ between individuals and may manifest themselves at different times (i.e., your experience of running up a hill may vary from running 100 miles).
RELATED: "Capacity Training" Is The Key to Long-Term Running Endurance
Endurance and Endurance Work 
What is endurance? For premier female trail runner, Maude Mathys, of Switzerland, "Endurance is an ability to sustain a constant rhythm, concentration, repeated action, which sometimes seems easy, but sometimes difficult." 
The authors loosely define endurance as what it means to keep going while facing adversity, discomfort, fatigue, and pain. It is a process to be learned – and relearned – over time through effort and training. 
As mentioned, 'endurance work' conceptualizes endurance as mind-body, and interactionally lived. "Endurance work involves an approach to how mind-body-environment connections shape our sensory experiences," the authors explain. "To undertake distance running demands that physiological endurance is developed through physical training." As such, the cognitive and the physical are inextricably intertwined. Prof. Allen-Collinson emphasizes that such endurance of mind-body is never achieved once and for all, but rather is provisional, contingent, and can become eroded.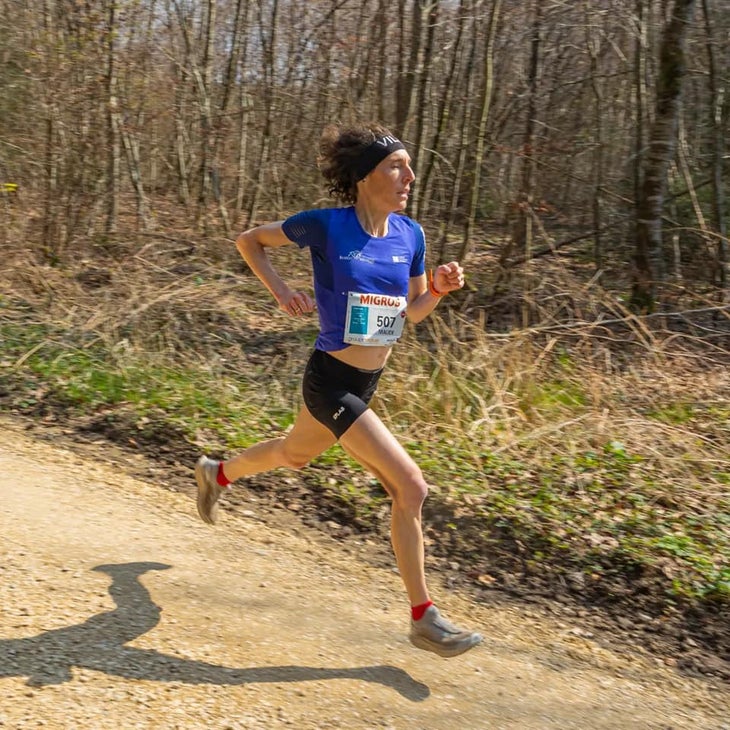 The Study
The researchers analyzed two forms of running: cross-country and trail running. Cross-country encompasses multi-terrain running in rural or countryside areas, while trail running encompasses running in natural environments, including mountains, deserts, forests, or countryside, and both forms seek minimal possible contact with paved or asphalted surfaces. 
The study explores endurance as cognitively, physically, and interactionally lived and communicated through endurance work. The mind-body linkage is central to understanding endurance, as distance runners must learn to endure physiologically and psychologically.
The authors explore the direct, physical, and mental experiences of endurance as lived in their running lives.
In analyzing their experience of endurance in running, the researchers analyzed data from three research projects on running, undertaken over many years. The researchers systematically recorded their experiences through field notes, daily training logs, reflective notes, and taped daily training, and also rehabilitation, during the processes of training, and also being injured and recovering. They identified two key themes in their analysis of the experience of endurance: 1) Pain and Discomfort; and 2) Fatigue. 
RELATED: 10 Theories About Improving Fatigue Resistance
Pain, Discomfort, and Fatigue 
Pain and discomfort are central elements of experience in endurance running. As runners, we learn and develop our own ways of knowing how to distinguish between the discomfort of niggles and the type of pain that merits medical treatment. As such, discomfort and pain are often normalized and even glorified in endurance cultures. This is often considered a given – or prerequisite – following the effects of considerable training volumes.
A key component of endurance work draws on the accumulated knowledge of different kinds of pain and injury, enabling us to identify these, and then draw on the willingness, to persist through such niggles. 
The data reveal that runners engaged in discussions, with themselves, co-runners, and the wider running community, about the nature of the pain or discomfort. Enduring the discomfort of manageable injuries is often a pragmatic and necessary strategy.
Runners learn over time and experience how to distinguish between good and bad pain. We understand how to discern and tolerate forms of pain and discomfort. Such knowledge and practice are often shared resources within distance running cultures. 
Additionally, as runners, we become more attuned to fatigue, engaging in meaning-making around the sensations of fatigue while learning how to cope and endure tiredness of mind and body. Such fatigue – of mind and body – also constitutes an essential part of the experience in the endurance work of distance runners. 
Feelings of fatigue can have favorable implications for our running. While adapting to general fatigue, it is generally accepted as routine to progress. However, expending high levels of energy can be detrimental if combined with under-fueling and can spill over into Relative Energy Deficiency in Sport (RED-S).
With experience, runners learn to endure various levels of fatigue. "Part of this cognitive and corporeal knowledge encompasses the ability to detect and identify subtle, nuanced variations in the nature of our fatigue, and also to communicate these to co-runners and others, as part of endurance work," the authors explain. 
To continue running while experiencing fatigue, runners often rely on embodied memories of enduring similar experiences. The mental experience of running fatigued becomes embedded in our minds. To extrapolate this idea, the researchers portrayed analytically their fatigue levels. 
"For us, as for many endurance runners and athletes, it can seem as if the muscles themselves hold memories of this fatigued modus operandi, and somehow feel 'instinctively' that they will be able to endure, to keep going through the run," the authors explain.
'Endurance work' involves social agency, and is an active, ongoing, social, and reflexive form of work that often requires mindful engagement with both the physical and social worlds. Endurance is embedded in our consciousness. Endurance itself has to be worked at, for it is contingent, and part of an ongoing body project never achieved once and for all. Endurance can begin to decay when endurance practices start to fall out of use. Endurance must be learned over time and with experience, cognitively and physically, and sometimes it must be re-learned. Simply put, endurance is plastic, and can be learned and enhanced over time.
Theory in Practice
It is important to note that the study's authors have charted their endurance experiences over many years. Their accounts should not be seen as rigidly dogmatic, capturing the essence of endurance, unlike classical 'generalizable' results that may apply to a broad population.
Their research findings may or may not apply to your experiences. The resonance is the important thing. "We provide an account, and it may be the case that this will resonate with people," explained Dr. Jackman. "The main question we pose to readers is: does this resonate with you? Did it speak to you? Did you find yourself nodding your head (in agreement)?"
Ben Pryor (Choctaw) is a contributing writer for several national and regional publications, including Native News Online and Indian Country Today. He has graduate degrees in Political Science (American Politics) and Philosophy (Philosophy of Language). His writing interests include running, politics, and the environment.