The 2018 Trail Runner Trophy Series Sees Unprecedented Action
Heading out the door? Read this article on the new Outside+ app available now on iOS devices for members! Download the app.
22 hours 6 seconds after the starting gun went off, Canadian runner Chelsey Topping, 36, crossed the finish line of the Lost Soul Ultra in her hometown of Lethbridge, Alberta, Canada, the first finisher overall in the 100-mile distance. It took an hour and a half for the next person to cross the line—2016's winner, Philippe Lagace, 43, of Calgary, Alberta, Canada.
"Observing Chelsey with her dad at aid stations is like watching an Indy Pit Stop," says Lost Soul Ultra co-race director and Topping's coach, Dean Johnson.
Winning a 100-mile race is no small feat. Winning a 100-mile race outright by 90 minutes, and setting the women's course record, is even more impressive. Topping's achievements also earned her 400 points in the Trail Runner Trophy Series, which featured 150 races from March 1 through September 30, 2018.
What Is the Trophy Series?
The Trail Runner Trophy Series is an annual points-based competition, celebrating its 15th season this year. Two divisions comprise the series: the Marathon and Ultra division includes races 26.2 miles and longer, while the Non-Marathon division includes races under 26.2 miles.
"The Trophy Series combines two of my great loves—trail races and road trips."
Competing in the series requires simply finishing any Trophy Series race. By showcasing off-the-radar and well-known races, Trail Runner hopes to grow the community and support the thousands of people dedicated to the sport. We've seen devoted runners rack up hundreds of miles in the series, as well as middle-and-back-of-the-packers find new speed and a new kind of stoke.  
Grand Prize Musical Chairs
Two epic grand prizes were up for grabs this year. The Mile Mogul grand prize—for the runner who racks up the most Trophy Series miles—is a 10-day inn-to-inn Tour du Mont-Blanc running vacation with Run the Alps.
The Trail Fiend grand prize—for the runner who completes the most Trophy Series races—is a five-day, helicopter assisted, hut-to-hut trail-running traverse through the Esplanade mountain range of British Columbia with Retreat Golden.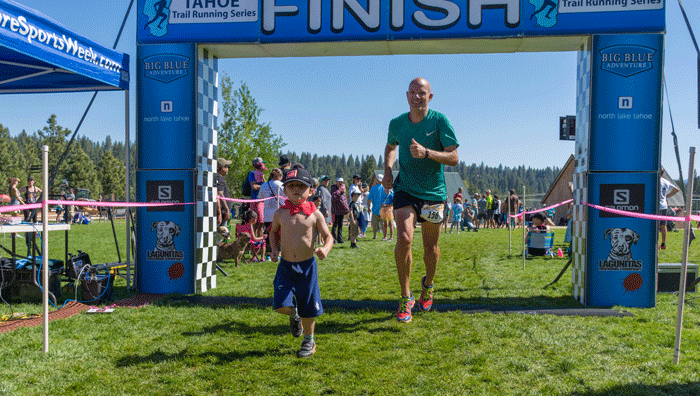 After tallying miles and races, ultimately, multi-year Trail Fiend winner, Dale Reicheneder (above), 52, of Malibu, California, defended his Trail Fiend title, racking up 31 races, and Gerald "Grampy" Bailey, 67, of Glencoe, Kentucky, topped the Mile Mogul competition, tallying 532.48 miles.
While Reicheneder won the Trail Fiend competition, Trophy Series rules state that a person may only win a grand prize once. The prize goes to the second-place runner in the competition… However! That person happened to be Bailey (with 23 races), so "Grampy" had his choice of the two grand prizes and took the Tour du Mont Blanc trip.
Therefore, the Trail Fiend grand prize swung to third-place Trail Fiend competitor, Steve Templin, 45, of Muncy, Pennsylvania, who ran 11 Trophy Series races. Templin declined the prize for logistical reasons and will be eligible to compete for it again next year. So (drumroll) the grand prize ultimately went to fourth-place finisher, Llew Williams, 61, of Sinking Springs, Pennsylvania, with 10 races. It just goes to show that it's worth it to enter a Trophy Series race even if you feel like winning is a long shot.
"My main motivation for winning the Mile Mogul is to take one of [my granddaughters] with me on that trip to Switzerland …," says Bailey. "The Trophy Series combines two of my great loves—trail races and road trips."
"Winning the Trail Fiend prize of touring the Esplanade Mountains is simply an incredible opportunity and I consider myself very fortunate" says Williams.
Simply put, the series encouraged me to get off the pavement more and enjoy God's beauty!
James Barnard, 31, of Clinton Tennessee, was also gunning for the Mile Mogul grand prize. He started going for it after he found out that his 302-mile effort at the Ozone Endurance Challenge put him in contention for the win. He came up short by about 37 miles, but blew away the competition for the men's Marathon and Ultra title, with 1601 points.
"Simply put, the series encouraged me to get off the pavement more and enjoy God's beauty!" says Barnard.
18 stacked prize packages worth $1176 each, provided by Trophy Series sponsors such as Altra, Drymax, Osprey and Camelbak, were awarded to the top three male and female runners in the Marathon-and-Ultra category and the male and female winners of each Non-Marathon age-group category.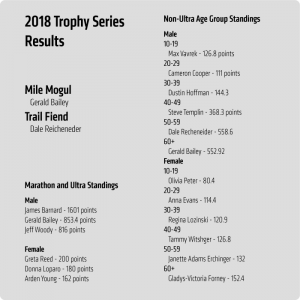 The winners for these categories are chosen by the number of points they accumulate. Runners earn one point per mile they race in Trophy Series races and they must complete the races under cutoff. Bonus points are awarded to the top three finishers: Third place finishers receive double their mileage in points (so a runner who completes a 3 mile race would earn 6 points). Second place finishers receive triple points for their mileage and first place finishers earn quadruple their mileage in points.
Making History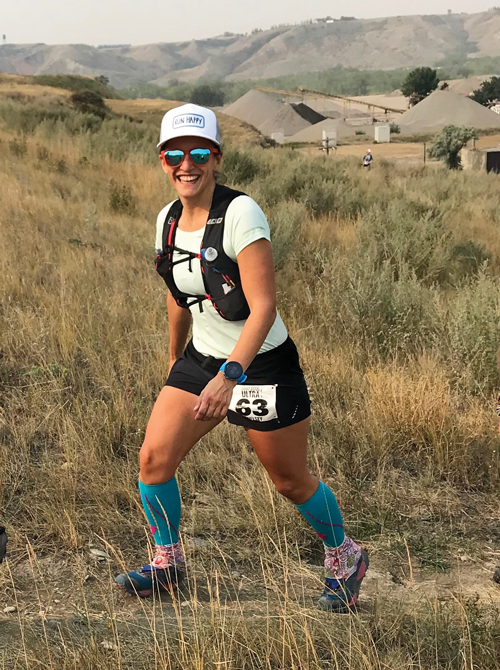 While Chelsey Topping didn't rank high enough in the overall Trophy Series standings to win prizes (landing in 12th place in the female Marathon-and-Ultra category), she made history at the Lost Soul Ultra, setting the women's course record.
"It was freaking amazing!" she says. "During the last climb, my pacer Marissa Markle told me that this race experience made her as emotional and excited as watching a friend of hers compete in the Olympics."
Regardless of how you place, this type of inspiration and camaraderie is what the Trophy Series is all about.