François D'Haene Launches New Community-Focused Ultrarunning Event
One of the world's most decorated ultrarunners is starting Ultra Spirit, an event that centers community, exploration, and...berry picking? 
Heading out the door? Read this article on the new Outside+ app available now on iOS devices for members! Download the app.
As one of the world's preeminent mountain ultrarunners for the past decade, François D'Haene has raced — and won — many of the sport's most prestigious and gnarliest races. 
The 36-year-old Frenchman is a four-time winner of both the Ultra-Trail du Mont-Blanc (UTMB) in Chamonix, France, and the Grand Raid race on Réunion Island, plus he's won the Hong Kong 100, Ultra Trail Mount Fuji, and Colorado's Hardrock 100. Last year, D'Haene became the first runner to pull off the daunting Hardrock-UTMB double, winning both of those relentless 100-mile mountain races in a six-week span.
But the competition and grueling grind of races aren't the things that stir his soul. Sure, he knows what it takes to train and race in the mountains, but the thing he enjoys most is sharing time on the trails with friends. 
For D'Haene, a longtime Salomon-sponsored athlete, running in the mountains is more about immersing in nature and challenging himself — physically, mentally, emotionally — while sharing those experiences with other runners, friends, and family. It's one of the reasons he likes the intimate atmosphere of the Hardrock 100 so much. 
In other words, it's all about the unique, connective community among the people who love to run in the mountains.
RELATED: Watch – François D'Haene Prepares For Western States
Introducing: Ultra Spirit
Instead of running UTMB this year, D'Haene and his wife, Carline, are in the final stages of launching a unique new community-focused ultra-distance event in the Beaufortain mountains, near his home in France. In the Ultra Spirit event, September 9-11, there will be 25 three-person teams competing together and running approximately the same amount of time as other teams — 6 hours on Friday, 11 hours on Saturday, and over 5 hours on Sunday — with a variety of different routes and 10 unique team challenges sprinkled throughout the middle of the runs and during the night.
The intention is for runners to discover the mountains, discover the other people in the event and, perhaps, discover themselves in new ways, D'Haene says. 
"If you are faster, you can cover more kilometers and more elevation. Otherwise, you just have to reach the basecamp in about 6 hours," he told Trail Runner before he finished second at this year's Hardrock 100. "The goal is that everyone will arrive within 30 minutes, so we can share meals together and have a beer together. It will have more of a community aspect, for sure – it's not just about running hard. There will be other aspects that challenge everyone, so one of the goals will be to take care of everyone on the team and also to enjoy the mountains, have fun, and relax together."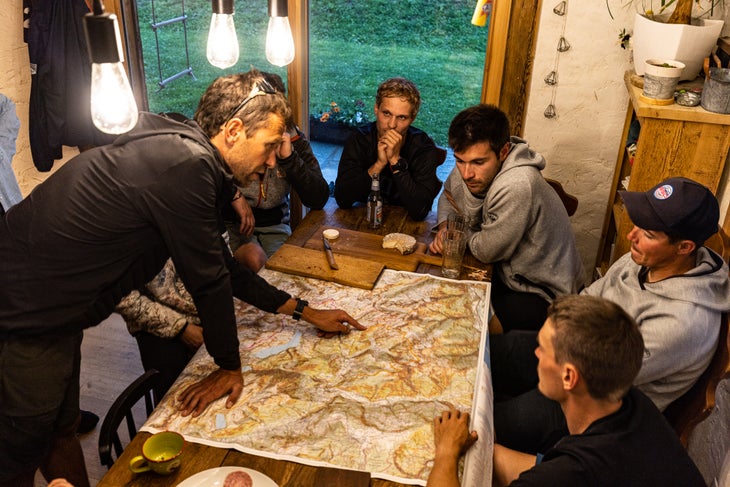 Ultra Spirit is another example of how trail running continues to evolve. The rise of Fastest Known Times (FKTs), the advent of the short-distance, big-vert Cirque Series, the popularity of community-oriented destination trail running tours, the six-day TransRockies Run and Ragnar Trail relay races, as well as the addition of technical aspects to races — like the via ferrata section in the Iron Face Challenge at the Broken Arrow Skyrace festival in June — are other examples.
"Runners are looking for challenges and for a lot of people that means running their first ultra, but a lot of people are looking for community and experiences to share with other runners," says Moises Jimenez, one of the founders of the Vert Run, which offers coaching and connection with other runners around the world. "That's what trail running is all about."
From Fine Wines to Fun Runs
For the last 10 years, the D'Haenes have owned a vineyard in the South of France and bottled their own brand of wine. Every year they would ask friends, family members, and people in their community to help with the harvest. To make that late-September process more fun and less of a laborious task, they came up with team competitions and fun games. (They sold the vineyard but still have hundreds of bottles of wine, so Ultra Spirit participants will have the chance to enjoy a glass or two at community meals.) 
For the past several months, François, Carline, and their team have explored and evaluated different trails to create an immersive adventure in the local mountains they love. Instead of a singular course, the event will offer dozens of different routes and optional loops, allowing teams to be able to choose their own route and create a truly unique experience.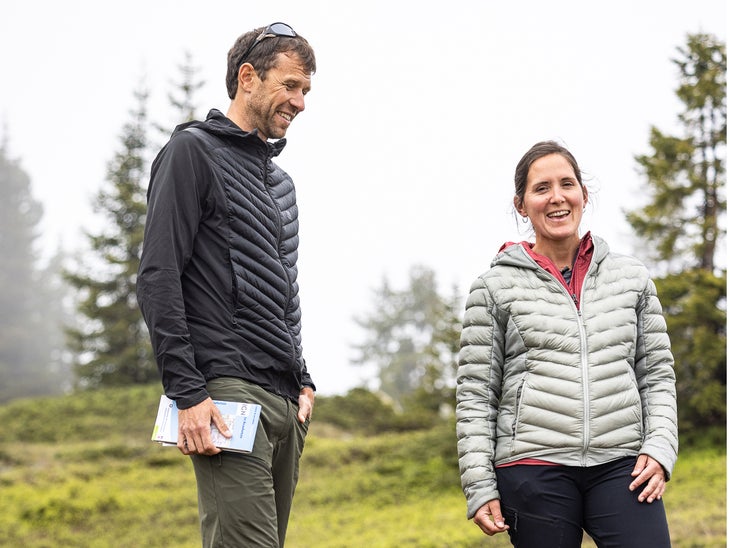 The D'Haenes, who have three kids aged 9, 7, and 3, are hoping that fun mountain challenges, a unique point system, and two nights of camping will break away from the structure and race focus of timed events to create an experience-led event focused on community. They carefully selected teams through an entry process that required applicants to submit information and videos about their interests and abilities to ensure an inclusive mix of personalities and mountain running acumen.
RELATED: Behind Courtney Dauwalter's and François D'Haene's Races At Hardrock And UTMB
Keeping Things (Very) Local
What will the games and team challenges entail? D'Haene has kept many of the details under wraps, but he hinted that it might include picking a pint of wild blueberries, reaching specific checkpoints in the mountains, or completing team-oriented logic challenges.
"When we were winemakers, we had to motivate friends during our vineyard harvest, so we created incentives and games," Carline says. "So it was easy to imagine point systems and challenges for Ultra Spirit to ensure that the participants will live a very human ultra-trail experience."
Even though it's not a race, Ultra Spirit will include some serious mountain running. Teams will likely cover about 13 miles with 6,800 feet of elevation gain on the first day, followed by a whopping 29 miles with 9,900 feet of gain the second day, and about 13 miles and 4,000 feet of gain on the final day. Each team will be tracked via GPS so they can review, share, and adapt their routes for the ensuing days.
Ultra Spirit will also have a sustainability focus bolstered by sourcing local foods for meals and utilizing environmentally-friendly travel where possible. 
"Ultra Spirit is designed to be a back-to-basics ultra-trail event with a genuine alpine basecamp and a playful atmosphere, where finishing times and placing are definitely not the most important things," François says. "Carline and I are excited to share this experience in the Beaufortain with the teams, and to learn their stories and share this human experience over three days."