Hardrock 100 Mile Endurance Run
Heading out the door? Read this article on the new Outside+ app available now on iOS devices for members! Download the app.
The Hardrock 100 is not only one of the hardest (and most beautiful) races in world, it's also one of the hardest to get into. The 100.5-mile loop course serves up a monstrous 33,000 feet of elevation gain as it passes through four historic mining towns (Silverton, Ouray, Telluride and Ophir) and passes over the 14,048-foot summit of Handies Peak. But the race has a field of only about 145 to 150 participants, and in recent years more than 2,200 interested (and qualified) runners have applied for the stringent lottery selection process.
Kilian Jornet, Diana Finkel, Darcy Piceu, Karl Meltzer and Anna Frost are among the world-class elites who have racked up multiple wins and run fast times at Hardrock. For most runners it's a battle of attrition to finish within the 48-hour cutoff time; the average finishing time is just over 41 hours. While the finisher rate has been surprisingly high at times—80 to 88 percent since 2015—that also depends on how well the weather plays out in the rugged San Juan Mountains.
What really makes Hardrock special is its tight-knit community of runners, volunteers and supporters who keep coming back year after year.
"I love Hardrock more than any other race I've ever done because of the people connected to it," says Piceu, 43, of Boulder, Colorado, who has run it seven times since 2010, winning three. "It feels more like a big family that reunites every summer, and that's the biggest reason I keep going back."
Race Specs
Race date: July 19-21, 2019
Distance: 100.5 miles
Vertical gain: 33,000 feet
Participants: 145-150
Founded: 1992
Location: Silverton, Colorado
Population: 630
Elevation: 9,318
Vibe
Situated in the heart of the San Juan Mountains in southwestern Colorado, Silverton is a quaint 19th-century mining town that straddles the line between hardcore adventure town and quirky summer tourist town. Most of the tourism is connected to the old-timey shops and the historic Durango & Silverton Narrow Gauge Railroad that brings hundreds of tourists into town every day in the summer.
If you're a trail runner, you can avoid the tourist hubbub with ease, especially because the trails are uncluttered by hikers and mountain bikers.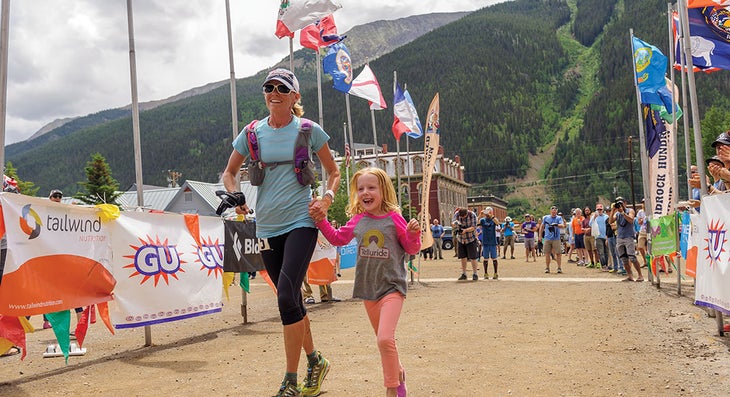 Trails
From Silverton, it's easy to run on sections of the Hardrock course, including the 28.4-mile roundtrip to Island Lake and the 18-mile roundtrip to Cunningham Aid Station (over Little Giant Pass). Also consider the 8.1-mile roundtrip loop to Ice Lake Basin, and be sure to run the lung-burning, 13-mile roundtrip from downtown to the top of 13,000-foot Kendall Mountain.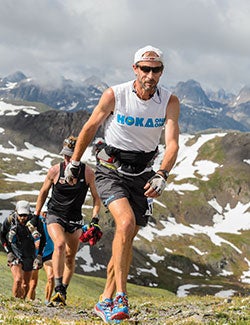 Local Hero
Karl Meltzer is the king of 100-mile races, so it's probably no surprise he's also one of the legends of the Hardrock 100. No one in the world has won more 100-milers than the 50-year-old Sandy, Utah, resident. To date, he's run 75 and claimed 40 victories, including a record five wins at Hardrock. After missing the time cutoff in his first Hardrock attempt in 1999, Meltzer came back in 2001 and won in 26 hours 39 minutes—destroying the then-course record by almost three hours. Over the next eight years, he ran the race five more times and was nearly unbeatable, winning in 2003, 2005, 2006 and 2009 and placing second to Scott Jurek in 2007. He also finished seventh in 2012 and 21st in 2015 before dropping out after 56 miles last year.
"When I think of Hardrock, I think of it as the toughest race out there," Meltzer says. "It's always a sufferfest, and, with all due respect to the current crushers like Kilian Jornet, my hat is off especially to those runners who are out there for 40 or 45 hours in order to finish."