Striding On, Despite Devastation
Heading out the door? Read this article on the new Outside+ app available now on iOS devices for members! Download the app.
At 8am, Saturday morning, November 17, cars pulled into a gravel parking lot. They parked snugly between an aging railroad building and the access road for Sugar Bowl Ski Area atop Donner Pass in California.
One by one, runners reticently emerged from their vehicles, clad in short shorts and puffy jackets to stave off the chilly morning air. One gentlemen started unpacking his car with coffee and electrolytes, enough for 40. Soon there was a critical mass and morning whispers grew into excitement and expressions of appreciation as some 60 runners milled about.
Tristan Lewis was one of the first to arrive. Over the previous three days, Lewis, a 29-year old development economist living in nearby Truckee, California, had taken on the job of organizing an impromptu 50K make-up run in lieu of The North Face 50 Endurance Series that was cancelled. On Wednesday, November 14, The North Face called off all races related with the TNF50 as the result of "continued and forecasted unhealthy air quality levels in the Bay Area."
Lewis "had watched a few friends train so hard for TNF and felt inclined to provide some kind of run to make their training and travel worthwhile."
Devon Yanko, of Mill Valley, California, a professional runner and women's champion of the 2017 Leadville 100 and podium finisher in the 2016 Western States 100, is all too familiar with that feeling of letdown. Going into the 2008 Western States 100 mile endurance run, Yanko "felt strong and prepared. Most of all, excited to run the Western States course, when it was cancelled for numerous forest fires throughout the state."
That's why Yanko also took action upon hearing that the races associated with TNF50 were cancelled as a result of unbearable smoke from the Camp Wildfire burning north of the Bay area in Paradise, California. "With schools cancelled and shops and streets empty," Yanko traveled from her home in Marin to Truckee to avoid the smoke herself. "I had some friends who were still planning to come to San Francisco and heard about what Tristan was planning"—a Fat Ass style 50K run (referring to unofficial and grassroots, leaning more toward a group run than a race). "We connected and designed a preferred route on Donner Pass, as well as a backup route, and a backup for the backup in case the winds carried the smoke eastward into the Sierra Nevada."
From folks coming to support, to others joining who had never planned on racing, it was the essence of the ultra community.
Within a few hours, the Donner Party 50K was established. Donations were accepted for families of Klean Kanteen, a company based in Chico, who had lost their homes in the Camp Wildfires. The North Face agreed to match all donations for the fundraiser. As of the publishing of this article, over $8,000 was raised and equally matched by The North Face.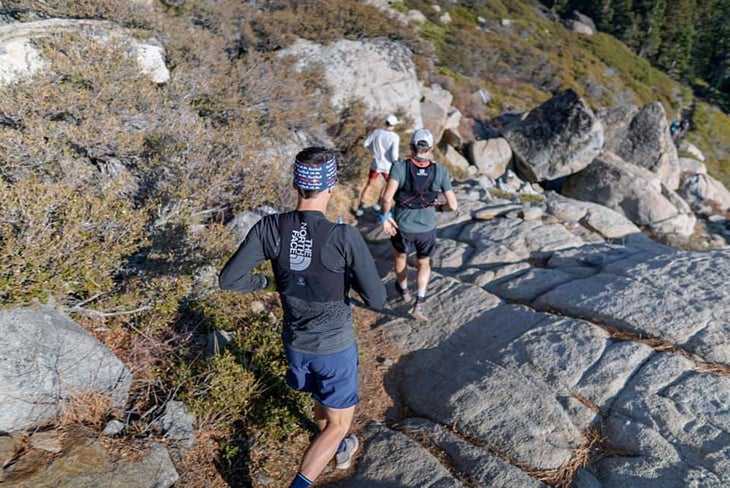 Folks mingled around the gravel parking lot, signing waivers, shedding layers and tightening their laces. Small frenzies of conversation emerged as different professional runners arrived to join the party, such as Jamil Coury and Dylan Bowman.
At 9am, Lewis and company gave a brief once over of the route and the fundraising efforts, emphasizing the devastation from the Camp Wildfire and the importance of staying together on this fun run.
A group photo was taken and then the group shouted a roar of enthusiasm as they took off along the Pacific Crest Trail, northbound. With race anxiety long gone and a reinvigorated appreciation for the trail-running community, folks took off in pairs and small groups on a shared adventure.
The granite landscape in the Sierras is a vastly different backdrop compared to the Marin Headlands of the TNF 50K; looking west toward the hazy skies provided a bittersweet feeling—all were safely running while honoring those who have lost.
Volunteers, including Yanko, were on the course "with crucial aid station snacks including Peanut M&M's, Potato Chips, Gummy worms and Coca Cola." Introductions along the trail were frequent and gatherings at the aid stations sometimes amassed 15 people. Although smoke eventually did make its way toward Donner Pass, most runners finished a loop around Castle Peak, posting 20 miles. Some went on to complete their race goals of marathons and 50K distances.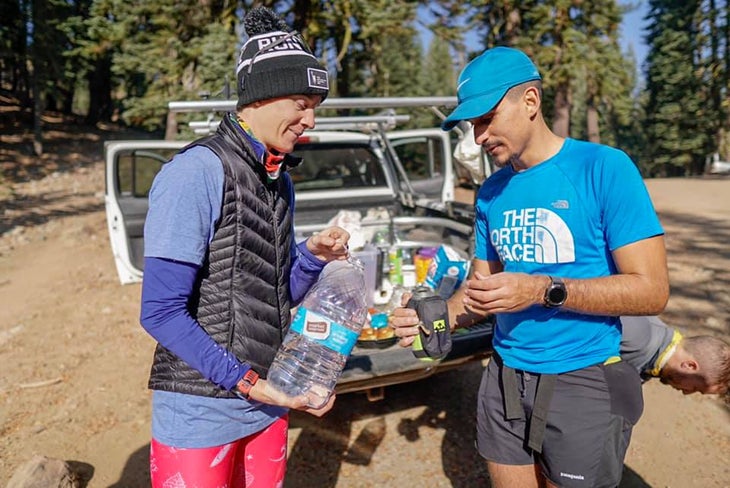 Yanko remarked on the magic of the day: "It wasn't TNF50. It was more of a true adventure that brought out the best in everyone. From folks coming to support, to others joining who had never planned on racing, it was the essence of the ultra community."
Indeed it was. People brought aid station goodies and made donations, knowing they could make a direct impact to those devastated from the wildfires. Then they got out on the trails with old friends and new faces.
If you are interested in contributing to the Camp Wildfire relief efforts for Klean Kanteen, there is still a donation link set up: https://www.gofundme.com/klean-kanteen-camp-fire-relief
Other options to participate: Klean Kanteen is offering the exclusive "Butte Strong" Kanteen with 100 percent of proceeds going directly to the Camp Fire relief efforts. This Tuesday, 50 percent of ALL other web sales will also be donated to Camp Fire relief efforts.
—Jeff Colt is a public relations account manager and contributor to Trail Runner magazine, living in Carbondale, Colorado.