Despite Navigational Error and Recent Crash, Browning and Herron Break Records at Tarawera
Heading out the door? Read this article on the new Outside+ app available now on iOS devices for members! Download the app.
Just past the Green Lakes Aid Station, about 18 miles into New Zealand's Tarawera 100 Mile Ultra on February 8th, 2019, Jeff Browning, 47, of Logan, Utah, was on a mini walking break, messing with his soft-flask cap. He was in 2nd place and had a comfortable gap on Zac Marion, 33, of North Logan, Utah, 2nd-place finisher at the 2018 Tushars Mountain Marathon and winner of the 2018 Bryce Canyon 50 Miler, and was a beat behind fellow American Camille Herron, 37, who splits her time between Alamosa, Colorado, and Oklahoma City, Oklahoma, and is overall holder of the 100-Mile, 12-Hour and 24-Hour world records in speed and distance, respectively.
In addition to her world records, Herron is known for winning her trail races outright. She and Browning were each other's best competition for the Tarawera 100-mile title.
The three leaders had set off in the dark earlier that morning and Herron, excited to be running what she calls her "first technical 100-miler," (despite a large amount of road miles in the course) took off in a hurry.
"After a mile or two," says Browning, "Camille jumped in front and took the lead and picked it up. We're talking probably 7-minute pace. In a hundred miler. I backed off, and said to Zac, 'I'm not running this fast this early.'"
The Tarawera has become a destination race for elite American trail and ultrarunners. During our offseason, and in New Zealand's summertime, it offers 20K, 50K, 102K and 160K distances and is a Western States 100 qualifier and points-generator for Ultra Trail du Mont Blanc.
Elites such as Dylan Bowman, Jim Walmsley, Magda Boulet, Cody Reed, Amanda Basham, Kelly Wolf, Courtney Dauwalter and Herron have been gracing the podium over the last several years, Bowman setting the 100K record in 2015 and Walmsley and Herron setting the 102K records in 2017.
2018 was the first year for the 160K (100 mile) distance so course records were certainly up for grabs.
Browning had his whole race mapped out and knew the splits he wanted in order to accomplish a sub 16-hour finish. As the light of the morning increased, he ran along a beautiful lake, the whole time not seeing anymore of Herron, thinking she had kept the pace turned up high. Until, suddenly, he was back at Green Lakes Aid Station.
"This guy comes running out and is like, 'You were supposed to go straight at the sign!'"
Browning had followed course markings, but they were the course markings for the 50K route and had turned, not stayed "straight at the sign." In the dark morning, while he was preoccupied, he made a rookie mistake that cost him four-plus miles and 30 minutes.
"I've done so many hundreds," he says. "You don't rush through something like that. Bad mistake. So I asked myself, What are you going to do here? Just relax, we still have like 80 miles to go."
Meanwhile, Herron was up ahead, being escorted by "official leader" cyclists. Following an incorrect GPX file, the cyclists took her off course, despite her better judgement. She could see the course markings continuing a different direction. "I yelled ahead, 'Do we really turn here?'"
After a mile or two, the cyclists realized their mistake and guided Herron back to the course. When she got to the next aid station, she ran into Marion, who had enjoyed being in the lead for a short section of the race, his two competitors having been on misguided walkabouts.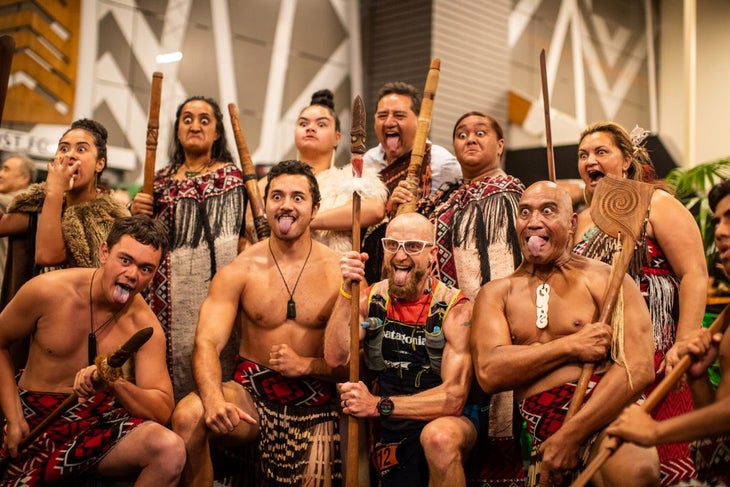 Back on course, Herron used the many road miles that make up the Tarawera 100 to her advantage. An accomplished road runner, Herron is somewhat new to trail running, yet has been dominating races. This fast course had her number.
"I'm pretty speedy so I put on the jet pack and gained some time. Not sure of my splits but I made a pretty good gap."
While galloping along, Herron was reflecting on the rollover car crash she had endured the previous week. "When you go through something traumatic like that, it's almost like you go through a rebirth."
On her way to work in Oklahoma, Herron had been struck by another car that allegedly didn't see her in an intersection. Upon impact, "I could feel the car caving in on me. I bent over sideways to protect my head. I was upside down and felt like I was suffocating and thought my car was on fire. I thought, Oh my gosh, I could die any second."
Surviving with little physical injury, Herron decided to continue with her race plans and fly to New Zealand. "I'm so appreciative of my life and what I have and I'm absorbing the energy and the atmosphere a lot more. I was just so grateful to be there."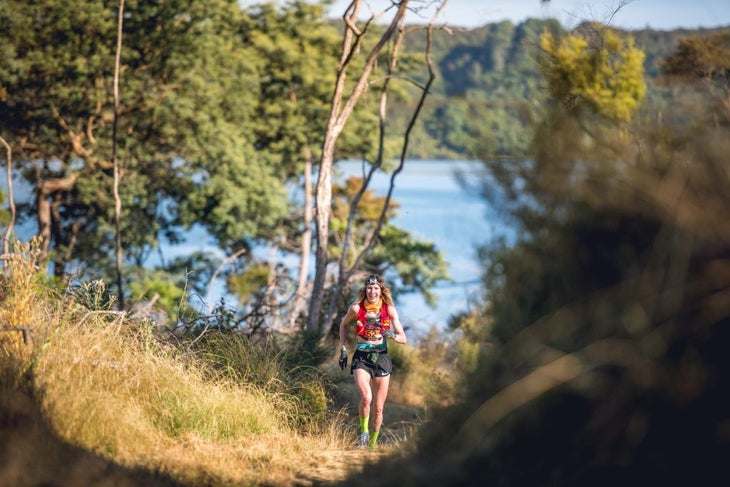 After a few minutes of "yelling in the woods" because of his disappointment and regret for his mistake, Browning had to decide how he was going to handle his new fate. He knew "Camille was hungry for the title. She's really fit right now." And he had just run a 30-minute detour.
"You have to just refocus," he says. "You're just going to have to work harder than you thought. I even tried to calculate how much time it could take to catch up to Camille and it would have taken like 70 miles in my head. That's just too big. You have to let the day unfold and focus on what you're good at."
Browning started doing measured pushes on a long trail section, his bread and butter, and worked his way back to 3rd place.
After a long section of road (20 to 25 miles) that Herron used to her advantage and Browning gutted through, the competitors moved through Outlet Aid Station, 62 miles in. Herron met a friend there who gifted her a beer, one of her favorite trail-running energy drinks. She was feeling good and still had a 24-minute lead on Browning.
When Herron reached mile 74, however, she was starting to get bonky. Her husband and crew member supplied her with more beer and sugary snacks. "I felt like whatever I took in was too much for my system. I started to feel really dizzy. I overloaded my system with sugar and all the blood was in my gut."
The next stretch was a long climb, but she had to walk much of it. "My legs were fine, but I got really light headed."
When Browning caught up to Herron on the climb, he grabbed her arm.
"Are you OK?" he asked.
"Yeah, I'm fine," she said.
So he took his opportunity. By the time he hit Millar Aid Station, mile 83, he had put about 20 minutes on her.
"I'm a very good technical runner," he says, "and I pushed it on the downhills. I was probably doing low-6-minute pace."
Browning met up with a crew member for the last 5K section and they agreed to just get it done. "I put my headphones in and tried to knock out 8-minute miles."
Over the last 13-ish miles, Herron lost 50 minutes. She ate and drank, trying to recuperate: a whole plate of oranges, ginger ale, two slices of pizza, more beer … Despite all of this, she cruised across the finish line with the women's record, 5 hours 23 three minutes ahead of 2nd-place woman, Katie Wright, of New Zealand.
"I made it to the finish line and it was the best thing ever," she said.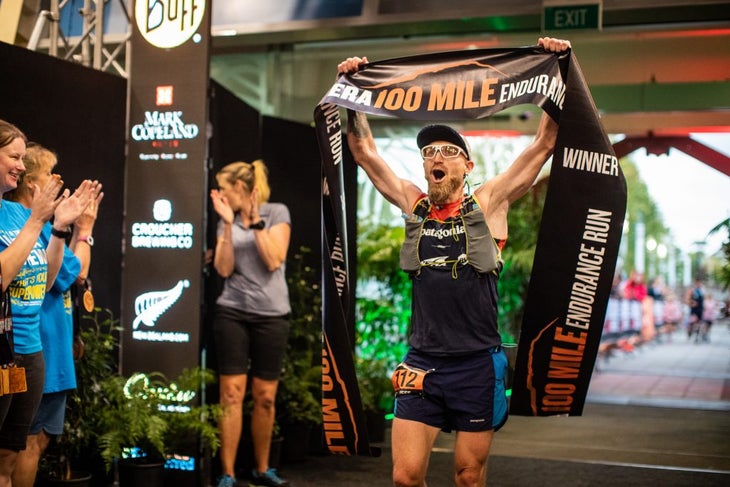 Browning also set a record with his final time of 16:18:54, three hours ahead of 2nd place for men, Grant Guise, of New Zealand. Had he not made his navigational error, he would have met his goal of a sub-16-hour race.
Marion, succumbing to a previous illness and low blood pressure, had to drop 83 miles into the race, but expressed gratitude. In a recent Instagram post, he wrote, "Competing in a race like this requires you to be 100% and, unfortunately, I wasn't able to. But I'm so glad I had the chance to play for as long as I did. Jeff and Camille are both incredible athletes that I have so much respect for."