15 Years In, The Lake Sonoma 50 Is Keeping It Fresh
One of Northern California's most competitive ultras turns 15 this year. Here's what the new RD has planned, and how you can follow the action.
Heading out the door? Read this article on the new Outside+ app available now on iOS devices for members! Download the app.
The Lake Sonoma 50 is one of the fastest and most iconic ultramarathons in the country, and this weekend, on April 9, it turns 15. We caught up with its new race director and Trail Sisters founder Gina Lucrezi to learn more about what changes to expect.
For 2022, the event will include a marathon distance. Both races are held in the beautiful wine country of Northern California and consist of nearly 90 percent singletrack trails weaving through relentless rolling hills. The course tests runners with various climbs and traverses more than a dozen creek crossings. 
The Lake Sonoma races are held within the native lands of the Southern Pomo. The Southern Pomo are part of the Federated Indians of Graton Rancheria, a federally recognized tribe.
Nicholas Triolo: How's the poison oak this year?
Gina Lucrezi: Ha! It's still here . . . but we will have poison oak cleaning wipes at all the aid stations and finish.
NT: Okay, this is one of those questions where you ask your 88-year-old grandmother what's the secret of living so long. What do you think have been the five reasons for this race's continued success over the years?
GL: First, previous race founders John Medinger and Lisa Henson offered such fun and exciting event culture, and this was continued by Skip and Holly Brand. Second, the course! It's full of beautiful and buttery rolling trails, but the rollers are relentless, making the course quite challenging. It's also the perfect tune-up race for folks racing the Western States 100-Mile Endurance Race. Third, the volunteers and community of Healdsburg, California.This event wouldn't exist without the support of our volunteer team, nor the kindness and generosity from the folks of Healdsburg. Fourth, the competitive field always makes the Lake Sonoma 50 such a fun race to participate in, and follow as a spectator. Fifth, camaraderie! The out-and-back course provides an opportunity for lots of high fives among runners.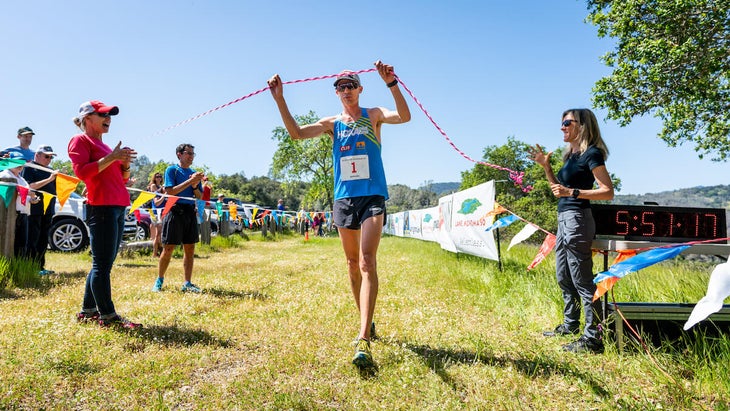 NT: What are you most excited about in this year's running?
GL: I'm most excited to create an entire weekend of fun for 750 runners, a welcoming atmosphere for everyone. I'm excited about the new addition of the marathon distance, too. I really wanted runners who prefer shorter distances to enjoy the Lake Sonoma experience. My hope is that it may act as a stepping stone to the 50 for those interested in ultras.
NT: What are you most nervous about?
GL: This is my first year as the RD, so I'm pretty nervous about everything. 🙂
RELATED: Three Ways To Keep Your Race Director Happy
NT: Who are some of the runners we should be watching out for this year?
GL: We've got a great competitive field between both events this year. Brittany Charboneau, Susan Oh, Sarah Cummings, Katie Arnold, Seth Swanson, David Roche, Mike Foote, Logan Williams, Yatika Fields, and more. 
NT: This race is now "Trail Sisters Approved." Can you explain, more broadly, what that means, and what changes you've made with Lake Sonoma 50 that reflect TS's pledge for increasing diversity, equity, and inclusion?
GL: Being Trail Sisters approved means the race is practicing the five standards that have been developed between a team of RDs, runners, and Trail Sisters. The five standards are:
Equal podium spots

Equal prize money and awards

Offering women's specific swag and apparel

Menstrual products at aid stations

Equal opportunity/space for women on the starting line
In terms of diversity, equity, and inclusion, when hosting the lottery, we split the field 50/50 male/female. (Non-binary folks were grouped in the field that they noted as their gender assigned at birth). We then utilized gender-specific waitlists if participants cancel or defer, but we extinguished our waitlists and then allowed for open registration to fill our vacant spots. In the lottery form, we requested race and ethnicity information. This provided insight into the diversity of signups and helped us make sure the starting line could be as diverse as possible. 
RELATED: 50+ Tips For Your First 50 Miler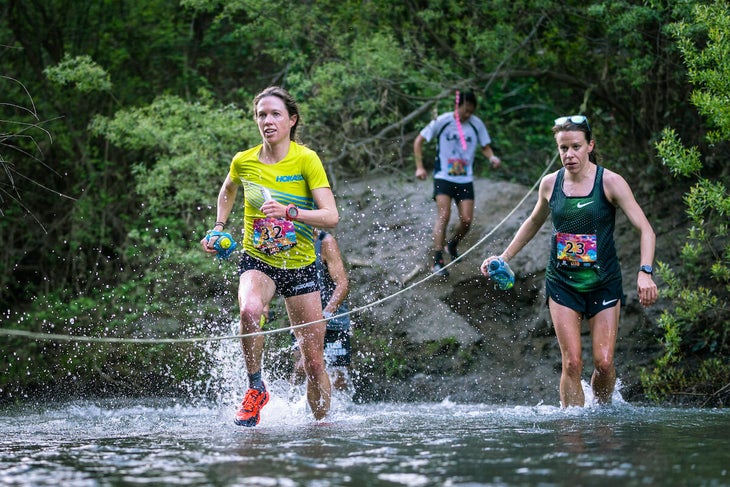 NT: The North Face has come on board as the race's official sponsor. How will that further your personal goals and vision for this race's continued success?
GL: The North Face shares many of the same outlooks and desires as Trail Sisters, within both the sport and industry. TNF understands how to produce race events and also the importance of creating a welcoming experience for all. Our future goal is to expand the event weekend to include additional events and opportunities.
RELATED: Four Factors To Ultramarathon Performance
NT: I love that you've connected the race with a local charity, the Children of Vineyard Workers. Can you say a few words about that effort and relationship?
GL: The Children of Vineyard Workers Scholarship has been our charitable benefactor since the first Lake Sonoma 50 event. It's a great charity created and hosted by Wilson Winery, which aids much of the local community's children. As a huge fan of education and its importance, I'm excited to continue working with the charity and aim to increase the donation amount from the Lake Sonoma 50 and Marathon event weekend.
Other Essentials: