Running Merrily toward an FKT
In late June or early July, Adam Merry will attempt to claim the FKT on Colorado's Mount Yale 360 trail. As he looks forward to this attempt, Merry is grateful for a coaching philosophy that centers both mental and physical training, and the opportunity to race and train in HOKA ONE ONE Zinal shoes.
In the spring of 2020, Adam Merry did not plan on a professional running career. Instead, Merry was living in his hometown of Monterey, California, and managing multimedia exhibitions at the Monterey Bay Aquarium. Flash forward to 2021, and 30-year-old Merry is now a running coach and professional trail runner who is based in Golden, Colorado. Not surprisingly, Merry's entire running journey has been marked by rapid progression.
A former DIII football player at Claremont-McKenna College, Merry ran his first half marathon just five years ago. He increased his running volume methodically after that first race, trading roads for trails, and in 2019, setting the course record at the Overlook 50-miler. Since then, Merry has continued to progress, setting new goals whenever possible. Mount Yale will be his first FKT (Fastest Known Time) attempt.
"When I'm interested in a thing, I'm interested in how good I can be at that thing. Usually, my dreams and aspirations have outweighed my capabilities. With running, I want to see how close I can get to what I think I'm capable of," says Merry.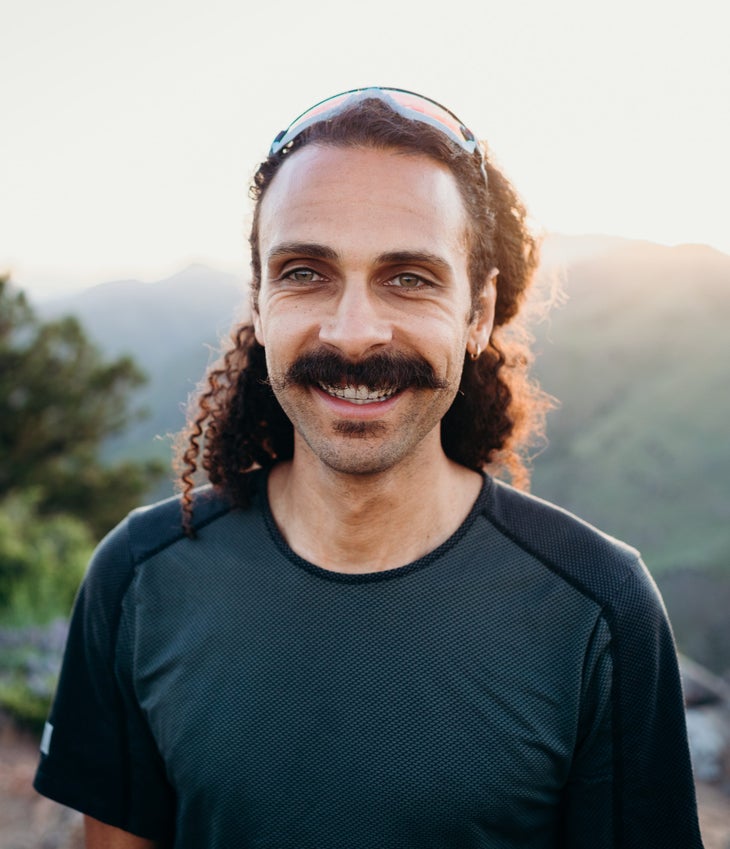 Mount Yale 360
When driving southwest from Golden to Buena Vista, Adam Merry is always struck by the collegiate mountain peaks—the way they loom over Colorado's Scenic Byway in all their snow-topped glory. Mount Yale is one of these peaks, rising 14,200 feet tall over the ancestral homelands of the Ute people, as if keeping watch over the gray peaks and green valleys below.
For his FKT attempt, Merry will circumnavigate Mount Yale, rather than summiting it. The trail around the mountain is 21.8 miles long with 5,800 feet of vertical gain—a runnable trail marked by diverse terrain, including an alpine lake, single-track, and occasional rocky sections. The diversity of this trail makes Merry most enthusiastic about lacing up a pair of HOKA Zinals to complete it. The Zinal's Vibram outsole and cushioning will provide him with ample protection for the rockier segments. At the same time, the Zinal's light and responsive nature will allow him to run fast over the small segments of road—a versatility that Merry considers unique for a trail shoe.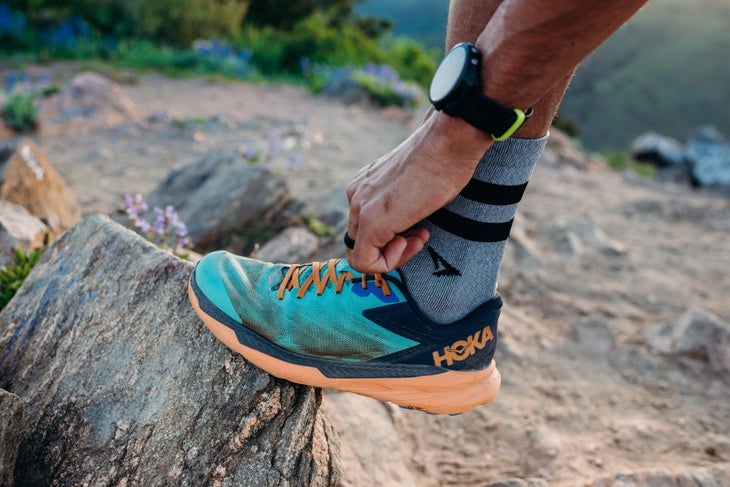 To claim the FKT, Merry will have to run faster than 4:39:25, the time set by Chris Harrington in July of 2020. In fact, it was Harrington —a friend and training partner of Merry's—who suggested he attempt this feat, and who will run alongside him for part of it.
"One reason why I really like the trail running community is because it's so inclusive and encouraging. Folks are so quick to help other people take down their own records. The fact that Chris [Harrington] not only suggested this FKT, but said, 'let me come out and help you,' is so cool," reflects Merry.
Merry's motivation for chasing this specific FKT is many-fold: Harrington's enthusiastic suggestion, the proximity to home, and the perfect length and range of terrain to lead up to his late-summer and fall races.
Beyond the logistical considerations, Merry remains aware of what he represents in the trail running community: a multiracial athlete in a predominantly White sport. This reality continues to guide him as he chases the Mount Yale FKT, and all other running goals.
"It's staggering how few athletes of color we see on elite and pro trail running teams," says Merry. "We need authentic representations of people of color at all levels of the sport. In my lane, [elite trail running], I want to represent to the best of my ability."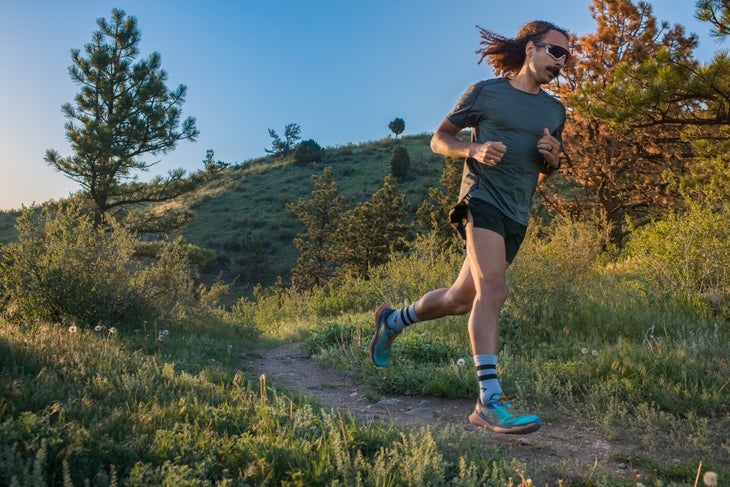 Road to the FKT
While Run Merry is the title of Merry's coaching business, it also sums up his training philosophy perfectly.
"Obviously it's a clever play on words, but I won't take credit for the concept," he explains. Instead, Merry credits his coach, David Roche, for teaching him to center joy in the daily process of running. Merry celebrates the efforts he puts in, rather than getting bogged down by paces and splits. "Over time, the results will follow," he says.
Throughout the winter, Merry focused primarily on base building and speed; he was careful not to pick up his mileage too quickly, especially given the added stress of Colorado altitude. Each day, he ensures he is eating more than enough calories, and takes supplements—such as Vitamin D—when necessary.
His HOKA Zinals have played a leading role in this daily training, as well. In the past, Merry has struggled to find a trail shoe that accommodated his wide toe box, without being too wide through the midfoot. At long last, he discovered the Zinals: the shoe that fits his foot shape perfectly. Merry is excited to keep training in the Zinals after this FKT attempt and plans to wear them for races of various distances and terrains this summer: "They are the perfect shoe for this distance. Although, I would race many distances in them—a 100k, even a 100-miler," he says.
The morning of Merry's FKT attempt
In late June or early July, Merry will lace up hit the trail by 7am.  During this timeframe—temperate mornings and decreased precipitation—should create the ideal conditions for an FKT. He will take in carb-rich gels, like Gu Roctane, and water with some calories and electrolytes. If all goes as planned, Merry will emerge from the trail before the midday heat consumes central Colorado, sliding under the 4:39:25 mark with plenty of time to spare.
When asked what he'll do after claiming the FKT, Merry pauses, momentarily at a loss for words.
"I'll probably give Chris a high-5 and make some joke about him taking [the FKT] back. Maybe I'll drink a beer," he says, pausing again. Suddenly he smiles, as if with newfound clarity: "Maybe this is part of that ultra-runner mentality—people say we have some screws loose, but I'll probably just be thinking about the next thing, like, 'what's another cool FKT I can try?'"
Tune into our social pages on July 14th to witness Adam Merrys FKT attempt! And watch out for a follow-up recap story shortly after.