Ultras Are Equalizers: Eric Senseman Prepares to Take on the Cocodona 250
Eric Senseman has run Western States three times, finishing twice. In May, he'll seek to double that distance and then some.
Photo: Ali Rogers | @pranalens
Heading out the door? Read this article on the new Outside+ app available now on iOS devices for members! Download the app.
The first week of May will see an epic endeavor in the ultra world. The second iteration of the Cocodona 250, which runs from Black Canyon City to Flagstaff, Arizona, will have a cutoff time of 125 hours, stretching from May 2-7. 
Over those days, runners will pass through Crown King, Prescott, Fain Ranch, Mingus, Jerome, and Sedona. Notable athletes include Jason Koop, Michael McKnight, and Eric Senseman on the men's side, and Annie Hughes, Rhonda Smoker, Lee Connors, and Brianna Grigsby on the women's side. They all will have their sights set on the inaugural event's course records of 72:50:25 by Michael Versteeg and 85:30:38 by Maggie Guterl.
We caught up with Coconino Cowboy and Rabbit/Hoka athlete Eric Senseman to hear about his Cocodona preparations. Senseman races ultras across the full distance spectrum, including three ill-fated attempts at the Western States 100. Cocodona will be his first attempt at the 200+ mile distance, but Senseman is looking forward to a new challenge.
Reagan Colyer: Before we jump into Cocodona, talk a little about your background. How did you get your start with trail running? 
Eric Senseman: I went to TCU (Texas Christian University) in Fort Worth, Texas, but I wasn't a runner. A friend of mine had read Dean Karnazes' book Ultramarathon Man. He gave it to me and was like, "I think you'd really like this." I read the book and I was like, "I can't believe people run this far." And then I ran my first marathon in April of 2008. 
From there, I continued to run marathons, actually joined the cross-country and track teams at TCU for my last year and a half. I knew about trail running from that initial book on ultra running, and I think I was just kind of like, "Well, I'd like to be more competitive, and I'm not good enough at the marathon, so maybe I should run farther." And yeah, the rest is history, as they say. I ran my first ultra in 2011 after I graduated college and before I went to grad school, ran a few more ultras in grad school and then just kind of went from there. 
RC: So you've done most all of the distances across the board. 
ES: Yeah, that's right. I definitely dabbled in all the distances, but I've run probably the most at 50K and 50 miles. I didn't jump up in distance for like four years. I kept running 50 miles, 50Ks and then eventually in 2017, finished my first 100K and then got into a little bit longer stuff, but the only hundred I've ever run is Western States. I don't necessarily love that distance, but yeah, I've done a little bit of everything so far. 
RELATED: Running For Office
RC: Tell me more about your experience with Western States. You've done it three times now. 
ES: Three times, yep. And I've finished twice. I dropped him at mile 85 in 2019. Well, the short story is they haven't gone terribly well. Each of those years I've raced my way in through golden ticket races. Things just haven't clicked in that race. My first year, I went out really hard, harder than I should have. I was in third place at 50 miles. And then I got 78th, so really went backwards. But 2019 and 2021, I consciously backed off in terms of how hard I was running after that first year, but kind of ran into the same problems. And what I really figured out, especially actually in the last couple of weeks training for Cocodona, is I just got dehydrated every year. So I think that's been my main issue with the longer distance is staying hydrated. 
RC: There's so much that you can't control when races get that long. You're never quite sure what issues are going to pop up in a 100-mile race.
ES: That's one thing I've always liked. I think one thing that really does level the playing field with ultras is you need more than just to be a good runner. There are these other variables that you have to account for, and that can make a very good runner not very good over the course of dozens and dozens of miles. So it is kind of an equalizer, which is cool. 
RC: What was the motivation for jumping into Cocodona? 
ES: I think, like most things, a variety of factors, but the first year of the race was last year, and I paced Jamil Coury the last 21 miles here in Flagstaff, which was a really cool experience. I didn't necessarily think at all about running the race at the time. I was training for Western states at the time and then got 24th overall, 13th male at Western States last year, so did not get back in [for this year]. I initially started training for Black Canyon toward the end of last year to try to race in again and unfortunately strained a ligament in my hamstring. So then it was kind of back to the drawing board. What else should I do? 
I thought about Cocodona and I was like, "Well, it's not 100 miles, it's two and a half times as long." But, I love running in Arizona. It goes through some really awesome places in the state and early May is just such a beautiful time of year. There's nothing I'd rather do than run single track in Arizona. I just thought it was a nice way to practice fueling, practice hydration over a long period of time. It's a race, of course, but I don't really view it as a race. So I feel less pressure. I'd just like to have a good experience and learn some things.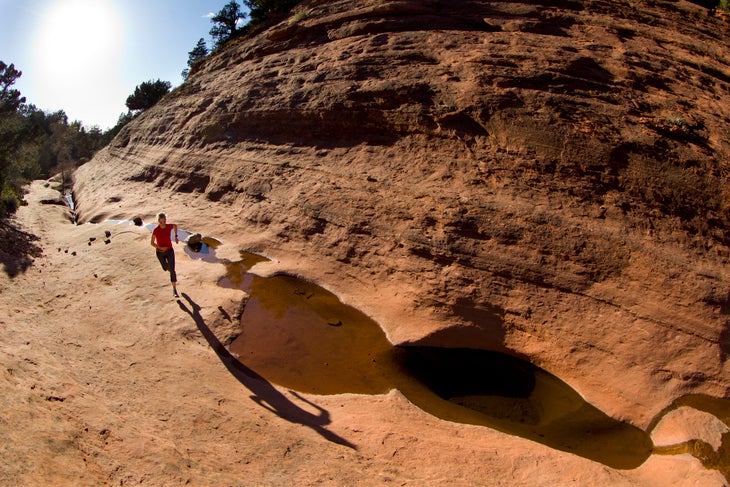 RC: How has your training changed from the 100 mile distance to 200 plus?
ES: First and foremost, I was just trying to get back to a baseline after that hamstring injury. I had about a month where it was pretty basic, I wasn't really doing any workouts, just trying to get my mileage up and start to feel decent. Then unfortunately, at the end of February, I got COVID, so I didn't run for about a week, which was a bit of a bummer. The main way training has changed is I'm not so focused on weekly mileage. In fact, I'm not really focused on mileage at all. Just time as well as elevation gain. There's 42,000 feet of climbing at Cocodona. So I think it's important to get quite a bit of vert. It's a lot of slower mileage and just kind of all day type efforts and just trying to understand what it's like to be out there all day, trying to get my head in a place where I can understand what is going to be like. But beyond that, trying to figure out how to convince myself to keep going when I don't want to, because I think that's really the difference in finishing ultras in general. But in a multi-day event, I think you have so many opportunities to talk yourself in or out of continuing.
It touches back on the way the sport is an equalizer; so much of it is in your mind. It's a lot harder mentally to have a good race if you're out there for 20 hours than it is if you're out there for 10 minutes or 30 minutes or two hours. So definitely a huge component, that mental side.
RELATED: The Cowboys VS Everybody – Even Themselves
RC: You've been doing more kind of behind-the-camera work when it comes to commentating at races and events. What has that experience been like to kind of be on the other side of things? 
ES: It's super fun. There's certainly an element of wishing I was out there, but it's really neat to watch a race unfold and be able to to talk about it. And in some sense, I guess, hopefully bring more people into the sport and make people more familiar with ultrarunning. But helping people understand the challenges and the difficulties and the differences between the type of running and racing people are used to, and then this very, very long stuff. They've been great experiences. I've really enjoyed it and hope it's good for the sport. I hope there's a lot more opportunities for that sort of thing going forward. 
RC: I thought we'd end with a bit of a lightning round. Starting with: you mentioned how much you love running trails in Arizona. Do you have a favorite?
ES: Black Canyon, no question. I think the more obvious answer would be the Grand Canyon, which I also love, but Black Canyon for me. 
RC: What will your number one racing fuel be at Cocodona? 
ES: I don't know yet. I'm trying to have some conversations with people I know who have done these multi-day events and kind of get some intel on what works. So, still trying to figure that out. But definitely more whole foods than what I would be used to in the shorter distances. 
RC: What shoes will you wear?
ES: I'll wear Hokas. I'm not totally sure which pair because they have some new ones coming out. I don't know if I'll get my hands on them in time, but the Speedgoat 4 is what I've been training in for the most part. 
RC: You might not be doing a lot of speed workouts for a 250-mile race, but what is your number one favorite workout? 
ES: I really love minute on, minute off. I think that's a very fun workout because it's very quick back and forth, back and forth. And then all of a sudden you look down and it's been like 20 minutes and you've done three miles at tempo pace, even though it's just been one on one off.
RELATED: 5 Workouts To Get You Race Day Ready
RC: Wrapping it up: what's the number one thing you think you'll want to eat after you finish Cocodona? 
ES: A Mother Road Tower Station. That's not food, but it's my favorite beer, and that's probably what I'm going to want.