Q&A: Mike Popejoy On Vertical Racing In The Snow
SkySnow is one of the newest offerings from the International Skyrunning Federation. We caught up with silver medalist Mike Popejoy.
Photo: © Jose Miguel Muñoz
Heading out the door? Read this article on the new Outside+ app available now on iOS devices for members! Download the app.
Last month saw the introduction of a new discipline to the global skyrunning series. Alongside the annual International Skyrunning Federation World Championships (this year taking place in Italy in September), the vertical series (which will hold races around the world between March and October), and the youth world championships (to be held in Spain in July), the ISF hosted the first SkySnow World Championship near Grenada, Spain, February 4-5. 
The event held all the excitement and challenge that the skyrunning series has become known for, with one added caveat: all the running was done on snow at the Sierra Nevada Ski and Mountain Resort.
SkySnow included two races in two days, with most athletes competing in both. The first was a vertical race that included 950m (3,117 feet) of elevation gain in 4.3km (2.5 miles). Thirty-six hours later, racers returned for the classic category, which included a similar 925m (3,035 feet) of gain over 12.5km (7.8 miles). 
Fifteen countries sent delegations to the event, with overall national medals – calculated by performance in both races and including both men's and women's classifications – going to Italy, Spain, and Russia. [Note: This event took place before the Russian invasion of Ukraine. On March 1, the ISF announced that it would prohibit all Russian and Belarusian athletes from competing in its events for the foreseeable future.] A small American contingency, selected by U.S. Skyrunning, traveled to the inaugural event, with Mike Popejoy as the highest finishing American athlete.
Trail Runner assistant editor Reagan Colyer caught up with Popejoy, who finished 9th in the vertical race and 2nd in the classic race. The 36-year-old, who lives and trains in Flagstaff, Arizona, told us what running two snow-only races in 36 hours feels like, how he transitioned from an Olympic-Trials-qualifying marathoner to a world-class vertical racer, and what's next.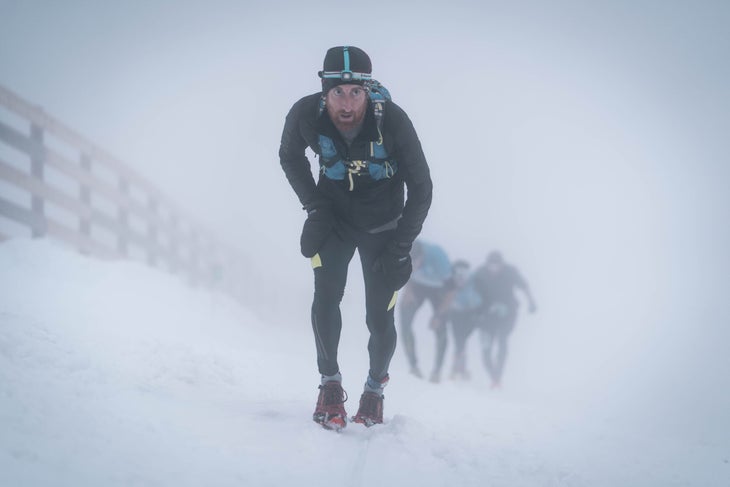 Reagan Colyer: How did you get into vertical racing?
Mike Popejoy: After college [at Notre Dame] I had a long-term goal to qualify for the Olympic Trials, so I continued running marathons and half marathons for a good chunk after college, and qualified for the trials in 2016 in the marathon. For me, it was just a goal to get there. I didn't really have any realistic aspirations of making the team, so it was at that point that I really satisfied that long-term goal on the roads. After having done that, I started to transition to a lot of trail running and mountain running.
Since then, I've focused mostly on super steep uphill at elevation, partly because of my larger aerobic background from road running. I haven't dipped my toe into the super long ultra scene, but I love running in the mountains and on trails. 
RELATED: Get Out Of That Rut
RC: What was that transition from road to trail racing like for you?
MP: It was somewhat easy in Flagstaff, just because I already did so much of my training on trails. A lot of folks know Lake Mary Road, which we do a lot of workouts on, and there's one other long, paved highway going to the Grand Canyon, but most of the running is either on dirt roads or trails anyway, and I think a lot of us as runners sort of gravitate toward that. 
The biggest transition for me was once I got into the extremely steep, 30-40% grade stuff, where you're running part of it but you're power hiking and scrambling. That's certainly different from trying to click off fast miles on the road. I sort of eased into that. I did some 15K trail races and half marathons, stuff that was more runnable, and then got into the steeper stuff.
RC: What's the draw of purely vertical racing for you? What sets it apart?
Don't get me wrong, I love following the ultra world and other trail races, but there's something about eliminating all the downhill that makes it just about fitness and grit. There's nowhere to hide, and you can't make up ground if you're a really good descender. It's pretty fun. 
RC: What was the SkySnow experience like?
MP: It was interesting because my impression was that they've had a pretty dry year, so…there wasn't a ton of snow. I think we're all realizing the potential effects of climate change more and more. The snowpack there wasn't a ton, but the resort produces snow with snow guns, so there was enough on the course. The days were sunny and 60, so to prepare for a winter race was a weird feeling.
I'd been training for both [the classic and vertical races] to see what it would be like racing back-to-back, especially after a really hard, steep run. I actually thought the first race would be my stronger one. After I got ninth, I was kind of disappointed, because I'd gotten eighth in the summer VK last year. I was thinking I'd have a chance to improve on that place. The next day I had no idea how my legs would feel, I planned to just see what would happen and have fun. The result turned out much better than I expected. My legs didn't feel great the next day, but I think we were all in that same boat.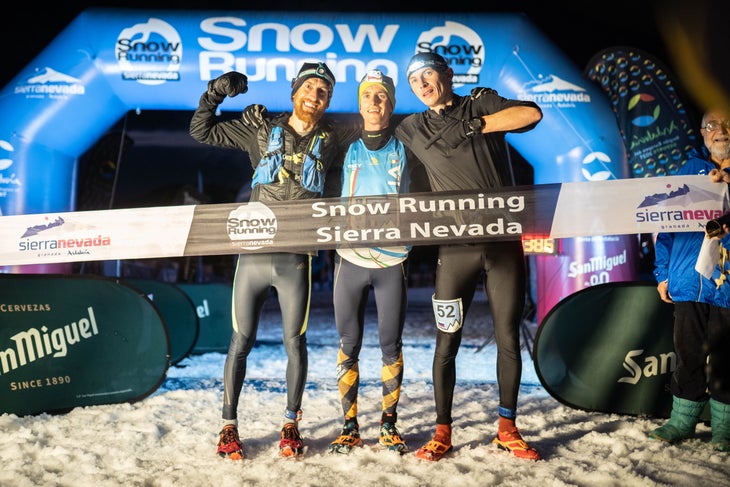 RC: Did you do anything specific to recover between those two races?
MP: After the race I made sure to warm down and did a lot of stretching throughout the day. I think what helped me – and we used to do this in college – was to do shakeouts before the race. On Saturday morning, which was about halfway between the races, I went out and ran like two miles super easy, just to get the blood flowing. I think that helped me show up on the starting line and not feel the effects of the last day as much. 
RELATED: Workouts For Trail Runners Who Don't Like Workouts
RC: What's it like racing entirely on snow? That sounds like it would be exhausting even on flat terrain.
MP: Because it was so warm there, the snow was really soft. Here in Flagstaff, we have super dry air, so the snow is super dry. It's almost like running on ice. It was different for me to be there running in slushy snow. There was a funny part during the second race where, on the side, the snow had melted, so everybody got off the snow and started running on the dirt because the traction was better. It was certainly different but I'd been knowing what was coming and had done a lot of running on snow ahead of time. 
RC: What about traction devices? Were there regulations as to what you could use?
MP: Yeah, there were. It was very specific. You had to wear traction, you couldn't wear track spikes or crampons, and you had to have a certain number of spikes per foot at a certain length. We have a local company in Flagstaff called Kahtoola, which makes MicroSpikes, and those fit the requirements, so that's what I wore. 
RELATED: What Our Editors Loved In February
RC: What's coming up next for you?
MP: There's a half marathon trail race in Monument Valley, it's a really amazing event. You get to run through the Mittens, through the bottom of Monument Valley there. [Editor's Note: Popejoy would go on to win that trail half marathon in 1:22:05.] 
Then I'll take a little break and there's the world mountain running championships later this year in Thailand, so there's some qualifying races that I'll run later this summer. Probably a VK at the Broken Arrow Skyrace in Tahoe, and then the U.S. vertical championships are in New Hampshire right after that. Those are my next two focus races. I've never made a world mountain running team, but that's the goal! 
Reagan Colyer is Trail Runner's assistant editor. She lives in the Northern Rockies of Montana and came to the trails after college as a middle-distance track athlete. She is a copy editor by trade and a reader of literally anything.