Just Weeks After a Lupus Diagnosis, Devon Yanko Wins the Javelina Jundred
After breaking the master's course record at the legendary desert race, Yanko won a Golden Ticket that will send her to the Western States Endurance Run. 
Heading out the door? Read this article on the new Outside+ app available now on iOS devices for members! Download the app.
Devon Yanko lives in a tiny mountain town in Colorado, near the Sawatch range and the Mosquito range of the Rocky Mountains. Huge peaks loom in every direction. She owns a bakery, has a farm with all kinds of animals, and runs big miles — on the trails, dirt roads, and high school track. Everything she does is above 7,000 feet.
Yanko, 40, has made a name in the ultra world, having won the Leadville 100 (2017), the Continental Divide 50K (2022), and the Umstead 100 (2022), where she won outright, a first in the race's 27-year history. To look at her race results, it seems like she's been on the podium more times than not since she ran her first ultra (the Tamalpa Headlands 50K) in 2006.
Last weekend she took the win for the second time at the Javelina Jundred (14:36:10), setting a new master's women's course record, and breaking her own previous course record from 2015 (14:52:06). This year's win was especially significant for Yanko because earlier this year, she wasn't sure she'd even make it to the start.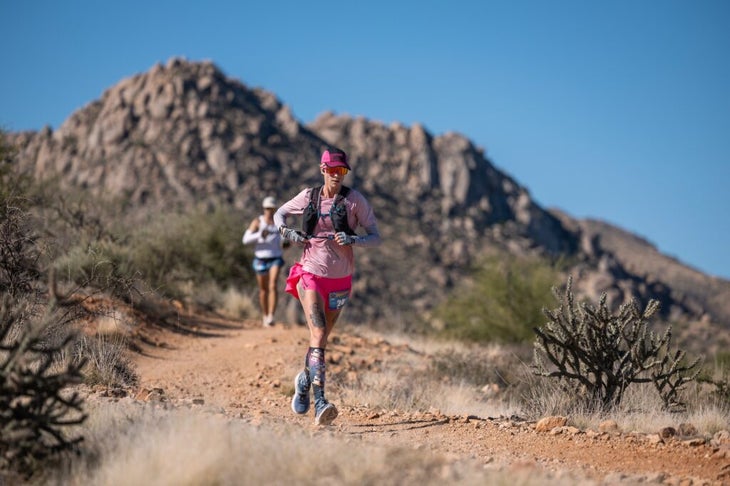 Living With Lupus
Less than a month ago, Yanko was diagnosed with Lupus — an autoimmune disorder that is chronic and incurable, a disease that can destroy your organs if not managed. The body's immune system attacks its own tissues and organs. It can affect numerous systems in the body, and outside of genetic factors, the cause is largely unknown.
For Yanko, it requires methotrexate — chemotherapy pills. The diagnosis came after months of feeling off — dropping out of races, being exhausted and in pain, and being told over and over that she was medically fine. At one point she was even told that it was impossible for her to develop Lupus. She found out later that she had run, and raced, through multiple Lupus flares. And once the diagnosis finally did come, Yanko drastically changed her diet — cutting out dairy and alcohol entirely — and began treatment. This sort of news doesn't traditionally lead to a 100-mile race win, but in the Arizona desert last weekend, Yanko found some calm. With so much physical uncertainty, she knew she needed to come up with a mental strategy.
"Basically, I was like, I'm not quitting this race. Period. And that changed [my mindset] from What's going to happen? to, something's going to happen. And whatever it is, whether it's fast or slow or in between, I'm just gonna do that." Once Yanko had decided that she was all in, she was able to relax.
"Methodical. Patient. Experienced. She's a legend in the sport of ultrarunning." 
"When I talked to my coach Mario [Fraioli], we decided that my mantra was, 'calm the fuck down.'" It's a good mantra — a good piece of advice for most of us in life. But Yanko ended up not needing it. She had let go of being in control of every little thing, so she was able to roll with the day. It wasn't magical, Yanko said, it was just running — the thing she does best. "I was running in a way that was everything I love about running. Like, this is just about me. I'm connected with what I'm doing. I'm not thinking about anything else."
That feeling showed. Yanko gave out hugs and high-fives along the way, danced at aid stations, and kept smiling. Sandi Nypaver and David Lam paced for Yanko, and said that she kept to her plan and ran her race.
View this post on Instagram
"I was tearing up when we saw Heather Jackson, who had been in first place all day, at around mile 73," Nypaver said. "Because at that moment I knew Devon would win. Devon handled that moment with thoughtfulness and experience. When we were passing Heather she gave her a fist bump and said some nice words." Nypaver admires Yanko for being willing to be vulnerable, and also, "for being a total badass."
RELATED: The Good Karma of Devon and Nathan Yanko
"While crewing for Devon, it was obvious that she was determined all day, but not at the expense of really enjoying herself by doing the thing she loves: racing," Lam said. "When she was wrapping up the penultimate 4th loop, she emerged in the lead, with Sandi Nypaver pacing her, which I wasn't expecting. We had just turned from being hunters all day to being the hunted. Our time together was quiet, calm, but very focused."
Yanko felt steady throughout the race, and in the brief moments of doubt, she thought about the community that she's newly a part of. "I joined a Reddit [group] about Lupus. And I started to think about people who have the same condition as me who can barely get out of bed. And I was like, I'm doing this for them."
It's so tough for everything to come together on any given day, but to also make that happen on race day, after going through so much both mentally and physically – that's a well earned gift. And the emotion was clear at the finish line. As Lam put it, "Methodical. Patient. Experienced. She's a legend in the sport of ultrarunning."
Change and Adaptation
Yanko has been in the sport long enough to see it change, and yet Javelina is a lot of what she loves most — getting to see friends, experiencing a party in the desert, running for the sake of running. But Yanko didn't make a dime on this win. In fact, she lost money with expenses for travel and meals. In Yanko's opinion, to win a 100-mile race with such a competitive field and earn no money is arguably unjust.
Yanko has written extensively in her substack newsletter about how much of the endurance world has shifted in terms of how athletes earn (or don't earn) a living. The expectation is now on athletes to create content for brand sponsors, rather than being supported by them in order to train. Yanko has been told that she's too old to be sponsored, or too difficult to work with because she speaks out when brands change their contracts without notice.
In the sponsorships that Yanko has dealt with, "I found that the ask was incongruent with what I was getting out of it," she said. Corporate influence is undoubtedly changing things in the ultra world. It's a lot of work to create content and be a professional runner, and, in Yanko's case, also run a farm and a bakery, not to mention navigating illness.
RELATED: A Training Plan To Run 100 Miles
But Yanko has hope. She's going to keep doing what she does: run, train, race, get more women into the sport, and rally for fair compensation. "I don't subscribe to [the traditional corporate model of sponsorship], so I'm not going to do that. Which doesn't make me a hero. It just means I'm not willing to buy into that model."
Sometimes it's tough to age as an athlete, but one thing that comes with it is a clearer sense of self. You learn to control what you can, and forget about the rest. Some days you curl up on the couch with the side effects of powerful meds, and some days you earn a golden ticket.