Navajo Ultrarunner Verna Volker Isn't Slowing Down 
The founder of Native Women Running is running the Javelina Jundred this weekend to celebrate her heritage and encourage Native women to find their own trails toward healing.  
Heading out the door? Read this article on the new Outside+ app available now on iOS devices for members! Download the app.
Living in Minneapolis, Minnesota, Verna Volker is always on the run. Volker, a mother of four and founder of Native Women Running (NWR), spends most of her days driving her children to and from school. Between the commutes, many of Volker's runs are in the blistering cold of the Midwest along the frozen St. Croix River. Her feet help propel her forward through memories of generational trauma that sometimes rush through her head. 
"I always think about the little Navajo girl who grew up in poverty and lost a father at three and suffered many losses," Volker said of her running. Soon enough, she'll be conquering similar introspection in the desert where she was raised at the Javelina Jundred.
Volker was brought up in the Navajo Nation, enveloped by canyons throughout her backyard. Growing up in systemic poverty, she has been able to overcome much more than others believed she could. Given the grim realities, many have difficulty breaking away from this as a personal identity. 
RELATED: Know Whose Land You're Running On
She recalls the stories from childhood that have evolved with her running.
"Growing up, I remember hearing one of the teachings of the Navajos," Volker explained. "One would rise early at dawn to run. You run towards the east to greet the Creator, give our blessings, and say your prayers for harmony in your life. I never really understood that teaching until I became a runner."
For many Indigenous peoples, running is foundational to the process of healing trauma, one mile at a time. The trauma can manifest as a result of historical, intergenerational, or family wounds. The triadic nature of running is a tool for healing, showing existence, and demonstrating resilience internally and externally.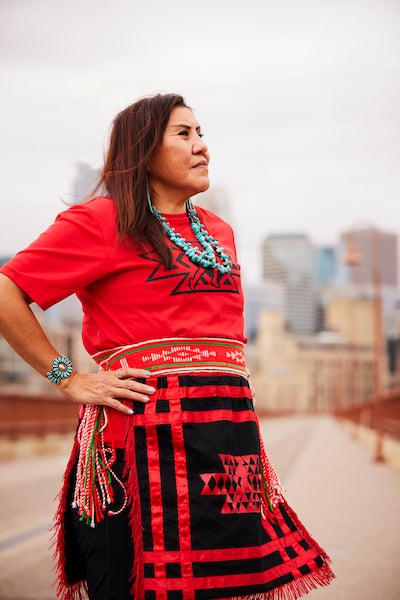 The Evolution of Native Women Running 
After marriage, children, and a teaching career, Volker wasn't feeling healthy. Seeing the flourishing running community in Minneapolis, she decided to give running a shot, starting in 2009. In doing so, her path back to strength came first from the physical work, then the mental demands. 
Along the way, she saw a lack of Native women runners on Instagram or in glossy running magazines. Out of frustration, Volker decided to try to right that wrong. She began NWR with a mission to create an online community and presence for Native women, to be seen and to hold space in a sport where they've historically been excluded. On October 12, NWR surpassed the 30,000 follower milestone on Instagram, continuing to be a place for the representation and encouragement of Native women. 
View this profile on Instagram
Volker is proud of the organic structure and growth. NWR's reach extends beyond Instagram. They further engage the running community with informative panels, virtual events, fundraisers, and organizing running teams at events across the US.
"I take pride in that something so small at one time grew into something big," Volker said. "Often, others will ask me how is NWR growing? It's because I simply share stories of our Native women, and do my best to give everyone a platform. I want Native women to know they belong in these running spaces." 
"Don't be surprised if we say we're running to heal from many generations of trauma. Dedicating a race pushes me to accomplish it. Running has physically helped me, but emotionally, it's also healing me."
Members of the organization are noticing the outlet's tangible achievements and Volker's advocacy. 
"Native Women Running is such a beautifully visible platform for Indigenous women runners who can see themselves on the roads, on the trails, and in big races that we have every right to be part of," said Jordan Marie Whetstone, founder of Rising Hearts. "Verna is a passionate advocate for Indigenous women and our communities. Her voice is among many truly making an impact, creating waves of change, and inspiring so many Indigenous and non-Indigenous Peoples of what it means to walk in beauty. To show up. To speak the truth. And to support your community."
With the perpetual growth of the group, Volker looks to assemble more support moving forward. 
"I will keep doing what I am doing on social media, but I hope to build a larger leadership team to help in the future," said Volker. "We only have two leadership team members. I haven't had time to add more to the team, but I hope to very soon." She expects to build additional teams on the east coast and midwest and achieve further partnerships with race organizations. "Maybe one day, we'll create running groups all across the country," she added. 
RELATED: Indigenous Athletes are Running For Justice
The group is a platform for empowerment and celebration for Native women while, at the same time, calling attention to the numerous crises they face.
"For me, running has been a lot about crying and healing," Volker explained. "Don't be surprised if we say we're running to heal from many generations of trauma. Dedicating a race pushes me to accomplish it. Running has physically helped me, but emotionally, it's also healing me."
Anticipation for the Javelina Jundred
The Javelina Jundred takes place on the ancestral homelands of the Hohokam, at McDowell Mountain Regional Park, just outside Phoenix, Arizona. Runners traverse single track in and out of washbeds, a mix of hard-packed granite and sand, all through the Sonoran Desert. The race comprises five loops along the Escondido Pemberton, Shallmo, and Cinch Trails. 
Runners share the course with deer, javelina, birds, and towering Saguaro cacti. The iconic hand-like cacti are essential to the ecology of the area. Many small birds cavity the plant for nesting, while larger predators perch themselves on tall saguaros as a hunting pedestal.
Heading into the Javelina Jundred, Volker's training has been structured around her environment. "I do a lot of hill inclines on the treadmill since we don't have mountains in Minnesota," Volker said. "My technique for Javelina is to go slow, stay cool as much as possible, and eat and drink no matter what."
Volker runs heart-forward, figuratively and literally. She'll maintain 140-145 beats per minute in her ultras. "I know my mental training will help as I run in honor of my mother," said Volker. "I think listening to my body and working through the hard times will help."
Volker's journey to running her first 100 miler is something to be celebrated. Although she is the NWR founder, she is unwavering in underscoring that she doesn't speak for all Indigenous peoples.  
"As a founder of NWR, I always make it clear that I don't speak for all Native women runners, Native people, or Native runners. I never want to be seen as the 'gatekeeper' of Native runners," Volker explained. "I want more Native women runners to be at these race events, have a positive and uplifting space, and see themselves in a space that is predominately for white bodies. Representation matters."