The Return of Stevie
Four years ago, one of the country's strongest mountain runners disappeared from the world's stage. Now she's back, racing hard - and with a story to tell.
Heading out the door? Read this article on the new Outside+ app available now on iOS devices for members! Download the app.
On a lark nearly a decade ago, Stevie Kremer grabbed a bib for one of the world's most prestigious mountain marathons. The Jungfrau Marathon, in Switzerland's mountainous Berner Oberland, rising nearly 6,000 feet from the city of Interlaken to its finish just under the North Wall of the Eiger. 
With each passing kilometer, as pavement transitioned to dirt and then tilted increasingly towards the sky, she found herself powering past elites from around the world, in what was 2012's World's Long Distance Mountain Running Championships.
Kremer won, running into the arms of her father at the finish line. "It was really awesome," Jurgen Kremer remembers. "She was so excited!"
In the process, the then 28 year old resident of Crested Butte, Colorado befuddled the English-as-a-second-language course announcers, who were confused by the 5-foot, 1-inch tall woman running with what seemed to be a guy's name. The bewilderment would soon end once and for all, though– in the years since, Kremer became known throughout the European trail running scene, standing alongside Kilian Jornet atop the podium of Europe's hyper-competitive Sierre-Zinal and racking up big wins at technically demanding mountain races across Europe. 
Then, in 2018, she disappeared. What transpired has been largely a source of mystery to followers of Kremer, widely admired in the trail running community for her goodwill, upbeat energy and outgoing persona.  "I had shut down," she admits. "I didn't want to talk to anyone." 
Now, though, Kremer is back in a big way, starting with ski mountaineering victories and then, in August, a strong win at this year's Pike Peaks Marathon — eight years after her last race up the iconic U.S. summit, which she also won. With her reemergence came a newfound desire to tell her story, too. 
From Dead Last….
Early on, Kremer's life might have been defined as politely active. Growing up in Darien, Connecticut, her family played tennis and golf. Weekends were spent in Vermont, alpine skiing at Killington and Okemo. She played soccer in high school but, she says, "I was just terrible at it." 
Golf, tennis, and indoor track rounded out the seasons– more to keep moving, than out of any particular talent. "I'm the kind of person," says Kremer, "Who just needs to do something. But I was never great at anything." Her years at Colorado College in Colorado Springs weren't particularly different. Kremer would run four or five miles, heading for the trails on nearby Pikes Peak, simply to avoid pounding pavement. 
Lured by a college friend, Kremer moved to Crested Butte after graduating with a Masters Degree in Teaching. She found a job in group sales at the local ski area, supplementing her income by working at the local preschool and babysitting. 
Ringed by National Forest lands, "CB" is a trails utopia. But Kremer's unfamiliarity with the backcountry and the prospect of encountering animals — mountain lions are not uncommon– kept her on dirt roads and local paths.
Then, on June 13, 2010,  Kremer ran the "Cart-to-Cart" 11 mile trail race organized by Camp 4, a local coffee shop.  Convinced to enter by a friend, she dressed in her boyfriend's oversized t-shirt and wore orange University of Virginia Lacrosse shorts. The two walked, talked– and occasionally ran. 
It was the first trail race Stevie Kremer had ever entered. And something else new happened along the way. "It was so fun!" says Kremer, the enthusiasm in her voice suggesting the race was, possibly, yesterday.  "That was the moment I got hooked on trails. The scenery was amazing. And you don't think about running when the terrain is always changing. I just loved it!"
Not a bad reaction for someone who came in dead last. 
That enthusiasm quickly powered a very different set of results. Within a few years, she would flip her finishes upside down– and not just at casual cafe runs in Crested Butte, but at some of the world's most prestigious trail races. 
… To World Class
Kremer had discovered her passion. Inspired, she partnered with local friends Dawn Howe and Shari Marshall. Together, they explored new trails.  "They motivated me to run," says Kremer. Importantly, Marshall was a former collegiate runner. "Shari was awesome," says Kremer. "She was always giving me good advice. She was wonderful." 
And Kremer got faster, if only for the simple reason that she wanted to squeeze in more miles after school and before sunset. Simultaneously, she sought out bigger loops and explored new trails. She entered local trail races– though not out of a competitive desire. "I loved having someone tell me where to run," she laughs."I didn't want to get lost!"
A decade later, there is still exuberance in her voice when she talks about that process of discovery. "The big thing for me," she says, "was that I loved running." Trail running also melded nicely with one of Stevie Kremer's great qualities. She has energy in abundance. "I can't stay still. I always need to be doing something." 
RELATED: Next Level
That energy is baked into all things Stevie Kremer, and it's infectious. Our own conversations were rapid fire, and I imagined Kremer's synapses getting a full workout every day, along with her quads and calves. Her thinking and speech fall in rapid succession, but not nervously so. Kremer's DNA is simply wired to keep her on the go. It's probably a good thing, I think, that she sticks to just a cup or two of coffee in the morning. "I always wish I had more time," Kremer pauses, then easily reveals her true self. "Then when I have it, I fill it with something."
That love of trail running, combined with Kremer's tireless energy, started to reveal something she hadn't seen in that first trail race. She was taking note of something new.  "A strength of mine," she says, "was going uphill." 
It wouldn't be long before the rest of the world took note, too. It all happened so quickly, in fact, that she was barely known, and was often just called "Pearl Girl," for the ever-present pearl earrings that were a signature mark, a gift from her grandmother. 
Trail Running's Bright Light — and The Pressures of Being Pearl Girl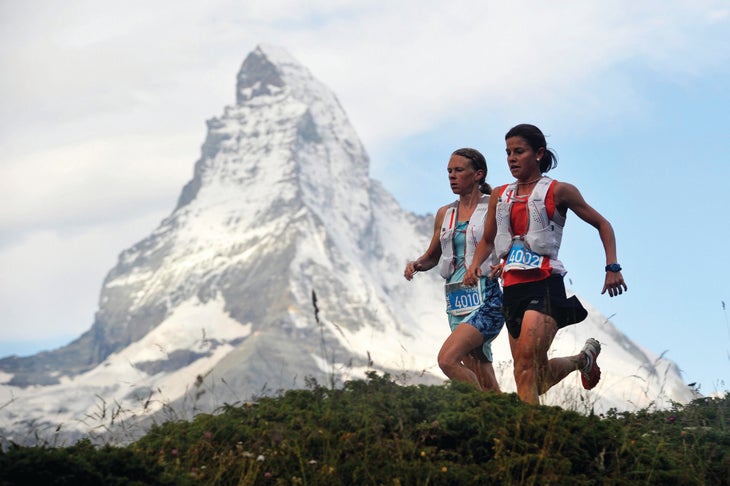 Longtime Colorado mountain runner Ellen Miller was one of the first to recognize the talented new trail runner. Miller has been Manager for the Women's U.S. Mountain Running Team for the past sixteen years. In Kremer, she saw not just a determined mountain runner, but someone who would be a wonderful ambassador for the sport. 
"It's easy for people to underestimate Stevie's strength and endurance because she is so cheerful and easy-going," says Miller, "But she is a talented athlete, a tough and driven competitor. Stevie is humble and understated. Hidden beneath those pearl earrings and her bright smile is someone who is generous and kind. Her personality is a bright light."
Miller told Kremer she should head to Oregon for the upcoming U.S. Mountain Team trail marathon. Kremer, on a tight budget, didn't have the money– but a local resident who knew of her growing reputation kicked in for a ticket. Kremer came in second. 
Next came a sponsor, thanks to Kremer's ski mountaineering friend, Jari Kirkland, who insisted that she reach out to Salomon. Initially, Kremer would have none of it. "I was like, NO WAY. There is no way I am good enough for them. Not one second did I think I was worth a free pair of shoes." 
She could not have been more wrong. Salomon signed her to a multi-year deal. Mike Ambrose, North American Team Manager during much of Kremer's time, says of Kremer, "Stevie is the perfect athlete. Not only is she strong and competitive, but she's also a great role model and ambassador for the sport. Salomon, he said, "was honored to be part of her amazing career."
All of which points out something deeply human about Kremer to which more than a few runners can relate– including others who count themselves among the world's best. 
"I don't have a lot of confidence in myself," She confesses with apparent ease. "I'm just so anxious about failing." Powering it all is something deeply personal.  "I never want to disappoint my mom or dad." Kremer's self-awareness runs deep, and she points out the built-in irony. "I know it's silly," she says, matter-of-factly. "My parents could care less. They just want me to try new things." Her father, Jurgen, remains somewhat mystified by that relentless internal drive, "We never pushed her to do anything competitive as parents. But she loved it, so we supported her in it. If she is happy doing something, then we are all for it. That's all we're looking for."
One result is that Kremer heaped on the pressure. "I put a lot of pressure on myself and I hated it," she says, flatly. "I still do it all the time. When you have a good result and get accolades, it's the best feeling. But when I don't have that kind of finish, I just feel like such a loser." 
Her friends worried about the toll it was taking. Meg Mackenzie is an athlete for The North Face who lives in Chamonix, France. The two often shared rooms at marquee races around Europe when both were racing for Salomon. For Mackenzie, Kremer was an idol. "I used to watch Youtube videos of her winning races, dreaming that someday I could be somewhere close to her level," says Mackenzie. In person, though, she saw something that didn't make it to social media channels: the constant, self-imposed pressure. Mackenzie saw sleepless nights and the nagging worries of someone concerned she might not be up to the task at hand. "Stevie always put a lot of pressure on herself," says Mackenzie. "And all I wanted was for her to see how absolutely incredible she was, and to know how many people she has inspired."
It's a personality streak that sounds like it might not yet be fully understood by Kremer. But, under it all, there is enough confidence to still say yes when the opportunities arise. Which is why when American trail running legend Pablo Vigil called that April, 2012, asking if she would represent the U.S. at the legendary Sierre-Zinal trail race in the Swiss Alps, Kremer agonized– but ultimately agreed. Something else might have helped, too: she had never heard of what many consider the world's most competitive mountain race. 
First, though, there was a warm-up that jumbled more stress with hope– the U.S. Mountain Running Championships at Loon Mountain, New Hampshire, on July 8th. The five mile course was relatively short for Kremer, so she warmed up for — wait for it– an hour and a half. Miller had suggested the race, knowing the tough course, right up steep ski slopes, would play to Kremer's strengths. The top four women would represent the US at Ponte di Legno, Italy that September. During the race, Kremer actually veered off course– only to hear a german-accented voice screaming her name. It was Jurgen. Despite the error, Kremer still landed in fourth, winning a spot on the team. A few days later she told Crested Butte News something that rings awkwardly true to those who know of Kremer's deepest fears.  "I never in my wildest dreams thought I could do this." 
Later that summer, her result at Sierre-Zinal proved it was no fluke: Kremer came in second in the race to which Vigil had invited her. Two years later, in 2014, she would stand level men's winner, a certain Catalonian runner named Kilian Jornet, who was quickly establishing his position as one of the best mountain runners the world has ever seen. 
Kremer was on her way. And, thanks to a fortuitously-timed teaching exchange in Italy, she started racing through Europe. She quickly found herself on the podiums of tough mountain races known around the world: Limone Extreme Skyrace, Matterhorn Ultraks, Mount Olympus Marathon, Marathon du Mont-Blanc, Zegama, Pikes Peak, and the Madeira Skymarathon.   
It was a meteoric rise, so fast that her accomplishments sometimes preceded her very name– Kremer was first known to many, simply as "Pearl Girl," for her ever-present pearl earrings to which Miller alluded, a gift from her grandmother. 
For the next four years, Kremer lived what she calls her "crazy whirlwind" period. She continued to teach, more than a few times taking a solitary day off to race in Europe. Or, say, China. For an event in Zermatt, Switzerland, Kremer once left Thursday night from Denver, raced Saturday and arrived back home in time to teach on Monday morning. For a time, the pace quickened. There was Sierre-Zinal, Limone, China twice. A popular Salomon online film, "The Teacher", followed. Other sponsors joined in. 
But the routine took a toll. And, always, there were the pre-race nerves. "I would panic for a week straight. My nerves only stopped when I was done with the race." Arriving in Zermatt the evening before a Matterhorn Ultraks 46 km race, she found herself crying. "Stevie, No one's forcing you to do this" her dad told her. But Kremer loved traveling and seeing new places, despite the rapid turnarounds and race stresses. She explored new trails and mountain ranges, and enjoyed the camaraderie of the trail racing circuit. One of those stops included racing in China on a course that started at 15,000 feet and climbed to 21,000. "It was a part of the world I would never see on my own. I got to explore unknown, far away places. It was something I didn't want to give up," says Kremer, adding, "But nothing comes without a price."
It worked for a while. But as the years ticked by, another objective percolated to the top, coming not long after Kremer entered her thirties. Kremer had always wanted to start a family. "My hashtag," she half-jokes "was fourkidsandasuburban." 
Her life was indeed about to change dramatically. But not in the way she was hoping. Not by a long shot. 
The Unraveling
Back in 2007, Kremer had met Marshall Thomson. The two married in February, 2015. For years, they were one of the notable outdoors couples in the region, if not the state. In Thomson, Kremer saw someone with whom she could realize her post-trail running family dreams. 
Trail racing, however, had taken a physical toll in addition to the mental one, and Kremer found herself suffering from the triad, a potentially serious issue that's common among female athletes that couples low energy and decreasing bone density with missed periods. For an athlete wanting to start a family, it's a show-stopper. "I had two years of half-assed racing," says Kremer, " and wasn't having luck on the family front either." Her life goals came into stark conflict.
Kremer sought medical help, starting IVF treatments. Every other morning for two weeks, she would get up at 3 am to drive the three hours to a clinic in Colorado Springs.  And Kremer, often so open about much in her life, kept the treatments secret. "I'm really superstitious," she confesses.
At the same time, her marriage seemed to be faltering. "I should have seen all the red flags," says Kremer, who says it was a lonely time for her. 
The emotional roller coaster was worth it, however, and Hans Karl was born March 13, 2018.
That summer, Kremer returned to trail racing, this time in Greece and Spain, her family along to help out with Hans. Closer to home, she raced throughout Colorado. "It was so fun to be back on the circuit," she says. At home in Crested Butte, she stuck to the long access road by her house, with  Hans along for the ride in a stroller.
Kremer was a full-time teacher and mom. Through it all, she ran, getting up at exactly 4:12 am to run on a treadmill while Hans slept in his carrier off to one side. Other times, she used exercise bikes at friends' houses while Hans played with his miniature toy cars. "I probably ran on trails ten times in three years." 
But not all was well. The marital red flags were becoming more apparent. Kremer's energy drops as she struggles to find the right words, seeking accuracy but also, perhaps, realizing the obvious indictment. "This isn't me trying to tell some kind of story," she prefaces the explanation. "But honestly, I was very lonely," she says. 
The following summer, Kremer was ready to move another step closer to #fourkidsandasuburban. "I was 35, and I was like, 'Yea, we have to do this.'' Back at her family's home in Connecticut, she sought out more medical treatment.
Thomson, however, was hesitant, wondering aloud, "Are we really ready for another one?" "There was no, 'What can I do to help?" Stevie pauses, again picking her words delicately, landing on something kindly neutral. "His heart was not in it. We weren't on the same page. I should have read the cues." 
Still, Kremer and her husband tried again– with success. Or so it seemed. But, two months in, the heartbeat was gone. "Maybe," says Kremer, "the baby and the marriage weren't meant to be."
RELATED: The Champion of Crested Butte
As the months passed, Kremer came to question her partner's loyalty. On April 20th of last year, Kremer took a flight home to Connecticut to see her parents. "Nine days later," Kremer says, "A friend called to talk about my marriage." Kremer cautiously navigates the discussion, understandably setting boundaries for what she wants to share. "I heard some really difficult news… I knew our marriage was over." With little response from her husband, ten days later, Kremer filed for divorce. 
Kremer's parents worried. "Last summer was very difficult," her father Jurgen said. "She lost a lot of weight. She looked awful. We were very concerned." The anxiety in her father's voice deepened as he recounted that period. "We just wanted her to be happy."
In its own way, though, the summer away from Crested Butte provided some solace. Kremer worked through the heartbreak. As fall approached, she made the decision to head back to Crested Butte. "Getting on that plane," she said, "Was probably the hardest thing I have ever done."
Back home, she would check in with her parents every morning to say hello and chat. "Sometimes, it was hard to pick up the phone to hear more of what she had been through," her dad remembers. "She's not a person who can easily put these things aside." 
Keeping her steady through it all were her parents, a few close friends, Hans– and running. "Through all my crap in the last three and a half years– all the mental and emotional stuff I went though– I ran every single day," she points out. "Without that, I don't think I would be where I am today." 
Back to the Front of the Pack
Kremer's long and difficult personal journey seems to be over. And with that closure, comes a newly rediscovered focus on racing– hard. The past March, she and partner Lindsay Plant won the competitive Audi Power of Four ski mountaineering race in Aspen. Their time of five hours, 50 minutes was nearly a half-hour faster than the second place team. A few weeks later, she teamed up with Chris Edmonds to win the coed division of the Grand Traverse, an epic 42-km backcountry ski race between Crested Butte and Aspen. 
Then, on August 21st, she returned to Manitou Springs, Colorado, for the starting line of the Pikes Peak Marathon.  Eight years ago, she won the race during a meteoric rise. Now, though, the Stevie Kremer at the start was a different person. Kremer didn't feel particularly well prepared. During the race, she was rusty. "I had to remember how to pace myself and not be immediately intimidated by the start pace. I was aware that I was still figuring stuff out," she says. "But I was excited to race again." 
Others were excited, too. Back home in her little apartment in Chamonix, Meg Mackenzie was glued to the Instagram feed. Two years earlier, she had finished third at Pikes, and the race remains a favorite for her. "I didn't even know she was going to race," says Mackenzie. "I was so excited when I saw her!" Mackenzie laughs when she remembers something else, too. Kremer was wearing gear from seven years earlier. "It was old school and totally badass," she says. On her feet were old, cheap trail running shoes, not the lightweight, high-end footwear everyone else was sporting. "They were practically hiking shoes," Mackenzie marvelled, "And she won!"
Some things had not changed– the race jitters were still there, along with that nagging sense of imposter syndrome. "Leading up to the race, I was freaking out and didn't want to start." She says. "I was super surprised to find myself reaching the top before any other woman, while at the same time terrified they would catch me on the downhill. I honestly didn't relax until I was in the tent at the end of the race getting my wounds cleaned." Perhaps, though, things are getting just a bit easier for Kremer, who is quick to share the credit with her new partner, Eric. "Thanks to his supportiveness, I gained the confidence to get on the start line," she says. "It felt great to race again!"
A Lot of Racing Left
If her results are now on a par with all those years ago, other things have changed. Stevie Kremer is a different person. There are still the same pre-race jitters, but she's wiser about the role of trail running and racing in her life. And she knows what she needs, too. "Everyone deserves to feel loved and supported," she says. "That's what Eric has done for me. I have gained so much confidence." "He brags about me to friends," Kremer confides. And says Kremer, "It's thanks to him, I am able to finally share my story."
Ellen Miller has watched Kremer over the years and remains a loyal fan, ecstatic with her win at Pikes Peak. "It's uplifting to see mountain athletes evolve in their careers, into parenthood, and to see their relationship with competition still giving them joy," she says. 
Through it all, one love has stayed with Kremer throughout her long ordeal: trail running. And now, more than ever, she loves sharing it with others. "My big thing now is that I love running and I love helping people to start running." 
That vibe works on some of the country's longtime mountain runners, too. "She is so supportive," says Miller, now in her fourth decade of trail running. "When I see her at a race cheering for me, it makes me feel like I am 35 again!"
Trail running has changed a lot since Kremer jetted around the world from her Crested Butte home. There's more competition, bigger sponsorships, and young, strong athletes are showing up at start lines every day.  "She will age with grace," predicts Ellen Miller. "Stevie has a lot of racing left in her." Time will tell, but one thing is certain: only a fool would bet against Stevie Kremer.
Doug Mayer lives in Chamonix, France, where he runs the trail running tour company, Run the Alps. Back in New England, he ran in trail races with a new racer on the scene everyone called, simply, "Pearl Girl."