Professional Agrologist Jazmine Lowther is Taking Root in Ultrarunning
Elite athlete and 2022 Canyons 100K winner Jazmine Lowther is taking her passion for mountains and a career in environmental science to compete at CCC this month. 
Heading out the door? Read this article on the new Outside+ app available now on iOS devices for members! Download the app.
During most summer days, you'll find Jazmine Lowther in the burgeoning fields around her home province of British Columbia. Working as a professional agrologist and field biologist, Lowther performs land rehabilitation and invasive plant management. Here, she'll be looking for and verifying certain plant species in random areas or sweeping for bugs – called "biological control agents." The intention behind the work is the limiting of impacts caused by invasive species on native ecosystems.
"Invasive plants are typically good at what they do in terms of competing with others, reproduction, and spreading to new places," said Lowther. 
In addition to being an agrologist, Lowther is also a world-class alpine ultrarunner. Hailing from the Selkirk mountain range in the humble ski town of Nelson, BC, Lowther shook the ultra scene with her Canyons 100K victory in April, setting a new course record by one second. 
As an alpinist with a background in rock climbing, she only recently began focusing her attention on ultrarunning.
Post-Canyons 100K: A Bittersweet Recipe 
Her immediate post-Canyons fame felt surreal and brought on a sense of personal confirmation. 
"The huge hug from the international ultrarunning scene, it felt truly affirming that I'd found my passion, my calling, and a place where I belong," said Lowther. 
Following her Canyons victory, Lowther developed a persistent niggle in her foot that wouldn't go away. After visiting several doctors and receiving a variety of diagnoses – including the heartbreaking news that she might be out for a year – she rested.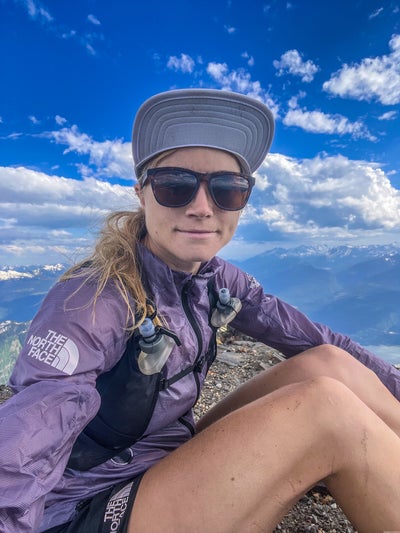 In the end, a sports medicine doctor established that nerve sensitivity caused by tissue inflammation would remedy itself with a hiatus from running, which included missing the Western States 100 Mile Endurance Run in June. During the break, she kept up aerobic training by gravel biking and roller skating.
After going through the whole gamut of emotions during her rehabilitation process, her downtime offered revelatory insights concerning recovery. 
RELATED: One Scientist on Running and the Climate Crisis
"I think the big learning for me was, if I'm going to do any of the 100K and plus races, just do a full 7 to 10 days of no running [after the race], no matter what. Just cross-train, just let your body rest."
Her win at Canyons as an unsponsored athlete was eye-opening in the running community. She was able to leverage that success into sponsorship opportunities, even as the timing of her injury delayed the process. Her new sponsor, The North Face, was willing to wait for her injury to heal. Given her relatively short resume, she was encouraged by their understanding. 
"I think that just speaks volumes," Lowther said. "I'm super grateful for that. I've had 100% support the whole way and lots of patience." 
The North Face fully acknowledged that athletes get injuries, which is a part of the process. 
"They also really value the person and have a team of truly golden-hearted athletes which I can't wait to meet," Lowther said of her new partnership. "I really wanted to represent a company that fits my lifestyle as an all-mountain athlete, and The North Face rose to the top."
More than Running
Growing up in Nelson, BC, Lowther often explored the outdoors barefoot. This upbringing helped her develop an introspective reverence for the environment. "I've always had a deep passion for stewardship, and I think just trying to make the world a better place – with respect to nature." 
"The world can feel like this big clunky machine, and capitalism often gets in the way. It's definitely disheartening," Lowther spoke about the environment. "We can all do our little bits and pieces, here and there." 
Her vocation forces her daily to face the realities spurred by climate change, urbanization, and globalization. Lowther's thoughtful approach is to try and focus on the positive, to notice when organizations are taking things into their own hands and creating significant initiatives for change. "Certainly, once you get into that world, it's hard to turn your eyes away from it," said Lowther. 
For Lowther, being an ultrarunner who spends much of her time in the mountains, the training process can feel like a selfish pursuit. 
"The huge hug from the international ultrarunning scene, it felt truly affirming that I'd found my passion, my calling, and a place where I belong." 
"I would almost argue that for any mountain athlete, you need to be giving back in some way or another," she says. "Whether it's donating, volunteering, or just doing something at least once a year. I feel incredibly privileged, and I just wouldn't feel right if I wasn't doing something." 
To facilitate this in her own community, Lowther works with a local nonprofit called Neighbours United. They work to enable policy and stewardship regarding climate change, community resiliency, and wildlife conservation in the Kootenay Range. The Kootenays – named after the Kutenai First Nations people – are a popular destination for winter mountain activities.
As a mountain athlete from a ski town, winters are of particular concern for Lowther, which is why she recently became a member of Protect Our Winters (POW). "I really identify with their initiatives and how they're tying in mountain athletes into their whole platform. I think that's super cool, and I'm hoping I can get more involved with them. They have a bigger lens, and I think they've got lots of great initiatives on carbon pricing and renewable energy. All their nature-based climate solutions. I resonate with exactly how they're operating."
POW works with outdoor enthusiasts to protect places and lifestyles from climate change. They are a diverse community of individuals that include athletes, scientists, creatives, and business leaders. They work collectively to advance non-partisan environmental policies to protect the world for future generations.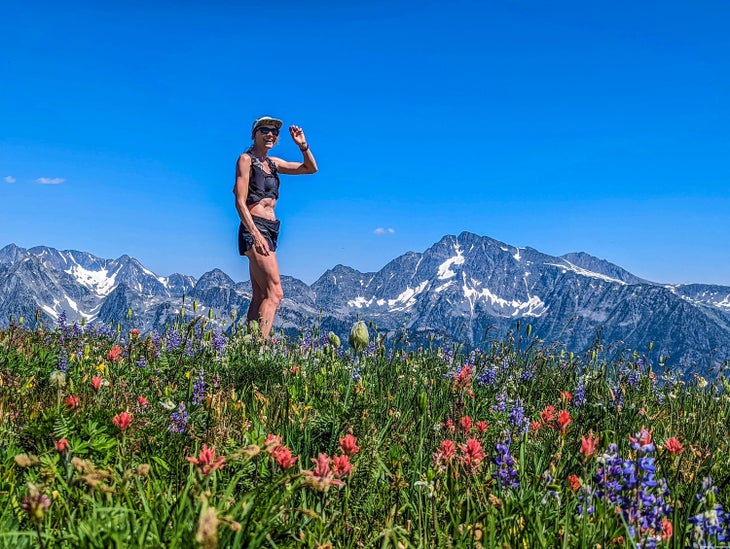 Turning her attention on Courmayeur-Champex-Chamonix 
Lowther recently returned home to Nelson after being on the road for a month. It's her busy season for both work and play. The travel makes for some interesting training days and presents challenges to establishing a routine on a very inconsistent schedule.
RELATED: Three Ways To Be A More Environmentally-Friendly Trail Runner
She is now healthy and heading to race in Europe at the Courmayeur-Champex-Chamonix (CCC) this month. It will be her first time racing in Europe, and she will do so with a highly competitive field of elite runners. Although no Canadian female has ever achieved a podium finish at CCC before, Lowther is part of a solid Canadian contingency looking to have a strong showing. Other notable Canadian runners are Arden Young and Svenja Espenhahn.
As part of the UTMB pantheon of races, the CCC is becoming one of the most prestigious races in the world. Taking place in the Alps, the technical 100K high-altitude route runs along the last section of the Grande Randonnée du Tour du Mont-Blanc trail. Runners quickly ascend to face the Mont-Blanc and the Grande Jorasses. Along the ​​20,000 vertical feet of gain, the Trail du Mont Blanc serves up a palette of wildflowers, including the Bearded Bellflower, Martagon Lily, Common Spotted Orchid, and Early Purple Orchid. 
As a trained agrologist that works with invasives, these sights are often more than visual pleasures for Lowther, especially if the wildflowers are invasive and spread by soil or seeds stuck to runners' shoes. 
A simple fix that Lowther prescribes is to brush off your trail shoes before and after a run.
"The thing with invasive species is that once you work with them, it changes how you look at the environment. It might be on a run or during a race, most people will be quick to say, 'look at those beautiful wildflowers!' Sadly, it's typically a monoculture of zero biodiversity in the making, spread by recreators and human disturbance."
On August 25, when Lowther's CCC race begins, she'll be ready to tackle every climb and descent with a fierce conviction for the complex landscape ahead – both invasive and native.