After Victory at JFK, The Sky's The Limit For Adam Peterman
Adam Peterman's name was known by few in the trail community until a couple weeks ago, when he destroyed the field at the JFK 50 Miler and nearly broke a course record many assumed was indestructible.
Heading out the door? Read this article on the new Outside+ app available now on iOS devices for members! Download the app.
(Photo by Ryan Thrower)
The summer after he graduated from college, Adam Peterman worked as a field technician in New Mexico. His job? To drive and hike through the endangered Mexican spotted owl's native habitat and make sure it wasn't being destroyed by grazing cattle. 
In the months he lived in New Mexico, Peterman didn't see a single cow. Or any of the owls, for that matter. But he got to spend his days wandering wilderness, something he's enjoyed his entire life. 
That connection to exploring wild places and new terrain has been a contributing factor in the 26-year-old's success as he burst onto the trail and ultra scene this year. Seemingly overnight, the Missoula, Montana native has solidified himself as one of trail running's rising stars, winning the Speedgoat 50k, breaking his own course record at the 2021 Moab Trail marathon, and on November 20, missing Hayden Hawks' course record at the JFK 50 mile by just 58 seconds in his debut at the distance. 
It's safe to say that the newcomer has arrived.
Made in the Mountains
Adam Peterman walked onto the Hellgate High School cross country team in August of 2009. Like many high school teams, it was no cut, but in a running-obsessed town like Missoula, it was over 100 athletes strong. That was the day Mike Foote met Peterman for the first time.
"I remember the first time I met him," says Foote, a North Face-sponsored trail runner and ski-mountaineer, and race director of Montana's brutally difficult Rut Mountain Runs. "I asked him his 5k time and I don't remember what it was, but I remember thinking 'Wow, that's pretty fast for a 14-year-old!'"
Peterman quickly became a leader of the Hellgate team and racked up an impressive high school resumé, twice finishing third at state cross country, winning a 2-mile state title on the track and clocking a PR at the distance of 8:57. 
When he was a senior, he asked Foote if he would be his mentor for the school's required senior project. Peterman wanted to coordinate a human-powered excursion from Death Valley to the summit of Mount Whitney, a trip that would travel from nearly 300 feet below sea level to 14,505 feet, the lowest to the highest points in the contiguous U.S. Foote was all in.
"I had him take the leadership on all of it, so he did the writing and the public speaking," says Foote. Peterman got in touch with local news stations, wrote press releases and coordinated gear for the trip with the North Face. Ultimately, the two biked 135 miles from Death Valley to the Whitney Portal, slept for a few hours, then sumitted the tallest mountain in the lower 48 the next day. 
"It was a really fun trip, and just a testament to Adam," says Foote. "He's really a hard worker, he's not afraid of setting great goals and it's really shown as he continues to get into this endurance sport of ultra running."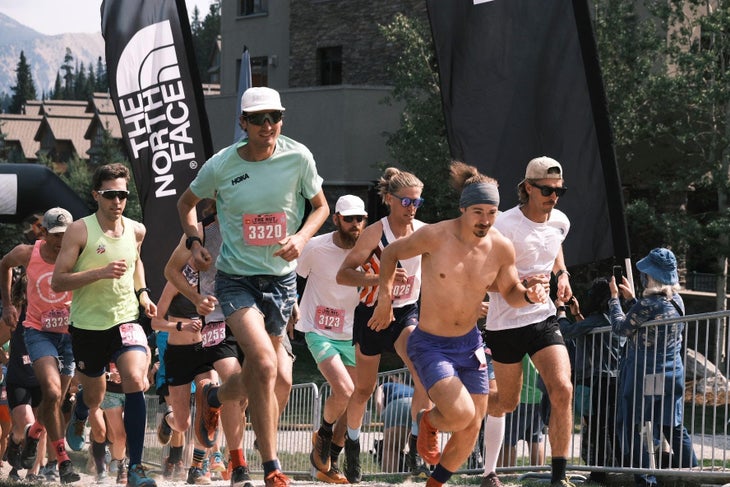 'A Dream Come True'
Peterman's success in track and cross country during his senior year of high school was enough to get him on the radar of Mark Wetmore and the Colorado Buffaloes.
"I really wanted to go to Colorado when I was in high school, and it was kind of a long shot until I was a senior and started running a little bit better," says Peterman. "Actually getting to go there was a dream come true."
But Peterman's college experience included a string of injuries that frustrated his potential during the second half of his career with the Buffaloes. He contributed to a team NCAA cross country title in 2014, finishing 7th for the Buffs, but never finished higher individually than 89th at the meet. 
"I feel like I fell into the classic college dude cycle of being injured where I wasn't mature enough to come back from it properly," he remembers. " I get kind of frustrated thinking about how it could have been different, but I learned a lot. And when it was on, it was so fun. Getting an experience like that was priceless."
In his first days at the University of Colorado, Peterman met another freshman, from Eugene, Oregon, named Erin Clark. The two shared many experiences as teammates, but were never particularly close until four years after they met. The pair started dating in 2017 before their redshirt senior year, and now live in Peterman's hometown of Missoula.
In the places where Peterman's college career felt disappointing, Clark's was sparkling. A two-time All-American in cross country, her real success came on the track. By the time she finished her collegiate career, she was in the top five all-time athletes at Colorado in four different events (the indoor 3K and 5K and the 10K and 3,000-meter steeplechase), had won multiple PAC-12 conference titles and had earned All-America honors 11 times between track and cross country. She raced the steeplechase in the 2016 Olympic Trials after her sophomore year. 
After college, Peterman took a break from serious training, while Clark ran professionally on the track and road. Then, in 2019, Peterman ran the Moab Trail Marathon, the USATF Trail Championship race, for the first time. 
He won, in 2:57, and was 11 minutes in front of second place. 
Finding His Stride
Once Peterman got started trail racing, his impact was immediate. He has now won the Moab Trail Marathon three times in a row, lowering the course record to 2:51 this year. He signed to run professionally with Hoka in December 2020, and the next month paced Jim Walmsley's attempt to break the 100K world record in Arizona alongside elites like Ben Bruce and Hayden Hawks. Peterman paced Walmsley (who would ultimately miss the record by a heartbreaking 12 seconds) for around 55K, while Clark, who also runs with Hoka, paced French athlete Audrey Tanguy. 
And if his start was good, Peterman's 2021 has only gotten better.
He won the Speedgoat 50K in July in 5:04:31, beating Walmsley's old course record by 24 seconds. His second-place finish at the Pike's Peak Marathon in August was his self-professed worst race of the year. And then there was JFK. In his first attempt at the 50-mile distance, he'd be taking on a stacked field at a race where the course record had been lowered to almost impossible standard by Walmsley in 2019 and Hawks in 2020.
"I didn't train that much more than normal, but for some reason this fall I've felt really good the whole time, better than I have all year," says Peterman. "I knew the splits that Hayden had run and I knew what Jim ran. Whenever I thought about breaking the course record I felt like I was putting a lot of pressure on myself, so I tried not to really focus on it, but I did know the splits that they'd run."
He didn't just know the splits. He nailed them on JFK's dozen miles along the Appalachian Trail and marathon worth of crushed gravel roads. He would stay right in line with Walmsley's and Hawks' pace until the very end, missing Hawks' record by 58 seconds. It was a performance surprising to all except those who know him.
"He loves being in the mountains and I just see him being really consistent and really happy with what he's doing now," says Foote. "We all know how talented Adam is, but I think this year has really put him on the map as one of the better trail runners in the country."
Hometown Hero
After JFK, Peterman took a two-week break to recover, but he's already looking toward 2022. He and Clark frequently train together on trails around Missoula. 
After her time racing on the roads, Clark also drifted toward the trails. She won her first 50K, El Vaquero Loco in Wyoming, and later earned a Golden Ticket to the Western States 100-mile by placing second at the Bandera 100k in the 6th fastest women's time ever at the race. She ultimately DNF'ed at Western, but she and Peterman both hope to earn another Golden Ticket in 2022.
"He always knew he wanted to go into trail running. It was a natural move for him to go that way," Clark says of Peterman's success. "To see how hard he works finally start paying off for him has been so amazing. I don't know anyone who works harder."
Between training and racing, Peterman works putting on races with Foote at Runner's Edge, Missoula's local running store, and has now coached for four years at his alma mater, Hellgate High School, teaching kids just like he was how to love running.
"Hellgate is what got me into running, and it's fun to be back with the program," he says. "It's so much fun. It feels like they're giving back a lot more than you give them. You learn a lot from those kids."
If he wasn't running, he thinks he would be working outdoors, perhaps with the Forest Service, like he did in New Mexico after college. But he doesn't see that happening anytime soon. He says he has "unfinished business" at the Pike's Peak Marathon, and he feels like he's still got plenty to learn when it comes to trail and ultra running. Most importantly, though, he's still having fun.
"The thought of not running anymore just started to eat away at me, and I just knew I had to go back," Peterman says. "It's worked for me so far. I'll keep doing it as long as it's working."
Reagan Colyer is Trail Runner's assistant editor. She lives in the Northern Rockies of Montana and came to the trails after college as a middle-distance track athlete. She is a copy editor by trade and a reader of literally anything.