From Walking One Mile to Running 200 Miles
Nine years ago, Callie Vinson could barely cover a mile on foot. This week, the Indigenous Choctaw runner is attempting to complete the Moab 240. 
Heading out the door? Read this article on the new Outside+ app available now on iOS devices for members! Download the app.
In 2013, Callie Vinson was terrified to walk a mile. On October 7, 2022, Callie will run the Moab 240 Endurance Run, representing her Choctaw community. 
The course circles Utah's La Sal Mountains and crosses the deserts of Moab. Runners traverse canyons, mountain ranges, and mesas, surrounded by Canyonlands and Arches National Park. Before the area was first colonized by missionaries, it was the homeland of the Ute Indigenous community. The beauty of the land is quickly checked by the sobering effort required to complete one of the most challenging ultra-running events.
Just a few years ago, the thought of competing in such a race wouldn't have crossed her mind. After graduating from the Savannah College of Art and Design in Georgia, Callie moved to Chicago to begin her career in advertising. At that time, work dominated her life, movement was almost nonexistent, and daily fast food ventures fed her diet. Things crescendoed one weekend before a brunch outing.
RELATED: 7 Body-Image Resolutions for Trail Runners
"One day, a friend wanted to go to brunch, and they were like, 'It's just down the street. We can walk there,' Callie recalled.  "And in my head, I was like, 'there's no way I can walk to brunch. It's too painful. It was like a mile away.' And that was where I was like, 'you know what? I really need to make some sort of change.'"
Since then, she's lost over 200 pounds and reshaped her life. With the physical change came a lot of mental ones, too. She woke up each day with more energy and confidence. With her new found confidence, she began setting goals in running, work, and passion projects. 
Baby Steps
Her journey was filled with trial and error. She started making her lunch every day and then made dinners. After she dialed in her nutrition and began exercising, these small changes generated momentum. 
An initial run around her Chicago block involved a series of rest stops. "I had to stop a couple of times because I was so winded, and it hurt so much. My lungs were on fire," Callie said. Before too long, she was running around the block without stopping.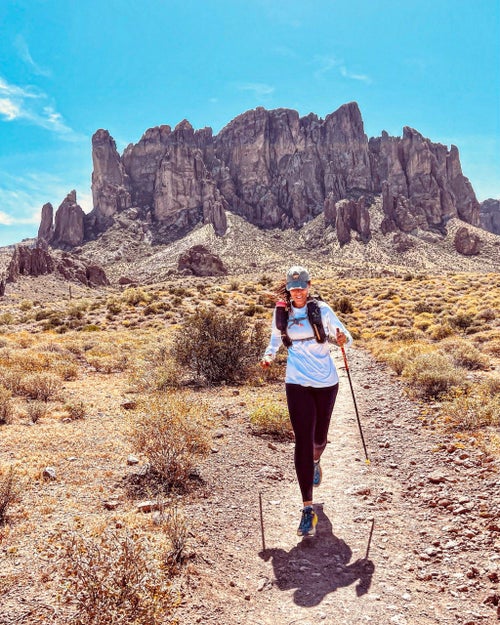 Early on, she often felt goofy or foolish running in front of people. As a result, she would only run in the early mornings or late at night for fear of looking ridiculous to others.
"I just kept at it, and finally made half a mile into a mile, a mile into two miles," Callie said. Soon, a newbie runner's feelings of agony and pain were replaced with joy and pleasure. 
With the help of a marathon plan from Hal Higdon's book, Marathon: The Ultimate Training Guide, she ran the Chicago Marathon in 2016 – just three years after being scared to walk a mile. In doing so, completing that marathon shifted the trajectory of her life. 
This altered her perspective on what brings enjoyment. Previously, "good days" consisted of work, happy hour, and then going to a late-night restaurant. Now, the ingredients for great days are early morning runs, work, taking her dog on a hike after work, and being in bed by 8 p.m.
Baby steps.
Running now serves as a meditation and a way to work through life's problems. "I definitely use running as my me time. And I use it to just, you know, either center myself or think through something," Callie said. "It's almost like the longer I go, the better I get into this more meditative state. You're just calming all of your thoughts."
Previously, "good days" consisted of work, happy hour, and then going to a late-night restaurant. Now, the ingredients for great days are early morning runs, work, taking her dog on a hike after work, and being in bed by 8 p.m.
During the height of the pandemic, Callie tapped into her creative side, too, designing several pieces of Strava Art and "mural hunting."
"I would hone in on one mural artist in Chicago, and I would go and just touch every one of their murals around the city. There's one I did around an artist called JC Rivera, and I think I hit up like 16 murals," Callie said.
Representing Native Women Running
Callie is part of the burgeoning movement of Native Women Running, an online running community founded by Verna Volker for Indigenous female runners. The platform serves as a space for Native women to share their stories of accomplishment to facilitate healing, growth, and motivation. They've built a vast community of Native women runners, increasing the visibility of Indigenous women in a running community that has historically excluded them.
Shortly after relocating to Arizona, Callie instantly felt a connection to her Choctaw tribe. Since then, she's been actively working to honor and raise awareness of Native peoples, Native women, and Native runners.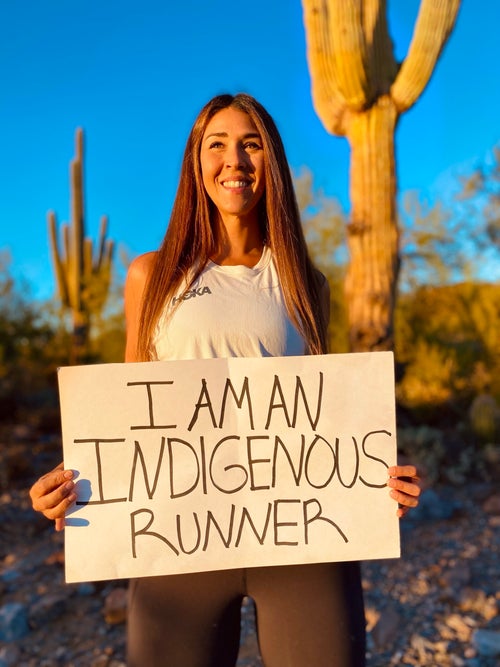 "I started posting on Instagram, just trying to help raise awareness for the group and just raise awareness for Native runners or women runners," Callie said. "I do what I can to help represent, raise awareness, and spread the cause."
Volker is encouraged by Callie's transparency. "Callie's journey has truly been inspiring. When I started following Callie, I was impressed with her running ultra races, but I have seen her go beyond that. Now she embarks on crazy 100- to 250-milers with ease and determination," Verna said. "She has been transparent about her weight loss journey, and I think that resonates with a lot of people who struggle. We can all look at her and be inspired that we can do that too."
Expectations for the Moab 240
Beginning and ending in Moab, Utah, runners have 113 hours to complete the single 238.2-mile loop while facing 28,893' of ascent and 57,756' of total elevation. Runners weave through Indian Creek, Shay Mountain, minaret-like sandstone structures in the Needles, the high-elevation of Geyser Pass (10,528'), and Porcupine Rim.
RELATED: How Carol Seppilu Found Hope At The Leadville 100
Heading into the Moab 240, Callie's training anchored on back-to-back-to-back weekend runs, ranging from four to five hours each. In Utah, Callie is focused on running the runnable sections and hiking the others, especially depending on how much food and water is in her pack. She plans to fuel with RX bars, mashed potatoes, and fortified cereals as much as possible. Because she doesn't want to get in a situation where she is too sleep-deprived, she also plans to take advantage of each sleep station to at least put her feet up.   
Callie's journey to running the Moab 240 is one many have gravitated towards – partly because of her weight loss journey. As such, she is mindful of the message and focuses on body positivity, especially for ultramarathons. 
"I think there's a stigma around what an ultra runner should look, but really anyone could be out there. It doesn't matter if you're at the beginning of a weight loss journey. Weight loss isn't even on your radar if you don't want to. No matter your body type, I always say, 'you can get out there, and you can do this.' It might take everything you've got, but you have what it takes to get it done." Baby steps.