One Man's Wild 92-Mile Journey Through Grief And Self-Discovery
A biologist's epic quest to run the migration path of the mule deer he studies in remembrance of his father.
Heading out the door? Read this article on the new Outside+ app available now on iOS devices for members! Download the app.
I stood there, arms raised, begging my GPS to find a signal.
As I crossed the remote mountain border between Colorado and Wyoming on mile 37 of a 92-mile run, the rugged trail I had been following suddenly disappeared into a wall of ghastly gray downed trees, remnants of the recent bark-beetle epidemic. The thick canopy overhead had blocked the fragile link between my GPS and SPOT devices. Alone, calorie-depleted and far from help, I felt painfully isolated. It was the same feeling I had nine months earlier, as I sat beside my father and watched his life come to a premature end. Devastated by that loss, my life spiraled into an abyss of depression, the path out of grief nowhere in sight. 
My dad, Neil, was a kind, joyful man with wavy, gray hair, frequently adorned with a sweat-soaked National Geographic Today ball cap and a plain black T-shirt (also drenched in sweat)—his signature hiking apparel on a hot summer day. Neil was a lover of the wild—wildlife, wild places and— never shy to shout it from the mountaintops—wily me. Our adventures hiking, fishing and hunting in the mountains together instilled in me a same love for the wild, so much so that I decided to become a wildlife biologist to try and conserve what fleeting wildness remains.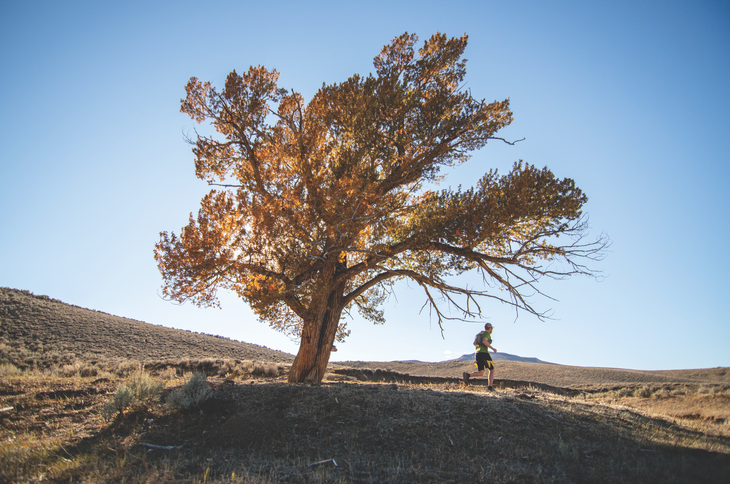 The Mule Deer
I have spent the last seven years studying one of the West's most iconic wildlife species—the mule deer. Since the year 2000, mule-deer populations in Wyoming have declined by over 40 percent, their seasonal migrations threatened by a growing human footprint. Understanding their movements is a critical piece to the intricate puzzle of ensuring deer will be around for future generations. The landscapes that sustain these epic treks—upwards of 240 miles—are often shared with a host of other human activities, from energy development to outdoor recreation. Fences, highways and railroads crisscross migration routes—some of which have been travelled for thousands of years—limiting the deer's ability to access critical habitats and making these journeys more perilous than ever.
My research examines how males, in particular, migrate, and whether human activity impacts their movements. To track their every move with precision, we outfitted 95 deer with GPS collars, which was like having a Strava app for each animal—King of the Mountain went to the deer with the longest migration. We were just starting to get a glimpse into their movements when I came to a pertinent realization: scientific data is worthless unless it leads to real-world improvements. This paradigm shift would alter my career and lead me to do something most normal folks consider plain stupid: run the length of a long-distance mule-deer migration route (around 92 miles), telling the story on film to convey the challenges of migration to the rest of the world.
RELATED: Jenny Jurek Comes Full Circle On The Appalachian Trail
Father Figures
My dad was a huge supporter of the run. In fact, he had a way of making me feel like any idea I passionately brought to the table was the greatest idea on the planet. Like the time I suggested we pack an entire cooler full of food and beer three miles in the backcountry—I've got pictures to prove it. With dad, life felt like one of those races that couldn't get any better: the sun on our faces and the grandest outdoor playground at our fingertips. But all races have a finish line.
In the summer of 2017, my dad was rushed to the hospital for emergency surgery to excise six tumors from his brain. In the course of one day, it seemed our adventure would prematurely end in the shadow of a staggering mountain called "cancer." His prognosis was grim: four months of life, at most. Dad cautioned me almost daily: "Life is fleeting."
With this mantra and the memory of my father at the forefront of my mind, I set out to run the migration route of the mule deer in September of 2018. Over the course of three days I ran from the 11,000-foot alpine forest of northern Colorado to a 6,500-foot, windswept basin of Wyoming. Since deer only sometimes follow worn game trails, I couldn't "run" the exact migration route (nor did I run during the migration season, so as to not disturb migrating deer). I had to connect hiking trails, two-tracks, old logging roads, the occasional gravel road or sometimes no trail at all. It was the burliest route I'd run to date.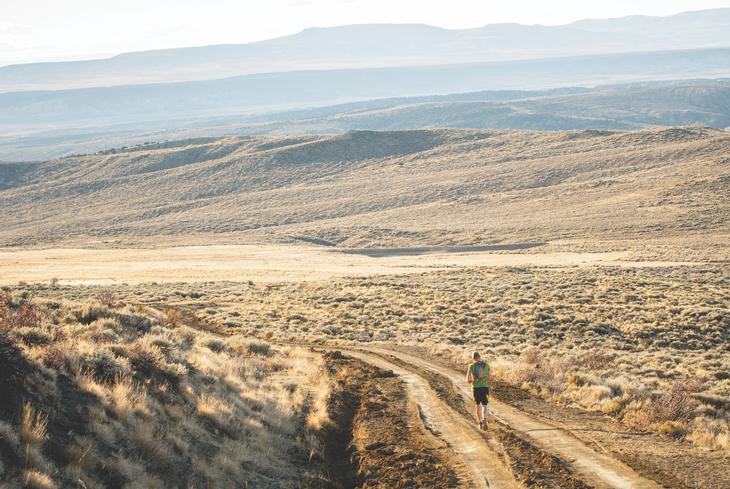 A Long 92-Miles
The run was going great on Day One, even with a sore throat and a lousy four hours of sleep. But then came mile 37 on Day Two, with its massive heap of beetle-killed trees and no trail in sight. An hour of lunging over logs and crashing through branches left me tired, bloody and only a half mile from where I had first lost the trail. In a panic, I recklessly sped up. But over the commotion, I remembered what my dad would say to me as a boy in high-adrenaline mountain situations: "Take your time … just take your time." Suddenly, I didn't feel so alone anymore. Slowing my breath and pace, I found my way out of that dead, dark forest, and was welcomed by a glistening meadow, the balm of the sun and the soft babble of the Little Snake River.
The final day of the run, Day 3, I moved on tired legs from the cool, lush mountains to the hot, food-scarce sagebrush steppe. Mule deer rely heavily on sagebrush to survive long winter months, until mountain snows melt and animals can return to the high country in spring. However, sagebrush ecosystems are among the most threatened in North America, a major factor in the decline of deer populations.
Migration is a journey of risk and suffering: dodging semis on perilous highways, tearing ligaments in barbed-wire fences or searching for food while trying to avoid becoming food for a hungry mountain lion. Indeed, "life is fleeting." Yet through it all, mule deer seem to possess a transcendental ability to keep their heads up and keep moving, as if their lives depend on it (which they do).
My dad finished his life's race on December 15, 2017. His life inside of me was a huge reason why I kept my head up and finished those long 92 miles. Loss is an inescapable part of life's grand migration, and without a doubt, I will have to grapple with that reality for the rest of my life; we all must. Yet as I navigate this beautiful wild life, at least I know I'm not alone.
Patrick (Pat) Rodgers is a research scientist and science communicator at the Wyoming Migration Initiative at the University of Wyoming. His story is highlighted in the film 92 Miles: A Migration Story, produced by Cold Collaborative. You can watch the film, and learn more about how you can help support wildlife migrations at www.trcp.org.