Sage Canaday Is Back
After a health scare and a destructive apartment fire, Sage Canaday is returning to the racing scene. And he's not messing around.
Heading out the door? Read this article on the new Outside+ app available now on iOS devices for members! Download the app.
In May of 2021, professional trail runner Sage Canaday, 36, was rushed to the ER and diagnosed with bilateral pulmonary embolism (blood clots in both lungs). For more than 4 weeks, Canaday had thought that he was battling COVID, then pneumonia. But when he woke one Sunday morning with heavy chest pain, he knew it was something more serious.
"Back pain and muscle pain were my first symptoms," Canaday said. "It was hard for me to lay down and sleep. Then I had a hard time breathing." He delayed going to the doctor because of worries about the cost, but eventually he knew he had to get checked out. "They did an x-ray, they tested me for COVID, I tested negative — I always tested negative for COVID. The x-ray wasn't super clear but they suspected it was pneumonia, so I took antibiotics for 10 days, and I thought I was feeling better. I think it was just that I was resting more than usual."
Canaday had been dealing with a hip and back injury, so he hadn't been running at all over the course of the illness. But after a month of very little training, he still wasn't feeling better.
"I really struggled breathing. I'd try to run on a flat path in Boulder [Colorado] at a 10-minute-per-mile pace, and I couldn't hold it for even 40 seconds," Canaday said. "Going up a flight of stairs would make me totally out of breath. Eventually it got to the point that I tried to do a run and couldn't do it, so I was walking, and then I started feeling severe chest pain right under my heart."
Canaday went to bed that night but woke up to the same pain. "I knew I couldn't get through the day so I told [my girlfriend] Sandi [Nypaver] that I needed to go to the emergency room."
RELATED: Sage Canaday Talks Recovery, Road Biking And Getting Back To Running
There, they ran several blood tests, an ultrasound of Canaday's heart, an EKG and a CT scan. It was the CT scan that allowed them to find the pulmonary embolism, which is incredibly rare for a 36-year-old man. Canaday soon learned how serious the condition was.
"A lot of people have a heart attack and die from this," he said. "They injected me with blood thinners in the ER, and I was kind of in shock." He spent the night in the hospital and was faced with a terrifying situation: "They asked me about my will and asked me what I wanted to write down in case I went brain-dead."
Canaday said that being a mountain athlete is a slight risk factor for his diagnosis — training at altitude can sometimes result in blood clots — but it is fairly minimal. Doctors also did an ultrasound on his legs to see if there were any deep vein clots, but found nothing. The cause of the ordeal is still largely a mystery for Canaday. He has no family history of pulmonary embolism, and no real answers for why this happened.  He was put on blood thinners for 3 months and got back to running a bit, but nowhere near his normal training schedule.
Then he got another CT scan, which showed his lungs to be much clearer. He also felt much better. "There is still scar tissue in my lungs, and I still feel it a bit."
Canaday was ready to get back to hard training, and after months of recovery, he was in a rhythm again. But in October of 2021, another unexpected crisis struck: He and Nypaver lost nearly everything they owned in an apartment fire, the cause of which is still under investigation. The two had purchased a 400 square foot apartment in downtown Boulder in 2017, just enough space to live in and enjoy the gorgeous balcony views of the Flatirons.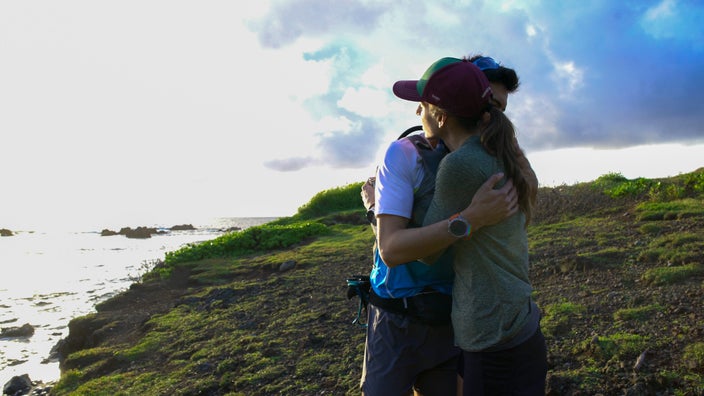 "It was all we could afford at the time and we saved and scraped up enough money to barely make the down payment all on our own," Canaday remembers. "It was a bit small and cramped for two people (who worked from home) and with a lot of outdoor gear, but it was our home."
They happened to be away from their apartment the night of the fire, and had their computers and a few belongings with them. They were in Salida, a small mountain town 3 hours south of Boulder, training, running and enjoying the mountains. Canaday said that the pair had actually been eyeing a move to Salida for a while — Nypaver had lived there before. So after the fire, they relocated and made Salida their full-time home.
"It's surreal to wake up and know that you lost basically all of your material items in one night," says Canaday. "And luckily no one died in the fire — that was amazing, because it was in the middle of the night." Canaday and Nypaver have been able to replace a lot of their things, and have had a lot of support from the running community. While the fire was tragic, Canaday also saw it as an opportunity.
"It was kind of cleansing," he says."I don't want to sound unappreciative of the material items, but in some ways it's nice to be back to the days where I can fit everything I own in one car and move around — that mobility is freeing and liberating."
RELATED: Max King vs. Sage Canaday…on Treadmills
Today, despite the setbacks and unexpected roadblocks, Canaday is feeling like himself again — ready to take on big milage and adventurous challenges. On January 19th, in an unannounced attempt, he set a new fastest known time on the 37-mile Haleakalā Sea to Sky route in Maui, Hawaii. The effort climbs to the highest point on the island. 
It was the first real test of his fitness after his recovery. "You run from the ocean, from the beach at sea level, and go up to the highest point, which is over 10,000 feet, and then back down."
Canaday lowered the previous supported FKT by just over 2 hours to a time of 7 hours, 6 minutes and 29 seconds. He also took the FKT on the ascent portion of the roundtrip, arriving at the top of the climb in 4 hours, 7 minutes and 9 seconds. The previous record on the ascent was 4:48:31. 
"I wanted to do something that showed my sponsors and myself that I've still got it — that I'm still going to put myself out there and compete. So I signed up for a race," says Canaday. He'll run the Transgrancanaria Classic Ultra Endurance Race on March 4.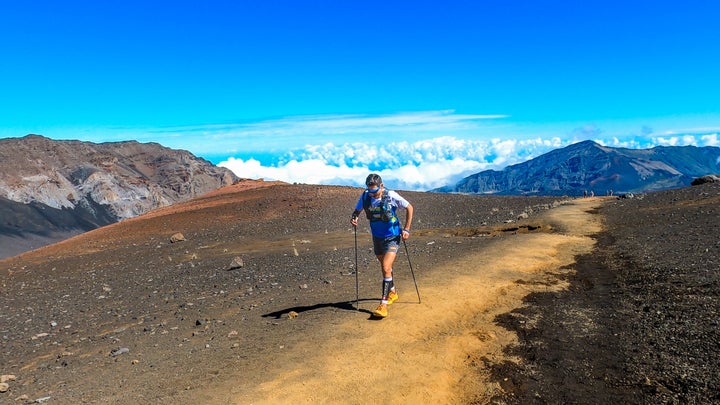 "Counting back from that race, I wanted to do a hard, long-run effort. It's a race on a volcanic island, with lots of heat and humidity." Transgrancanaria is an 80-mile race with about 23,000 feet of climbing. "A gnarly volcanic environment, so I figured what better way to prepare for [the race] than to go run up and down a volcano on technical trails with the heat and humidity?"
After going in not knowing what to expect from his body, Canaday was pleased with the effort and is excited to test himself again in March. At 72-degrees and 91% humidity for the FKT, Canaday said, "Haleakalā was probably hotter and more humid, and definitely more technical than Transgrancanaria will be. It was a good way to train with the trekking poles, dial in the nutrition and hydration, and a good confidence booster."
Canaday said he very rarely pleasantly surprises himself, but this was one of those days. "When I was climbing, I felt back to my old self again."
Besides Transgrancanaria, Canaday hasn't finalized his racing schedule, but he's planning to return to UTMB. He hasn't been back since 2017, when he finished 50th.
"I've always wanted to go back there, so that will be a big focus of my year — it's all kind of building for that."