John Kelly Sets the Fastest Known Time on Vermont's Long Trail
The quest for a sub-four day Long Trail continues, but Kelly sets the supported FKT in some of the rainiest conditions imaginable
Heading out the door? Read this article on the new Outside+ app available now on iOS devices for members! Download the app.
John Kelly, 38, from Tennessee, is one of the most prolific runners at unimaginably long distances. He's a two-time Barkley Marathon finisher and winner of the 268-mile Spine Race in 2020, a race that follows the Pennine Way in the winter—of which he currently holds the fastest known time (FKT).
These efforts take multiple days, over hundreds of miles, and cover some of the gnarliest terrain in the world. Kelly's recent run on the Long Trail is no different. He completed the 273 miles and 66,000 feet of elevation gain from Canada to Massachusetts along the Green Mountains of Vermont in four days, four hours, and 25 minutes setting the current FKT. The previous FKT was held by Vermonter Ben Feinson in four days, 11 hours, and 44 minutes. 
While no one has yet lowered the FKT to under four days, Kelly thinks it's possible, and Feinson agrees. "A four day Long Trail is absolutely possible. Having a world-class athlete come to the neighborhood and do what he did is absolutely what is needed to show people what is possible."
Covering nearly 300 miles in the northeast woods in under five days is no small feat. "Beast Coasters" know their trails are a different breed than the rest of the country. New England trails are infamously rocky, rooty, and technical compared to the more buffed trails of the west coast. Also, most trails in the northeast go straight up mountains instead of switchbacking. The Long Trail is no exception. Feinson described the trail as, "extremely technical with root nests and rock gardens and scrambling and just a ton of mud."
RELATED: John Kelly Sets Astonishing Record On The 260-Mile Pennine Way
Those trail conditions are a baseline, but Kelly faced additional challenges. He managed to squeeze in his FKT attempt between smoke from the wildfires in Quebec and the flooding that is happening now in Vermont.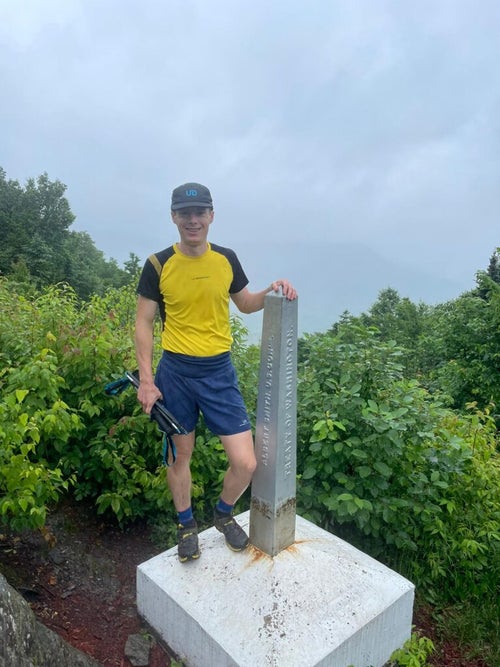 However, his run was not dry by any means. "It was drizzly and wet the first day. It was enough to keep me wet, keep my shoes wet, keep the trail wet, and keep the rocks wet," Kelly said. But one of Kelly's superpowers when it comes to big efforts is his ability to reframe. Instead of focusing on the miserable conditions, he thought of the rain as a "pace enforcer" through the first day. 
The second and third day were relatively dry but warm and humid, according to Kelly, which wasn't necessarily a good thing. "I'm still conflicted on which is worse, warm and dry conditions or drizzly and cool conditions," said Kelly. 
The rains came back the last day and transformed the trail into a creek. "It was ankle- to knee-deep water pretty much the whole time, flowing in most places," Kelly said. The last night, Kelly had to make decisions like lie down to rest and risk hypothermia or stay awake and keep running to keep warm. He chose to keep running.
Kelly is able to pull from his previous experience in multi-day events with tough conditions to  harness difficult experiences and use them as motivators. "I've found that those conditions, if I use them right and keep my mindset right, can help add focus and determination," he said. "Kind of an F you, I'll show you sorta mindset that is born out of frustration and is kind of retooling that frustration and using it to my advantage." 
Importantly, he also noted that that kind of frustration-fueled mindset can also burn you out, which is why he also chooses to focus on his family, his self-belief, and the team of strangers that came out to support him.
RELATED: How Self-Talk May Influence Long-Term Adaptation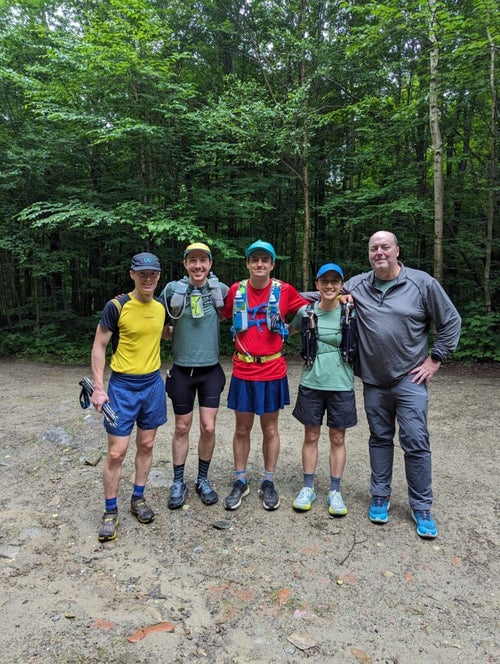 The Vermont and Long Trail Community
Before jumping on-trail, Kelly enlisted the help of the Vermont and New England trail running community. Feinson, a leader in Vermont's trail community and race director for the Aliza Lapierre Fan Club Trail Race, helped him prepare, and paced him for the first miles down from Canada. From then on, Kelly met up with different pacers from the area and connected with Long Trail experts to help him with logistics. 
Feinson was the initial connection into the Vermont and Long Trail running community, but so many folks helped out. According to Feinson, Kelly got advice and logistical help from Alyssa Godesky, the current Long Trail FKT holder for women, Nigel Bates, a Green Mountain Club employee with intimate trail knowledge who had gone for the FKT before, Aliza Lapierre, a Vermonter and elite trail runner who had also gone for this record in the past, and a host of other Vermonters and New Englanders.
Kelly rejected the term supported FKT. "Team FKT would be a better name for it," he said. "Maybe I was the quarterback of this team, but no one ever says the quarterback won the game supported by these other people. They say the team won the game."
"I think there is a lot of selflessness and humility in this community," said Feinson. "We have some absolutely top tier competitive athletes coming from Vermont, and you wouldn't even know it because they are so humble, they are so down to earth, and they are so kind."
RELATED: Beast Coast Runner Eric LiPuma Helps Team USA Earn Silver
Kelly initially didn't know many people in the New England area, and his support crew was mostly strangers. But nonetheless, he believed the running community would step up, and it did. "It is a big testament to the Vermont running community that they were able to come out and support an effort like this," said Kelly. "At a certain point you have to have faith in people and that's part of it."
Kelly rejected the term supported FKT. "Team FKT would be a better name for it," he said. "Maybe I was the quarterback of this team, but no one ever says the quarterback won the game supported by these other people. They say the team won the game."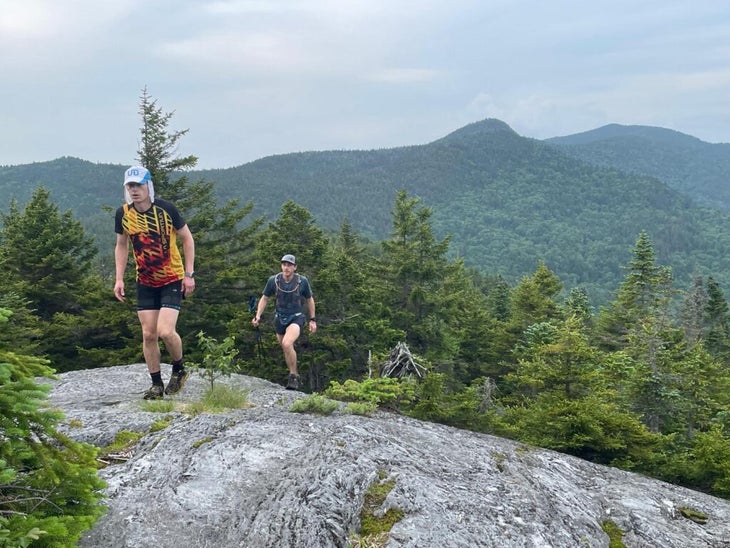 How John Kelly Trained for the Long Trail FKT
Another member of Kelly's team was his coach, David Roche. Roche was not on the ground in Vermont, but his support and guidance helped get Kelly there.
Kelly's training for this effort was not substantially different from anything else he has trained for. "I've trained for everything from a marathon to something like this, and my time and my mileage spent out there each week is very similar," Kelly said.
"What we like to do is make sure his running economy is as high as can possibly be," said Roche. "Then these types of multi-day adventures will be a much lower percentage of his ceiling, so there will be much less physiological stress, and he can focus on logistics."
RELATED: The Quest for a Simpler Way to Boost Running Efficiency
Kelly's abilities make him seem superhuman. He can move efficiently over the gnarliest of terrain whether its bushwhacking in Tennessee during the Barkley Marathon or moving quickly through the boggy terrain in England. He is able to turn low moments into motivation, not letting wintery or wet conditions affect his ability to finish big events. On the Long Trail, he was able to persist through a cold and rainy night after he had been running for four days. The list could go on. But what inspires Roche the most about him is that he is, indeed, human.
"He never lets those doubts consume him to the point where he doesn't give something a try," said Roche. "Even when that thing that he's trying seems utterly impossible."
John Kelly consistently pushes the envelope of what is possible. "He's pretty undeniably one of the best athletes we've ever seen in ultra-endurance," said Roche. Kelly was going for what seemed impossible, a sub-four day Long Trail. And although he missed it slightly, he was excited about potentially setting someone else up for an attempt."I'm excited by the prospect that maybe my time makes someone else excited about beating my time and taking it under four days."
According to Feinson, it has. "It takes something incredible like John's run to remind you that you can set bigger loftier goals," said Feinson. "I think that there are several Vermonters that have a fire lit under them right now who are inspired by what John Kelly did and want to take the record back for Vermont."