After Near-Fatal Fall, Hillary Allen Finds Strength in Silver Linings
During a race in Norway, Hillary Allen fell from a ridge and nearly died. Now, she's recovering and looking toward the future.
Heading out the door? Read this article on the new Outside+ app available now on iOS devices for members! Download the app.
Hillary Allen doesn't remember much about falling off the edge of Hamperokken Ridge. What she does remember is in fragments: a stumble, a feeling of freefalling, trying to grab onto something to stop her momentum. She remembers lying on a bed of talus, utterly shocked and in extraordinary pain. She'd been nearly halfway through the Hamperokken Skyrace 50K at the Tromsø Skyrace series.
Allen, 29, had arrived in Tromsø, Norway, a few weeks earlier, in late July, brimming with excitement at blending her two favorite things: travel and trails. Her third competitive season as a The North Face ultrarunner was done, so the Tromsø iteration of the World Skyrunning Series was a lark: cap off three months of continuous travel, cross a new country off the list and wrap up another adventurous summer before beginning the school year as a science professor at Front Range Community College outside Boulder.
But what began as an end-of-summer celebration was nearly the end of her career in ultras, and almost took her life.
Growing up in Fort Collins, Colorado, Allen has been entranced by the mountains for as long as she can remember. She played tennis in college, and began running in 2013 while in grad school at UC Denver. She quickly realized that she had a knack for longer distances. A year later, she won the US Skyrunning Series, a circuit of mountain ultras in which points are awarded to top finishers.
"I kind of got into it by accident," Allen says. "I started running and had no idea that ultrarunning was even a thing. I just really love the explorative nature of it."
Over the ensuing three years, Allen has set course records on the Speedgoat 50K and The North Face Cortina Trail Path 48K and was third in the Ultra Skyrunning World Series last year. She arrived in Tromsø with fresh, tapered legs, filled with her usual bubbly excitement. After all, this was just for fun. As the race began on August 5, she found herself in good position, especially once she hit the high ridges up in the Norwegian mountains.
"I felt myself get stronger," she remembers. "I knew I was catching up to the other girls. It was kind of unfortunate that the whole fall happened."
RELATED: Hillary Allen Returns To Norway In Search Of Redemption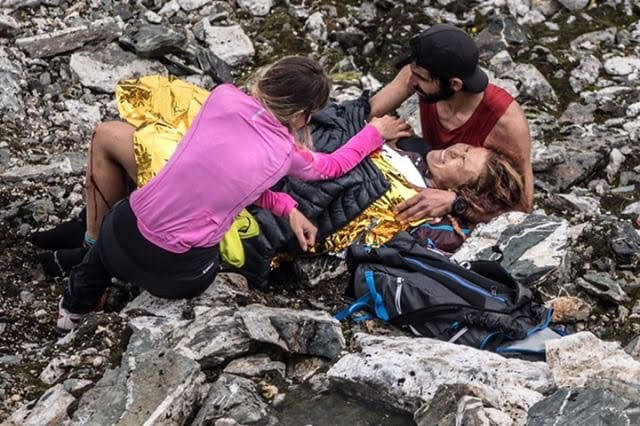 She never made it to the fifth station, at 26.5K.
The Hamperokken Skyrace in Tromsø connects the summits of Tromsdalstinden and Hamperokken, from the seaside town of Tromsø. The route is largely technical and off-trail, with nearly 16,000 feet of elevation change over 50K. The most technical part comes on the Hamperokken Ridge, a narrow, exposed section of boulders, scree and snow. The rocks are loose, and there is a sheer drop to both sides.
Allen, whose nickname is "Hillygoat," thrives on this kind of challenging, extreme terrain. As she gained the steep, rocky ridge, which had been recently rained on, she felt focused and was enjoying herself. Then a rock either above or below her (she doesn't remember much about the next few minutes) began to roll. She had no time to correct.
"I realized I was still falling and tried to grab onto something, a rock or a branch, repeating that several times," Allen says. "I was told I hit the mountain about six times."
After 150 feet, she finally stopped falling. In the scraps of memory she does have, she remembers seeing people she recognized: medical staff, some photographers who had been on the ridge and several competitors who had been just behind her and scrambled down to help. They kept her talking, awake and aware until a helicopter could arrive. Norway's typically foggy fjord weather had abated enough to make an airlift possible.
A couple of hours later, she was in a hospital with a laundry list of injuries: two broken ribs, a couple of fractures in her back, a ruptured ligament in her foot and two broken wrists. The only thing that surprised her was that it wasn't worse.
"I didn't fracture my skull, and the bone [injuries] in my back were minor," she says. "People have died or been paralyzed in lesser falls."
She spent eight days in that hospital before being discharged to fly back to Denver. She'd had one surgery on a wrist before she left, but they weren't healing they way doctors had hoped, so she had two more, plus one on her foot, within 48 hours of arriving back at home. She had one usable limb: a leg that bore a sprained ankle, making getting around nearly impossible. Her broken wrists meant she couldn't use crutches, so she got a special walker that allowed her to bear weight through her elbows.
RELATED: In Hillary Allen's Quarantraining, Everything Counts
As the slow healing process began, Allen measured her life through different metrics. Instead of choosing a peak to tackle, she'd pick the coffee shop farthest from her house and "scoot" there as best she could. The days felt longer than they used to.
"It's a huge change to go from being in the middle of my season exploring new terrain to suddenly be so limited in mobility where even lifting a coffee cup is a big deal," she says.
She has replayed the fall in her mind, but doesn't think she could have done anything differently.
"It's just a random occurrence," she says; stepping at just the right angle and with just the right force on just the wrong part of a rock that wasn't stable. All the runners on the ridge ahead of her had made it across, and there was no reason she shouldn't, too. It's a testament to the unpredictability of seemingly immovable terrain. And Allen knows that.
"I mean, I love the mountains," she says. "But I respect them."
Less than a month after her injury, on September 3, 2017, Allen flew from Colorado to Bozeman, Montana, to watch The Rut Mountain Runs. She was fifth at the Rut 50K in 2014, second in 2015 and third last year. She wouldn't miss the event.
Still, it's jarring to see her on the sidelines, under a The North Face tent with a boot on her right leg and braces on both wrists, instead of lined up with the others on the start line at the base of Big Sky Resort. She's not the only one who's sad not to be there; she spends the day surrounded by friends and fans, and there's a bittersweet vibe to it all.
But her effervescent personality and bright smile haven't dimmed. Allen is chatting with athletes, spectators and even the photographers in the finishing chute; she seems to know everyone. And everyone is excited to see her, a bright spot on a day bookended by the rolling in of smoke from Montana's wildfires. She embodies the silver lining she's been trying to find through the last few weeks.
"Sometimes I wonder, "Why? Why me?" she says. "But there's no answer, and I don't even think it's worth it to wonder.
"I see this as an opportunity to grow stronger."
RELATED: 5 Things We Learned From "Out and Back" By Hillary Allen