The High Cost of Not Being Transparent About Skipping a 14er
Erin Ton dashed to the summit of 57 of the Colorado's 14,000 peaks in a little more than two weeks, but skipping Culebra Peak has caused a firestorm of backlash
Photo: Courtesy of Erin Ton
Heading out the door? Read this article on the new Outside+ app available now on iOS devices for members! Download the app.
To say that Erin Ton has a knack for going vertical is an understatement.
The 25-year-old high-energy Boulder, Colorado, mountain athlete has spent the last several years completing hundreds of technical routes with huge vertical gains.
Since she hiked her first 14,000-foot peak in Colorado—Mount Elbert, the state's highest peak at 14,439 feet—with her dad and younger sister just five years ago, she's become an uphill fanatic. Through a combination of hiking, trail running, scrambling, and rock climbing, she's reached the summit of 94 of the 100 highest peaks in Colorado and last year alone racked up a stunning 1.3 million feet of vertical gain.
Along the way, she's logged numerous Fastest Known Time (FKT) efforts on popular 14ers like La Plata Peak (14,436 feet) and Mount Antero (14,275 feet), as well as the 99.2-mile double Rim-to-Rim-to-Rim journey across the Grand Canyon and shorter, steeper routes like Arizona's 7.1-mile Devil's Playground Loop and Hawaii's 15-mile Kauai Weeping Wall.
Plus, in what perhaps gives a glimpse into Ton's unique mix of flamboyant flair and authentic mountain achievement, she's also ascended 22 of Colorado's 14ers wearing high heels, several times while wearing a cocktail dress.
Last month, in what was equal parts glitter and grind, Ton recently completed one of the most rigorous Colorado mountaineering endeavors ever attempted, reaching the summit of 57 of the state's 14,000-foot peaks entirely self-supported in 14 days and 10 hours. She started by going up 14,089-foot Windom Peak in the San Juans on July 16, and finished on July 30 by descending 14,138-feet Capitol Peak in the Elk Mountains.
In all, she covered 365 miles on foot and 159,356 feet of elevation gain in a little more than two weeks—not to mention hundreds of miles of driving in a borrowed Jeep Wrangler and puzzle-piecing together an endless array of logistical details while dodging stormy weather, traversing peaks and ridgelines in the dark, and sleeping only a few hours each night.
It's truly an astounding and tenacious effort of physical, mental, and emotional endurance and worthy of high praise.
"You kind of enter this numb state almost, and just gotta keep going and not think too much about it. It becomes your lifestyle," said Ton, a La Sportiva-sponsored athlete, a day after completing her epic journey. "I was actually pretty happy at how well my body held up, but it's also that you're just going through so many emotions out there, and there's such a contrast between the beautiful scenery and then the amount of physical discomfort you're in. There are so many reasons that you want to bail and quit, but you just have to commit yourself to it and keep going."
RELATED: How Sports Psychologists Define Mental Toughness
There's Much More (and Less) to the Story
Although Ton battled dangerous lightning storms in the treacherous Crestone group of peaks and other points during her epic quest, it was when she finished that things got really dark and murky.
Upon completion, she proclaimed on Instagram to have set a new women's self-supported 14er speed record that not only surpassed the previous women's supported FKT set by legendary Colorado endurance athlete Danelle Ballengee in 2000 (14 days, 14 hours, 49 minutes)—the only woman ever to attempt a speed record before Ton—but also broke the overall self-supported mark set last year by Minnesota athlete Daniel Hobbs (14 days, 17 hours, 33 minutes).
However, despite originally claiming a time that she believed could be the new unsupported and women's FKTs, Ton wasn't initially transparent about the fact that she didn't summit 14,053-foot Culebra Peak, a remote and prominent summit on private land in the Sangre de Cristo mountain range that requires a reservation and a $150 use fee. Although Ton's Strava account shows digital reports of the trips she made up and down every other peak, she more or less disregarded the peak in her extensive Instagram posts during her journey.
In mountaineering and trail running, transparency goes hand-in-hand with integrity and authenticity. Without each of those key pillars, your credibility—and perhaps your adventure-related objectives—will likely fall apart. Whether she was hoping to climb Culebra by showing up at the property gate and pleading her case, trespassing onto the property and poaching it (despite already being caught once), or perhaps tagging along with her boyfriend, Chris Fisher, who was simultaneously attempting his own run at a supported Colorado 14er FKT in mid-July, remains to be seen. (Ranch managers searched Fisher's vehicle to make sure she wasn't there when he arrived to hike.)
But days after finishing her epic 14er quest, she's said, given her poor relations with the Culebra land managers—she was caught trespassing once and has talked poorly about them online—she never intended to include that peak in her whirlwind tour of the mountains and was actually trying to finish the other 57 Colorado 14,000-foot summits as fast as possible.
Still, her original claims caused a firestorm within the Colorado mountaineering and 14er hiking communities, especially on the community forum threads of 14ers.com—both because she's had a penchant for calling out slower, more casual hikers with aggressive language and that she has blocked people on her Instagram account for posting negative or antagonizing comments. While numerous forum posters have celebrated Ton for her extraordinary 57-peak effort—as have thousands of followers on her Instagram account—many have made derisive comments to her for not being more transparent about skipping Culebra, and have been adamant that she didn't break the previous FKT marks because she didn't complete the same set of peaks.
Buzz Burrell, co-founder of the Fastest Known Time (FKT) website, figures there are two ways of looking at it.
"First, yeah, she really threw down an extraordinary effort and had one of the best times ever. Good for her. Secondly, she didn't do 'em all … so she didn't do 'em all, and the FKT is for doing 'em all," says Burrell, who is no longer involved with the FastestKnownTime.com in any official capacity but is aware the slippery slope of skipping a peak or not doing a complete route. "If you say, 'Well, that's close enough,' you can't do that because the people who ran themselves ragged while doing it—and did Culebra—you're dissing them. So someone has to say, 'Gosh, sorry you didn't do it' and take the heat on social media because the people who did it and don't think she should get it can't really come out and say that on social media because social media is kinda like a mob scene."
Indeed, it is. By the evening of August 2, only about 72 hours after she finished her incredible journey, Ton had read hundreds of derisive comments—suggesting that she was immature, fueled by social media notoriety, lacked mountain ethics, and much worse—and was languishing in tears.
"The fact that Erin is blocking everyone asking about Culebra is clear as day to me that she didn't summit the peak. This is an incredibly immoral and unethical breach of transparency," said one 14er.com forum poster under the username ArthurSpiderMan. "It was a great time she set, but not being forthright about her Culebra skip is unfortunately par for the course based on her track record. I highly respect Erin as an athlete but her disgusting comments in this forum and dishonesty about FKTs is nothing but childish. … Hope she can grow up."
Although she hasn't yet made an official FKT submission for approval, she has pulled back from her original claim and has suggested she hopes the FKT site would accept her effort as a new "Colorado 14ers ABC" category, with ABC meaning "All But Culebra"—something that was initially suggested by someone on the 14ers.com forum.
"People can be brutal and makes me wish I had never gone for the record in the first place. Just ready for people to understand my perspective," Ton said on August 3. "I'm still trying to be proud of myself and what I accomplished because there were a lot of moments out there where I didn't think that I was gonna pull it off and make it through. It's just hard trying to defend myself to people who don't know me and don't know my intentions. It's just hard trying to convey that my intentions were pure."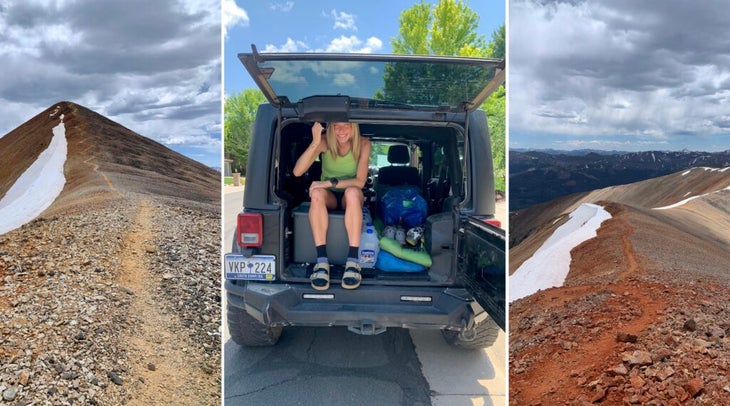 14er FKT Attempts Are Never Easy
Completing all 58 of Colorado's 14ers in a lifetime—let alone a single summer—takes a high level of aerobic fitness and physical strength, a familiarity with the routes up and down every peak, extensive route planning, one eye always on the weather and an enormous amount of preparation. Several peaks require technical scrambling and maneuvering over treacherous knife-edge ridgelines. But more than anything else, though, such a quest—or really any extended period of time in the mountains—requires (and teaches) patience, humility, and respect, Burrell says.
But the two biggest variables to doing all of the 14ers in one fell swoop are getting a ticket for the Durango & Silverton Narrow Gauge Railroad and an approved permit application for Mount Culebra through the Cielo Vista Ranch. The railroad allows hikers to get off its early morning train at Needleton for direct trail access to the remote Chicago Basin portion of the Weminuche Wilderness Area, where Windom Peak (14,089 feet), Sunlight Peak (14,061 feet), Mount Eolus (14,087 feet), and North Eolus (14,042 feet) are located. As for getting access to Culebra, the ranch requires a waiver and a $150 fee to be submitted through its online reservation system in advance to secure a specific climbing date.
"The logistics of the Colorado 14ers are a big deal, and everything's built around the train and Culebra permit," Burrell says. "You get the Culebra permit for one day and you gotta be there on that day, and everybody knows it. So people give up time, they give up efficiency just to do that."
Ton had been planning her speedy 14er excursion for months, but because of fast-changing weather patterns were about to bring monsoons to the San Juans—she had been alerted by Chris Tomer, a noted meteorologist known for his expertise of the changing weather patterns in the Colorado mountains—she decided to move up her start date by a few days.
She inquired on social media to try to find a hiking group that might have an extra train ticket, but when she didn't get one, she improvised by leaving her Jeep in Silverton and, after getting a ride to Purgatory Resort, hiked 15 miles into the Chicago Basin Wilderness Area and camped before beginning her quest early on July 16. (The official clock for an unsupported 14er FKT attempt begins at the start of the first 3,000-foot ascent of the first peak and ends after the final 3,000-foot descent, so getting assistance beforehand is compliant with FKT rules.)
After reaching the first four peaks in the Chicago Basin in a 15.75-mile route with 5,974 feet of vertical gain, she ran the trail down to Needleton in time to catch a short nap before riding the day's final northbound train to Silverton. Even though she didn't have a train ticket, the conductor let her on—the railroad typically doesn't turn away returning hikers late in the day—and rode the train an hour into Silverton, where she got her Jeep and the madness of her 14er journey really began.
Over the next two weeks, she ran, hiked, and scrambled up and down peaks—sometimes as many as five in a day—fueling on sandwiches and wraps she and her family had meticulously prepared in advance, as well as calorie-rich endurance drinks and protein-infused recovery shakes from Nom Nutrition.
Along the way, she read maps, drove to trailheads, found places to camp or sleep in her vehicle for a few hours, changed clothes, managed blisters, even dealt with a bloody nose once or twice. She traversed mountain tops in the morning, the afternoon, in the evening, and at night, relished in sunrises, sunsets, and star-filled skies.
The days and nights began to blur, and the longer she went on, the more grueling it became—it was physically fatiguing and extremely lonely—but she was in a zone doing what she loved and was determined to keep going. Things didn't go perfectly, but even with a few changes to avoid storms at Tomer's advice, she felt like she was living in another reality.
Two weeks went by in a flash of exhilarating fatigue, but to finish on Capitol—considered by many to be the hardest peak in the state because of its technical highly exposed scrambling sections on the way to the summit—and then meet Fisher and her parents for a celebratory dinner in Glenwood Springs was like a dream come true.
Then two days later, the dream turned into a nightmare.
"I know when you do these things you have this dopamine rush and you complete it, and then there's this crash and you feel horrible for a bit, and I'm sure it's compounded by the fact of how long it was," said Boulder's Jack Kuenzle, who has set numerous FKTs in the U.S. and Europe since 2019. "I really do feel for her. It's an awesome physical achievement. I can't imagine how hard it was. I will never attempt a record like that just because of how awful it would be. But it just seems like she didn't reserve a spot at Culebra and then she just tried to force it, and then is retroactively attempting to kind of justify it like it was intentional."
RELATED: Jack Kuenzle's Speed Record on Denali Was No Cakewalk
Peaks With Limited Access
Culebra Peak is one of a few Colorado peaks that are located on private land or require crossing private property to reach the summits and, as a result, have had, at times, limited or no access because of liability concerns. Those restrictions have thwarted or at least slowed individuals interested in reaching all of the state's highest points over the course of two weeks or an entire lifetime.
Landowner liability concerns reached new heights in 2019, when a federal court upheld a $7.3 million verdict awarded to a Colorado Springs mountain biker who crashed on a washed-out trail on the U.S. Air Force Academy property. That set a precedent for private landowners to close several popular hiking destinations, including the "DeCaLiBron" loop of Mount Lincoln (14,293 feet), Mount Democrat (14,154), Mount Bross (14,178 feet), and Cameron Peak (14,248 feet) in the Mosquito Range located less than two hours from Denver.
Mount Lincoln (14,293 feet) and Mount Democrat (14,154 feet) were closed for several months this year after the failure of a bill in the Colorado legislature that would have amended Colorado's recreational use statute (CRUS) to protect landowners who allow the public to recreate on their land. However, landowner John Reiber, who has owned mining claims around those peaks for many years, unveiled a solution in late July by creating an electronic waiver via a QR code posted at the trailhead. Working with the U.S. Forest Service, the town of Alma, the Colorado Mountain Club, and the Colorado Fourteeners Initiative, the waiver allows access to the land while absolving the landowner the risk of any injury liability.
Although Mount Bross remains closed, as does Mount Lindsey (14,055 feet) in the Sangre de Cristo range, Colorado peak-bagging hikers and trail runners have routinely poached the land without consequence to reach those peaks. (However, some, like Fisher, have sought individual permission.)
Access to Culebra closed briefly in the early 2000s, but the Colorado Mountain Club stepped in to help moderate hiking access via a lottery. Eventually, a few days of access was shifted to a hiking season with day-use permits—originally $50 and now $150. The property, now known as Cielo Vista Ranch, is a working agricultural operation that also offers seasonal climbing and hunting.
While Ton has said she doesn't believe a hard-to-access privately owned peak should be considered for FKT considerations, she says she also has moral issues with the Culebra Peak landowners because of the type of private hunting they allow on the land surrounding the summit. (Hiking season closed on July 31 and bighorn sheep hunting season began the next day. That will be followed by hunting seasons for deer and elk through November.)
Rumors and forum posts have suggested Ton is banned from the property by the landowners because she was previously caught trespassing on the land in an attempt to summit the peak without paying the fee, but only part of that is true. She was, indeed, caught trespassing, ranch manager Carlos Deleon says, but she's not prohibited from hiking with a permit.
Had she filled out an application for a permit and paid the climbing fee, would have she been able to hike the peak this year?
"She would've been, yes," Deleon said. "She's not banned, and that's what I thought was kind of weird. I've had a lot of climbers call me and tell me that she was saying that she banned and all this stuff. She got caught trespassing two years ago. She came out from the northern side of the property, and we caught her and filed on her—there's a picture she posted that you might have seen of her giving our guys the finger as they were walking her down the mountain—but that was it. "
Deleon, who has worked on the property for 21 years under three different ownership groups, says the ranch is willing to work with hikers on 13er and 14er quests—Red Mountain (13,908 feet) is adjacent to Culebra on the property—and occasionally even helps relocate the cars of hikers who wind up hiking off another direction away from the main parking area so they don't have to backtrack their steps. "We try to accommodate people as best we can," Deleon says. "But we just want to do it right."
All of the previous FKTs attempted and accepted since access to the peak became limited in the late 1990s have all included Culebra, Bill Middlebrook, the site administrator for 14ers.com, said in a forum post. And that includes Fisher, who set a new wintertime supported Colorado 14ers FKT in March, but he dropped out of his summer quest after completing 29 peaks in four and half days after signs of high-altitude pulmonary edema setting in.
Ton said someone sent her the code to the gate on the Culebra property and "do with it what you may," but she didn't even consider pursuing it.
"It is unfortunate and I wish she was forthright about the claim instead of choosing not to mention Culebra and blocking those who question it," Middlebrook wrote. "I, too, have been blocked from viewing her Instagram despite not having commented on her IG post."
Danelle Ballengee Set the Bar High for Women
In her prime, Danelle Ballengee was one of the world's greatest endurance athletes across numerous sport disciplines. In addition to being a U.S. Olympic Trials marathon qualifier and an elite Ironman triathlete when she was younger, she also won the Pikes Peak Marathon four times, earned numerous adventure racing world championships, and was almost undefeated in snowshoe racing. Now 52 years old and living in Moab, Utah, she's still an active athlete achieving at a high level, as evidenced by her recent two-day trek up and down 19,341-foot Mount Kilimanjaro in Tanzania.
She was always great at competing at high altitude—she took a bronze medal in the high-altitude marathon at the inaugural SkyGames in Cervinia, Italy, in 2000—but 14er speed records were a relatively new thing in the mid-1990s when trail runners started to get involved. Still, she admits she's surprised her women's Colorado 14ers speed record has stood for 23 years.
"It was a long time ago," Ballengee says. "I thought somebody would break it. You know, it's been a long time. Come on, somebody's gotta at least try it."
With help from a crew of friends and a lot of planning, veteran mountain runners Rick Trujillo and Ricky Denesik lowered the existing record to 15 days, 9 hours, 55 minutes in 1995, the same year that Peter Jones did all the peaks in self-supported fashion in 16 days, 13 hours, 43 minutes. Denesik lowered the mark again in 1997 to 14 days and 16 minutes, and by 1999 Andrew Hamilton sliced it down to 13 days, 22 hours, 48 minutes. (Hamilton set the current overall 14er record and supported FKT of 9 days, 21 hours, 51 minutes in 2015.)
By the summer of 2000, as Denesik was preparing to try it again, Ballengee, then 29, was intent on setting a women's speed record for the peaks. But both were unsure of how to manage the recent Culebra closure so they considered timing their epic 14er quests with the day the Colorado Mountain Club had negotiated with the landowners for hiking access.
Each had made individual requests, but it wasn't until Denesik was midway through his journey that he received permission. However, Ballengee, who also had already started, did not initially get approval and was going to have to wait to join the CMC several days later—that is until one of her crew members pleaded her case and she was finally given more immediate access. (In her whirlwind two-week jaunt around the state's mountains, Ballengee faced numerous bouts of bad weather that forced her crew to reconfigure her trip several times.)
Denesik went on to lower the record to 12 days, 15 hours, 35 minutes, but it was broken two months later by Ted "Cave Dog" Keizer's blistering 10-day, 20-hour, 26-minute effort. Ballengee, meanwhile, set an impressive initial women's mark of 14 days, 14 hours, 49 minutes and since then no other women are known to have attempted it until Ton's effort, although noted mountaineer Andrea Sansone, has made it clear she's been scouting this summer for an attempt in 2024.
RELATED: Andrea Sansone Sets New FKT on Legendary Nolan's 14 Route
Things Have Changed
When Ballengee set the existing women's supported FKT mark in 2000, it was before social media, GPS tracking devices, and direct messaging. There were some first-generation GPS watches, but they weren't the smartwatches of today, and there was no such thing as a smartphone back then. Yes, kids, the Internet existed back then, but only in the form of basic websites and message boards. Still, it didn't absolve Ballengee from getting some abuse, too.
"I have to say I feel sorry for her, too. I mean, it's one of those things, anytime you do something, even when I did it, there's always gonna be people that are questioning you or hating you," she said. "I brought people with me that served as witnesses, and I signed all the peak registers and tried to do everything that I was supposed to. But then you always get people who are like, 'why would you wanna do it that fast? You can't even enjoy it if you do it that fast.' So, yeah, I feel for her, you know? Because there's always going to be people that are doubting you and fighting against what you do."
Critics have called out Ton for not doing all of the peaks, but here's the thing: not all of the 14er FKT attempts over the past 25 years have been apples to apples comparisons.
Back when Ballengee set the women's record, the standard set of Colorado 14ers was recognized at 53 or 54 peaks—in those days Conundrum Peak (14,037 feet), Mount Cameron (14,248 feet), North Eolus (14,042 feet), El Diente Peak (14,175 feet), and Challenger Point (14,086 feet) were not considered separate peaks because none have 300 feet of prominence away from adjacent summits, but some hikers started doing them because they were named peaks.
Ballengee says she remembers hiking a few of the adjacent peaks—including Challenger Point and El Diente—but it is believed that she skipped Cameron, Conundrum, and North Eolus, giving her 55 total summits.
But since some unknown time in the early 2000s, the 14er community came to unilaterally accept all 58 named peaks with an elevation over 14,000 feet. Based on that, if you ignore the fact that Ton skipped Culebra for a moment and realize she covered 57 faster than Ballengee did 55—and that Ton was only the second woman to ever legitimately go after it—maybe there's something worth cherishing and not completely destroying.
"There's just a lot of variables and decisions that can be made within each one of these," Ton says. "Some day somebody's gonna come along and just be like, the 3,000-foot rule doesn't make any sense. You know? And they might not abide by it, and kind of create a new precedent there. When it comes to the 14er records, so much of it is about personal style, and what appeals to you, right?"
Perhaps like going up 14ers in high heels and a cocktail dress?
To that point, Ton is disappointed and dejected, but not defeated. Perhaps a few lessons learned—something we all benefit from while out in the mountains—but still inspired to chase new vertical objectives.
"One of my greatest values in life, I would say, is just having that freedom to go out in the wild," Ton says. "I don't like having a lot of obligations or constraints that restrict me. I hope I don't lose that sense of rawness. I'm motivated by curiosity to explore new places and what my personal limits are. I love that part of myself, that piece of my heart, and I hope that other people don't take it away from me."