Meet Frozen Ed, The Barkley Marathons' First Finisher. 
Since its inception in 1986, few participants have finished the Barkley Marathons. Ed Furtaw was the first. 
Photo: Courtesy Ed Furtaw
Heading out the door? Read this article on the new Outside+ app available now on iOS devices for members! Download the app.
"Anyone who doesn't think five books at the Barkley is an accomplishment can kiss my ass!" shouted Ed Furtaw to the crowd gathered for the 2022 Barkley Marathons. The slender 74-year-old folded his arms and leaned on one of the stone columns supporting a yellow gate. This famed gate is the start and finish line of the grueling ultramarathon, where runners must complete five loops of about 20 miles each in under 60 hours through the steep hills and dense underbrush of Frozen Head State Park in Eastern Tennessee. 
No one has finished this race since 2017. 
Furtaw had just withdrawn from the race after completing a portion of one loop and collecting pages from five of 14 books strewn along the course. Runners must collect pages from each of these books to get credit for a loop. Muddy and still carrying his water bottles and a single trekking pole, he explained that this run was particularly important to him, as it marked his return to the Barkley after being diagnosed with prostate cancer three years earlier. 
RELATED: Watch – The Race That Eats Its Young
Self-deprecation replaced playful bravado as he settled into a collapsible camping chair. 
"What I did was nothing compared to the athletes. But it meant so much to me," he said. A nurse tended to a gash in his arm – perhaps sustained while grabbing saplings to haul himself up a precipitous slope, an experience that reminded him of his days on a Navy rope climbing team. He struck up a conversation with the nurse, settling into his natural soft-spoken manner. "You are so wonderful," he told her.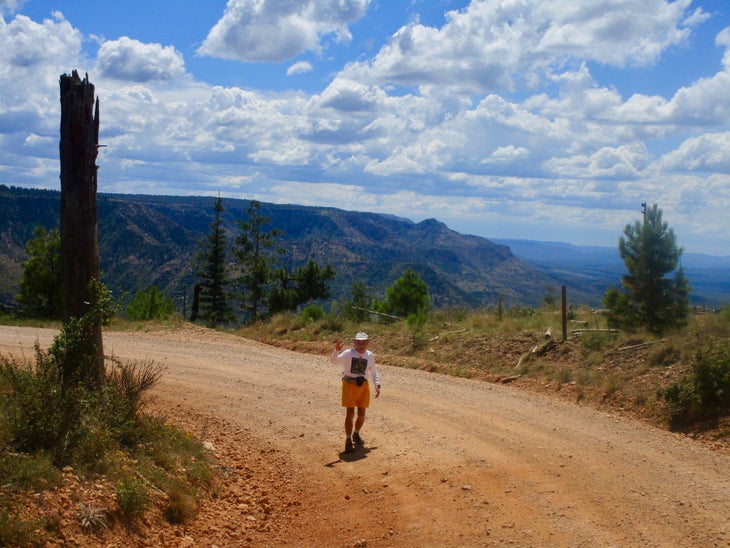 In his chair at the campsite-turned-race-headquarters, Furtaw sat among the icons of the Barkley. A wall of license plates hung in front of him, brought by Barkley "virgins," intrepid newcomers to what is arguably the hardest ultramarathon in the world. The smell of chicken roasting on a nearby grill, a yearly staple, wafted. The renowned co-founder of the Barkley, Gary Cantrell, stood at the yellow gate, his knit cap and long beard making him look like a sea captain manning the helm of his ship. 
Furtaw's surroundings were fitting; in a race famous for its traditions, Furtaw is both a part and a keeper of its lore. Cantrell, who later renamed himself Lazarus "Laz" Lake, mailed Furtaw a race application form in 1988 and addressed it to "Frozen Head Ed." 
"Frozen Ed," as he's been known ever since, entered that year and became the first ever finisher of the Barkley Marathons. While Laz has modified the course over the years, it began as three loops for a total of about 55 miles, which Furtaw completed in a little over 34 hours. Furtaw returned to the Barkley over the next three decades and even published a history of the race in 2010, titled "Tales From Out There: The Barkley Marathons, The World's Toughest Trail Race." 
But memories of the past weighed heavy on Frozen Ed as he compared his abilities to his pre-cancer days. 
"I come here and give it my best," he said. "And I have to accept that. That's one of the big, beautiful lessons of this event. It's so much bigger than me." His voice caught as he continued, "It's like this measuring stick … and I used to be able to do it. 
"You know, the measuring stick used to be this big." He held his hands far apart in front of him.  "Now it's this big," he said, pushing his hands close together. 
Furtaw has spent almost 40 years in the ultramarathon world. Originally a marathoner, he attempted his first ultra in 1983. In 1985, he began running with the Sri Chinmoy Marathon Team in New York City. He first learned of Sri Chinmoy, a spiritual leader who encouraged his followers to exercise as a form of meditation, from a Santana album he had that featured Sri Chinmoy on the cover. 
While he did not continue with the group, he was hooked on ultramarathons, running six in 1986 and nine in 1987. Several of the 1987 races were part of a series that Laz used to host, the Southern Ultra Grand Prix series. Participants had to complete eight ultramarathons in nine months, and Furtaw was one of only two runners to finish all eight events.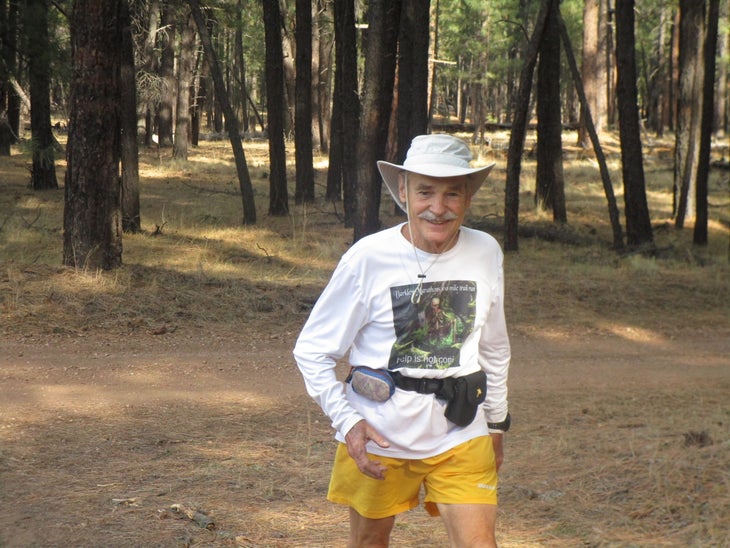 The Barkley Marathons have remained a constant through his ultra career; his run in the 2022 race was his 22nd start. After his finish in 1988, he returned to compete in 1990. While he led the race for the first two loops, he couldn't continue. He remembers laying in his car while Laz urged him to start the third loop. He just couldn't get up. 
Furtaw recalled, "I said, 'I can't; I'm shot.' I was – that was the most fatigued I have ever been." 
RELATED: The Good, The Bad, And The Barkley
His frequent trips to the Barkley allowed him to witness race history. In 1991, world politics intruded on the course when a team from the Soviet Union arrived to compete. Laz had changed the course to six loops of about 100 miles total; a runner who finished three would receive credit for a "Fun Run." Two members of the Soviet team finished the Fun Run. Furtaw remembers proudly that he and two American women also finished the "Fun Run," and did so faster than the Soviet finishers. He joked that perhaps their defeat contributed to the downfall of the Soviet Union later that year. 
Furtaw was also on hand to witness the first finish of the course in its current format. In 1995, Laz made the course five loops of about 20 miles each, with the total distance staying around 100 miles. That same year, English runner Mark Williams completed all of the loops. Furtaw recalls that Williams finished with only half an hour to spare. Pointing to the yellow gate, he said, "[Williams] finished right there by that gate and just laid on the road and slept."
Furtaw believes the Barkley will see its next finisher soon. He said, "As [the runners] learn more about the current course and how to train for this monster, I think it is just a matter of time and weather until there are more Barkley Marathons finishers." 
As for himself, Furtaw claimed he had set off from the yellow gate for the last time, but acknowledged it wasn't the first time he'd vowed to stop. And just like his fellow ultramarathoners gleaning knowledge from each Barkley experience, he's learned some key lessons. 
"[The Barkley] teaches us humility, to accept what we can do, give it our best effort, and be happy with the result," he says. "And I think it's a great lesson for life."